Tibetan Buddhism

A long time before Indian Buddhism entered Tibet, Bon Religion had been widely spread across the snow-covered plateau and become the most important spiritual beliefs for Tibetan people.
As the great Tubo King Songthen Gampo married Nepalese Princess Bhrikuti and Tang Princess Wencheng in the mid-seventh century, Buddhism was introduced to Tibet from India, Nepal and Central China. Both Jokhang Temple and Ramoche Temple were built for housing Buddha statues brought by two great princesses. And the original statue of Sakyamuni is still enshrined in the main hall of Jokhang Temple. Meanwhile, Songthen Gampo also sent scholars to Indian for learning Buddhism. With the creation of Tibetan scriptures, a large number of Buddhism works were translated into Tibetan. Since then, Buddhism gradually prevailed in Tibet.
During the period of King Trisong Detsen, Mahayana teacher Santiraksita and Tantric master Padmasambhava were invited into Tibet. Santiraksita brought many Buddhist Madhyamaka books and devoted himself in advocating Madhyamaka philosophy. While Padmasambhava focused on Esoteric Buddhism and become the founder of the Nyingma sect of Tibetan Buddhism. Trisong Detsen alsohad Samkye Monastery built and then Sangha System was set up. Later on, some Indian monks were also hired to translate Buddhism into Tibetan language. By that time, Tibetan Buddhism had already developed to a considerable scale.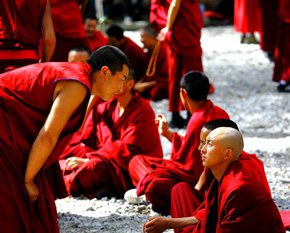 Tibetan monks are debating at Sera Monastery.
At the beginning of the ninth century, Ral-pa-can acceded to the throne. King Ral-pa-can made Tibetan language as the target language and ordered that all the translated Buddhist scriptures should be collated again and newly translations shall be codified by directory. All the administrative systems were drawn up by law and Buddhist monks ruled the state affairs.
However, the decline of Buddhism appeared as Langdarma succeeded to the throne. King Langdarma believed in Bon Religion and took devastating measures to suppress the development of Buddhism. Translating Buddhist sutras was forbidden, a large volume of Buddhist classics burned, temples destroyed. Many monks had no choice but to flee abroad. This period is also known as "Lang Darma Extincting Buddhism" in Tibet history. So far, the early period of Buddhism came to an end.
The later period of Buddhism started from the end of the tenth century. The revival of Buddhism occurred in western Tibet. As a large number of esoteric classics had been completely translated, Buddhism was gradually divided into two groups, exoteric Buddism and esoteric Buddhism. With the arrival of the great Indian teacher Atisa, Tibetan Buddhism reached its peak. The holy monk Atisa knew the most about Buddhism and emphasized celibacy and strict precepts, carrying forward the mahayana teachings. Finally, the Kadampa school of Tibetan Buddhism was founded and contended against the oldest school-Nyingmapa (the red hats). Later, other main schools of Tibetan Buddhism like Kagyupa (the white hats), Sakyapa, Gelugpa (the yellow hats) were also deeply affected.
Just a Reminder
Joining in a small group tour is the very BEST way for solo travelers or traveling Tibet on a budget!
As the Pioneer of Tibet Tourism for global tourists since 1984, TIBET VISTA has been the FIRST TOUR OPERATOR of running join-in group tour business in local and with ability of organizing over 5000 visitors a year. For Tibet Vista's special contribution to Tibet Tourism especially to Mt. Everest Tour, we were the ONLY company awarded by Tibet Tourism Bureau Shigatse "THE EXCELLENT ORGANIZER OF MT. EVEREST TOUR "in 2015.
View our Tibet Small Group Tour