Tibet Tourism 2023: Have to Know These 12 Things
Offering sacred mountains, holy lakes, endless grasslands, beautiful temples, and devout Buddhists, Tibet is a dreamland on many people's travel lists.
Before you start the plan to travel Tibet, we would like to share with you some important facts you have to know about Tibet tourism in this article.
1. Have to know that it's not able to travel to Tibet in March
The first thing you have to know about Tibet tourism is that normally, Tibet is closed to foreign tourists every March, sometimes in February, as all Tibetans at this time are celebrating the Tibetan New Year, also known as Tibetan Losar.
This is when all Tibetan travel agencies suspend their business. Most attractions are under maintenance. Permits you need to tour Tibet can't be obtained because all staffs are on holiday. As April comes, the local travel agencies will start to operate Tibet tours again and you can plan your journey.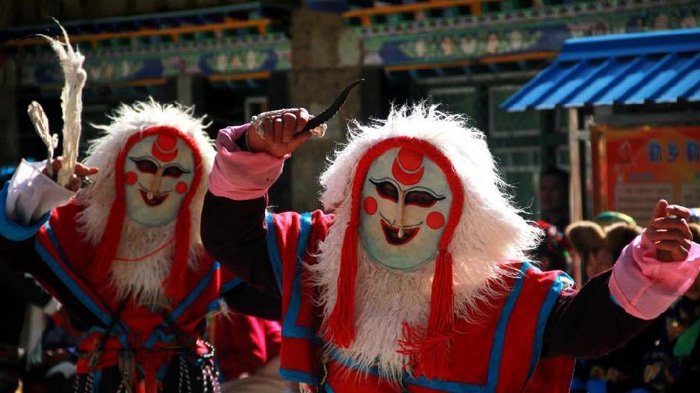 Folk artists is performing vbrasdkar dancing to celebrate new year.
2. Have to know that you will need a Tibet Travel Permit
To tour Tibet, all foreign visitors need a Tibet Travel Permit. This permit can only be applied through an authorized travel agency in Lhasa. You need to find a local travel agency like Tibet Vista to help you obtain it.
The permit will be checked before you board a flight or train to Tibet, and when you travel outside the city of Lhasa. Sometimes, you will be required to present it before entering an attraction.
3. Have to know that you can't travel to Tibet alone
For foreign tourists, independent travel to Tibet is not allowed. You need to travel in a group and during your whole trip in Tibet, you need to be accompanied by a local tour guide.
For those who prefer to travel "alone" in Tibet, the best solution is to join in a private tour, with only your guide accompanied. However, the price will be higher because no one will share your expenses during the tour.
>>Get the most popular Tibet small group tour packages here.
4. Have to know that you're going to the high altitude place
With an average elevation of over 4,500 meters, Tibet is a place of high elevation and altitude sickness is common here. The best way to prevent altitude sickness is to avoid rapid ascents to high altitudes.
Taking a train to Tibet is a good choice because acclimatization to high altitudes may happen gradually en route. After arrival, we advise you to take a good rest at the hotel on the first day. If you fly into Lhasa, relax for at least three days.
For tourists who have problems with the heart, cerebral vessels, or lungs, etc., it is best to consult the advice of your doctor.
5. Have to know that you're going to visit the Potala Palace (local taboos)
Buddhist monastery is the primary seat for the preservation and inheritance of Tibetan culture. To show your respect to the local culture, there are some attentions to know when you visit their temples.
When you enter any temples, take off your hat or sunglasses. Don't point your fingers at the statues. Photography is forbidden inside the palace, but it is allowed outside. Smoking is prohibited and cigarettes, as well as lighters, are not allowed to be taken into Tibet temples.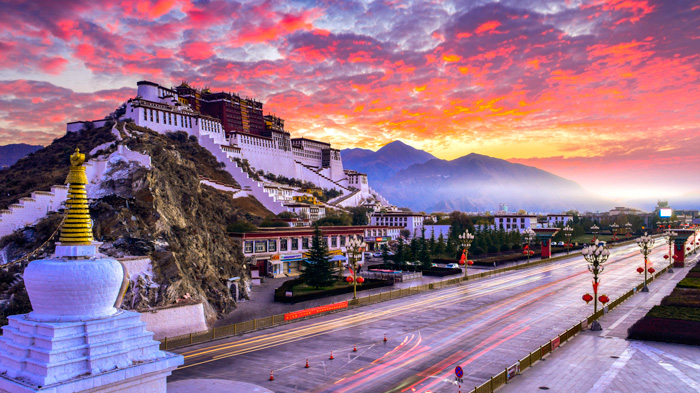 Potala Palace, one of the landmarks of Tibet.
6. Have to know there's road speed control, so you will have a slow and long drive
Know that there is road speed control in Tibet, even on highways. The fastest speed on the road is 60 kph (40 mph). When driving through villages, the speed has to be less than 30 kph (20 mph).
Therefore, you need to be prepared to overcome the slow and long ride while getting around Tibet. For example, it takes 5 to 6 hours to drive the distance of 270-kilometer between Shigatse to Lhasa.
7. Have to know the local conditions of toilet and hotel are different from where you're from
In Tibet, you can't expect the same sanitary condition as that in western countries. Usually, the starred hotels in major cities like Lhasa and Shigatse offer considerate services, comfortable beds, and private bathrooms with western-style toilets. This may make you feel at home.
In remote areas of Tibet, there are only Tibetan-style hotels and guest houses. No private bathrooms are provided and you need to get used to the squat toilets. But we promise to always select the hotels and guesthouses that can offer better conditions.
When out of hotels or guest houses, you need to use the local public toilets. Just a reminder, many public toilets may have no separate doors. Hope it would not be a big headache for you.
8. Have to know that Lhasa has been an international city
As the spiritual, political, and economic center of Tibet, Lhasa draws a large number of international tourists and pilgrims every year. And over the years, Lhasa has become an international city.
Many international hotel brands have entered and stationed in Lhasa, for example, the Shangri-La Hotel, St. Regis Lhasa Resort, InterContinental Lhasa Paradise, Holiday Inn Express Lhasa Potala Palace, etc.
Various diet options are available in Lhasa, ranging from Tibetan food to traditional Chinese cuisine, western food, Nepal and Indian dishes, etc, which can satisfy different tastes of visitors from all directions.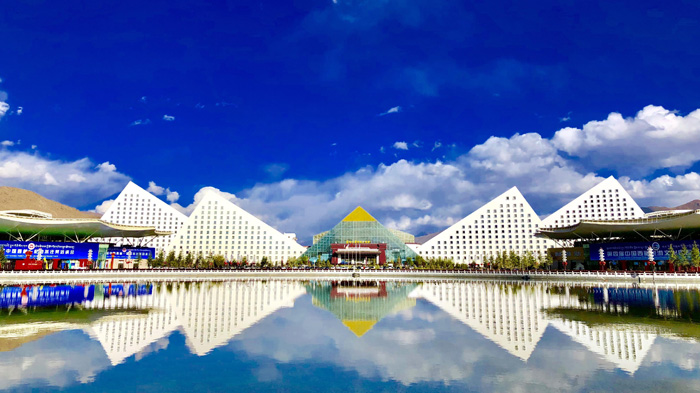 Nowadays, more and more luxury hotels can be found in Lhasa.
9. Have to know that you can only enter Tibet from the Mainland of China and Nepal
The Mainland of China and Nepal are the only two gateways to enter Tibet.
For visitors who enter Tibet from the mainland of China, you can fly or take a train to Tibet. Direct flights can be taken in Beijing, Xi'an, Chongqing, Chengdu, and Kunming. Many of our guests choose to go to Tibet by train because the scenery along the Qinghai-Tibet railway is breathtaking.
Nepal borders Tibet and offers direct flights from Kathmandu to Lhasa. Alternatively, you can experience an overland tour from Kathmandu to Lhasa. For Tibet entry from Nepal, China Group Visa is an added document. We can help you to handle it.
10. Have to know that you can not visit everywhere of Tibet
Pay much attention that not all attractions are open to foreign tourists, including Yadong County in Shigatse, Pangong Lake in Ngari, Yarlung Tsangpo Grand Canyon, and Nanyi Valley in Nyingchi, Tsonag County and Lhamo La-tso in Shannan, and the whole region of Qamdo.
11. Have to know that journalists and diplomats are not allowed to travel Tibet with a travel agency
Foreign journalists and diplomats are not allowed to enter Tibet as tourists. No travel agency is able to take you to Tibet. If you do want to visit Tibet, you must be approved by the China Ministry of Foreign Affairs. It is recommended to ask for help from the government agencies of your home country.
12. Have to know that there is no age limit to visit Tibet
Basically, there is no age limit to visit Tibet. Tibet is fine for children or the elders to visit. The youngest visitor who travels with us is only 1 year old and our oldest guest has an old age of 89!
Just remember that before departure, consult your family doctor that whether your body is suitable for the unique climate in Tibet. If your doctor said yes, you would be fine here. On arrival, make sure you all get enough rest to acclimate to the high altitude and then start your adventure in Tibet.
Summary
Hope the above-mentioned 12 facts about Tibet tourism can be helpful for you to get a better acquaintance with Tibet.
If you have any further questions about Tibet, please feel free to tell us. We have been engaged in tourism of Tibet for many years and we know every corner of Tibet. Come on and travel with Tibet Vista!