Tibet Join-in Small Group Tours
We are the first and largest Tibetan local tour operator running join-in small group tours, covering most classic itineraries with tightly packed departures at best price and tour services. Over 5,000 clients joined in our small group tour every year and enjoyed a lifetime Tibet trip, best for solo travelers or touring on a budget.
Last year, we helped thousands of expats tourists to realize their dream of traveling to Tibet. If you are still waiting to visit Tibet someday, now is the best time to get a seat on our Tibet small group tour in 2022 at the best local price.

What Makes Us Different? Why Travel with Us?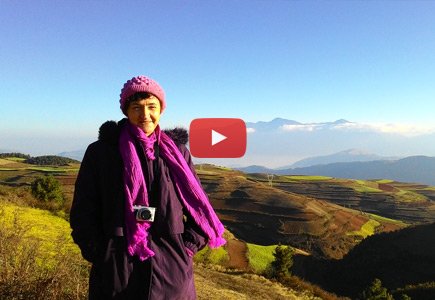 You may have found many travel agencies providing join-in group tours in Tibet, but most of them just put some famous tourist attractions together and make a very rough itinerary and experience. As the leading Tibetan local travel agency owned by Tibet Shigatse CITS since 1984, Tibet Vista makes a very big difference by designing tours that pay more attention to diverse activities and authentic experiences.
Check the followings for our tour service advantages: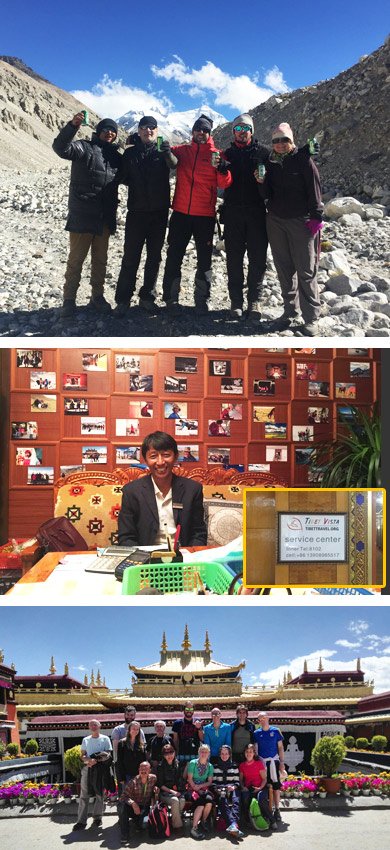 SMALL GROUP
Keep groups small in size on average of around 8.5 tourists to guarantee the smooth communication between tourists and guide.
SAFE & COMFORT
* Use standard A/C Tourist Vehicle in tour with Oxygen supply to make tour safe and comfort.
* Use Fingertip Blood Oxygen meter to followguests'health condition on tour.
* Includes Travel Insurance covering unexpected accident.
* Hand-picked Restaurants with SAFE FOOD and local flavor.
* Comfortable Hotel with good location and Tasty Breakfast.
* Tourist-friendly Service to offer Sleeping Bagsfor Everest Tour at clients' request
EXCELLENT MANAGEMENT
* The ONLY company with designated Clients Service Manager who takes care of tour management.
* Local Tibetan Tour Guide with fluent English and over 5 years' Experience working under a well-established guideline.
AUTHENIC EXPERIENCE
* Traditional Tibetan Welcome Dinner and use Tibetan restaurants as much as possible.
* Pay more attention to interaction and activities with local communities rather than just tour. Like visiting Tibetan Village, Hanging Praying Flag, dining in Tibetan Tea House, etc. (based on different tours)
TO MEET THE DEMAND OF YOUTH
* Offer Guest House Options to youth to minimize the cost of a tour.
* Offer opportunity for solo travelers to share room cost with group members. NOT mandatory Single Room Supplement Charge.
EASY TO BOOK TRAIN TICKETS TO LHASA
We have significant advantages for visitors booking train tickets to Tibet from the Chinese mainland, Tourists can book train tickets along with group tour package once for all with Tibet Vista.
Most Asked Questions about Tibet Small Group Tour
Do we have to have at least 4 pax to make a small group tour?
In fact, joining our small group tour couldn't be easier. And you don't have to have at least 4 travelers from the same country to join our group tour. Both solo traveler and a bunch of friends with different nationalities can blend with other international tourists to make a small group tour.
Why our tour price is the most reasonable one than other travel agencies?
Admittedly, traveling in Tibet is not cheap, given the long distance of travel by tour vehicle, pricey entrance fee and high daily expense, such as dining, accommodation, etc. However, we manage to provide the best value tour for our clients at the most reasonable price.
You may have the impression that our tour price is not the cheapest. However, we do have good reasons for that:
1. Superb Tibetan Guide Team Makes a Big Difference
Consisting of the best Tibetan guides in Tibet, our travel agency has around 40 Tibetan travel gurus, aged between 20 to 43. They offer guide service in English, German, and French, and Japanese and French. Our dedicated guides care about your acclimatization in Tibetan Plateau, go extra miles to arrange everything properly for your daily travel. They show you how to travel like a local and their great humor and knowledge towards Tibetan culture and history will bring you an unparalleled tour experience.
2. Diverse Itineraries and Multiple Tour Departures
With the widest spectrum of the classic Tibet tours, we are one of the handful local Tibet travel agencies that promise you the full experience of Tibet. From the brief
4-day visit in Lhasa and its surrounding
to the popular
8-day Lhasa to EBC tour
and
further travel to holy Mt. Kailash
and
Kathmandu
, etc. we guarantee you the great flexibility and the ample choice to fulfill your wanderlust. Your tour departure won't be affected even if we have only one traveler in the group tour.
3. 100% Guarantee of Your Tibet Travel Permit
For all of our clients, we promise to
offer Tibet travel permit service for free
. So long as Tibet travel is available for international tourists, we manage to get your Tibet Permit in time before you move to Tibet.
4. Secure Your Tibet Train Ticket
Well, in fact, one of our best advantages is we can guarantee to
book your Tibet train ticket
(hard sleeper) and do our utmost to ensure you a soft sleeper ticket if you book your Tibet train tour at least one month ahead.
5. Helpful Mr. Kunga, Customer Service Manager of Tibet Vista
Tibet vista is the only local Tibet travel agency that has a designated customer service manager to offer timely help and 24/7 call service to our clients. He can offer you free consultancy for Tibet tour, provide an easy solution to your troubles and help to deal with the emergency and the complaints.
6. Best Traveler's Choice for 5 Years on Tripadvisor.com
As the largest and most prestigious Tibet travel agency, we have remained the best traveler's choice for Tibet travel for the last 5 years. Each year, we help and serve more than 3000 global tourists in our small group tours alone. Our great credibility and dedication have gained a great reputation in the industry.
How to get Tibet Permit?
Getting Tibet Permit (also known as Tibet Travel Permit) is the prerequisite for your Tibet tour. To get it, firstly you need to book a Tibet tour with us, then email us the photo image of your passport information page, Chinese visa page and the photo of yourself. Then we will hand the travel documents over to Tibet Tourism Bureau to process your Tibet Permit. It normally takes around 8-9 days. Then we will deliver it to your hotel or residence in China's mainland. On when you get Tibet Permit can you board the Tibet train or flight to Lhasa legally. Do plan to prepare your Tibet Permit at least 25 days before your tour starts.
Normally, how many tourists travel in a small group tour? Where are they from?
As usual, around 8-12 tourists travel in a small group tour. For popular tours to EBC, there are around 13 tourists on average in a group. You will be travelling with tourists from all corners of the world. It's a rare chance to make friends with global tourists with varied interests and professions.
Can I book the hotel for myself if I join the small group tour?
Of course, you can. And you'd better tell your accommodation arrangement to our travel consultant to ensure a seamless tour planning. A small tip for you, traveling in offseason of
Tibet tour in winter
(
late Oct to mid-Fed
)can save you lots of money for the hotel. And in some cases, you can even spend less money to stay in a 5-star hotel in Lhasa.
However, one thing to remind you, the more remote places you travel like to EBC or Mt. Kailash, the less likely you can book the hotel or guest online. So, our professional service can save you from lots of troubles.
How to Get to Tibet? Can you help me book Tibet train or flight to Lhasa?
Basically, there are two ways to reach Tibet: one is to enter Tibet from Kathmandu, Nepal; the other is to reach Tibet from China's mainland.
You can take non-stop flight from Kathmandu to Lhasa (1h30m) or enjoy the classic Kathmandu to Lhasa overland tour to Lhasa (8 days). To do so, you need Tibet Travel Permit and Group Tourist Visa.
If you decide to enter Tibet from cities in China's mainland, you may either take Tibet train or flight to Lhasa. Popular Tibet-entry cities are Beijing, Shanghai, Chengdu, Guangzhou and Xining, Xi'an, Chongqing. You need the Tibet Permit to board the Tibet train or flight.
Yes, we offer one-stop service to secure your Tibet train and flight to Lhasa. Our travel consultant will help your booking.
Of all the small group itineraries, which ones are the most classic one? How to choose them?
The top 5 classic small group tours cover 3 prefectures across Tibet, such as Lhasa, Shigatse, and Nagri.
When is the best time to visit Tibet?
Overall, the best time to visit Tibet starts from April to Oct. However, in reality, the situation varies since the different travelers may have different activities in Tibet.
If your main goal is to visit majestic Himalayan peaks, such as travel in EBC, then do time your visit from mid-April to May and Sept to Oct. You will enjoy the perfect blue sky and superb visibility for photography and viewing towering peaks along the Himalayas. It's also the perfect timing to do trekking in Tibet.
For religious pilgrimage to Mt. Kailash, do come from mid-April to May and Sept. to mid-Oct. You will enjoy the pure sense of holiness "in the center of the world".
For culture tour, it's advisable to visit Tibet during its grand festivals such as Saga Dawa Festival (May/June), Tibetan New Year (Feb) and Shoton Festival (Aug.), etc. Do
consult your travel consultant for the exact festival date
since each year there might be slightly different from that of the last year.
Can I have my own group tour?
Why you upgrade your Kathmandu to Lhasa group tour to 8 days?
The latest upgrade means to give our clients ample time for altitude acclimatization and ensures safe travel. The distance between Kathmandu and Gyirong border, Sino-Nepal border, is about 130km. Normally, it takes around 7-8 hours' drive to reach the border from Kathmandu. And the latter part of the drive is extremely difficult on the bumpy and treacherous mountain road.
For safety concerns, we arrange our clients to spend one night in Syabrubesi Village, about 45-minute drive or 20km away to the Gyirong border and go through the border next morning and spend one more night at Gyirong County. In this way, you and driver won't risk your life to drive at night in the menacing valley. Meanwhile, you can have gradual ascent from Kathmandu (1400m) to Gyirong (2700m) and Tingri (4300m).
Should I worry about altitude sickness when travelling in Tibet?
Definitely not, but every traveler does need to learn the right way to prevent acute mountain sickness. Generally speaking, as long as people travel above the elevation of 3000m, your body will physically respond to altitude ascent. The mild symptoms like shortness of breath, headache, fast heart rate and dizziness, insomnia are pretty common. No need to panic.
In this case, for the newcomers in Tibet, do not exert yourself like jumping, running and have a good rest at your hotel. Normally, a couple of days later, such discomfort will go away naturally. If such problems persist, do not hesitate to reach your Tibetan guide for help or consult the pharmacist or doctor at local pharmacy or hospital. Following the "gradual ascent" is the key to avoid AMS.
At what age are children suitable for Tibet tour?
There is no official regulation defining the exact age for children to visit Tibet. As long as your children are physically healthy without respiratory and cardiovascular disease, you are free to go. The same rule applies to the elderly.
So far, the youngest kids we receive is the 4-year-old kid taken by his parents to enjoy the family tour around Lhasa. While the oldest clients we have are an 84-year-old American lady with his 69-year-old daughter travelling from Lhasa to EBC.
How to make a payment for my group tour?
It's very convenient and safe to pay as you book our small group tour. You may make your payment by Wire Transfer, Credit Card, Paypal and Western Union, even cash when you arrive in Lhasa. Our travel consultants will give your detailed instruction for the payment.
Can you organize tours for Indian pilgrims to visit Mt. Kailash?
Well, according to the policy, only Pilgrim Center (non-governmental), also known as Tibet-India pilgrim Reception Center, can legally arrange tours to Mt. Kailash and Manasrovar for Indian citizens.
However, if Indian citizens who want to visit other parts of Tibet like Lhasa, Shigatse, Namtso, Lhoka and EBC, Namtso, etc. we can offer many itineraries and activities for you to choose.
I'm a solo traveler, do I have to pay the single supplement?
Actually, it depends. When a solo traveler uses a twin bed room, usually the single supplement will incur. If you agree to share the room with another traveler (same or opposite sex) in the tour group, then you don't have to pay it. If you prefer a little privacy and are not willing to share the room, then you need to pay for the single supplement. Our travel consultants will help you arrange the accommodation.
Tailor-made your Own Tour within
24 hours

.

Simply express your tour needs, we'll customize a trip plan for you. No deposit is required until you are totally satisfied with the trip plan.

Tours departure 365 days a year !

Start Customizing Now!
Check All Tibet Travel FAQs Here
Get Started -
You're getting closer to your dream Tibet vacation! Fill out this form so our travel designers can start helping you plan a trip.
Privacy Policy: Your information is kept strictly confidential. Tibet Vista will never sell, trade, or give away your contact information to a third party.