13 Day Lhasa, Mt. Everest, Mt. Kailash, Lake Manasarovar and Kathmandu Adventure Tour
(TGT013) Lhasa - Gyantse - Shigatse - Mt. Everest - Mt. Kailash - Lake Mansarovar - Kyirong - Kathmandu
Price from

USD1880 p.p.

Price Notes:
based on double occupancy;
3-star accommodation level in low season;
international airfare is not included;
price is subject to change according to group size and payment methods;

Tour Type:

Join-in small group with fixed departure!

Trip Level:

Easy - suitable for all levels of fitness, family with kids and senior groups.

Trip Level Guide:
easy - suitable for all level of fitness, family with kids and senior groups.
Moderate - suitable for those having average level for fitness, family with kids bigger than 12 years.
Moderate to Strenous - suitable for those physically fit and have experiences of high altitude trekking.
Strenuous: suitable for adventures and individual with physically fit and healthy.

Season: 春
Spring夏
Summer秋
Autumn冬
Winter
Overview
This is a spiritual tour and no others can compare with. Mt. Kailash is recognized as the holiest mountain, and the center of the world by Hinduism, Tibetan Buddhism, Bon - native religion in Tibet and Jainism. At an altitude of 6656 meters above sea level, Mt. Kailash, shapes like a pyramid, is the main peak of Gangdise Range with symmetrical sides. It is the center of worship for ten thousands of pilgrims each and every year. And the Manasarover nearby is also one of the holiest lakes in the world. Come to Mt.Kailash and Lake Manasarovar, you might find what you are chasing for.
Daily Itinerary
Day 1: Lhasa Arrival
Arrive by flight or train to Lhasa. Upon arrival in the Lhasa Gongar Airport or the Lhasa Train Station, you will be met by your tour guide and driven to Lhasa downtown. Have a rest in Lhasa to acclimatize the high altitude.
Stay overnight in Lhasa (3-Star Hotel)
Day 2-3 : Lhasa Sightseeing (B)
The first two days you are in Tibet will be put towards sightseeing inside Lhasa, to visit fabulous and typical Buddhist and historic sites, such as Potala Palace, Jokhang Temple, Barkhor Street, Sera Monastery and Drepung Monastery. In Potala palace, you can explore the grandest of these myriad chapels, its audience halls, the jeweled and Golden burial chortens (stupa Tombs) of past Dalai Lamas, and the tremendous number of Buddhist frescoes, thangkas, combinations of the mandala, figures of the Buddha.
You will visit 3 important monasteries in Lhasa, the first and foremost is Jokhang Temple, the spiritual center of Tibetan Buddhism, attracts pilgrims all over Tibetan Area, built during songtsen gonpo's reign by princess wencheng of Tang dynasty, 647 A.D. The other two Monasteries Sera and Drepung Monastery locate in suburb of Lhasa, are hosted by hundreds of Monks, learning, praying, studying, living there. The famous Monks debating is held in the courtyard of Sera Monastery in the afternoon (Except Sunday). You will also explore the circular pilgrim route Barkhor while traveling at Jokhang Temple, to contact local folks here, and if possible purchase some traditional Tibetan artifacts, religious implements, antiques, books, Tibetan music instrument, Thangkas, and traditional Tibetan clothes etc.
Stay overnight in Lhasa (3-Star Hotel)
Day 4: Lhasa - Yamdrotso Lake - Gyantse - Shigatse (7hrs, 370km)(B)
Passing by the green farmland of Nyangchu Valley, drive across pass Gangbala (5030m), we move westwards to Tibet's traditional town - Gyantse and finally reach to Shigatse. There are many sites to see today, among them, the most important attractions are Yamdro-tso Lake, and Kubum Monastery in Gyantse. Yamdro-tso Lake is shaped like coiling scorpion with deep blue in color and Kubum Monastery has a 35m-high chorten (stupa) with its white layers trimmed with decorative stripes and its crown-like golden dome.
Stay overnight in Manasarovar Hotel
Day 5: Shigatse - Rongbuk Living Area (8hrs, 340km)(B)
Morning in Shigatse, you will visit the famous Tashi Lhunpo Monastery(may be arranged at the end of the trip) where you can see the well preserved largest statue of Jampa (future god) in the world. The monastery itself is abiding place for the successive Penchen Lamas.
There are only 2-3 hours driving from Tingri to Rongpuk through 90km new winding road in the mountains. On the way from Tingri to EBC, you can enjoy the stunning mountain scenery; pass the wild grassland, the torrent, and soaring mountains. If it is in clear weather, you can see the panorama of Himalaya range and among mountains you can see 4 mountains which are 8000m high and more to enjoy like Mt. Lhotse (8516m), Mt. Everest (8848m), Mt. Qowowuyag (8201m) and Mt Mayalu (8463m) at the mountain pass Kyawula Pass (5180m). If the weather is good and time allows, you will have a chance to see the majestic view of the golden summit of Mt. Everest at sunset.
Stay overnight at Tent Guest House
Day 6: Rongphu Monastery - Everest Base Camp - Saga (10hrs, 460km)
In the morning, you will visit Mount Everest Base Camp, the magnificent Mt. Everest is standing in the sky like a huge white pyramid, thus you are standing at the top of the world. Take pictures here before getting back to Rongpuk.
Notice:
For the needs of environmental protection, the Everest Base Camp Stone has been moved 4 km backward, do not allow tourists to enter the core area)
In late morning, we need to take the old Tingri road to Saga County. From the old Tingri, you can see the Mountain Everest ,Chuyo, and Shishapangma which is at 8012m was the least of the world's 8000m peaks to be climbed. The road runs parallel to the Himalayan ranges and Nepalian sides called Anapurna ranges. The main road passes through the desolate plain of Digur tang, and the closely neighboring snow peaks of Shishapangma and Langtang to the south. Leaving the bum-chu basin, and then ascends into the depression of Pelkhu-tso (4600m), a cobalt blue lake. Today we drive to Saga, a small town 69km from the Phelgu-tso.
Stay overnight in Saga Xibuyizhan Hotel or Mu Linsen Hotel
Day 7: Saga to Darchen (9hrs, 450km)
Moving towards the Drongpa County, the region around the sources of Brahmaputra River, which is about 167km from the Saga town. In the late afternoon, we will reach Darchen, a small town at the foot of Mt. Kailash. The tour guide will help clients to make a reservation of porters and Yaks if clients need (cost on tourists' own) and do some preparation for your following 3 days trekking around Mt.Kailash.
Stay overnight in Tarchen Chongqing Hotel
Day 8: Trek Day One - Darchen to Drirapuk (6.5 hrs, 11km)
8 kilometers after leaving Darchen with Eco-bus (20 minutes), we get to a village called Sershung, where porters are waiting for their clients. From here we begin our trek around Mt.Kailash, during your trek you can see a lot of pilgrims prostrating along the path and plies of Mani stones, small scenic sites and west face of Mt. Kailash. On the way, there are some tent shops you can refresh yourself and drink some soft drinks. First day's trek ends at guest house on the opposite side of Drirapuk Monastery. If you have more energy, you can visit Drirapuk Monastery on your own. from the guesthouse, you can have stunning view of north face of Mt. Kailash.
Stay overnight at the guesthouse
Day 9: Trek Day Two - Drirapuk to Zutulpuk (18km, 9-10 hours)
The second-day is the hardest and most tough circuit with the Dolma-la Pass lying 6.4km ahead. The peak of Dolma-la pass is about 5630m above sea level, so it is better to set off early in the morning as the sun rays break over the ridges above. After taking a rest at the peak of Dolma-la pass, you will descend staircase bringing you to Lhachu Valley floor, on the way you can see the small beautiful lake called Khandotso. From here it is still four hours trekking to the today's final destination with no shelters on the way. the second day trek's destination is Zutulpuk. if have energy, you can visit the Zutulpuk Monastery and its miracle cave of Milarepa.
Stay overnight at the guesthouse
Day 10: Trek Day Three - Zutulpuk to Darchen (11km, 4hours)
We continue our Kora to Darchen, is easy and the exit from the valley can be reached within 4 hours walk. At the ending point of the valley, you can take the ECO-friendly bus to Darchen(4km).
Optional:
After trekking, we take a drive to Chui Gompa (4560 m). Besides taking bath in the Holy Lake Mansarovar, you will also have free time for puja if you are Hinduist or like to do it. After all, this if time permits you can have a bath in the hot spring water at the lakeside (additional charges for bathing in Hot Spring not covered in the package).
Bath and hot spring may be arranged in the morning of Day 11, which is optional and is based on time and physical condition of tourists after the trek. We may not organize such activities if the weather is not so good and less than half of the tourists are willing to do this.
Stay overnight in Darchen
Day 11: Drive from Darchen to Saga ( 477Km, 8 hours)
Drive from Darchen to Saga and stay overnight in Saga Xibuyizhan Hotel or Mu Linsen Hotel.
Day 12: Saga to Kyirong, Exit the Border (5-6hrs, 300km)
Today, you will go exit China in the afternoon after 5-6 hours driving from Saga to Chinese Kyirong border, also called Rashuwaghadi in Nepal, living in the border to wait for the Nepalese driver to pick you up in the next morning.
From Saga to Kyirong border, you will find a whole new world quite different than the snow land, waterfall, flourish forest, deep gorges accompany you traveling all the way. The most amazing view is the snow-capped mountains standing behind the forest, which makes scenery take varied forms.
Overnight in the hostel at Rashuwaghadi, the border town in Nepal side
Day 13: Rashuwaghadi to Kathmandu (8-9 hrs, 130km)
The road between the border to Kathmandu is small, it takes 8-9 hours driving to Kathmandu, you are free to stop anywhere on the road if it is safe to park and enjoy the mountain view. Tour ends in Kathmandu, the driver will send you to your reserved hotel.
Tour Cost & Schedule in 2022
Class/Price for Per Person
Nov.16 to
Next Mar.31
Apr.1 to
Jun.25
Jun.26 to
Aug.25
Aug.26 to
Oct.15
Oct.16 to
Nov.15
Economic Class (3-Star Hotels)
/
1880 US$
2090 US$
2090 US$
1880 US$
Currency Converter:
Money Rate Last Updated: 2022.1.1 *Source: Bank of China
Please Note:
If you couldn't find a tour date suitable for your travel schedule in the above form, please contact our travel experts and they will help you plan a delightful vacation to Tibet at the BEST local price.
Discount: 1.) 5% off for those booking the tour together with other two travelers (3 or 3 above in total) at the same time; 2.) 5% off for those booking the tour 3 months in advance.
(Note: the above preferential policies can only be enjoyed by either one of them, not both.)
Service Included:
Tibet Travel Permit and all other necessary permits to Tibet;

All entrance ticket fees for all tourist sites listed in the itinerary;

Meals as specified in the itinerary;

Local tour Transfers, 5-29 seats comfortable Tourist Vehicle according to Group Size.;

Knowledgeable English-speaking Tibetan local tour guide shared in your group;

Comfortable Hotel Accommodations;

Service Charge & Government Taxes;

The above tour price does not include single room supplement. If you are a solo traveler, you need to share one room with another tourist (same sex in most cases); if you prefer to stay in one room by yourself, you will have to pay the single room supplement. And the exact price depends on market fluctuation in high and off season of Tibet tour. For the exact price, please refer to your travel consultant.

Arrangements include planning, handling, operational and communication charges.

Welcome Dinner in local restaurant when group members meet in Lhasa

Free Airport shuttle transfer between Lhasa Gongar airport and Hotel on designated time.

Group tours only include a welcome dinner after your arrival in Tibet.

Tibet Handy Map

Drinking water Provided during the trip

Tourist accident/casualty insurance;
Service Excluded:
International flight to and out of China;

Domestic flight/train to and out of Lhasa. (We can provide you the domestic flight/train ticket booking service at the BEST discount price, please contact us our travel experts for the details.)

Lunches and dinners are not included, please pay on site by yourself.; usually it costs about USD3-15 per person for one meal in TAR (Tibet Autonomous Region).

Tips and gratitude to the guide and driver. If you are satisfied with their service, you may consider tipping them at an amount you find it suitable.

Personal expenses, like laundry, phone call, snacks, soft drinks (please do the best to avoid the alcoholic beverages during your Tibet trip), optional tour activities, etc.
Transfer Service between Hotels and Airport/ Train Station
Lhasa Gongar International Airport is about 70km from the downtown, and it takes about 1.5 hours for a car transfer between airport and hotel. Considering the distance and language barrier, Tibet Vista provides free transfer service from/to airport.
Upon your arrival at airport, our Tibetan local pick-up guide will hold a board with your name and wait for you at the exit, he will escort you to the transfer car, accompany you to the hotel, and assist you with hotel check-in. When tour ends, our guide will pick you up at hotel and escort you to the airport.
Airport Pick-up Schedules: Pick up tourists at 10:00 am; 13:30 pm; 17:00 pm
Airport Drop-off Schedules: Pick up tourists at 06:30 am; 08:00 am; 12:00 pm
If your flight time is not within our transfer schedule, feel free to contact our travel consultant, we will do our best to arrange the most proper transfer service for you.
Besides the airport transfer, Tibet Vista also provides unlimited free transfer between hotel and Lhasa Railway Station according to your arrival/departure time.
Please kindly note: if passengers are less than 3 per transfer, we may use publish transportation like public airport bus or Taxi instead of using our shuttle service.
Travel Tips for 13-day EBC Kailash Kathmandu Tour
1. Why should I book this trip?
As a close neighbor, Tibet has long been regarded as the best gateway to Nepal. If you plan to visit Nepal from Tibet, this epic trans-Himalayan road trip is exactly the ultimate fantasy you've been looking for.
You will enjoy the classic EBC tour from Lhasa and then keep moving northwest to Mt.Kailash via holy Lake Manasarovar before descending to Kyirong, Sino-Nepal border and finally enjoy our transfer service to your hotel in Kathmandu. The thrilling adventure across the Himalayas and our one-stop service bring you a journey of a lifetime.
2. Where is the best place to view Mt. Everest?
There are 2 places, widely believed to be the best vantage points to admire Mt. Everest. Firstly, at Gawu La Pass (5198m), where you will enjoy the awe-inspiring panorama of the mighty Himalayas, including Mt. Everest (8844.43m), and other 3 eight-thousanders like the Makalu(8463m), Lhotse(8516m) and Cho Oyu (8201m).
The other place is on the at either Rongbuk Monastery or the statue of Mt. Everest, marking the altitude of Mt.Everest. Standing below the foot of the world's giant, you can get a phenomenal shot of Mt. Everest up close.
3.&nbsp What should I pack for Kailash trek?
Basically, bring the clothes, preferably in multiple-layers, enough to protect you from the cold, such as down jacket, windbreaker, thermal underwear, moisture-wicking and fast-drying clothes, beanie, water-proof jacket, woolen sweater, jeans, trekking socks/boots.
Besides, medicine for cold relief, altitude sickness and diarrhea. You may also bring light snacks to avoid low blood sugar when trekking and a vacuum flask for drinking, and toiletries. We will provide trekking poles and sleeping bags for you when needed. Not tents are needed because you will stay in the guesthouse for the 3-day trek.
4.&nbsp How can you ensure the travel safety, given the high altitude?
For this physically challenging journey, we only arrange the best of the best of our Tibetan guide to travel with you. They will closely follow your health and check the oxygen level in your vein with a pulse oximeter and provide you with oxygen supply and timely treatment when needed. At EBC and Mt.Kailash, we even have a portable hyperbaric chamber for acute mountain sickness.
5.&nbsp How can I exit Tibet to Kathmandu?
After your Tibet tour is done, our Tibetan guide will see you off at Kyirong Border, the current Sino-Nepal border. After you cross the border, our Nepali guide and driver from our Kathmandu office will be expecting you on Nepal's side and transfer you with designated jeep service all the way to Kathmandu. The one-stop service will save you from many hassles.
Nothing Matters More than Bringing you a Safe and Comfortable Journey!
Spiritually-uplifting yet physically-demanding, Tibet travel is no ordinary experience. Though you may have done many research, nothing prepares you for the real adventure. However, you can rest assured that the moment you set your foot in Lhasa, your Tibetan guide, driver and all of Tibet Vista's team are pooling our resources and doing what we can to ensure you a safe and pleasant travel experience.
The following value added tour service will be your best guarantee for a seamless Tibet travel on Tibetan Plateau.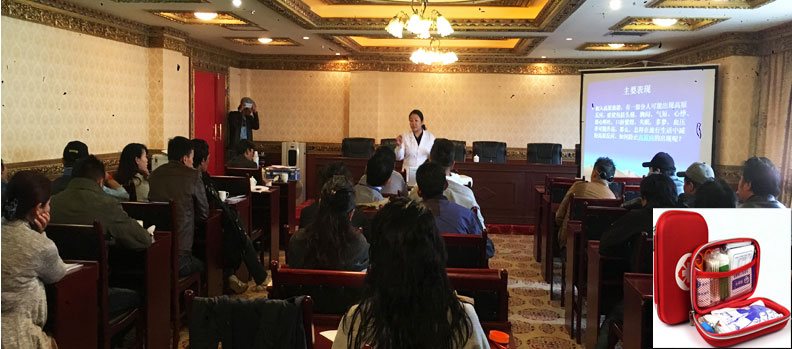 Routine Tour Service Workshop and Seminar for Our Tibetan Guide
To an organized tour, we believe, whether or not you will have a great travel experience largely depends on whom you travel with. So, we attach great importance to the training and exchange amid our Tibetan guide and other staff. Each year, a series of workshops and seminars and training courses will be held for our Tibetan guides and other staff to exchange their guide experience and offer first-aid training, etc. They are committed to offering the quality and tourist-friendly service to you.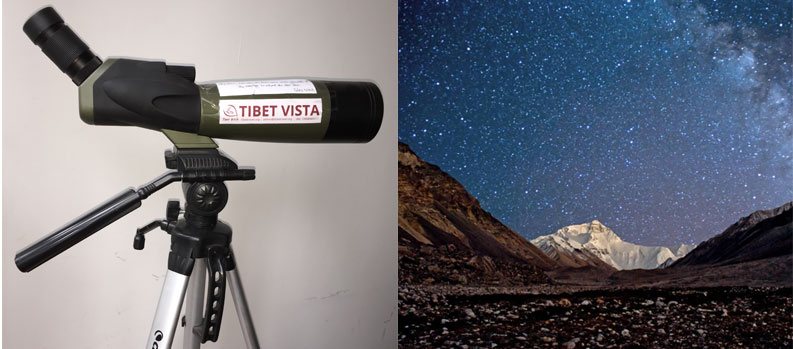 Celestron Telescope Give You Close-up View of Mt. Everest at EBC
Standing at the foot of Mt. Everest and gazing at this holy mountain form an integral part of EBC tour. Apart from taking you to the best vantage points to view this natural wonders, we offer brand-new Celestrontelescope (with 60 optical zoom Lens) for you to get close-up view of the world's highest mountain. Besides, don't miss the starry Milky Wayin EBC.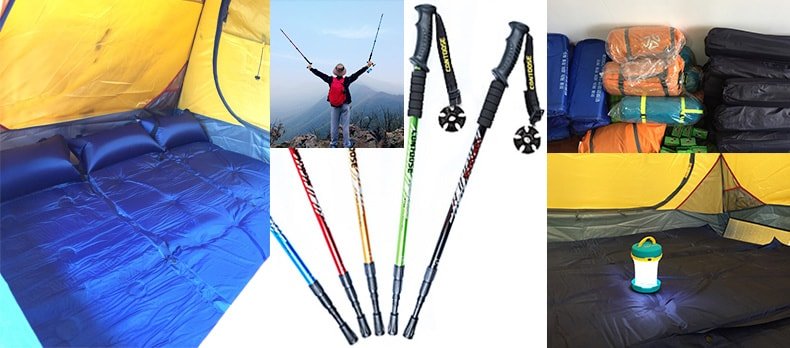 Helpful Service: Trekking Pole, Camping Lantern and Portable Charger
When travelling on Tibetan Plateau, we highly suggest you travelling list. And we offer helpful rental service (50 CNY deposit), such as trekking pole, camping lantern and portable charger. Upon your request, we may also prepare the camping tent, sleeping bag, etc. for you. A small amount of service and cleaning charge is expected. Our friendly travel consultants will give you pro advice to remove your heavy daypack.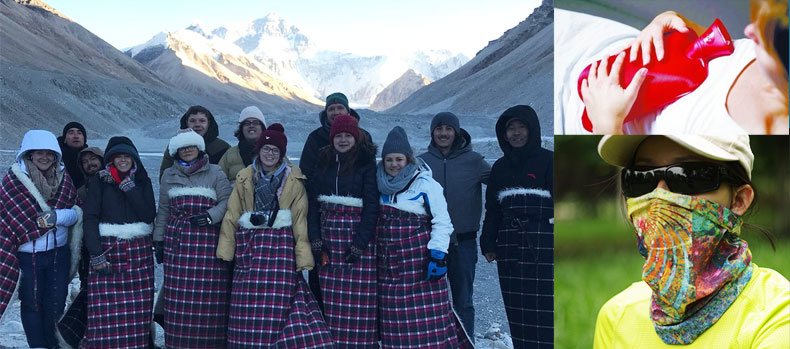 Keep You Warm and Protected from Harsh Alpine Climate
In addition to warm sweet tea and hot water and warm smile, we feel obligated to protect you from chilly wind at EBC and Mt. Kailash, etc. Why not bundle up in our well-prepared warm Tibetan Apron. If you forgot to bring you gloves, no problem! The hot water bagbring you instant warmth and our versatile magic scarfwill work like a charm to protect you from sunburn and dust in Tibet.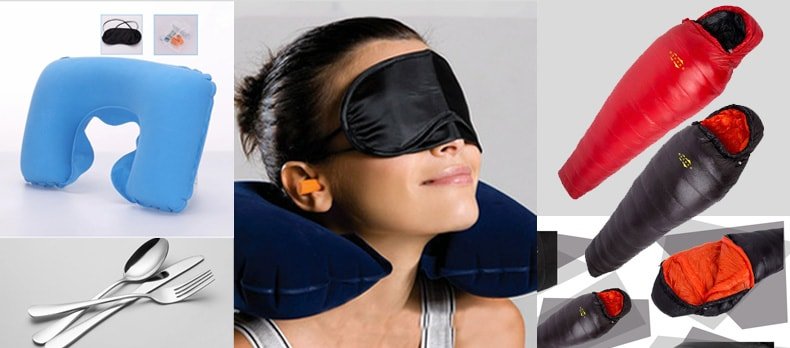 Multiple Travel Kits Make Your Trip More Comfortable
As the long ride is very common esp. travelling beyond Lhasa, we kindly prepare a full set of travel kit for you to enjoy an easy ride in Tibet. Upon your request, we may offer neck pillow, eye mask, and ear plugs, fork knife spoon set, and sleeping bag at EBC tent during your journey.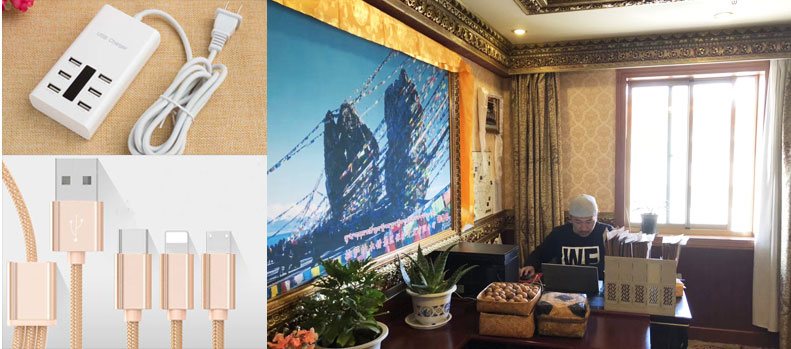 Free Battery Recharging
Besides, you may use our free power recharge service at our office at Lhasa Gang Gyan Hotel (first floor 1102).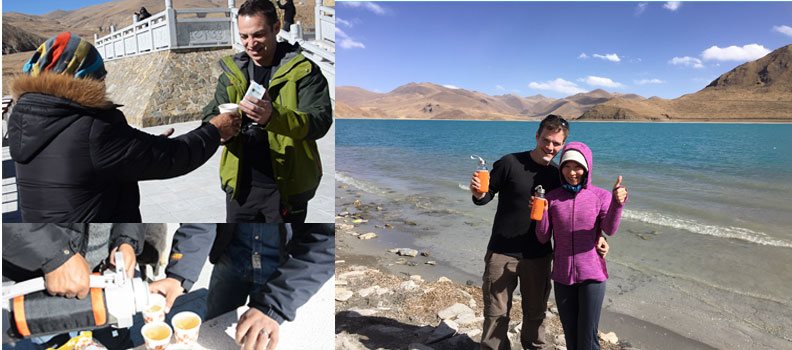 Unique Eco-friendly Bottle for Drinking
Tibet Vista is a staunch supporter for Eco and responsible travelin Tibet. As we visit Tibet, why not work with us to save limited resources and minimize human's impact to the natural environment.We designed a tailor-made Eco-friendly Bottle for drinking throughout your tour in Tibet. It's very convenient to use it to drink hot water, coffee, Tibetan milk tea. Such a fine souvenir, don't you think?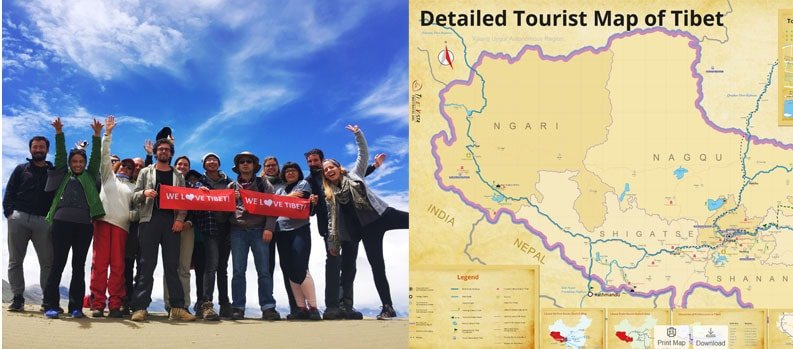 Easy-to-Use Tibet Tourist Map and Other Useful Travel Stuff
What's more? Plenty of useful travel brochure and travel kits such as Tibet tourist map,up-to-date travel advice, etc. will greet you in Lhasa. You will find them exceedingly helpful to your day-to-day travel in Tibet.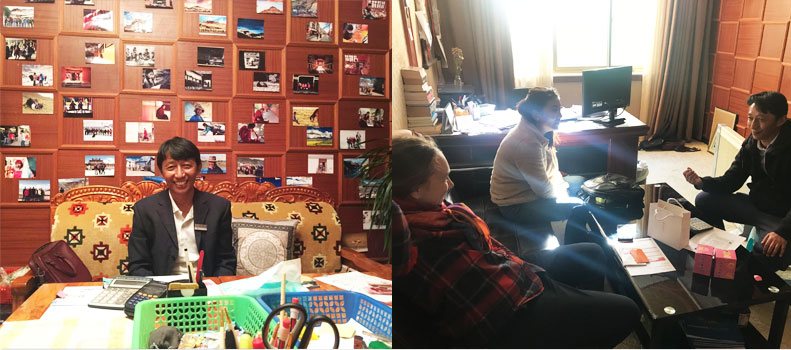 Meet Beloved Mr. Kunga, Your Best Guard for a Safe and Pleasant Journey
And now, the last but not least, I take great pride in introducing our beloved Mr. Kunga, the customer service manager of our company.If you have any problem adapting to the life on Tibetan plateau? Or simply wanna to learn more about Tibet. Do not hesitate to stop by our customer service office in Lhasa Gang Gyan Hotel (first floor 1102) and have a friendly little chat with him.
Mr. Kunga would make a good cup of tea for you and share with you his more than 30 years' guide experience in Tibet. In fact, Tibet Vista is the only local Tibet travel agency that has a designated customer service manager who offers prompt support to your need.
Latest Tibet Travel Questions Asked by our Clients
Get Started -
13 Day Lhasa Mt. Everest Mt. Kailash Lake Manasarovar and Kathmandu Adventure Tour
You're getting closer to your dream Tibet vacation! Fill out this form so our travel designers can start helping you plan a trip.
Privacy Policy: Your information is kept strictly confidential. Tibet Vista will never sell, trade, or give away your contact information to a third party.