Can Tourists Go to Tibet? Is it Possible to Visit Tibet in 2020 and 2021
Planning to visit Tibet yet felt frustrated at the news of the pneumonia outbreak in China? No worries. It never meant your Tibet tour was totally ruined by that. Instead, as a local Tibet travel agency, we promise to keep you updated with the latest Tibet tour news and offer you expert advice for planning your journey to Tibet in 2020 and 2021.
Though Tibet looks temporarily unavailable to global travelers, so long as these gloomy days are gone, we will be joining you for a thrilling adventure in Tibet. Check the following tips to be fully prepared.
Impact of COVID-19 Outbreak on Tibet Tour
The unexpected outbreak of novel coronavirus in Wuhan, Hebei Province seemed to cast a stone into the pool of the tourism industry in China. With a surge of confirmed cases in Wuhan and other parts of China in Jan 2020, its ripple effect led to a nationwide war against the epidemic in China. - Check how China batted against Novel Coronavirus over weeks.
So far, the official statistics show that from late Dec 2019, there have been:
Total Confirmed Cases in China: 81,078
(+29 yesterday)
Death Toll: 3,218
(+14 yesterday)
Existing Cases: 9,997
(-826 yesterday)
Recovered Cases: 67,863
(+841 yesterday)
(updated at 11:37 Mar 16, 2020)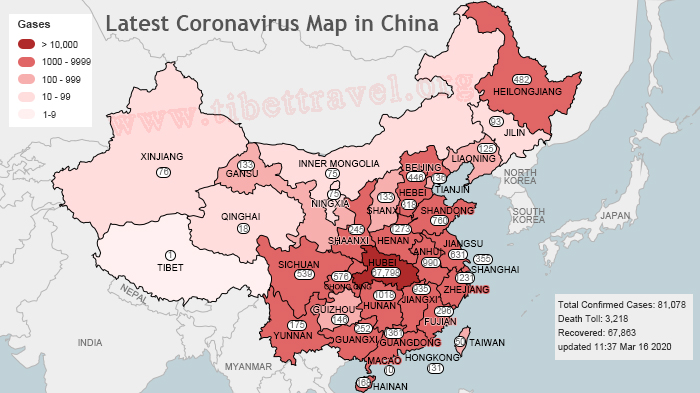 (Simple click to enlarge the map)
The map shows that Tibet is by far the least-affected region in China.
Luckily, due to its sparse population and far-flung location on lofty Tibetan Plateau in western China, Tibet has remained the least-hit region in China since the pneumonia outbreak in Wuhan in late Dec 2019.
Confirmed Cases in Tibet: 1
(+0 yesterday)
Death Toll: 0
(+0 yesterday)
Suspected Cases: 0
(+0 yesterday)
Recovered Cases: 1
(+0 yesterday)
(updated at 11:37 Mar 16, 2020)
Tibetan Attractions Were Temporarily Closed to Travelers from Jan 27, 2020
Meanwhile, the quick response of the local government in Tibet (TAR)and effective precautionary measures taken under the direct leadership of the central government, also played a big role in containing the spread of pneumonia in Tibet.
On Jan 25, the China Association of Travel Services announced that all the domestic travel agencies and online tour operators should temporarily suspend the tour group service and "flight+hotel" tour packages.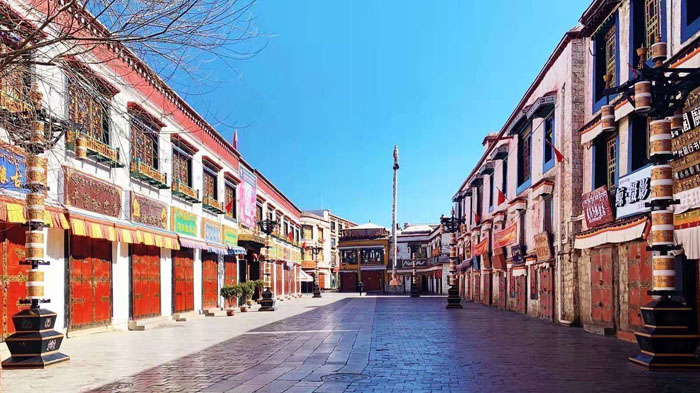 The previous bustling Barkhor Street was deserted.
While in Tibet, to minimize the chance of people-to-people transmission, from Jan 27, 2020, a new policy, rolled out by Tibet Tourism and Development Bureau, stipulating that all attractions in Tibet were temporarily closed to visitors, together with the suspension of Tibet Permit processing and services in hotels, theaters and internet cafes, teahouses, etc.
So, to international tourists, you may consider postponing your Tibet tour till the Tibet tour is resumed. Hopefully, the time will come in early April. Please feel free to contact our travel consultants for the latest news and professional advice.
What You Should Be Aware of?
Probably, blessed by the Buddhist deities, so far, Tibet has remained the only unspoiled land of charm, with only one confirmed case and no sign of the spread of the coronavirus. we are confident that the epidemic in China will soon be put to an end and Tibet tour will be quickly resumed in the near future. Currently, to the would-be Tibet travelers, the following tips merit your attention.
Who Was Infected by Novel Coronavirus in Tibet?
So far ( till Mar 16, 2020) Tibet has only one man tested coronavirus positive on Jan 28, who was not a local Tibetan. And this 34-year-old man who originally lived in Suizhou city, Hubei Province traveled by train to Lhasa on Jan 24 and the next day he came to the Third Renmin hospital for treatment and soon was hospitalized and quarantined.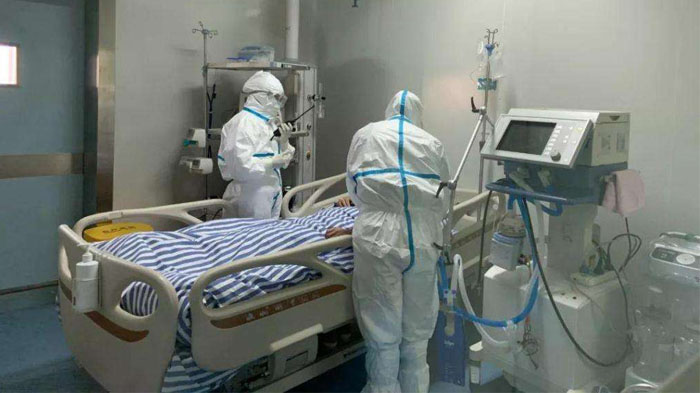 Docs are treating the patient with coronavirus in Lhasa
Fortunately, he recovered and was discharged from the third Renmin Hospital for the train back home on Feb 12, 2020. - Check the news about Coronavirus-infected Patient Discharged from Hospital in Tibet
Who Are More Susceptible to Novel Coronavirus?
Well, rather than panicking in the face of the epidemic, we should be cautious and stay high alert for preventing the Coronavirus. Since the arrival of coronavirus comes with the flu season in winter, people, like the elderly, the pregnant, and small children, with a poor immune system, are susceptible to the Coronavirus.
Besides, if you happen to have chronic diseases like diabetes, hypertension, and heart problem and bronchitis, etc., once you are infected with Coronavirus, it will be likely to develop a severe complication that is hard to be dealt with.
In addition, people with bad personal hygiene and living habit like staying up late are also more likely to fall to the prey to novel pneumonia.
Be confident that China Can Win the Fight against Coronavirus
Right now in China, there is an on-going spirited battle against the novel Coronavirus. With tremendous solidarity and responsibility, our top medical experts have successfully discovered the whole genome sequence of 2019-nCoV in two weeks and shared the information to WHO and international communities in no time.
Starting from the eve of Chinese New Year, countless volunteers and construction workers worked day and night to build two designated contagious hospitals, i.e. Huoshenshan hospital and Leishenshan Hospital, capable of accommodating up to 2500 patients. What a miracle and accomplishment to devoted Chinese people.
And behind the scene are numerous touching stories of medical staff who risked their lives to save the patients and people from all walks of life, like drivers and delivery men, policemen, community workers, etc. who contribute their parts for the battle. It proved the confidence of the Chinese government to win the ultimate victory over the epidemic.
To international travelers, we suggest you that don't trust the false or biased news online. Look for official news coverage and media objectively reporting the situation in China like WHO, CGTN America, and CGTN, etc. or consult our local Tibet travel consultants for the latest Tibet news.
Any Prediction of the End of this Coronavirus in Tibet?
Though so far there is no official report as to when this epidemic will end, based on the increased No. of recovered patients across China and nationwide efforts and determination in defeating this virus, we do believe that this turning point will come soon. Hopefully, from April or May, Tibet tour will reopen to global travelers. And we promise to inform you as soon as possible.
What to Do If You Have Already Booked the Tibet Tour in 2020?
If you did book our Tibet tour in the first half of this year, you may discuss with your travel consultant and consider deferring your Tibet journey till summertime or Sept or Oct or later months in/after 2020, at then it should be no problem for the highland adventure so long as Tibet tour resumed. While summertime like July and August in Tibet features the high oxygen content in the air and the proper rainfall will make your skin feel more comfortable. Besides, there is no constant downpour in Tibet like tropical regions have.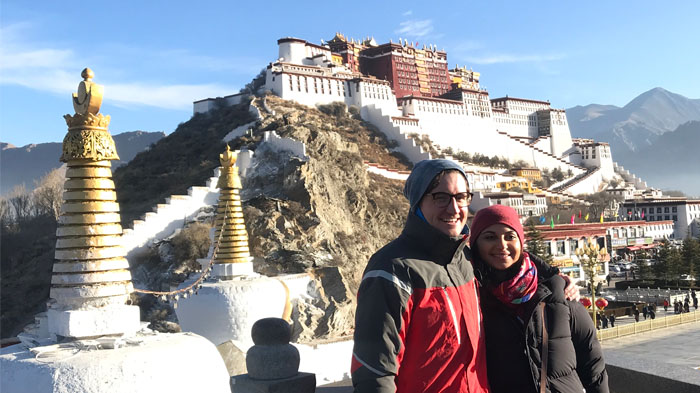 Our clients were visiting Lhasa in late Jan 2020.
While Sept to Oct. and Nov are some of the best months to enjoy the majestic Himalayas like Mt. Everest in Tibet. - Check the Tibet weather and find your best time to Tibet.
As a prestigious local Tibet travel agency, with offices in Lhasa, Kathmandu and Chengdu, we will properly keep your deposit and offer the best travel solution for your needs.
If you can't find a better time to visit Tibet this year, you may cancel your booking. just reach your travel consultant and get your deposit refunded, except for the amount already paid for the third-party (like train/flight booking, etc.) or the cost occurred that is irretrievable.
If your booking is scheduled to take place in the second half of this year, with months ahead, we are certain that your journey won't be affected at all. Our travel consultant will keep you in touch through emails with the latest news of Tibet tour.
Preparing to Visit Tibet in 2020 and 2021, What to Do Now?
To those who keep following the latest development of China's war against the Coronavirus and who are keen to visit Tibet in 2020 or 2021 yet book our Tibet tour, firstly we sincerely appreciate your concerns for the health of Chinese people.
Meanwhile, we suggest that you keep following our update of Tibet news and later discuss with our travel consultant and book your tour after the epidemic is completely over for more discounts. In this way, not only can you enjoy your adventure in Tibet, but also contribute to the revival of Tibetan inbound tourism and creating more jobs for local Tibetans. What a win-win solution.
Apart from that, booking your Tibet tours with a well-established local Travel agency like us is also essential to a safe journey with thrilling Tibetan discoveries on the Tibetan Plateau.
If you are still not sure if it is safe to visit Tibet from mainland China, you may enjoy the epic Kathmandu to Lhasa overland tour. By doing so, you may further minimize the opportunities travelling in disease-affected regions in large parts of China and the trans-Himalayan adventure won't let you down. And our Nepali staff in the office of Kathmandu will offer you the hassle-free China Group Visa service and jeep transfer for crossing the border.
Just remember to leave at least 20 days to apply for the Tibet Permit from us, before your Tibet entry.
Can I Visit Other Parts of China in 2020 and 2021
Definitely! We see no problem for you to do so. However, currently, China is at a crucial stage in battling the coronavirus nationwide. It's highly advisable for you to stay put and wait for the official announcemnt for the resumption of tourism in China.
During this time, you may discuss with our travel consultants about which places or tour activities you find more interesting in China, then we can match our interest with the best tour options and friendly services like hotel recommendations and flight or train booking, guide service, etc. for you.Simple email your inquiry to us, then the rest is for us to take great care with.
Conclusion
Isolate virus, not love. Again, we Tibet Vista team, would like to extend our heartfelt thanks to all of you who stay together with China during this tough time and who express your support and hope for an early resumption of Tibet tour.
Even during this extreme time, most of the travel consultants are working in their homes, handling client's bookings and offer the latest news of Tibet tour and consultation to global travelers. Visiting Tibet (TAR) and China in 2020 and 2021 is not a dream. Let's be strong and stay together for a better Tibet in the near future.