How to Visit Tibet: Best Guide to Tibet Visit
A visit to Tibet is one of the most spectacular journeys you can take. You will also be able to visit the highest mountain in the world, witness the incredible alpine lakes and meet hospitable local Tibetans that that live and breathe Buddhism in their everyday lives.
However, lying on the world's highest Qinghai-Tibet plateau, Tibet remains a far-flung destination that requires careful tour preparation, even to the most experienced travelers. As a well-established local Tibet travel agency with over 10 years' Tibet tour operation experience, we help you avoid the common mistakes and offer you the best insider tips as to how to visit Tibet before you hit the road.
What You Need to Know Before Visiting Tibet
Unlike traveling elsewhere in China, the only to visit Tibet as an international tourist is through a guided tour, either a group or a private one, with a registered Tibet travel agency. Traveling to Tibet cannot be done as an individual traveler or backpacker, due to the Tibet travel policy.
Travel Documents Needed for Tibet Visit
Basically, to visit Tibet, you need "Tibet Permit", also known as Tibet Travel Permit. To get it, firstly you need to obtain Chinese Visa yourself in the Chinese Embassy closest to where you live. Once you get your visa, you need to email the photo image of your passport and of Chinese visa to your travel consultant who will help you apply for Tibet permit on your behalf.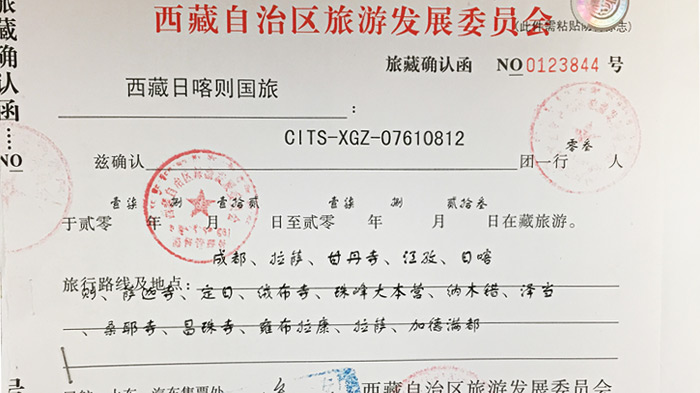 Tibet Travel Permit is an indispensable travel document for Tibet entry.
The process of Tibet permit takes 8-9 business days. Later, the newly-issued Tibet permit will be forwarded to you by express to your hotel in mainland China. To our clients, we offer free service for Tibet Permit application.
One thing to remind you, do start preparing for it earlier, let's say at least 20 days before your Tibet tour starts.
Insider Tips:
You can't apply for Tibet permit individually. It has to be done by a licensed local Tibet travel agency like us. Only when you get Tibet Permit can you legally board the flight or Tibet Permit to Lhasa.
Sonam Tenphel, Tibet Vista's seasoned Tibetan guide, teaches you how to travel from Nepal to Tibet for international tourists.
If you plan to enter Tibet from Nepal, all you need is "China Group Visa" and "Tibet Travel Permit". Simply email your passport photo to your travel consultant who will help you get Tibet Permit. Later, you are expected to arrive in Kathmandu at least 3 days before your Tibet entry and give your original passport to our staff in Kathmandu office to help you get China Group Visa.
Basic Dos and Don'ts for Highland Travel in Tibet
With an average altitude of above 4000m, Tibet will be the highest destination you've been to. Thus, you do need to follow certain rules for highland travel.
Firstly, for the newcomers in Lhasa, having a good rest is vital to prevent acute mountain sickness. Avoid exerting yourself by doing things like running or jumping. Follow the instruction of your Tibetan guide to getting acclimatized to Tibetan Plateau.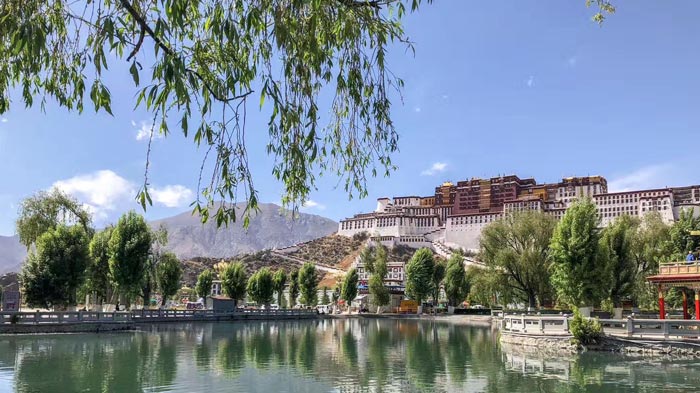 You can enjoy the quite blue sky in Lhasa.
Secondly, Tibet weather is marked by crisp and thin air, strong wind and arid climate, with powerful solar radiation and huge temperature change between day and night.
Do take down jacket, thermal underwear, and wind/rain proof jacket and multiple layers' clothes and sun protection products (like sunscreen, sunglasses, lip balm, etc.) with you. Particularly, as you travel to high mountain passes, or remote regions like EBC or Namtso with high extreme altitude, the biting wind and erratic weather are no pushover.
Insider Tips:
There is no need to carry sleeping bags, trekking pole, and camping facilities to Tibet, rental service is available to our clients. We also have oxygen supply on our tour vehicle and even hyperbaric oxygen chamber available at EBC or Mt.Kailash for the emergency. Before you leave for Tibet, you may consult your doctor for some altitude sickness medicine or buy it in Lhasa at the pharmacy in Lhasa.
Thirdly, Tibet is purely a Buddhist utopia, heavily influenced by Tibetan Buddhism in every aspect of Tibetans' daily life. Do dress properly when visiting the Tibetan monasteries; and avoid religious taboos when touring religious sites. When you are not sure of doing something, asking your guide's advice always saves you from unnecessary troubles.
Will I Be Safe If I Travel Alone to Tibet
Yes, absolutely! There is no security issue to be worried about. For both solo traveler and those travelling with friends and family, the journey to Tibet will be surprisingly safe. Whether you travel by Tibet train or flight to Lhasa, there is police patrol and security check at railway and flight station. Huge crowds are frequently seen at the railway station, be at the railway station or airport earlier, and just keep an eye on your personal belongings. That's all. - See Is It Safe to Travel Solo in Tibet?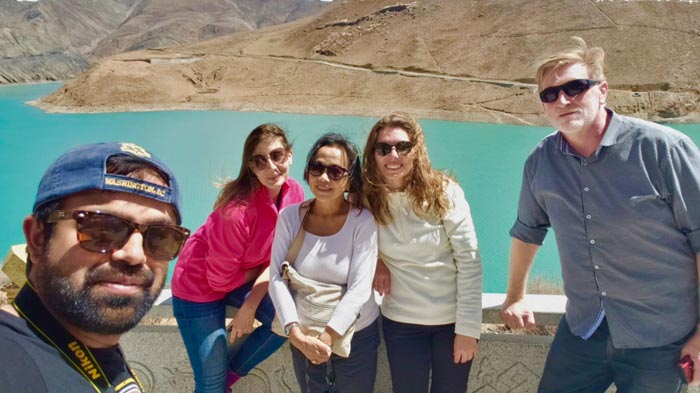 Having a Tibet tour with friends would be an excellent experience for you.
Since you will join the prearranged guided tour with us, your Tibetan guide will closely monitor your health and provide oxygen supply or other medical treatment when needed. For our clients, 24/7 call service is available and a designated customer service manager is ready to offer timely help. All the local Tibetans are devoted Buddhists. Crime and theft are hardly heard in such a Buddhist realm. The pure innocence of hospitable Tibetans and their infectious smile will disarm you quickly.
No particular vaccination is needed for Tibet travel; Take enough clothes for the huge temperature change between day and night and stay away from stray dogs, esp. chained Tibetan mastiff; follow your guide's advice when visiting holy Buddhist sites and never exert yourself doing things like jumping or running when you just land in Lhasa; Spend a couple of days in Lhasa for gradual acclimatization before venturing out to higher places.
What Is the Best Time to Visit Tibet?
Tibet is a place that can be visited at any time of the year, and while it does have distinct tourist seasons. So, traditionally, the Tibet travel falls into 3 seasons shown below.
Peak Season: Late June to mid-Oct.
Shoulder Season: Early April to late June; Late Oct to mid-Nov
Off Season: mid-Nov to late Feb
However, the above three Tibet travel seasons are certainly not the remedy for everyone. The best time to visit Tibet is when you feel it is the right time to go. It has more to do with your personal preference, travel budget, and overall tour planning.
Best Time to Visit Tibet for the Perfect Weather
Spring and autumn, which spans from April to June and Sept. to Oct, are the best seasons for enjoying the perfect weather in Tibet when the weather is still warm enough to travel, yet neither too hot nor too cold. Nights can get chillier than in summer, dropping to around freezing or just below, though a few good warm sweaters and a nice sleeping bag for the outlying areas can keep out the nighttime chills.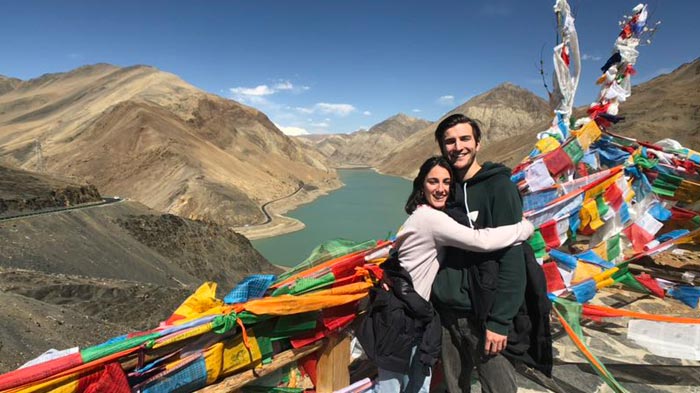 The couple were enjoy the stunning view of the lake in Tibet.
In addition, the weather is clearest, and the views of the mountains and holy lakes are at their best. Without a cloud in the sky on most days, the views of the summit of Mount Everest and the other 8,000+-meter mountains are spectacular and make for some of the best photos and selfies you could possibly imagine. You can enjoy all the outdoor activities during this particular time frame.
Insider Tips:
However, even if you travel during the best season. The unexpected snow is possible at high mountain passes.
Best Time to Visit Tibet If You Travel on a Budget
If you are a student or travel on a budget, then time your visit in the offer season, i.e. the winter season of Tibet travel (Nov to mid-Feb). The benefit is you can enjoy the same service in the high season while spending less than around 200 USD dollar for the package tour. Meanwhile, the drop of tourists in Lhasa prompts hotels to sell rooms with considerate discount. Chances are that you may book a 5-star hotel resort with only 4-star hotel' money. Sounds a great deal?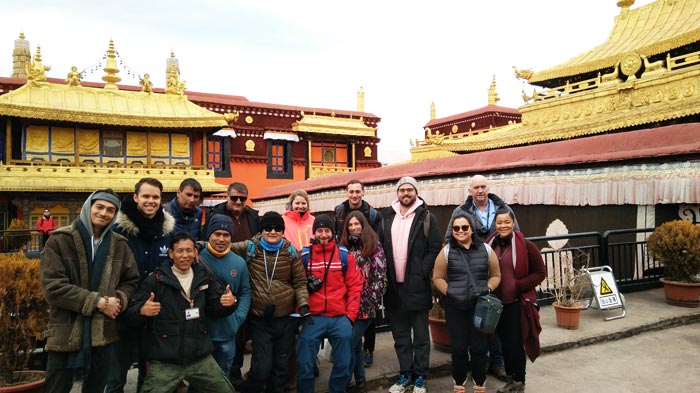 Exploring the holy Jokhang Temple in winter season.
Besides, domestic flight in China and Tibet train tickets are also much cheaper in the winter season. And unlike the common misconception that it's too cold to travel in Tibet in winter. It is a little colder in winter, but not as cold as many people think, and the higher altitude and thinner atmosphere allow more sunshine to warm up the plateau, making it relatively comfortable during sunny winter days. Temperatures during the day can get up as high as 18 degrees, even in the west of the region, although the drop in temperature at night is extreme, and can drop to well below freezing, especially in the highest areas.
In fact, there are plenty of things to see and do even in the low season. With fewer crowds, you can visit Tibetan monasteries at great ease. As migratory birds like black-necked cranes fly to Tibet to spend the winter, it's a perfect timing for birding. The grand Tibetan festivals like Tibetan Losar and butter lamp festival will give you a great chance to learn more of the rarely-seen long-held Buddhist tradition.
Best Time to Visit Everest Base Camp of Tibet
If visiting the world's highest peak is your very reason for Tibet tour, then do come between April to mid-June and late July to Oct. Over 10 year's EBC tour running experiences tell us that it's the best time for the classic 8-day Lhasa to EBC tour in Tibet. Completely free from the dense clouds caused by the monsoon season, Tingri region, where Everest Base Camp (5200m) is founded, enjoys the crisp air and azure sky with superb visibility for observing and photographing Himalayan range, esp. Mt. Everest. Meanwhile, you are also more likely to witness two spectacular natural phenomena: one is the flag-shaped clouds over the summit of Mt. Everest; the other is the golden summit at the daybreak and sunset.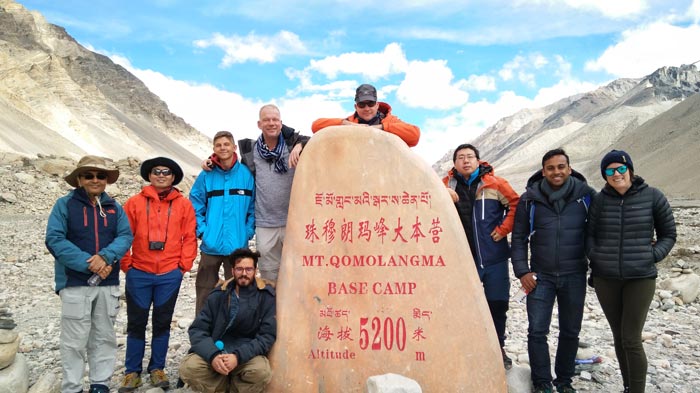 September is one of the best months to vist the famous Everest Base Camp in Tibet.
Although April, May, mid-June and Sept and October are the most ideal time for EBC tour in Tibet, just don't expect to see massive greenery that blankets the valley due to the high altitude. Instead, the incredible vista of the entire north face of Mt. Everest, legendary Rongbuk Monastery flanked by barren hill will take your breath away.
Even if you come at the right time, doesn't mean you can afford to ignore the thin air, strong solar radiation and biting wind and drastic temperature change at EBC (max 19 Celsius/min minus6 Celsius). Do be fully-prepared both mentally and physically.
>> Find out more details of EBC weather and temperature.
Insider Tips:
However, just don't worry. Everything is in control. Our well-trained Tibetan guide will read your oxygen level in the vein with Pulse Oximeter. Oxygen supply and even hyperbaric oxygen chamber are ready for acute mountain sickness.
If you prefer to experience spend the night inside a traditional yak tent, then visit EBC from mid-April to around mid-Oct. Other than that, no yak tent is available and you can only stay in the guesthouse of Rongbuk Monastery due to the severe gale at EBC.
Best Time to Experience Tibetan Cultural Festivities
If you are a cultural explorer and are keen to explore Tibetan culture through distinct Buddhist festivities, then never miss out the exhilarating summertime (June to Aug) in Tibet. From grand Saga Dawa Festival to dazzling Nagchu Horse Festival and high-spirited Shoton Festival, and other strings of ritual dancing and parades, the diverse festivities will reward you with authentic Tibetan experiences more than what you've paid for in other time. Here are the best traveler's choice for Tibetan festivals during summer:
Saga Dawa Festival (April 15 in Tibetan calendar; May 26, 2021)
Dedicated to commemorate the "birth, enlightenment and death" of Sakyamuni, Saga Dawa Festival is a perfect time to observe Tibetan tradition. And the best plan is to join our 15-day Lhasa to Mt.Kailash and Manasarovar tour and experience the holy kora around Mt.Kailash. You will witness the impressive celebration staged at Darchen and join the massive pilgrimage team to worship the holy mountain.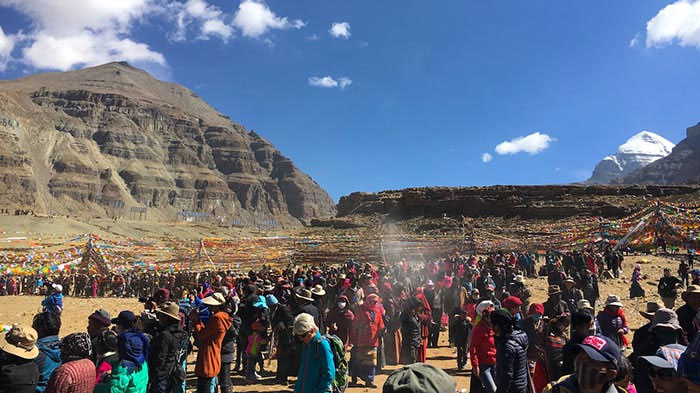 Tibetan locals and pilgrims celebrated Saga Dawa Festival at Mt.Kailash.
Nagchu Horse Festival (Early Aug, each year; last 5-15 days)
Fancy an in-depth tour to unveil the life of gallant Tibetan nomads? Nagchu Horse Festival is a great time to fulfill all your fantasy. You will head from Lhasa to the famous settlement of Tibetan nomads in Nagqu and mingle with hospitable local Tibetan nomads and visit their yak tent and savior the famous dried yak meat while drinking sweet tea. Of course, the highlights would be the change to enjoy the stunning horsemanship of Tibetan nomads, archery, horse-racing, etc. And don't forget to take a stroll at heavenly Namtso Lake in Nagqu as well, the world's highest saline lake.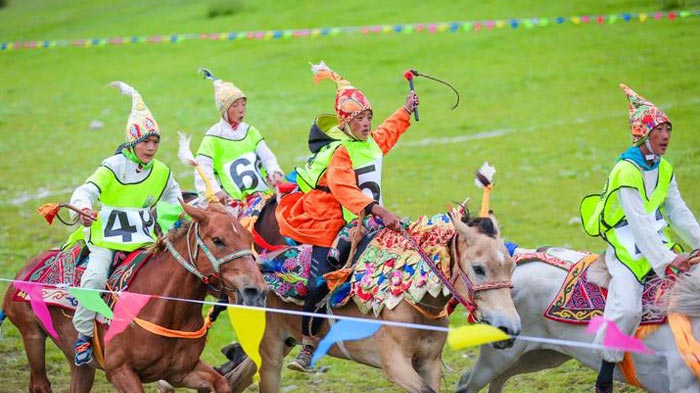 The furious Nagchu Horse Festival is one of the importan events in Nagchu, Tibet.
Shoton Festival (July 1st in Tibetan calendar; Aug 8, 2021)
Originally observed to mark the end of monk's 3-month fast of Gelugpa sect, Shoton festival now evolves into a wild celebration, filled with dramatic Tibetan operator performance, giant Thangka Buddha unfolding and yogurt eating and leisurely picnic. Do have an early rise to visit Drepung Monastery for the incredible unfolding of tremendous Buddha Thangka and muscle your way through the crowds in Norbulinka to enjoy the Tibetan operator show; to foodies, Shoton festival is a great treat to your taste bud. Finger-licking yogurt, tsampa, barely wine, etc. will make your day.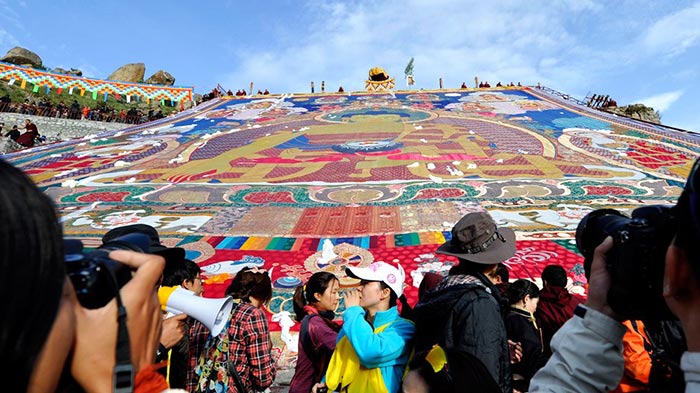 Taking a great shoot of Thangka Buddha in Drepung Shoton Festival.
Insider Tips:
Since the exact date of the above festivals varies each year, do confirm with our travel consultant before you make the travel plan. Meanwhile, though summer is the monsoon season in Tibet, most of the rains fall in the evening and overnight, leaving the daytimes free of rain to explore this ancient land.
A summer Tibet visit is also better for those who do not like colder weather and for children, as there is luxuriant grassland and higher oxygen content in the atmosphere in the summer months, caused by the increased humidity of the monsoon.
Best Time for Trekking in Tibet
Looking for the best time to enjoy the best treks in Tibet? Do come in spring and autumn. To be more specific, mid-April to May, early June, Sept. and Oct.; with great visibility, crisp air and pleasant temperature( 18 to minus 2 Celsius on average), these are the best seasons to stretch your legs and explore the top treks on the vast untouched wilderness in Tibet.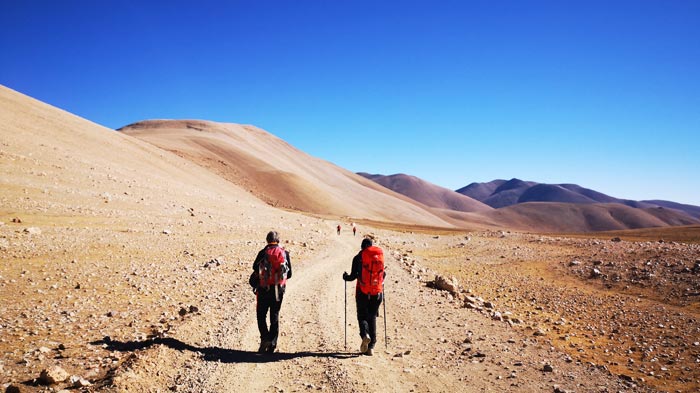 Our clients were trekking to Everest Base Camp from old Tingri.
Whereas, if you come prior to April or later than Oct, the heavy snow and severe wind and low temperature will make trekking dangerous. The frozen lake and streams are not available for fresh water and icy Tibetan land will be difficult to pitch camps. If you decide to do treks in the monsoon season during summertime, though there is no constant downpour like you have in Nepal, the sporadic rain and dense clouds will obstruct your view for lofty peaks, which will compromise the overall trekking experience.
Insider Tips:
Due to the high altitude, trekking in Tibet is not easy. However, the incredible alpine scenery will never let you down. Each trekking team will be arranged with one of our most experienced trekking guide, oxygen supply, logistics, trekking gears are available. From the entry-level leisure treks for the family in Lhasa and Shigatse to moderate treks to Namtso or EBC and strenuous Mt.Kailash trek to challenge your limit, you have many options to find the most suitable walk for you.
How to Get to Tibet
Nowadays, getting to Tibet couldn't be easier. And you have a number of ways to combine your travel via either Nepal or mainland Chinese cities. Let's take a quick look.
How to Get to Tibet from Nepal
By flight
Flying from Kathmandu to Lhasa is the fastest way to reach Tibet. In fact, it is the only international flights available to Tibet. The non-stop flight, run by Sichuan Airline and Air China respectively, has daily flight travelling between these two cities. It takes 1h20min to complete the flight.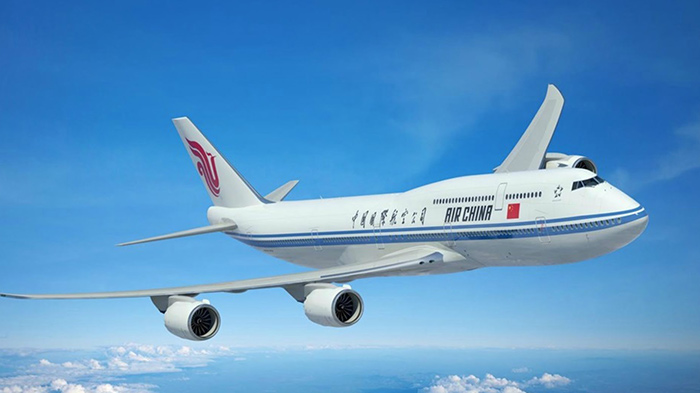 Taking flight from Kathmandu to Lhasa is the most convenient way to visit Tibet.
Winter season will be the best time to get cheap flight ticket. And you'd better try to avoid the flight during the major Chinese festivals like Chinese New Year, May Day holiday and National Day, etc.
Insider Tips:
To board the flight from Kathmandu to Lhasa, you need to have "China Group Visa" and "Tibet Travel Permit". Our staff based in the office of Kathmandu and Lhasa will help you get them. You need to email the photo image of your passport to our staff to apply for Tibet Permit, while do arrive in Kathmandu at least 3 days earlier and give your original passport to our staff to apply for China Group Visa.
Due to the huge altitude gain by flight, as you arrive in Lhasa. Do have a good rest at your hotel, and give your body enough time to get acclimated to Tibetan Plateau.
By overland
In addition to the flight, traveling overland from Kathmandu to Lhasa via Gyirong port has become growingly popular among international tourists. The over 1300km's epic ride across majestic Himalayan peaks, esp. Everest Base Camp in Tibet proves to be one of the best overland tours on our planet.
Travel Route: (8-days overland tour)
Kathmandu(1400m) - Syabrubesi(2380m) - Gyirong Border(1800m) - Gyirong Town(2700m) - EBC(5200m) - Tingri(4348m) - Shigatse(4000m) - Lhasa(3658m)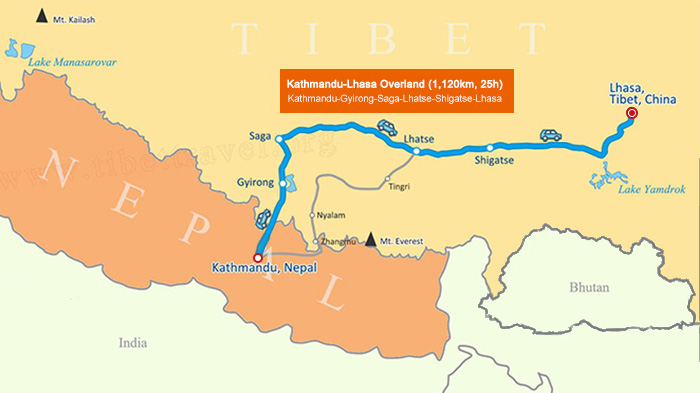 Kathmandu to Lhasa via Gyirong Port Map
Due to the drastic altitude ascent, we upgraded the tour route, with two more nights spent on the Sino-Nepal border and Gyirong County respectively. So you can have better acclimatization for the Tibet entry and the chance to get acute altitude sickness is minimized.
Video about how to visit Tibet from Nepal
Besides, our drivers no longer need to drive on the treacherous mountain roads between Sino-Nepal border at night. Instead, they will pick you up with spacious and clean jeep early in the morning at your hotel in Kathmandu and transfer you to Syabrubesi (2380m). And the next morning, the staff will help you cross Gyirong border and on the other side of the border, our Tibetan guide and driver will be expecting you.
How to Get to Tibet from Mainland China
Each year Tibet also sees a large number of international tourists coming from mainland Chinese cities like Beijing, Shanghai, Guangzhou, Chengdu, Xi'an, and Xining, etc. Thanks to the high-developed flight, train and highway system, it can be easily done nowadays. And different travel combinations have different benefits.
By Flight to Lhasa (non-stop)
If you are pressed for time, taking the non-stop flight to Lhasa can be a great option, though it costs a bit more in many cases. Non-stop flights available to Lhasa are from Chengdu, Chongqing, Xining, Diqing, Beijing, Xi'an.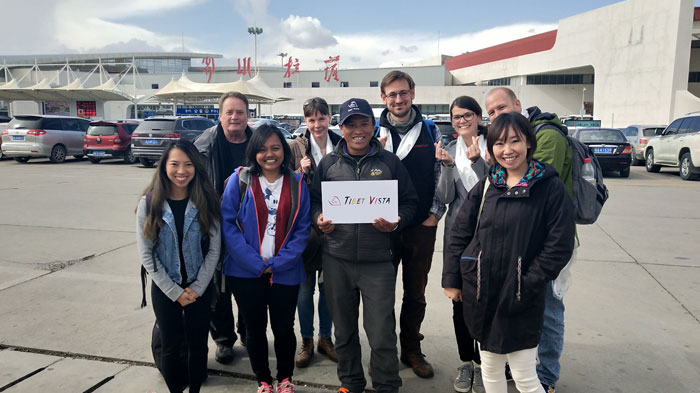 Our tour guide is meeting our clients at Lhasa Gonggar Airport.
Flying from either Chengdu or Chongqing to Lhasa, only takes around 2h25m and costs 240USD or so. The flight ticket is around 29USD higher than the train ticket. If you intend to enjoy a panda tour in Chengdu or just finish your Yangtze River cruise in Chongqing, it can be a great choice to fly from either Chengdu or Chongqing to Lhasa afterwards.
Fly from Xining to Lhasa? Not recommended, unless you are extremely short of time for Tibet because if you do so, you will miss out the best chance to experience the highlights of Tibet train journey.
If you intend to visit multiple ethnic groups in Yunnan province and Ganden Sumetseling Monastery around Shangri-La city and continue the journey to Tibet, then flying from Diqing to Tibet (2h5min) will give you quick access to Tibet.
To many first-timers to China, Beijing and Xi'an are two major cities to learn more about ancient Chinese culture and enjoy magnificent architecture. Taking the flight directly from Beijing (4h40m; around 359USD) is a viable option after Beijing tour is done or when there is a shortage of Tibet train ticket from Beijing.
If you want to explore more of ancient Chinese history, you may take the high-speed train from Beijing to Xi'an and visit the first Chinese emperor's Terra Cotta Army and later keep flying from Xi'an to Lhasa (2h50m; around 137USD)
Insider Tips:
Whatever flight you take to Lhasa, you have to have the original Tibet Permit to legally board the flight. We will deliver the permit to your hotel or give it to you in person by our staff. In addition to the non-stop flight, you can also take a direct flight from Shanghai, Guangzhou, and Kunming to Lhasa, with one stop in cities like Xi'an, Chengdu, and Diqing.
By Tibet Train to Lhasa
"Punctual, highly cost-effective with amazing window view" All of these benefits of Tibet train make it the best option for travelers to reach Tibet. Besides, it gives you better gradual acclimatization compared with the flight.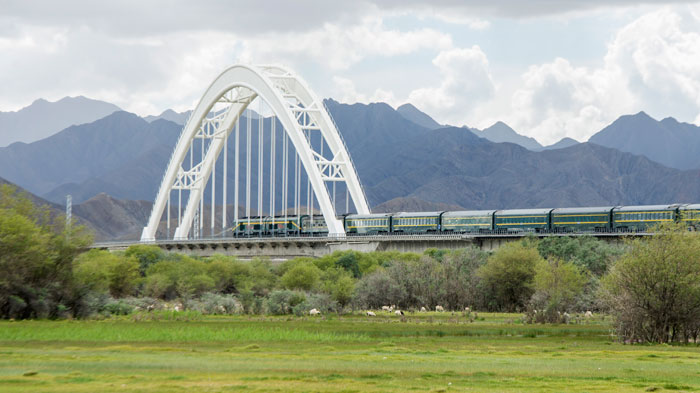 The stunning scenery is always the highlight of Qinghai-Tibet Railway.
For taking trains to Tibet, the trains leave from seven gateway cities in China daily or every other day, depending on the departure location. The gateway cities to Tibet are Guangzhou, Shanghai, Beijing, Chengdu, Chongqing, Lanzhou, and Xining, with some trains passing through Xi'an where you can get a ticket for the trip from Xi'an to Lhasa at the certain time of year when the route is not too busy.
Insider Tips:
And normally soft sleeper ticket and hard seat ticket are the best choice for Tibet train journey. While soft sleeper ticket is more expensive than a hard seat ticket. Yet, the facilities in the soft sleeper cabin promise more privacy and are more spacious. For the young couple or family visit, we can help you book the suitable tickets accordingly. Besides, Tibet permit is also a must for boarding the Tibet train. Our staff will get it prepared for you before you take the Tibet train to Lhasa.
Xining to Lhasa Train - The highlights of Tibet train journey If you only want to enjoy the highlights of Tibet train, then taking the Xining to Lhasa train (Z6801) would be the best choice. In fact, it is the shortest train journey to Lhasa, with 21h19m. The train leaves at 14:01 and arrives at Lhasa at 12:20, the next day.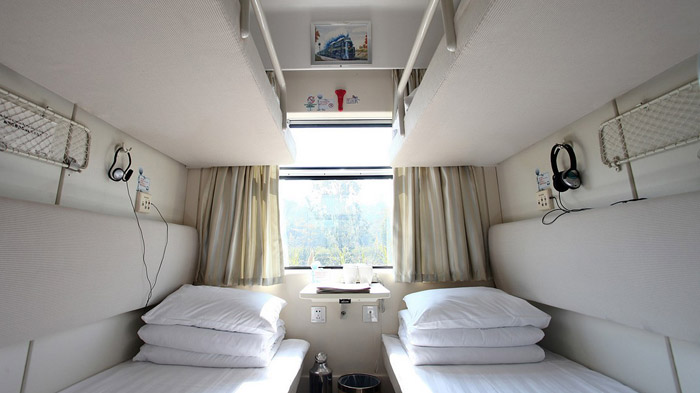 Soft sleeper of Qinghai-Tibet Railway
The soft sleeper ticket costs 113.1USD while hard sleeper ticket is around 71.7USD.
Short as it is, it covers the best view of Tibet train journey, esp. as it passes Golmud. The lofty Yuzhu Mountain, Gobi desert, grazing yaks dotted on the vast grassland and Tuotuo River, soaring Tanggula mountain pass, Cona Lake, etc, will keep you entertained before Lhasa.
Beijing/Shanghai to Lhasa Train - The busiest Tibet train to Tibet Beijing to Lhasa train (Z21) and Shanghai to Lhasa train (Z164) are two of the busiest train routes to Tibet, largely due to the massive air hub connecting the world.
The Beijing - Lhasa train (Z21) leaves at 20:00 and arrives at 12:26, with a duration of 40h26min. The soft sleeper ticket costs 165.7USD while hard sleep ticket sells at 104.3USD.
The Shanghai - Lhasa train (Z164) departs at 20:08 and reaches Lhasa at 19:35, with a duration of 47h27min. The soft sleeper ticket costs 182.84USD while hard sleep ticket sells at 114.91USD.
It's often the case that during the high season of Tibet tour (April to Oct.) or during major Chinese festivals, there is a shortage of train tickets from these two megacities. A viable solution is to fly from Beijing or Shanghai to Xining and later board the Xining to Lhasa train to Lhasa. In this case, you can join the group tour in Lhasa on time and still enjoy the highlights of Tibet train journey. Though it may cost a bit more, it is a win-win solution.
Insider Tips:
In reality, to ensure our clients can get the Tibet train tickets, an additional service fee is needed, esp. during the peak travel season.
Chengdu to Lhasa Train - Best Tibet Train from Southwest China to Lhasa
Too many, the laidback city life, adorable Giant pandas and proximity to Tibet make Chengdu the best city to take Tibet train to Lhasa. If you want to pet cute giant pandas and challenge the spicy cuisines in Chengdu, then after you finish the Chengdu tour, traveling by Tibet train to Lhasa may work best for you.
The Chengdu - Lhasa train (Z322) leaves at 21:37and arrives at 09:55, with a duration of 36h18min. The soft sleeper ticket costs 144.5USD while hard sleep ticket sells at 90.9USD.
Guangzhou to Lhasa Train - The Longest Tibet Train Route
Guangzhou is a fantastic jump-off point from HK to mainland China. If you happen to be a super rail fan, then taking Guangzhou - Lhasa train will bring you an ultimate ride across a large slice of China. Of course, the highlights will be traveling from Golmud to Lhasa section.
The Guangzhou - Lhasa train (Z264) at 11:45 and arrives at 16:10, with a duration of 52h25min. The soft sleeper ticket costs 212.6USD while hard sleep ticket sells at 125.3USD.
However, if this is a family visit to Tibet, this lengthy train may dull your kids and pose a challenge to the elderly. A possible solution is to take the cozy high-speed train to Chengdu, which only takes about around 10h and later either switch to Chengdu-Lhasa train or flight to Lhasa. It may save you lots of time and energy.
By Overland Tour to Tibet via G318 National Highway
If you enjoy the road trip and love the feeling of "traveling on the road", then traveling overland from Chengdu to Lhasa via scenic G318 National Highway can be a wise choice for you.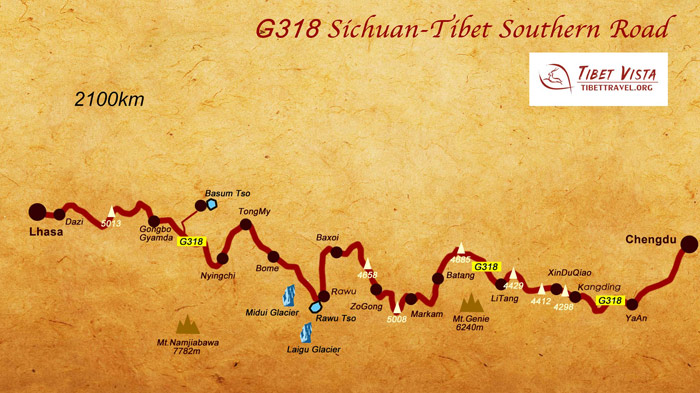 (Simple click to enlarge the map)
Sichuan Tibet Highway Southern Route Map
Chengdu to Lhasa via G318 Highway (2146km; or 8-day Journey):
Chengdu(450m) - Yan'an(975m) - Kangding(2560m) - Xinduqiao(3300m) - Litang(4000m) - Batang(3300m) - Markam(4713m) - Zogong(3750m) - Basu(3260m) - Ranwu(3807m) - Bome(2750m) - Tongmai(1800m) - Nyingchi(3100m) - Bayi(2900m) - Lhasa(3650m)
Best Tour Highlights:
Follow the treacherous G318 highway and traverse deep gorge, vast grassland, lofty peaks, glaciers, and enchanting Tibetan village from eastern Tibetan Plateau to Lhasa
Explore LaiguGlaciers and amazing Ranwu Lake
Experience adrenaline-packed 72 hairpin bend beside Nujiang River
Enjoy Great Bend of the Yangtze
Visit the traditional salt field in Markham
Tour the peaceful Niyang River and mighty Mt. NamchaBarwa
Pass the Nyingchi, known as the Swiss Alps in Tibet
Best Time for the Overland Tour:
Basically, spring and autumn would be the best time for the Chengdu to Lhasa overland tour via G318 Highway. May to June is the most ideal time to enjoy the massive Rhododendron that spans the valley along G318 highway; Mid-Sept to early Nov, are the prime season for photographers to capturing the colorful forest and golden Ginkgo tree that adorn the XInduqiao and undulating mountain range.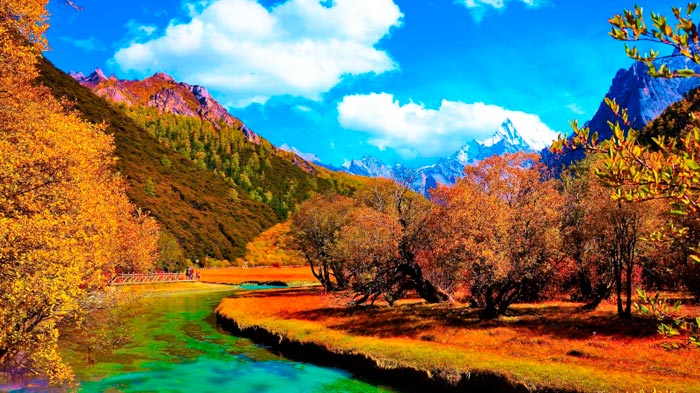 Stunning scenery along G318 National Highway
From mid-June to August would be the monsoon season. The heavy rain will lead to the mudslide and raging floods. Not a good timing for the visit.
Insider Tips:
As a prestigious local Tibet tour operator with offices both in Lhasa and Chengdu, you can enjoy our one-stop service to deal with travel formalities, vehicle rental and hotel booking, etc. With a strong guide team specializing in cycling and overland tour from Chengdu to Lhasa, you make full use of our resources and customize a Chengdu-Lhasa overland tour both by tour vehicle and cycling.
Most Deserving Places to Visit or Things to Do in Tibet?
Covering a total area of 1,228,400 square km, Tibet promises infinite opportunities for adventure and spiritual and cultural discovery. However, the most deserving places and things to do in Tibet actually depend on your interest, budget and tour date.
The Most Classic Tibetan Experience: Visit Lhasa and its Surroundings (around 4-6 days)
If you are the first-timers to Tibet with limited time, then focusing your visit on Lhasa and its surroundings will give you the quintessential Tibetan experience. Spend around 3 days in Lhasa city and cover the most iconic Buddhist sites. Climb the UNESCO heritage site Potala Palace; worship the 12-year-old statue of Shakyamuni Buddha in Jokhang Temple; follow the Tibetan pilgrims to experience Barkhor kora.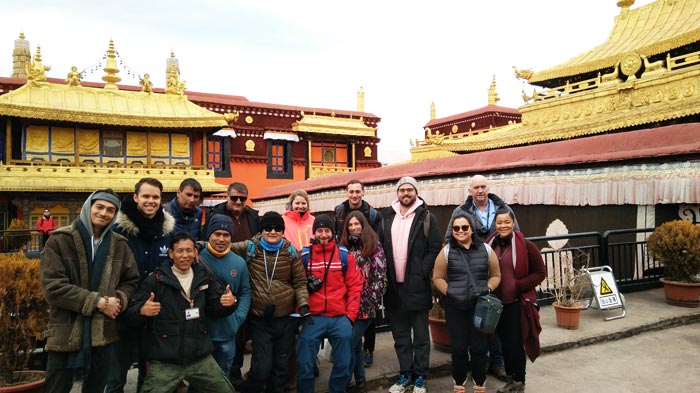 Jokhang Temple, the spiritual center of Tibet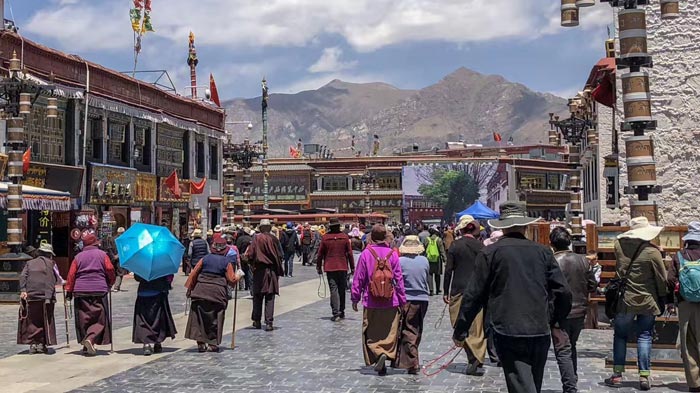 Following pious pilgrims to walk around the Barkhor Street
To give your feet a rest, enjoy the sweet tea in the local teahouse; never miss the spirited monk debate in Sera Monastery; for a leisurely hike, go to Drepung Monastery and Ganden Monastery; or you may enjoy a half day tour to turquoise Yamdrok Lake, around 2hr's drive from Lhasa.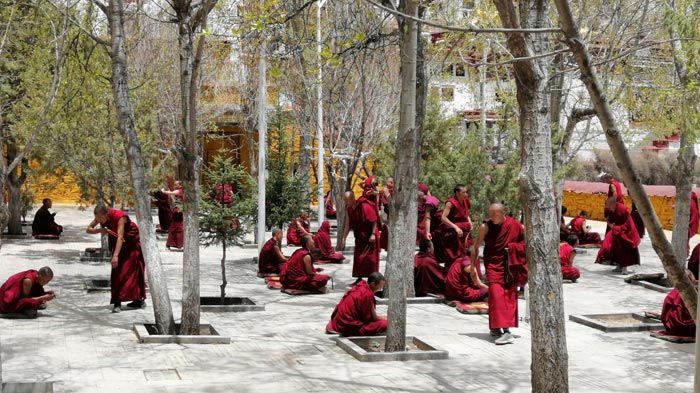 Furious monk debate in Sera Monastery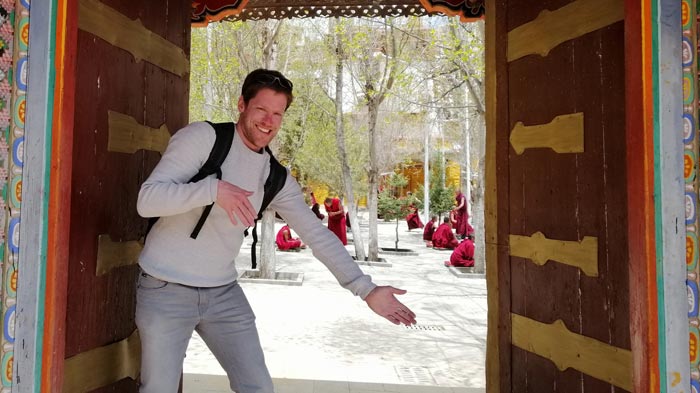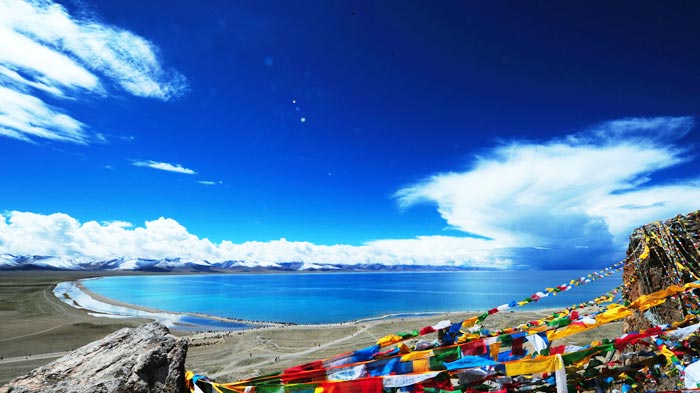 Namtso Lake, one of the three holy lakes in Tibet
For more stunning lake scenery and Tibetan nomads' exploration, budget another 2 days to visit heavenly Namtso Lake and Tibetan nomads' settlement in Nagqu. The world's highest saline lake and a close encounter with Tibetan nomads will make your day.
For the Word's Highest Peak: Join the Most Popular 8-day Tour from Lhasa to EBC
Keen to admire the Mt. Everest and mighty Himalayan Range? The classic 8-day Lhasa to EBC tour is exactly what you are looking for. The initial 3 days will be spent in Lhasa for acclimatization and touring must-see Buddhist sites. Then, the head west to Shigatse via historical Gyantse county. The exhilarating journey will take you past turquoise Yamdrok Lake and massive Karola Glacier. You will also get a chance to visit Nepali-style Gyantse Kumbum in Pelkor Monastery.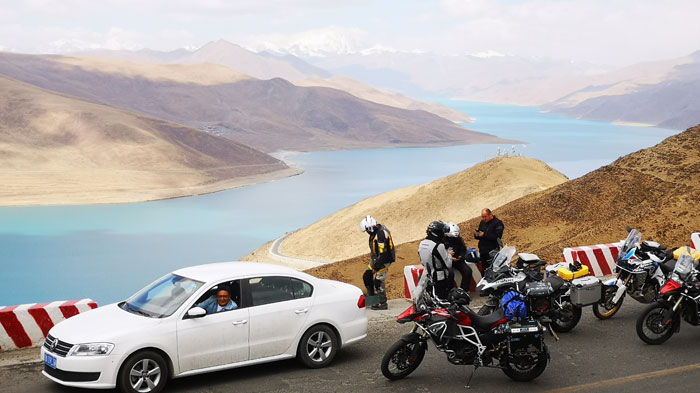 A cycling tour to the beautiful Yamdrok Lake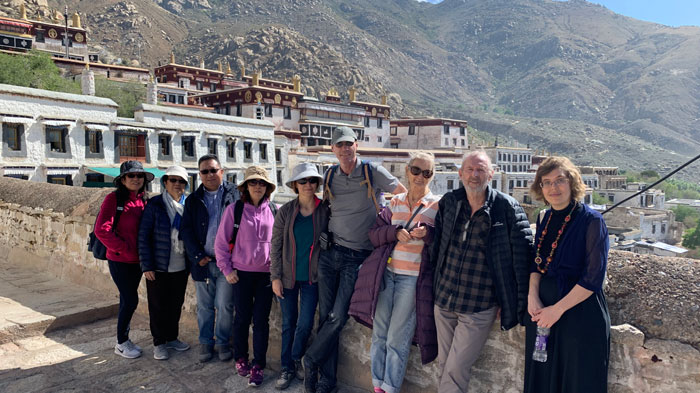 Tashilunpo Monastery, the traditional seat of Panchen Lamas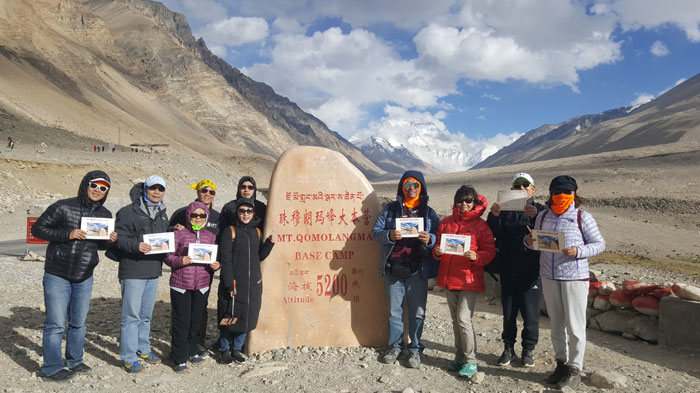 Everest Base Camp
After exploring prestigious Tashilunpo Monastery in Shigatse, on day 5 you will travel southwest to EBC through Tingri. Stop at renowned Gawu La Pass for the incredible vista of top 4 highest peaks along the Himalayas; Spend the night at EBC for the amazing sunrise over the summit of Mt.Everest the next morning and visit the legendary Rongbuk Monastery. It will surely be a lifetime experience.
Insider Tips:
To our clients, you will also be awarded a certificate for EBC visit. As the best EBC tour operators 3 years in a row since 2016, we have remained the best traveler's choice for Tibet travel for years. Our attentive and well-trained Tibetan guides will closely follow each client's health and oxygen supply and hyperbaric oxygen chamber, 24/7 service call, and all kinds of value-added bonuses are readily available for use. With offices based in Kathmandu, Lhasa and Chengdu, you can easily use our service for Tibet Permit, hotel, and flight booking, and other handy services.
To Enjoy the Best Pilgrimage in Tibet: Go for 15-day Mt.Kailash Tour
Of all the pilgrimage routes in Tibet, nothing quite compares to the Mt.Kailash kora. The 15-day Mt.Kailash tour should be your best choice. It finely combines the classic Lhasa to EBC tour with an extended spiritual odyssey to Mt.Kailash kora and Manasarovar. You will enjoy the highlights of Lhasa and Shigatse tour, and explore Everest Base Camp and soak up the air of holiness during the Mt.Kailash kora and Manasarovar visit.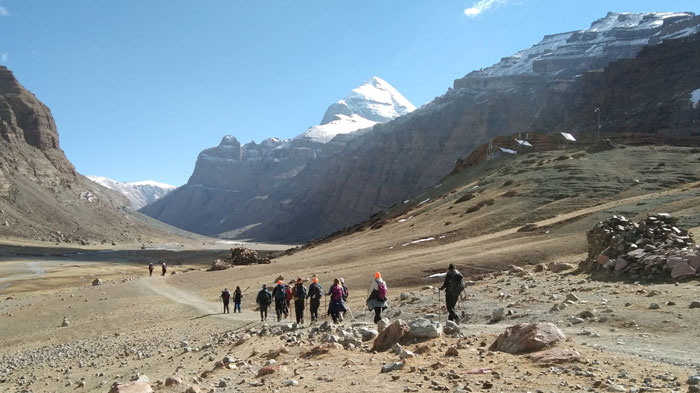 The epic Mt.Kailash trekking tour in Tibet
For such a physically challenging tour, only the best of the best Tibetan guides will be chosen to guide our clients. During years of Mt.Kailash tour running, no accident has occurred due to human error. Our seasoned Tibetan guides and staff will assist your trek with oxygen supply and timely help. Meanwhile, each year we have expanded hotel selection and make sure our clients can enjoy the best stay they like.
For the Epic overland Tour: Choose Lhasa to Kathmandu Overland Tour
If the road trip is your favorite, then how about enjoying the trans-Himalayan overland tour across EBC? The over 1300km's adventure from soaring Tibetan Plateau to vibrant Kathmandu will give you an adrenaline rush. If you travel by tour vehicle, it takes 7 days. Two-thirds of the journey basically overlaps the same routes from Lhasa to EBC tour; after touring EBC, you will be expected to travel south across Gyirong border to Kathmandu in 2 days. Both our Tibetan guide and Nepali guide and other staff will offer convenient border transfer service and ensure you a smooth travel across Sino-Nepal border to your hotel in Kathmandu. - 7 Days Lhasa to Kathmandu Overland Tour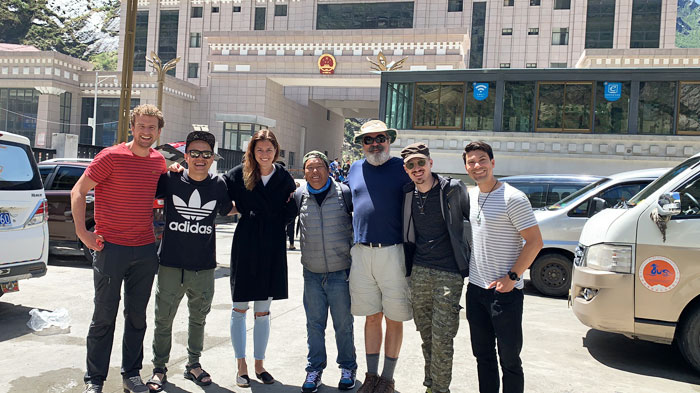 Lhasa to Kathmandu overland tour via Gyirong Port
Not content with the epic ride in the tour vehicle? You may also choose to hop on your mountain bike for the rollercoaster ride from Lhasa to Kathmandu. You may use your own bike or rent ours. Our cycling expert will give you a test ride around Lhasa and evaluate your stamina to customize a more accurate day-to-day itinerary for you. Our extra backup truck loaded with the guide, oxygen and logistic supply and repair parts, or even personal chef will travel with you and provide timely help for you. 20 days are needed for Lhasa to Kathmandu cycling tour and the cost is a lot much higher than ordinary tour accordingly.
Where to Stay & What to Eat in Tibet
Due to the remoteness and harsh environment on Tibetan Plateau, the accommodation facilities and hotel services in Tibet are not as good as that of in big cities like Beijing, Shanghai, Guangzhou, Chengdu, or Chongqing, Kunming, etc.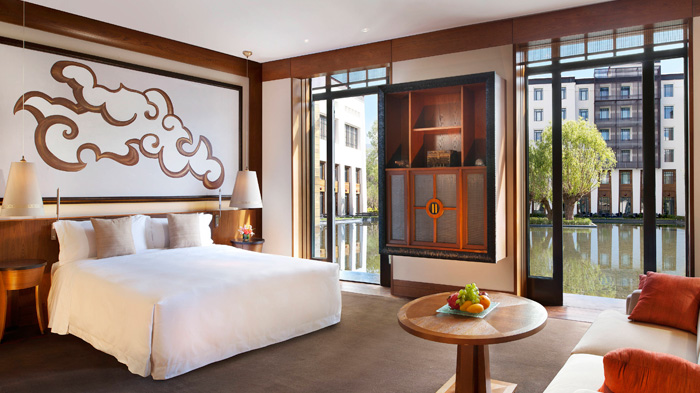 St.Regis Lhasa Resort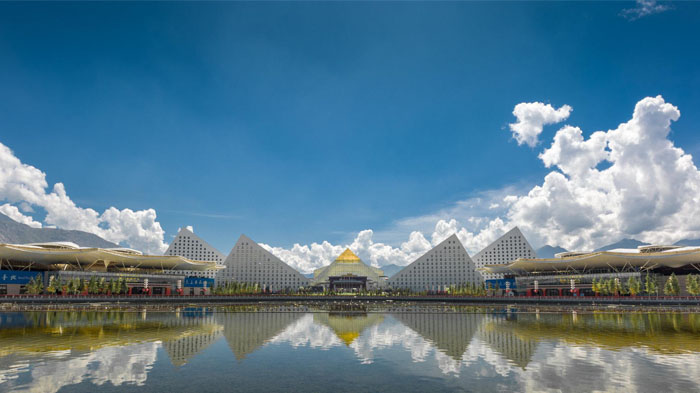 Intercontinental Lhasa Paradise
The best hotels mostly center in Lhasa, Shigatse and Nyingchi prefecture. As you travel north or to the west of Tibet, the more remote place you go, the more basic lodging facilities will be. In Lhasa, you have the widest choice for accommodation, from 5-star hotels to small local guesthouses with quaint local architecture and décor. The price ranges from less than 10 USD in the cheap youth hotel to 3-star hotel (29 USD/person) and all the way to 57usd/ person in the 4-star hotel to around 217 USD in the luxury resort in downtown Lhasa.
Insider Tips:
No matter Tibetan-style hotel or western hotel, it's advisable to choose the hotel close to major attractions with a clean and quiet setting, like hotels surrounding Barkhor Street in Lhasa. Usually, our travel consultants will give you many suggestions based on your preference and budget.
If you travel to remote places like EBC or Mt.Kailash or Nagqu in Tibet, the choice for hotels will be very limited, and it is often the case that the humble guesthouses or yak tents with no running water but filthy pit toilet are the only options. However, since you have chosen an adventure tour, so try focusing on the incredible landscape and adventurous experience, instead of super comfort.
As to dining in Tibet, the unique Tibetan climate and its closeness to Nepal, India and Bhutan have led to a culinary renaissance. To local Tibetans, Tsampa, made of highland barley and butter tea, yak meat, Lhasa beer are some of the staple food and beverage.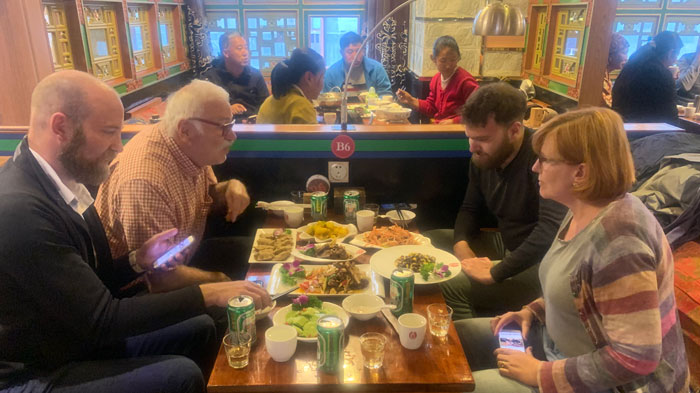 Enjoying the toothsome food in a local Tibetan restaurant of Lhasa.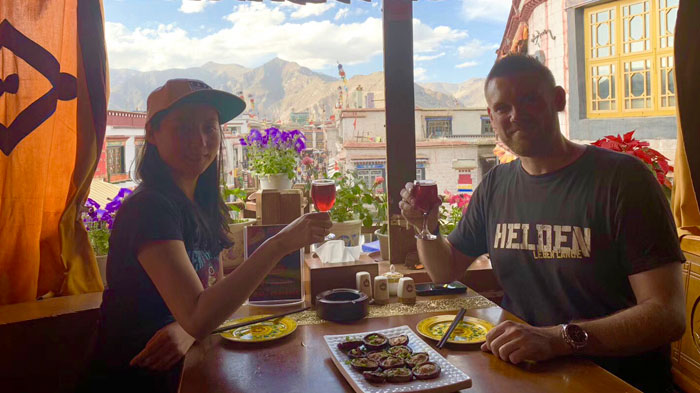 Lhasa Kitchen is a good place to taste the traditional Tibetan food in Lhasa.
To foodies like you, you have plenty of chances to give a treat for your taste bud. In Lhasa, delve into a local teahouse around Barkhor Street, in addition to traditional Tibetan cuisines mentioned above, you may also enjoy Tibetan momo, Tibetan noodles, and Tibetan sweet tea or Tibetan pasta and Tibetan yogurt. The cost of food is from 15 to 35 CNY. Or you can go to some of the popular Tibetan restaurants like Tibetan Family Kitchen and closely explore how Tibetan food is made through the kitchen. You may also visit Lhasa Kitchen restaurant for authentic Nepali, Indian and western cuisines, not to mention countless Chinese restaurants.
For general health, it is advisable to drink plenty of water while traveling, and have some high-energy snacks with you, such as dried fruit, nuts, chocolate, and energy bars. This can help you to regain lost energy quickly, and not feel so drained. Dehydration and fatigue can bring on altitude sickness and should be avoided at all costs. You should also be aware of the symptoms to avoid altitude sickness in Tibet, as this can become severe if ignored, and would not only spoil your vacation but could result in hospitalization.
Insider Tips:
To our small group clients, you can enjoy a tasty welcome dinner and performance of traditional Tibetan dancing in Lhasa. As you follow the tour group and travel beyond the Lhasa city to more remote places, let's say during Lhasa to EBC tour or Mt.Kailash tour, on the way you will dine in the designated restaurants with food safety guarantee, mostly Chinese food such as fried rice, noodles, vegetable soups, and instant noodles. Esp. if you go trekking, you may prepare some food before leaving Lhasa or Shigatse.
The Cost for Tibet Visit
Admittedly, Tibet tour may not be as cheap as you might expect. Overall, the cost of traveling in Tibet alone ranges from US$600 to over US$2500. And it all depends on how long you are staying for, travel season you are in and where you want to go to Tibet and your personal expenses like souvenirs.
Of all these influencing factors, the travel season and travel distance play a big part. The high season and longer travel distance often lead to higher cost.
Peak Season: Late June to mid-Oct.
Shoulder Season: Early April to late June; Late Oct to mid-Nov
Off Season: mid-Nov to late Feb
For example, during the off season, a 4-day Lhasa Impressions small group tour, staying in the Tibetan capital for four days and three nights (3-star hotels), costs from around US$ 460 per person, not including your travel into Tibet itself, some meals, and the gratuities for the guide and driver.
For an 8-day Lhasa to Everest Base Camp tour, the prices start from around US$ 850 per person in winter to US$1050 in summer, and for a 15-day Kailash tour that covers sightseeing in Lhasa, Mount Everest Base Camp, Mount Kailash (including the three-day kora trek), and Lake Manasarovar, the costs start from around 1,880 per person to US$ 2090 in the peak season.
Insider Tips:
So, a viable way to minimize the cost for Tibet travel is to join our diverse small group tours in the high season or travel in the winter season of Tibet tour. By doing so, you can share the cost with other group members and enjoy lots of discounts as to Tibet train, flight and hotels in Tibet in winter. You may save a considerate amount of money. Or simply tell us your travel plan and personal preferences, our friendly travel consultants will have a thorough discussion with you and give you a reasonable and more accurate quotation.
Conclusion

1. Book Tour with a reliable Tibet travel agency to get Tibet Permit for Tibet entry
2. You need Tibet Permit and China Group Visa for Tibet entry from Nepal
3. Have a good rest and gradual acclimatization in Tibet to avoid AMS
4. Best travel season to Tibet is from April to Oct; winter season is best for budget travelers.
5. Tibet train is the best option to reach Lhasa; only international flight to Tibet is from Kathmandu.
6. All-time favorite Tibet tours are 4-day Lhasa tour, 8-day Lhasa to EBC tour; 15-day Mt.Kailash tour; 7-day Lhasa to Kathmandu overland tour
7. You can have Tibetan, Chinese, Western and Indian and Nepali in Lhasa.
8. Best Hotels are found in Lhasa, Shigatse, and Nyingchi; the more remote places, the humbler the facilities
9. Travel season, travel distance and personal preferences matter a great deal for Tibet tour cost; Join Small Group Tour is the best way for Tibet travel.