Tibetan New Year
Historically, Tibetans were mainly nomads who coexist harmoniously with harsh environment on Qinghai-Tibetan Plateau. Husbandry had long been the unique way of living for deeply religious Tibetans. When their crops had bumper harvest, they celebrated it via dancing and singing. As time went by, they began to take the time when highland barley gets ripe as the beginning of a New Year.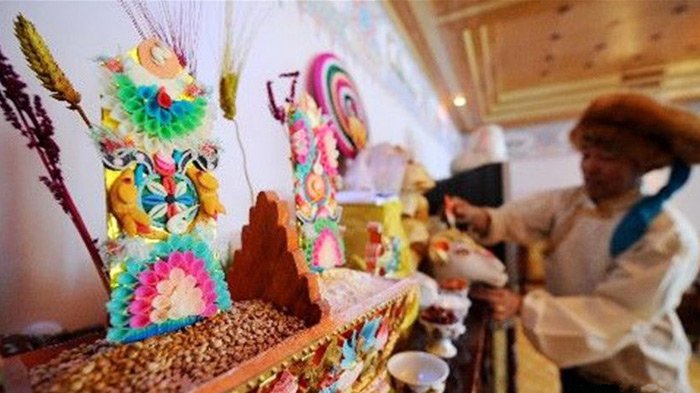 During Tibetan New Year, the house is adorned with Chemar and other ornaments.
Shortly after Princess Wencheng was granted by Emperor Taizong of Tang to marry to King Songtsan Gampo in 641AD, the intermarriage for harmony and peace between Han and Tibetan led to an unexpected people-to-people communication and brotherhood. The cultural exchange between Han and Tibetan covered areas of agriculture, astrology, Buddhism and far beyond. Gradually, Tibetan calendar adopted some of the holiday practices on the Chinese calendar. Here comes the existence of Tibetan New Year on Tibetan calendar.
When Is Tibetan New Year & When to Celebrate in 2024
The Tibetan New year, also known as Losar Festival, is the most important festival on the Tibetan calendar. Based on the Tibetan Calendar, annual New Year celebration begins on December 29 and lasts 2 weeks.Tibetan New Year offers the travelers a great opportunity to enjoy the annual festive occasion with local Tibetans.
Tibetan New Year 2024 will be celebrated on Feb. 10, 2024. And please bear in mind that the exact date of Tibetan New Year varies from the Chinese solar calendar. The following situations may occur:
a.Day 1 of Tibetan New Year is the same day on Chinese solar calendar.
b.Day 1 of Tibetan New Year may be one day earlier or later than on Chinese solar calendar.
c.Day 1 of Tibetan New Year may be one month earlier or later than on Chinese solar calendar.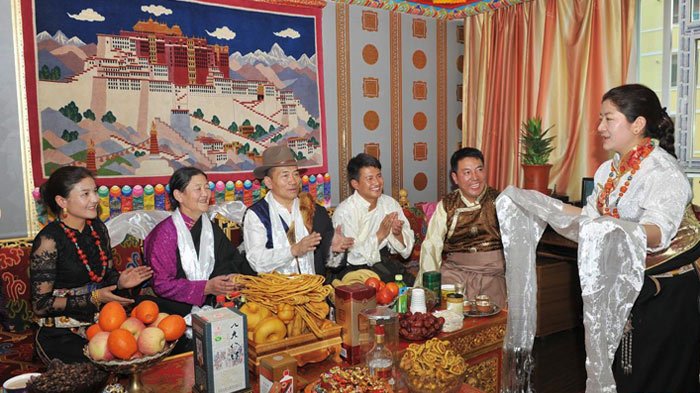 Present Hada, the white ceremonial scarf, to the eldly of the family
During the festival, people celebrate by some ancient ceremonies which represent the struggle between good and evil. Lamas are chanting and passing fire torches through the crowds. People perform the dance of the deer and amusing battles between the king and his ministers, and so on, people are cheering for the coming new year by dancing, singing, and merrymaking.
Tips: the actual date of Tibetan New Year may be different from Chinese New Year. But, it won't be too far away.
Tourists can see how Tibetans make New Year dishes like Guthuk and exorcize ghost for New Year, and how do they visit friends with auspicious Chemar and why do Tibetans burn pine branches to worship mountains gods, etc. Check how Tibetans celebrate Tibetan New Year for detail.
Days Before Tibetan New Year
The last two days of the old year called Gutor, people begin to prepare for the New Year.On the first Gutor, people have to do some house cleaning, the kitchen must be cleaned in particular because it is where the family prepare food and is considered the most important part of a house.
The hostess will cook some special New Year dishes. One of the dishes is a soup served with small dumplings called Guthuk. The soup is made from meat, rice, sweet potatoes, wheat, Yak cheese, peas, green peppers, vermicelli and radishes.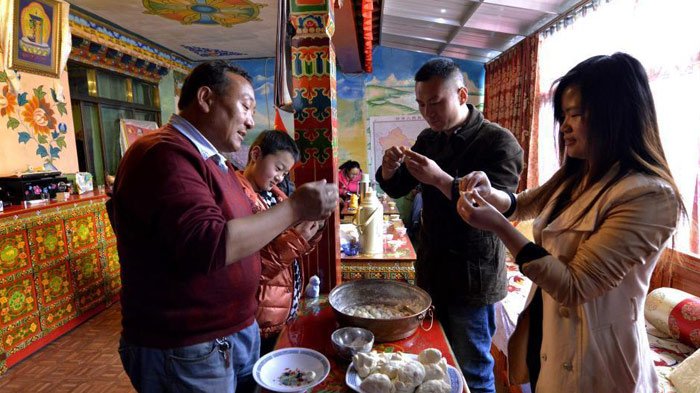 Make Guthuk, the traditional Tibetan food for New Year's Eve.
Also, people place various ingredients such as chilies, salt, wool, rice and coal in dough balls, which are then handed out. The ingredients that one finds hidden in one's dough ball are supposed to be a lighthearted comment on one's character.For example, if a person finds chilie in his dough, that means he is talkative. If white-colored ingredients such as salt or rice are hided in the dough, it is believed as a good sign. If someone finds coal in his dough, it has the same meaning as finding coal in the Christmas stocking; it means that one have a "black heart".
At night, Tibetans will use torch made of straw, Tsampa and firecrackers to get rid of evil spirits which is lurking around. Later, they will burn the tsampa , torch, etc at the crossroad as a way to completely dispel ghosts.
On the second day of Gutor, religious ceremonies will be performed. People visit the monastery to worship and donate money and gifts to the monks. Meanwhile, it's also time to a time to clean and prepare for the approaching New Year.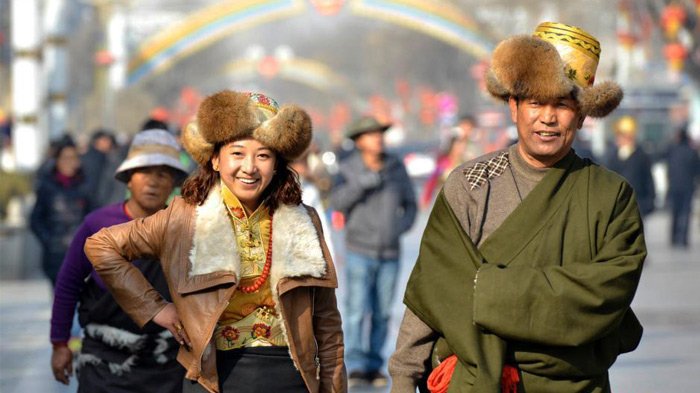 Well-dressed Tibetans seen on the street during Losar.
The housewives will go to the market, and buy ingredients to make traditional food for the New Year. The windows of the house will be replaced with new "fragrant curtain". Besides, goat head, qemar, green barley shoots, kasai (fried dough ball) and other dried fruits will be placed before the shrine inside the house.
Tibetan New Year Activities
People get up every early on the New Year's Day, having taken a bath before dressing in new clothes, then put some offerings on the household shrines to start family praying ceremony. The offerings are very interesting and they are the animals and demons made from a kind of dough called Torma.
During the day, the family members will be together to have a reunion dinner and send gifts to each other. The dinner usually consists of cake called Kapse and an alcoholic drink called Chang. The housewife will get up extremely early to get "First Water of The Year" and make meals with this water, which is believed to be fairly auspicious.

Tibetan wivies get up extremely early in the morning and rush to get the first water of the New Year.
On the second day, people visit friends and relatives. Tibetans normally carry qemar, filled with fried barley, barley power, tsampa, straw of barley and flowers made of yak butter to send their New Year's greetings to friends. They will sit down for a spirited chat while drinking yak butter tea and other Tibetan delicacies that can be only eaten during the New Year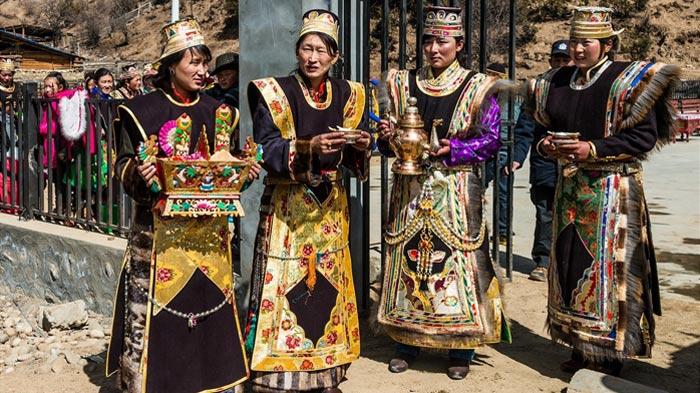 Tibetans dressed formally and greet their visitors with chemar and chang (barley wine).
The third day of the Tibetan New Year is for visiting local monasteries, where Tibetans make offerings. Wei sang also known as the burning pine tree branches, cypress and other herbs to make aromatic smoke as a kind of offering for Gods is essential to the rituals on day three of the celebration. The other important event is to hang new prayer flags on the rooftop of house or on the mountaintop. As Tibetans hang new prayer flags, they will also splash tsampa in the air for peace and happiness in the new year.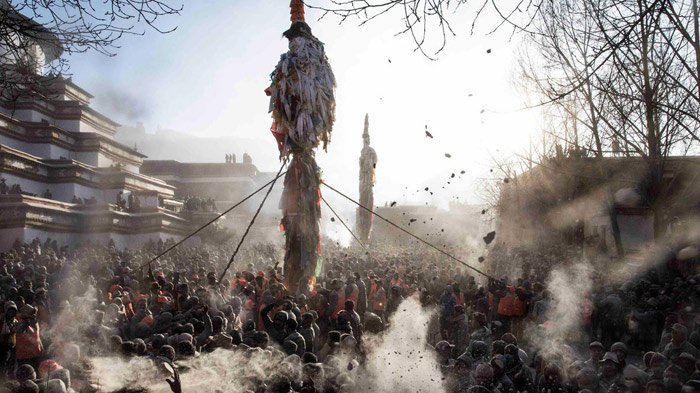 People celebrate the Tibetan New Year by erecting new prayer flags and splashing tsampa in Palcho Monastery in Shigatse.
Tibet New Year Food
Completely different from what Han people eat during Spring Festival in other part of China, Tibetan New Year dishes involves without food like fish, duck, chicken. Instead, from Tibetan New Year's eve onward, each day there is one or many must-eat delicacies, most of which tend to be sweet and have many fruits and vegetables.
The most interesting food eaten on Tibetan New Year's Eve would be Guthuk and it carries a special symbolic meaning for the New Year. Learn more about Guthuk tradition on Tibetan New Year's eve.
Tibetan New Year Etiquette
Greetings used during Tibetan New Year mirror Tibetans' longing for peace, blessings and happiness in the New Year. Meanwhile, how do people address each other also shows their social position in a family.
To international tourists, you are very likely to be invited to visit Tibetans' family if you happen to tour Tibet during Losar. It's better to learn more about its distinct etiquette before making embarrassing mistakes.
Best Places to Visit in Lhasa during Tibetan New Year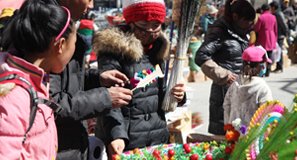 Bustling Tromzikhang Market
Undoubtedly, the heart of New Year celebration and pilgrimage will take place in Lhasa. Then, travelling to the right place at the right time matters a great deal.
From the celebration in the center of Lhasa to diverse religious worship and entertaining performances, Tibet Vista's travel gurus bring you the top 6 places to tour in Lhasa during widespread Tibetan New Year celebration. Find out where these best places are.
Restaurant and Accommodation
Some restaurants will be closed during Tibetan New Year, but it will not cause any problem with travelers and photographers. Winter is the off-season of tourism in Tibet, and you can easily find hotels or guesthouses with low price and many discounts, including means of transportaion to Tibet.
Photography
The prime time of photography is in New Year's Eve (on the 30th day of the 12th month of the Tibetan calendar), the first 3 days and the fifteenth day of the first month of Tibetan calendar. The entire Lhasa city, esp. Jokhang Temple, Barkhor Street, Potala Palace will be the center of celebration.
If you want to express the scene of local Tibetan family, you'd better find a herdsman in suburbs of Lhasa in advance. You will get an unexpected result by visiting a Tibetan family. Tibetan New Year is in winter. It will be more perfect if you are lucky enough to catch up with snow, thus you can take pictures of snowscape and scenery of New Year.
Most Recommended Tour Packages of this Festival
7 Days Tibet New Year Festival Tour

Tour Route:Lhasa - Gyangtse - Shigatse - Lhasa

Travel to Tibet during Tibetan New Year, the most important festival for Tibetans, you will get a wonderful Tibetan culture experience and have a great time with local people. During the festival, people celebrate by some ancient ceremonies, dancing, and many local events.

1

4 Days Lhasa Impression Small Group Tour

Tour Route:Lhasa

This classic Lhasa city group tour is the best choice for tourists who have limited time or visit Tibet for the first time. After visiting the must-sees in Lhasa, you will have a comprehensive impression of Tibetan culture and pave the way for your revisit in the near future.

1

5 Days Lhasa Small Group Tour with Three Major Monasteries

Tour Route:Lhasa

The 5 days tour features the major monasteries of Tibet, Drepung monastery,Sera monastery and Ganden Monastery, which are 3 main Yellow sect Monasteries in Lhasa. Through this tour, tourists may have a better understanding of the largest and mainstream leading sect of Tibetan Buddhism.
Just a Reminder
Joining in a small group tour is the very BEST way for solo travelers or traveling Tibet on a budget!
As the Pioneer of Tibet Tourism for global tourists since 1984, TIBET VISTA has been the FIRST TOUR OPERATOR of running join-in group tour business in local and with ability of organizing over 5000 visitors a year. For Tibet Vista's special contribution to Tibet Tourism especially to Mt. Everest Tour, we have been the ONLY company awarded by Tibet Tourism Bureau Shigatse "THE EXCELLENT ORGANIZER OF MT. EVEREST TOUR" for successive years.
View our Tibet Small Group Tour