Top 5 Niche Buddhist Monasteries Around Lhasa
Tibet has entered its peak season from April. If you want to get to know the Tibet culture much more deeply, the top 5 niche Buddhist monasteries around Lhasa should be your best choice to pay a visit to. These monasteries have their own characteristics in culture, architecture and other aspects. Check out the contents in this guidance to know the highlights, the best time and some tips while traveling to these monasteries to make your trip more wonderful.
Drak Yerpa
Drak Yerpa Monastery is located on the cliff at altitude of 4,885 meters, about 16km away from Lhasa, which is a holy place originally built in the 7th century by King Srongtsen Gampo. Its long history adds its mystery and its status among Tibetans is incomparable. This monastery is not so simple to reach compared with other monasteries in or around Lhasa. Due to its location, it is not a popular spot crowded with travelers but a monastery visited by Tibetan pilgrims frequently. Visitors are all delighted by the fantastic atmosphere and the magnificent view.
Drak Yerpa Monastery is located on a hillside in Dagzê County
Highlights in Drak Yerpa
1) Natural Scenery
Drak Yerpa Monastery is a cliff-side Buddhist hermitage, which is called the "Tiger Nest" in Tibet. The Yerpa Valley is quite peaceful and beautiful, which is covered with various plants and displays strong vitality in Tibet. The gold yellow color of the valley in autumn makes it more fascinating with the companion of blue sky and white cloud. The impressive voice from the running spring and the whisper of leaves can be heard at the foot of the peaks, which will make you tranquil and purify your soul to a great degree.
2) Characteristic Architectures
Tourists' attention will be drawn by the magnificent landscape of this monastery even from a certain distance. The diverse architectures are clung to the hillside spectacularly, which is not so towering but attractive. There is a vast statue of the Past Buddha Matitreya in the main hall of this monastery, which is thought to be the tallest statue of Matitrey in Lhasa. Tourists can also view some other red and white halls, and they are irregularly dotted the Yerpa valley. Numerous white pagodas are in the Drak Yerpa Monastery, and the pilgrims will kora around them one by one to show their piety.
3) Holy Cave Retreat
The number of mediation caves in this monastery was once more than 100, which has different scale and shapes. However, with time passing by, only about 16 caves are well-preserved now. Tourists can have the chance to appreciate the lifelike statues and diverse murals in them. The soft light in the caves will offer you a feeling of walking in the fairyland with the shrouding of mist. With the detailed introduction of your tour guide from Tibet Vista or other travel agency, you will get to know the legendary and related name of each cave, including moon Cave, Laku Cave, etc.
Best Time to Visit and How to Get There
You can visit Drak Yerpa Monastery all year round, but summer and autumn will be the best time for you to get there, for the weather is warm and the scenery is much more beautiful at that time. You should know the Drakp Yerpa Monastery opens from 9:00 to 17:30.
If you are a photography lover, you can get there at the best time to take photos of the magnificent and beautiful scenery of the valley it is located. To take pictures of the sunrise and sunset in this cliff-side monastery will enable you to get different scenes. To stare at stars and the blue sky in this cliff-side place will offer you completely different feelings in other places. The clear air and the picturesque scenery will make your feel calm and tranquil.
Tibet Vista is a locally based tour agency and it suggests you rent a car to reach there to save your time. You can also make use of this agency to enjoy the superior trip service in the whole traveling itinerary. With the help of it, you can take advantage of the vehicles with high quality and reach there as swiftly and smoothly as possible. Besides, you will be able to enjoy the freedom and flexibility to stop on the way for sightseeing or taking photos. When you get to this monastery, you can talk with the locals and some pilgrims to know the traditional culture of Tibet to some degree, which will make you admire their spirit and belief.
Other Dos and Don'ts
1. To avoid high altitude sickness, you need to walk slowly to visit each hall and pagoda of this monastery.
2. Bring much water with you to prevent dehydration.
3. You can buy some basic food and drinks in a small store in peak seasons near Drakp Yerpa Monastery.
4. Do not smoke or do strenuous exercises in high altitude.
5. Do not take pictures in the monastery without asking for permission.
Tsurphu Monastery
Tsurphu Monastery is located in the upper reach of Tsurphu River with an altitude of 4,300 meters. It has a history of more than 800 years, which covers an area about 300 square meters. There are numerous rare cultural relics cherished in the Tsurphu Monastery, which can offer perfect historical materials for the investigation on the politics, economy, and religion during old Tubo Dynasty. It is about 65 km west away from Lhasa, and the splendid views of it can glut the eyes of tourists with springs, shrines and meditation retreats. The magnificent architectures, cultural relics, featured activities, and the Tsurphu Monastery kora will bring you breathtaking experience.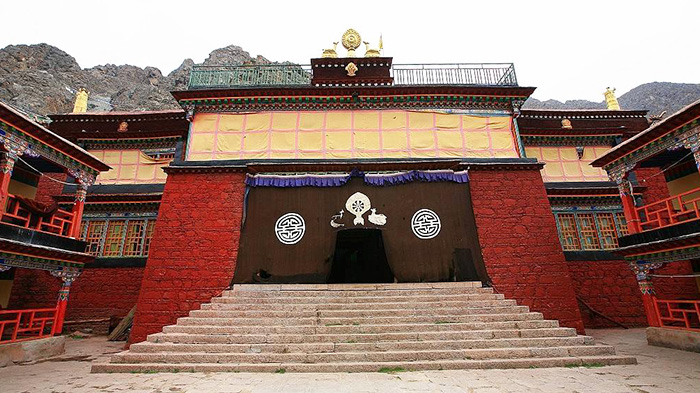 Tsurphu Monastery
Besides the Tsurphu to Yangpachen hiking is popular among tourists. After you have visited all the places at and around this monastery, you can trek from trekking from Tsurphu to Yampachen, which will offer you more wonderful experiences to your trip. This trekking way will pass rugged roads in some high valleys before entering into the broad and windswept Yampachen valley. Tibet Vista recommends you go there from April to October, which is the best time to take this trip. Here I would like to show you the itinerary of 9 Days Tsurphu to Yangpachen Trek available in Tibet Vista for you to refer to.
Day 1: Arrival-Lhasa(3650m)
Day 2-3: Two full days Lhasa Sightseeing(B)
Day 4: Lhasa/Tsurphu Monastery[4500m](79km,2-3hrs drive)
Day 5: Tsurphu Monastery/Leten(trekking 4-5 hours, 11km)
Day 6: Leten/Bartso(trekking 5-6 hours, 15km)
Day 7: Bartso/Dorje Ling Nunnery(Trekking 4 hours, 15km)
Day 8: Dorje Ling Nunnery/Yangpachen Monastery/Lhasa, trekking 4 hours,14km
Day 9: Lhasa airport dropping off
You can view the alpine tundra, monasteries, hot springs, a lots nomads, and remote nunnery on the trekking way. This hiking combines the cultural and wilderness activities perfectly, which is available from mid-April to mid-October.
Tips:
1. This trekking route is quite popular and Tibet Vista suggests you to book in advance to manage your time more reasonably.
2. If you just want to pay a visit to Tsurphu Monastery, you can choose to reach there in its opening hours from 9:00 to 14:00 all year around as you like.
Drigung Til Monastery
Drigung Til Monastery is near Tidrum Nunnery, which is incredibly grafted onto a sheer cliff face. It once has housed more than 500 monks. Via going up switchbacks in a Landcruiser, you probably pass a donkey bearing a body under a blanket. This monastery is famous for its best sky burial ceremony among all monasteries. According to the legend, the bodies dispatched here will not go down into the "3 bad regions".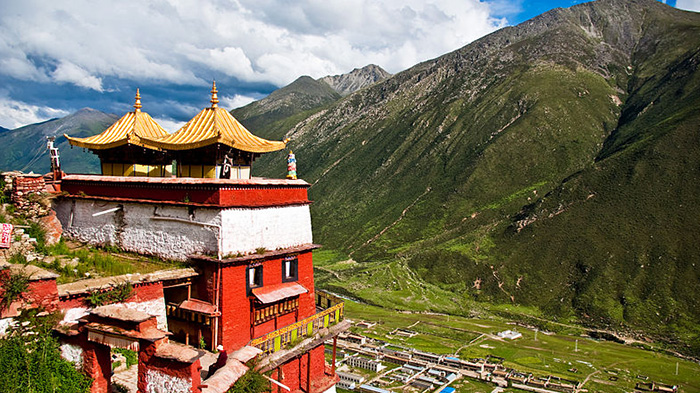 Drigung Til Monastery
The best time to visit Drigung Til Monastery is from April to October. It provides breathtaking views over the whole valley due to its location, and tourists can climb up to the roofs with gold caps for better views. Visitors can also stay over night at the guesthouse of it to enjoy the special atmosphere inside the monastic grounds. You can get hot water from the monks in Thermoses and buy basic food and drinks from a small store. If you take part in the small group arranged by Tibet Vista, you can also camp out in the valley with your team members.
There are only two famous sky burial sites in the world and Drigung Til Monastery is one of them. However, it is said that the authority has banned tourists to witness the sky burial due to the tradition of local people and its bloody scene. Whether the situation has changed, you can ask your guide or drive to confirm. You should know that the sky burial is only a ritual of some local Tibetans, and you'd better behave yourself to respect their tradition. Anyway, this scene is too bloody and is not for the faint or heart.
Tips:
1. The guesthouses near Drigung Til Monastery are not equipped well, and you can choose the ones near Tridrum Hot Spring to get better accommodation.
2. It is open from 6:00 to 16:00 all year round.
Reting Monastery
Reting Monastery is the first Kadampa monastery, which has an important political status in Tibet China. You can hear more historical events compared to other monasteries. It is located in the Linzhou County in Lhasa, whose altitude is about 4,150 meters. Its location is a placid valley of small village with green-clad plants around.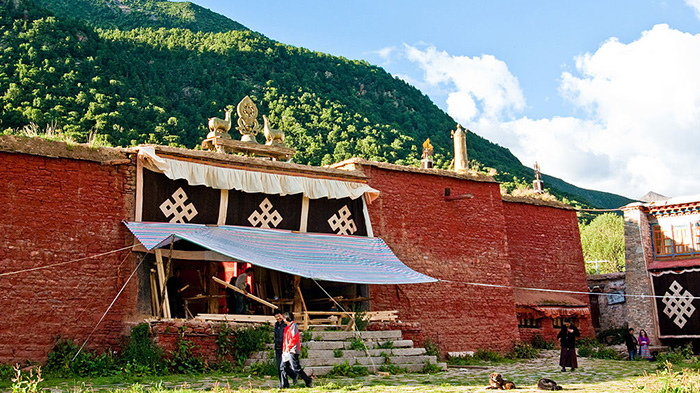 Reting Monastery
The natural scenery around this monastery is breathtaking with the green-clad plants, which has made the hiking around Reting Monastery become popular among tourists. You can enjoy a tranquil feeling in the picturesque landscape through trekking.The historical relics are also attractive. There are various local festivals in this monastery, which allows visitors to participate in the activities happily, such as horse racing, horseback archery, holding stones and dance around bonfire in night time.
Tips:
1. Reting Monastery is open from 7:00 to 19:00 daily.
2. Make a short trekking around will make your relaxed.
3. You can also have the chance to enjoy the debating scene in it.
Taklung Monastery
Taklung Monastery is located just 120 kilometers north of the capital of Tibet, Lhasa, which is a wonderful building of bright red brick. The rich green grass around it adds its beauty to a great degree. Tourists can view thousands of prayer flags attached to the building, which is a displaying of faith. Nowadays, it has become one immense spiritual and cultural place for visitors. You can see lots of wonderful religious paintings, called "thangkas", which were produced by the monks of Taklung Monastery. It is really a sacred site in Tibet, and the land it rests on was once inhabited by a famous lama named Potawa. This monastery has become a proud among townspeople who reside nearby, which is an area of sacred and religious activity for many centuries.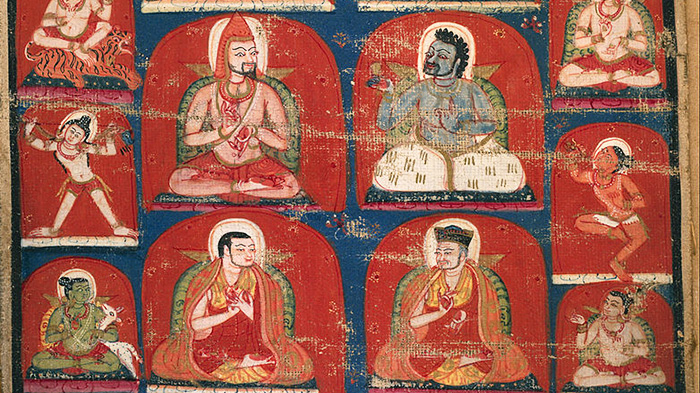 The Buddha Murals in Taklung Monastery
For some courageous cyclists, they can make a two-day trip to the monastery from Lhasa by heading northwest through the Phenpo Chu valley. Trekking there is also a good choice for you to enjoy the picturesque scenery.Tourists can also rent a car to go there or you can get help from a travel agency like Tibet Vista to arrange your itinerary perfectly.
After you have learned some basic information on the top 5 niche Buddhist monasteries around Lhasa, you can plan your add-on trip to them when you have one or two more days to spare in Lhasa.