Guide to Historical Development of Tibetan Buddhism
Origin of Tibetan Buddhism
Buddhism has emerged in India from where it started to spread into all directions and particularly neighbouring states. It is believed that Buddhism spread to Tibet directly from India in the 5th century. Local tradition says that first Buddhist scriptures reached Tibet in a basket but they were written in Sanskrit. The scriptures were finally translated almost a century later thanks to a Chinese Buddhist princess who was married to a Tibetan king. Although many Buddhist missionaries have come to Tibet from China, their impact was never as strong as the one coming from India.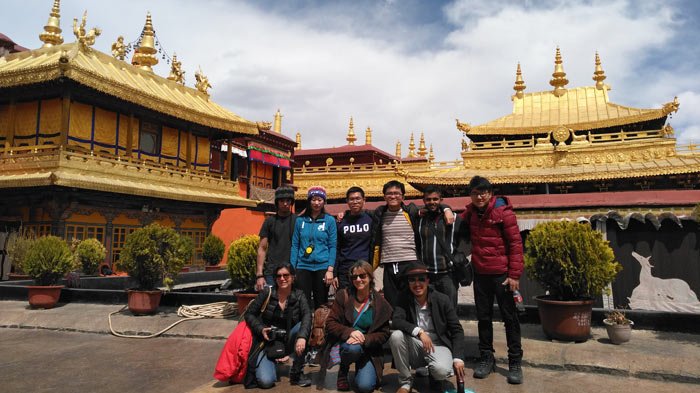 Johkang Temple, the spiritual center of Tibetan Buddhism
Nevertheless, all of those influences started to show strong results in the 8th century when Buddhism finally prevailed in Tibet. It was even declared as a state religion and this is also the moment when the oldest school called Nyingma was established. A moment like this was the true beginning of the development of Tibetan Buddhism.
Development of Tibetan Buddhism
Since Buddhism became a state religion, it is much easier to reconstruct its history and development from this time. Indian influence was still prevailing although some important efforts were made from China too. In fact, Chinese region Khotan or Hotan was one of the major centres of Buddhism that spread its teachings to Tibet. Another princess from China married a Tibetan king and she allowed fleeing Buddhist monks from Khotan to settle in Tibet. But after her death, these monks were forced to leave once again and her death was the end of strong Chinese influence on the development of Tibetan Buddhism.
Indian masters continued to inspire Tibetan Buddhism which also started to spread to other parts of Asia. This was especially highlighted in the 11th century when Tibetan Buddhism spread all over Central Asia and among the Mongols. Since a Mongol dynasty also ruled over China, the Tibetan Buddhism gained many worshipers there as well. In the end, Tibetan Buddhism has passed a long way of development which resulted in establishing a particular system of beliefs and practices. So, unlike Chinese form, Tibetan Buddhism is based on a particular class of scripture called tantras and the roots of those practices can be followed to various Indian masters such as Padmasambhāva, Atiśa, Naropa, Tilopa, etc.
5 Major Schools Of Tibetan Buddhism
Over the course of years, Tibetan Buddhism has developed many schools that have some specific forms of practices and beliefs. Today, there are five major schools that all come from the same root and are basically identical. Almost 80% of their teaching is completely the same and the 20% left is more a difference in form than in actual philosophy.
Nyingma
Nyingma is the oldest school in Tibet and for that reason it is usually called "The Ancient One". Its founders are Indian masters Padmasambhava and Śāntarakṣita who categorised their teachings into nine, instead of common three Yānas - the highest one is called Dzogchen. Termas play an important role in Nyingma teachings too.
Kagyu
Kagyu is a school that pays a lot of attention to meditation. It has many sub-schools that have developed over the time but they all emphasise the role of meditation. Kagyu school promotes the idea of transmitting messages and knowledge from a master to disciple through the form of meditation.
Sakya
Another major school which represents the ancient scholarly tradition surpassed from a generation to generation. Some of the most notable and influential texts on sutra and tantra have been composed in this school.
Gelug
Gelug school or "The Way of Virtue" used to be a reformist movement which later developed into a particular form of teaching. The main emphasis of this school is logic and debate and it also places a strong focus on ethics and discipline.
Jonang
This is the smallest of all schools which was almost extinct in the 17th century when the 5th Dalai Lama annexed all of its monasteries. But luckily it managed to survive and today some 5000 monks cherish its teachings. Jonang is based on the shentong philosophy of śūnyatā and the Kalachakra Tantra.
There are some other smaller schools but their influence cannot be compared to these five we talked about above. But the basis of all of these schools, five major and others too, is completely the same.
Prestigious Tibetan Monasteries And Temples In Tibet
Tibet is a place that offers numerous temples and monasteries able for a visit throughout the year. But among everything else, they provide you with the opportunity to learn more about Tibetan Buddhism as well as its tradition and customs. Approximately, there are at least 1700 monasteries and temples across the whole region and many of them are placed in the rocky and mountaintop regions. Of course, Buddhist monasteries and temples serve as universities and academies that tend to spread the religion to all those interested in learning its roots, pillars, and convictions. For that reason, we present you a list of the most prestigious Tibetan monasteries and temples in the area. You will undoubtedly be amazed by all of them.
Religious Sites In Lhasa
Lhasa is the second most populous city in Tibet and one of the highest cities in the entire world. This is, by far, the destination with the most Buddhist monasteries and temples, each of which enthrals the visitors with its beauty, purity, and perfection. Among the many Buddhist monasteries, one should not fail to visit Grashi, Tsurphu, Nechung, and Shugsheb Nunnery monastery in Lhasa.
Grashi Monastery – Worships God Fortune
The Grashi Monastery is a very special temple of Buddhist religion since it is the only one that worships God Fortune. When it comes to its tradition, Grashi was built for the people who came to this region to work. Grashi is extremely popular among the local population, but tourists also visit it in great numbers. The monastery is specific in that it allows you to bring a lot of alcohol, so don't miss the chance to put at least a small bottle of your favourite drink.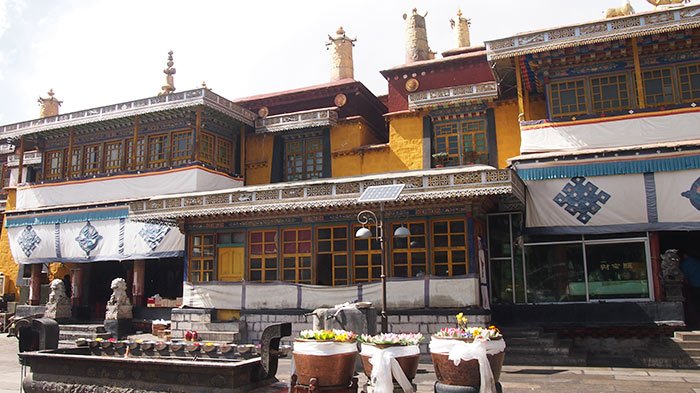 Grashi monastery
Tsurphu Monastery – Interesting To Visit In May
Tsurphu Monastery is located some 65 kilometres west of Lhasa and belongs to the Kagyupa order of Tibetan Buddhism. Tsurphu temple is specific for its annual festival that falls almost at the same time as Saga Dawa Festival in May. During the festival, visitors can enjoy in Tibetan barley beer and dancing ceremonies across the river from the monastery.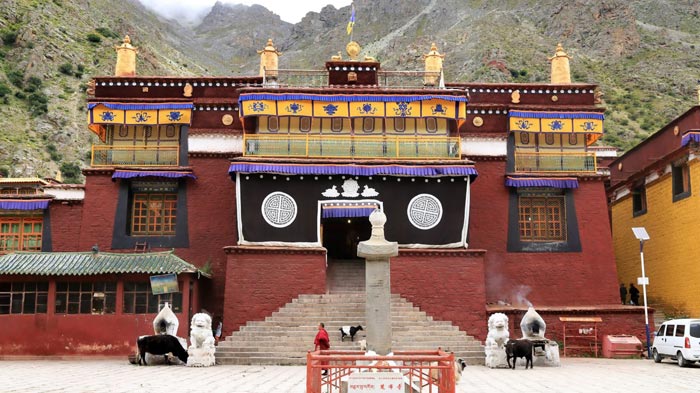 Tsurphu Monastery
Nechung Monastery – With Strange Murals All Around
Another important monastery in old Lhasa was Nechung Monastery. It is located on the hill leading up to Drepung Monastery. Nechung monastery was the seat of the oracle who assisted in decision making together with the Lhasa government. The building of the monastery is quite odd when it comes to the strange murals around the inner courtyard and main chapel.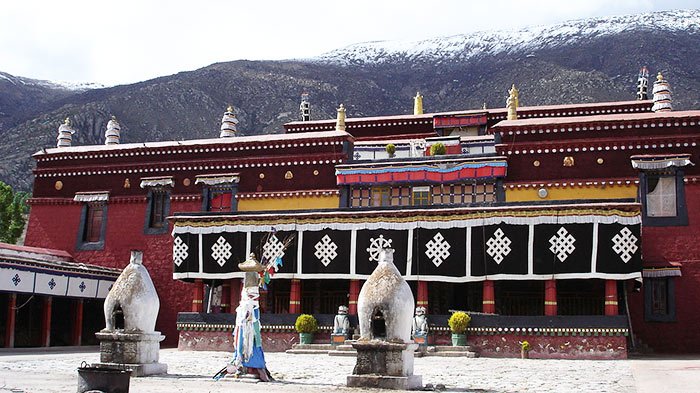 Nechung Monastery
Shugsheb Nunnery Monastery – Incredible Statues And Places Worth Seeing
Shugsheb Nunnery monastery is an excellent opportunity for all the tourists who enjoy trekking. It is placed some 65 kilometres south of Lhasa, and it is assumed to be home to more than 280 nuns. There are many interesting things to do and see while visiting Shugsheb Nunnery such as seeing the statues of Dorje Semba, several Lamas, and Guru Rimpoche.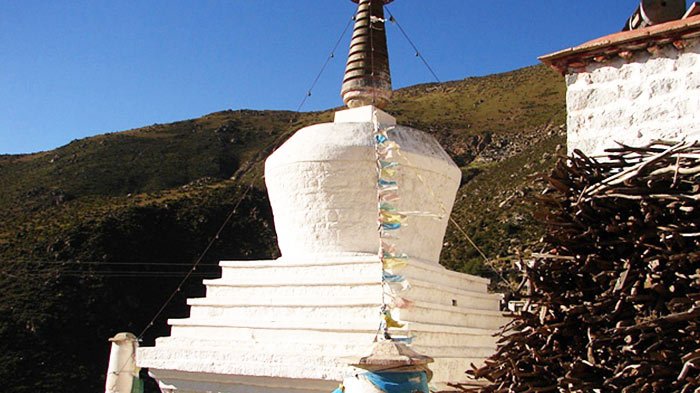 Shugsheb Nunnery Monastery
In addition to the above monasteries, when touring Lhasa, you couldn't afford to miss the classic must-visit attractions such as Potala Palace(iconic buidling of Tibet), Jokhang Temple(spiritual heart of Tibet), Sera Monastry(dramatic monk debate), Drepung Monastery(biggest monastery of ''Great Three Gelugpa Monastery'') and Drak Yerpa Monastery( one of top 3 hermitages in Tibet).
Shigatse Monasteries
Located in the Tsang province of Tibet, Shigatse is among the cities that offer some of the most prestigious Tibetan monasteries. Among them, you can visit Yungdrungling, Shalu, Phuntsoling, and Natang Monastery in Shigatse.
Yungdrungling Monastery – Friendly Monks Who Speak English
It is placed between the cities Lhasa and Shigatse, across the river from the Friendship Hwy. Yungdrungling Monastery once used to host around 700 monks, but today, unfortunately, there are only 35 of them. When you see the monks, you will learn that they are very friendly to the visitors. If you are lucky enough, the man in charge of the monastery will show you the inside of the house where you can see the impressive thrones of it.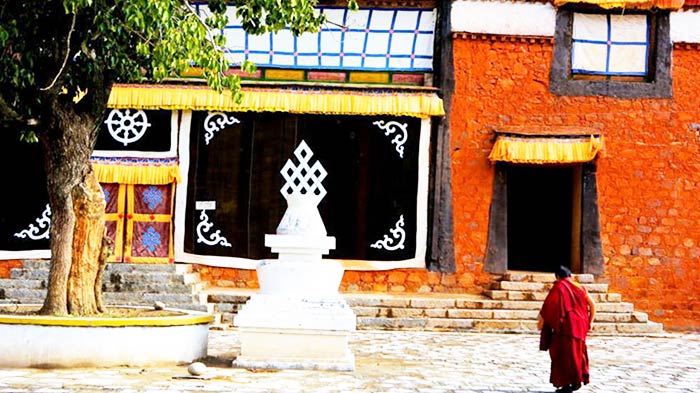 Yungdrungling Monastery
Shalu Monastery – With Four Religious Treasures
Located in the southeast of the city of Shigatse, Shalu Monastery is unique in that is combines the two architectural styles, Han and Tibet style. In its past, the monastery was destroyed by an earthquake but then in the 14th century was built again by the Yuan Dynasty. The monastery has 4 religious treasures: a 700-year-old sutra board, the holy jar made of brass, a stone tablet inscribed with six characters, and a huge stone like a basin. Each of the treasures has a magnificent story which is indeed worth listening. No wonder that tourists yearn to visit Shalu Monastery every year.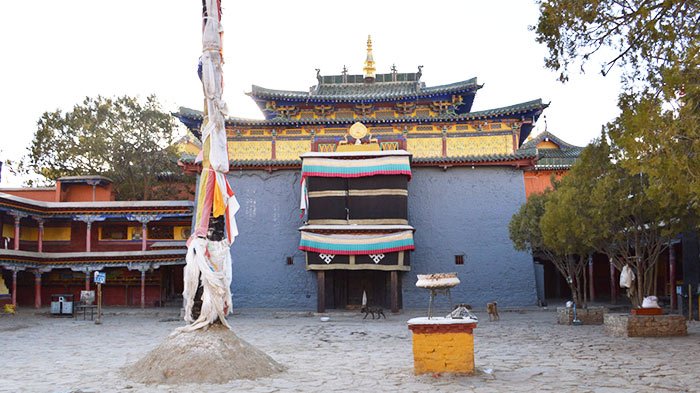 Shalu Monastery
Phuntsoling Monastery – Only Jonangpa Monastery In Tibet
Since it belongs to the Kagyu Sect, it is important to know that it was the central monastery of Jonangpa. When you visit it, you will hear an interesting story about the 5th Dalai Lama who suppressed the monastery to convert to a Gelugpa institution. Sometimes in May, there is a festival in the Phuntsoling Monastery that gathers pilgrims from all over the region who pray and celebrate here. However, as a foreigner, you are not allowed to attend this festival. The building of the Phuntsoling Monastery is decorated with the beautiful murals worth seeing.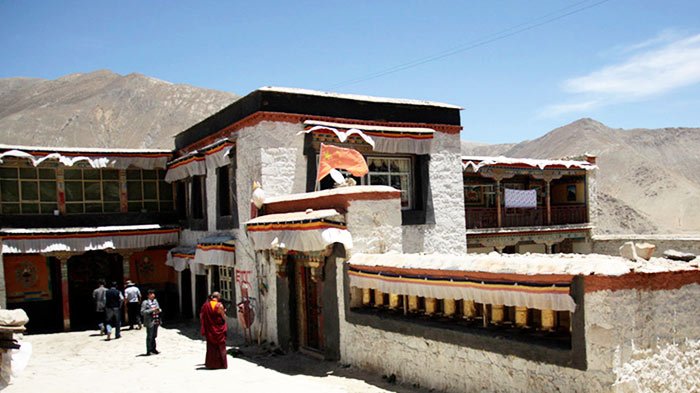 Phuntsoling Monastery
Natang Monastery – Recognizable For Printing Buddhist Sutras
The Natang Monastery is built in the 11th century and placed some 15 kilometres from Shigatse. It is famous for the workshops for printing Buddhist sutras and the monastery contains the printing house which is created in order to save the ancient books and scriptures of Tibet. It is said that a large number of Tibetan printing workers are trained here and they played a great role in preserving as well as developing printing culture in Tibet.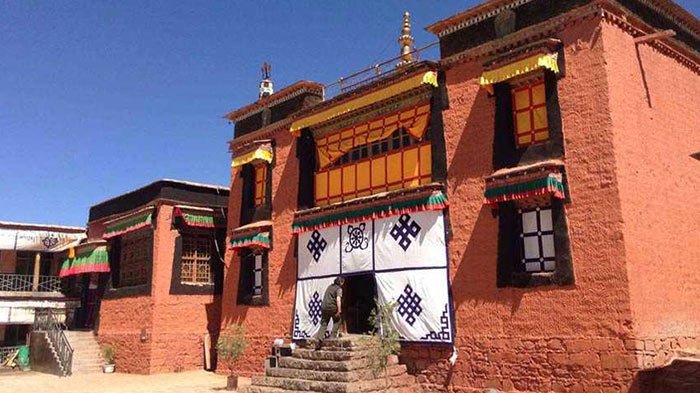 Natang Monastery
Apart from the above monasteries, never miss the chance to visit prestigious Tashilhunpo Monastery, world's highest Rongbuk Monastery(5154m), Sakya Monastery( main sect of Sakya school). Of course, if you fancy awe-inspiring mountain vista, EBC is where you should be. You can closely enjoy the panoramic view of the Mt. Everest.
Monasteries In Ngari
Ngari region of Tibet has two equally important monasteries to offer to its visitors, Tholing and Korjak Monastery. Both of them tell incredible stories and those who decide to visit Ngari will surely carry unforgettable memories for the rest of their lives.
Tholing Monastery – The Oldest Monastery In Ngari
Having an altitude of 3.800 meters above the sea level and built in 997 AD, Tholing Monastery exceeds memorable beauty. Its name, Tholing, means 'hovering in the sky forever' in the Tibetan language. The Tholing Monastery includes 3 temples with ancient and well-preserved frescoes all around.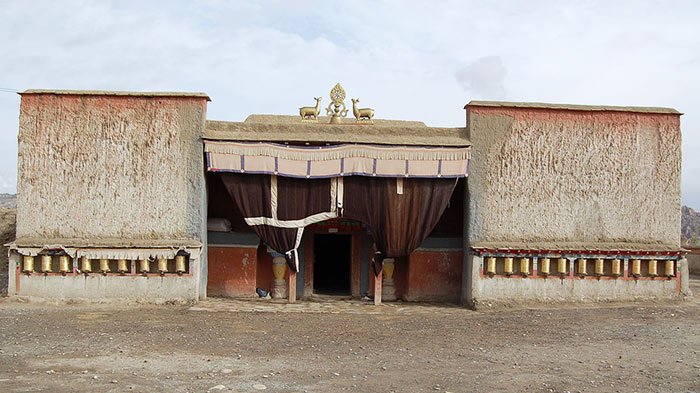 Tholing Monastery
Korjak Monastery – Important Monastery Of The Sakya Order
Located in the northeast of the Indian border, the Korjak Monastery was once the most important temple in the western Tibet. It has a large courtyard as well as outer and inner gates. In the hall, one can see a figure of Jampa and the monastery also contains a small chamber that contains the old paintings that date back to the first days when the monastery was built.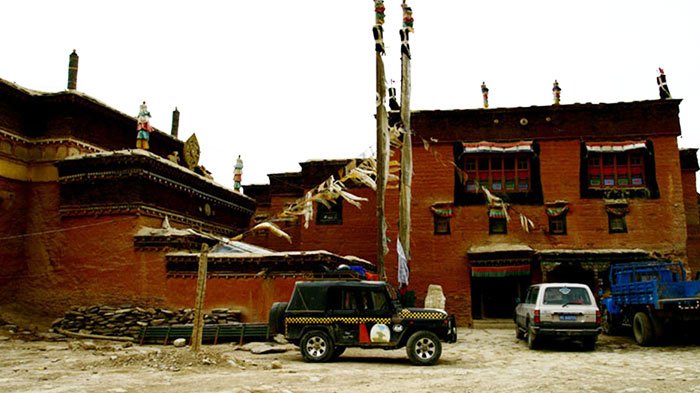 Korjak Monastery
Mysterious Tibetan Buddhism is undoubtedly one of the unfailing charms of Tibet tour. Those fleeting moments around fluttering prayer flags, grand Tibetan monasteries, etc. Will make you an unparalled spiritual journey on the roof of the world.