Top 2 Must-Visit Hermitages in Lhoka
To explore Tibetan culture, Lhoka is a must. As the closest prefecture to Lhasa, Lhoka , located around the lower reaches of fertile Yarlung Valley, is home to the birthplace of Tibetan Buddhism. Apart from the landmark Buddhist sites such as Samye Monastery and Yungbulakang Palace, a number of off-the-beaten Buddhist retreats are also worth a visit. If you are a cultural explorer and happen to visit Lhoka, do make a detour to visit Chim-puk Hermitage and Drak Yangdzong. And there are good reasons below.
Chim-puk Hermitage
Chim-puk Hermitage is located in the northeast of Samye, which is a warren of caves. It was a retreat for Guru Rinpoche. The path out of this monastery can lead you east through some fields. It is a most famous place for meditation of Tibetan Buddhism. Chim-puk hermitage is at the opposite of the extensive Yarlung Tsangbo Valley, which is surrounded by hills on three sides.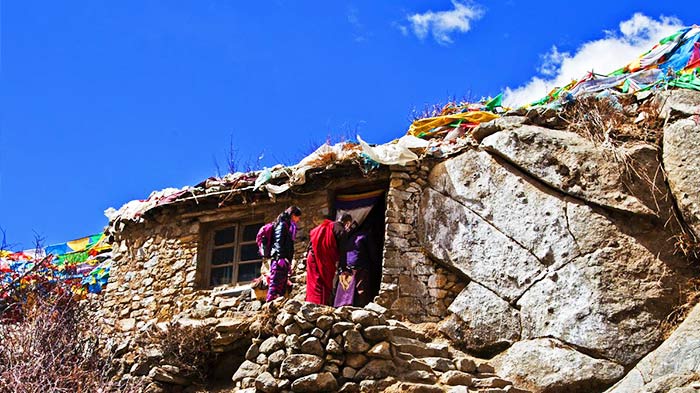 Chim-puk Hermitage
How to Get There
As for how to get to Chim-puk hermitage, you can join in a group tour of our agency and spend about two days in Lhasa to have a good sightseeing there. After that, we will drive you to Chim-puk hermitage. You should know that the road condition is not very good. You can also join the day hike from Lhasa to Chim-puk hermitage, which may take around 4 to 5 hours up and 3 hours down. You can also climb to the top of its conical to have a fine view of the Yarlung Tsangpo Valley.
Legend and Story of the Hermitage
During the Tibetan regime in ancient China, many famous people and lots of eminent monks have practiced Buddhism here, such as Padmasambhava, Santiraksita, and Trisong Detsen, which has attracted pilgrims to come here.
Padmasambhava once meditated and taught Dharma to his disciple. His great contributions to the Tibetan Buddhism are commonly admired by every sectarian. It is recorded in Record of Tibetan King that "Padmasambhava ever translated many practice ways in the Secret Vajra sequel, put these works in the indestructible small suitcase and sealed them, and wish the right person can find them." In the past, there are also numerous historical figures ever took out the "concealed scripture" there to study Buddhism.
Santiraksita advocated Madhyamika, which has direct influences on some sects of the Tibetan Buddhism. Trisong Detsen has established the stable situation of Tibetan Empire, who might have practiced Buddhism in Chim-puk hermitage according to the history story. He contributed a lot in the development of the Buddhist culture in Tibet.
Highlights of Visiting This Hermitage
As a famous hermitage in Lhoka, Chim-puk hermitage has many things worth viewing, the natural environment, the retreat caves, diverse kinds of religious treasures and so on.
1)Retreat Caves and Historical Relics
Padmasambhava, Santiraksita, and other eminent monks have come here to retreat, and many holy relics are preserved in this monastery. Currently, there are over 200 Buddhists in the retreat caves, among which 70% are nuns. They are leading a simple life, and commoners may not bear it. There dedicated Buddhists think that this monastery can offer them more spiritual achievements in meditation.
According to the legend, there were once 108 retreat caves, 108 celestial burial sites, and 108 magical springs. The existent is about 40 caves. Padmasambhava, Santiraksita, and Trisong Detsen are all famous figures who have lived in this hermitage. Till now, there are also many Terzods which are buried in the mountain according to the legend.
There are lots of Cliffside images which were carved by Longqinrao Jiangba who was famous Lama of Nyingma Sect in the early 14th century in this hermitage. There is also a soul tower of Longqinral Jiangba, and the stele was set up by building the pagoda. These relics are precious and offer great historical and cultural reflections of Tibet a long time ago. They are now well protected and travelers can view them to broaden the horizon.
2) Stone Statues
There are lots of stone statues in the Chim-puk mountain, and the styles are elegant and simple. According to the legend, these statues displayed themselves naturally without any manual process. Therefore, they are called "Ran Jiong", which means "form in a natural way". This also makes Chim-puk hermitage an amazing place that is full of miracle, imagination and fantasy.
3) Picturesque Scenery
Chim-puk hermitage is at the altitude of 4300 meters, and the valley it is located in is like a "N". There are murmuring brooks, flourishing trees and grass and diverse birds in the mountain. It is a famous day-hiking place nowadays in Tibet, which can offer travelers with a quite elegant and quiet feeling.
Best Time to Visit
In fact, you can visit Chim-puk hermitage all the year round and the opening hours of it are 24 hours. If you want to avoid the cold weather, you can choose to visit there in summer or autumn.
Other Dos and Don't
1) Due to the road that is full of sand, like a desert, you'd better bring a pair of glasses and a mask to prevent from sand blowing.
2) In the rainy season, you'd better take a trekking pole with you to avoid slipping on the muddy road.
3) It is also better for you to take your sunglass and your sun cream with you to avoid sun burn.
4) You can buy some necessary food, such as biscuits and instant noodle from a vendor nearby the guesthouse.
5) No restaurant or hotels near Chim-puk hermitage are available. You can live in the guesthouse nearby and it may cost you about CNY 15 per person per night.
6) You can also camp tents near it as you prefer.
7) Do not do strenuous activities to prevent you from getting high altitude sickness.
8) Do not take photos of the Buddhists or others without asking beforehand.
Drak Yangdzong
Drak Yangdzong is also known as Drak Yerpa Monastery, which hangs on the cliff at altitude of 4,885 meters. It is a famous holy site for Buddhist practice, which has a history of over 1,500 years.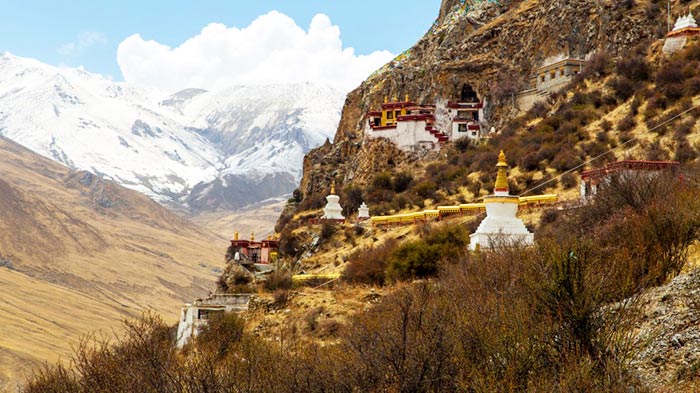 Drak Yangdzong
How to Get There
Drak Yangdzong is in the county of Dagze, which is about 16km to northeast Lhasa City. You can actually take a bus from Lhasa to there with a cost of 20CNY. If you join our tour group, we will use vehicles of the highest quality available in Lhasa and take you to Drak Yangdzong as swiftly and smoothly as possible. It will take you about one hour to get there. Our car drives are all experienced and reliable, which can ensure your trip to be comfortable.
Legend and Story of the Hermitage
Drak Yangdzong is called as the "Hidden in the holy city after the mystery place". According to legend, Drak Yangdzong was built in 7th century by Songtsen Gampo for his queens. He also founded other four temples, and they are Jokhang Temple, Ramoche Temple, Palubuk, and Pabonka Hermitage.
Drak Yangdzong was built for the third queen of Songtsen Gampo – Monza Triucham. There were once 108 practice caves according to the legend, but in possibly there were only about 80 or so, which was created in different times. If you look up at the mountain from the foot, it seems like a statue of Tara. It is said that some Guru Rinpoche's disciples have meditated here.
Highlights of Visiting This Monastery
The natural scenery, featuring architectures and holy cave retreats, makes Drak Yangdzong well known in Tibet, which draws the attention of numerous visitors to travel there.
1) Beautiful Scenery
Drak Yangdzong is on the hillside of Yerpa Valley, which is a place full of peace and beauty. There are various plants in the valley and its vitality adds great highlight to the barren Tibet. You can see the gold yellow valley in autumn, which is quite fascinating against the blue sky and white cloud. The running spring and the whisper of leaves at the foot of the peaks can take you to a different world and offer you secluded tranquil.
2) Featured Architectures
There are diverse architectures in Drak Yangdzong, which is not quite towering but spectacularly clung to the hillside. There is a large statue of Past Buddha Matitreya in the main hall. You can also view some other red and white halls in the valley, which is scattered irregularly. The white pagodas in it are also attractive, and many pilgrims will kora around them one by one.
3)Holy Cave Retreat
More than 100 mediation caves were once in Drak Yangdzong with various scales and shapes. Many famous persons have once practiced there according to the legend, like King Srongtsen Gampo, Padma Sambhava and Venerable Atisha. At present, only about 16 caves are preserved well there, where you can view lifelike statues and various murals.
Best Time to Visit
You can pay a visit to Drak Yerpa all year round. The time from June to October may be the best time for you to go there, for the temperature is higher and the day may be clear enough. It is open from 9:00 to 17:30. We recommend you spare half a day to enjoy the visiting to Drak Yangdzong.
Other Dos and Don't
1) You need to climb to many steps to visit the halls and pagodas.
2) You'd better walk slowly to avoid the high altitude sickness.
3) You can buy some food and drinks from the shop near Drak Yangdzong, but it only runs in peak seasons.
4) You'd better manage your time well for there are many medications caves for you to visit.
5) Do not walk alone in the mountain to avoid dangers.
6) Do not do strenuous activities when you visit Drak Yangdzong on the cliff.