What Documents Do I Need for Everest Base Camp Tour in Tibet and Nepal?
Traveling to Everest Base Camp (EBC) is no easy thing. Besides strong body and courage, you first need to get certain permits and certificates before your departure. Check what documents you should prepare for your Everest Base Camp tour as follows.
Documents for Everest Base Camp Tour in Tibet
Generally speaking, for most travelers, you will need two kinds of permits when traveling to EBC in Tibet: Tibet Travel Permit, Alien's Travel Permit. If you plan to go to higher places beyond EBC, or climb Mount Everest, then more other documents and certificates will be needed.
Tibet Travel Permit
The Tibet Travel Permit is needed from the very beginning of any Tibet tours. This means that you will only be allowed to enter Tibet after obtaining the permit. And the permit is required for you to get on the plane or train to Tibet.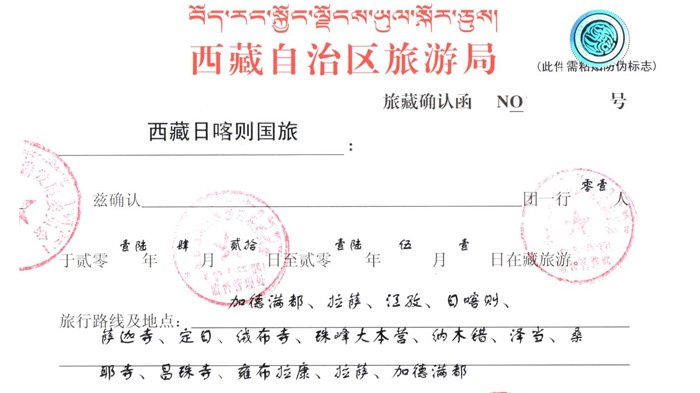 Tibet Entry Permit
The Tibet Travel Permit is issued by the Tibet Tourism Bureau. And you can only get it through a qualified travel agency like us, using the copies of your passport, Chinese Visa and some other documents. For the smooth travel in Tibet, it is suggested to start the application at least 20 days before you leave for Tibet.
Alien's Travel Permit
The Alien's Travel Permit is a must for one to visit the Everest Base Camp in Tibet. It is issued by the Public Security Bureau (PSB), and is applied after you arrive in Lhasa. Usually, you don't need to worry about it. Our guide will help to apply for the Alien's Travel Permit using your passport and the Tibet Travel Permit. It normally takes several hours and the cost is 50 CNY/person.
Tibet Trekking Permit
It's a requirement for tourists who are aimed for regions above 6000m in Tibet to obtain a trekking permit. So if you plan to trek from EBC to ABC (6400m), you need to get the Tibet Trekking Permit. Likewise, our guide can help to apply the permit from Tibet Mountaineering Association (TMA) for your convenience.
Everest Climbing Permit
If you want to climb to Everest Summit, the Everest Climbing Permit is needed, which is also issued by Tibet Mountaineering Association. At the same time, you need to book the Mount Everest climbing tours organized by TMA.
Notes:
1. Currently, for all tourists traveling to Tibet, you will also need to prepare the COVID-19 documents before entering Tibet. This normally includes the negative nucleic acid test report, Green Health Code, Green Arrow Code, etc.
2. For all documents needed for Tibet EBC tours, you don't need to worry about the procedures. Since all foreign visitors to Tibet cannot apply for permits by yourselves, we will help you with all these stuffs.
Recommended Everest Base Camp Tour Routes in Tibet
Everest Base Camp tour is quite popular among both Chinese and foreigners from all over the world. And the most recommended routes are the road trip from Lhasa to Everest Base Camp, and the trek from Old Tingri to Everest Base Camp.
Overland from Lhasa to Everest Base Camp
Journey through lofty Tibetan monasteries, pristine lakes, and glaciers and the undulating Himalayan Range to the base camp of giant Mt. Everest, the overland tour from Lhasa to EBC is an adventure of a lifetime.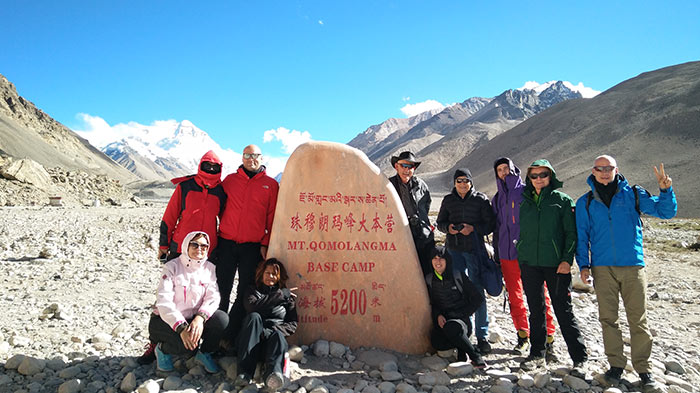 Group photo taken at Mount Everest Base Camp in Tibet
The road trip normally takes 8 days, and you can first stay in Lhasa for sightseeing, then travel along the Friendship Highway to Gyantse, Shigatse, and then to Tingri, Everest Base Camp. The whole trip offers a selection of popular cultural sites and natural attractions, including Yamdrok Lake, Karola Glacier, Gyantse Kumbum, Tashilhunpo Monastery, etc.
Finally, at Everest Base Camp, you can get a close witness of the glorious Everest summit, and have the chance to see the sunset or sunrise of golden Everest peak when the weather permits.
Old Tingri to Everest Base Camp Trek
Traversing through rolling snow mountains, Old Tingri to Everest Base Camp trek covers a total distance of 70 kilometers with many small villages scattering along the route. If you want to experience the authentic Tibetan life and get a closer contact with local Tibetans, 12 Days classic trek from Tingri to EBC via Ra-chu Valley must be the top of your choices.
Generally speaking, tourists without serious altitude sickness will be suitable to this trek route. Following the flat rural roads, you will pass Ra-chu Valley, Lungthang (4510m), Lamna La Pass(5150m), Zommug(4790m), Rongbuk Monastery (5100m) till the final destination - Everest Base Camp (5200m).
With the elevation increasing little by little, we arrange the trekking to EBC from Old-Tingri in four days. And the daily hiking of 18km will leave you more time to appreciate the alpine scenery and acclimate to high altitude gradually.
Documents for Everest Base Camp Tour in Nepal
Just like the case with traveling to Everest Base Camp in Tibet, you need to obtain the required documents before you head to the EBC in the Nepalese side.
Nepal Visa
First, you need to obtain a Nepal Visa to travel to Nepal. And the procedure is quite simple, as you can choose to obtain a visa on arrival at the entry point into Nepal. If you get to Nepal by flight, you can apply for the Visa at the Tribhuvan International Airport in Kathmandu.
Your passport, application form, and passport-sized photos are needed for the visa application. And the payment is usually done in U.S. dollars. The whole process normally takes just one hour.
Trekking Information Management System Card (TIMS card)
All the tourists should register their hike by getting a Trekking Information Management System card. It's suggested to obtain a TIMS card from the Tourist Service Centre or Trekking Agencies' Association of Nepal in Kathmandu. It costs US$20 for an individual trekker and US$10 for a group member. Please do remember to bring one photocopy of your passport and two passport photos for the TIMS card issued on the scene.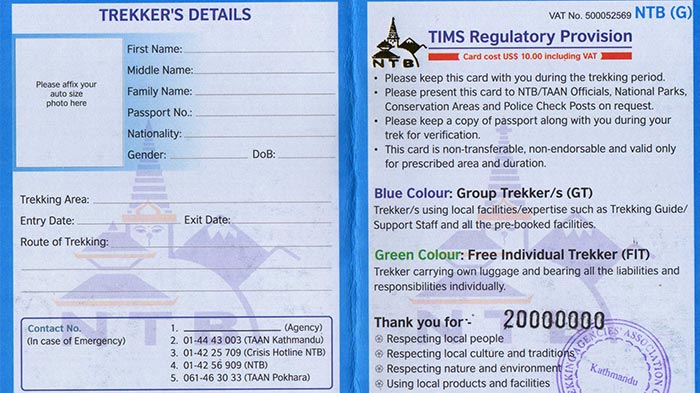 Trekking Information Management System Card (TIMS card)
Basically, you don't need to worry about applying for these permits and certificates. As a professional Nepal Tibet travel agency, we can handle all these permits and certificates needed for your EBC trek tours in Nepal for you. What you need to do is to fully enjoy your travel in Nepal.
Recommended Everest Base Camp Trekking Route in Nepal
Nepal is reputed as the kingdom of snow mountains. Lukla is the starting point of all treks to Mount Everest Base Camp in the Nepal side. Based on your preference and time schedule, I'd like to recommend the most classic Nepal EBC trekking routes to you.
Lulka to EBC Trek
Actually, the main trek from Lukla to Everest Base Camp can be finished within ten days. But it's strongly suggested to set aside a few days on the hiking trail to experience the unique Sherpa culture and the splendid scenery of the majestic Himalaya Regions.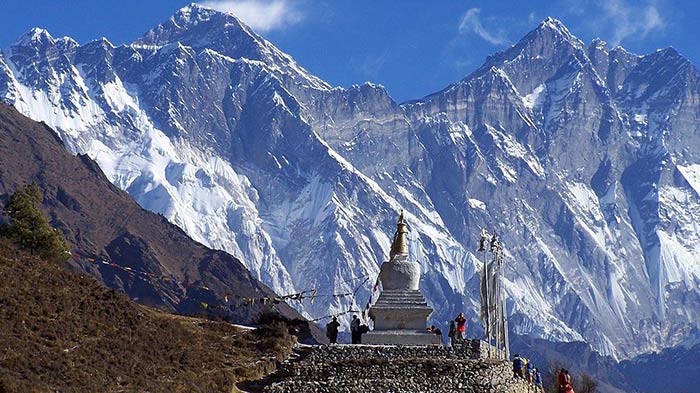 Lulka to EBC Trek
Starting from Lukla, you would pass through Phakding, Namche Bazaar, Tengboche, Dingboche, Lobuche, Gorak Shep, Kala Patthar, before reaching Everest Base Camp. Usually, it takes you about 12 days to finish this popular trek to EBC. If the schedule is tight, join our 10 Days Everest Panorama View Trek Tour is another nice try!
Lulka to Everest Base Camp Trek via Gokyo Valley
Gokyo Valley is one of the most stunning attractions in Nepal, and you shouldn't miss the tranquil fifth and sixth lakes while trekking towards EBC. Beginning from Lukla, you would trek through Phakding, Namche Bazaar, Goko Valley, then head eastwards to Cho La Pass(5368m) and upwards to Lobuche and Gorek Shep, finally reaching Everest Base Camp.
Or you can also follow the anti-clockwise direction. That's to say, you can get to EBC first and then hike westwards to Cho La Pass and Gokyo Valley. It often costs about 15 days to finish this EBC trekking circuit.
Conclusion
Whether you plan to visit the Everest Base Camp in the Tibetan side or the Nepalese side, you will need to get some documents that are allowed to do so. Fortunately, the process of applying for permits and documents is not that complicated, and we can always help you with it. For more questions, just feel free to contact us or leave your comments below.
Recommended Everest Base Camp Tour Packages