Guide to Tibet Everest Base Camp Tour in Winter
Everest Base Camp in Tibet is the place one can gaze at Mount Everest at the closest distance. And visiting the Tibet Everest Base Camp in winter is indeed a good choice. Check this guide to know how to plan a Tibet Everest Base Camp tour in winter season.
Tibet Everest Base Camp Tour in Winter: Weather Condition
The winter in Tibet Everest Base Camp region lasts from November to March of the next year, with frequent frosts and snowfalls. The temperature is roughly -22℃ ~ -5℃. Low temperature is also accompanied by strong winds.
But there are many sunny days during the winter time. The clear winter skies offer spectacular views of the mountain and the surrounding Himalayas, and the snow-covered peaks make a beautiful backdrop to your photography.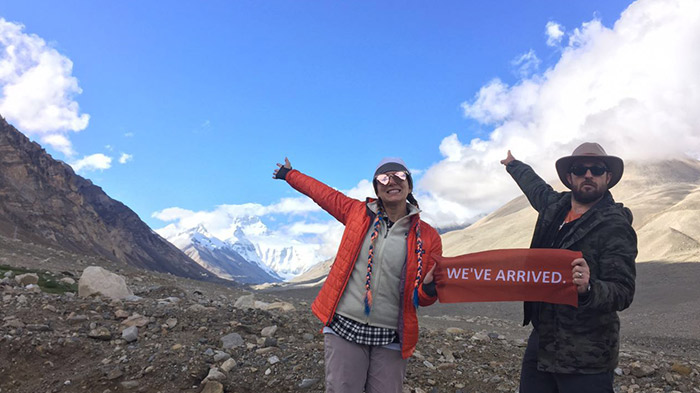 You can bask in winter sunshine at Tibet EBC.
Also a good time of the year to visit, early winter has many other benefits for the adventurous traveler. Not only is it a lot cheaper to travel to Tibet in winter, but it is the time for many festivals in Tibetan Buddhism, and an unrivaled opportunity to experience the unique Tibetan culture and religion up close.
Tibet Everest Base Camp Tour in Winter: Documents Needed
To make it to EBC in the Tibetan side, in addition to the Tibet Travel Permit, you also need Alien's Travel Permit. The Tibet Travel Permit is obtained before you head to Tibet, while the latter is applied after you arrive in Lhasa.
Both documents can not be applied through an individual traveler. Our travel consultant will help you to get the Tibet Travel Permit on your behalf, so you can smoothly enter Tibet. Then in Lhasa, our tour guide will help you to get the Alien's Travel Permit before you head to visit Mt. Everest.
Tibet Everest Base Camp Tour in Winter: Travel Route
The most recommended travel route for a Mount Everest tour in winter is to travel from Lhasa to EBC by overland. The whole road trip normally takes 8 days, with a couple of days staying in Lhasa for sightseeing and better getting used to the high altitude.
Lhasa to Shigatse
After a couple of days acclimatizing in Lhasa, and paying a visit to some of the most spectacular religious sites in the region - Potala Palace, Jokhang Temple, Sera Monastery - you will leave for the open road, and drive to Gyantse.
On the way, you will pass over the Gambala Pass, which is the best place to catch the first glimpse of Yamdrok Lake, surrounded by many snow-capped mountains. The trip to Gyantse also passes close by the Karola Glacier, one of the most pristine white glaciers in the world, right beside the highway.
Then you will head westward Gyantse and drive alongside Yamdrok Lake. Gyantse is Tibet's third-largest city, where you can visit the unique Pelkor Monastery, which is rare due to it housing three different sects of Tibetan Buddhism under one roof.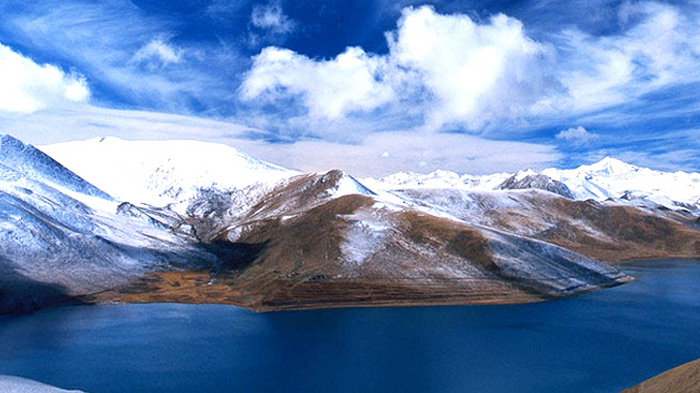 Yamdrok Lake in Winter
You will also get to see the Gyantse Kumbum, a giant architectural stupa that stands 34 meters high, and consists of nine floors, each with its own unique chapels, before continuing on to Shigatse.
Shigatse to Lhatse, Tingri, and Finally EBC
After obtaining your Alien's Travel Permit, which is needed to tour this area, you will leave Shigatse for Lhatse, a small town on the G318 road to Tingri. On the way, weather permitting, you will get your first look at the amazing sight of Mt. Everest.
You will also pass one of the most famous markers in the world, the 5,000-kilometer marker of the G318. This monument was erected at the exact point where the road is 5,000 kilometers from its starting point in Shanghai.
The drive on to Rongbuk Monastery crosses one of the highest passes in Tibet, the Gawu La Pass at 5,198 meters, from which you can see four of the world's highest peaks - Mt. Makalu (8463m), Mt. Lotse (8516m), Mt. Everest (8844.43m), Mt.Cho Oyu (8201m) and Mt. Shishapama (8027m). From Rongbuk it is a short 4km walk to EBC, or you can trek to there.
Tibet Everest Base Camp Tour in Winter: Accommodation
Accommodation at EBC and along many parts of the route needs to be carefully planned, as a lot of places this far west is closed during winter.
The tent guest houses at EBC itself are not open from mid-November until spring, so one option you can take is to stay overnight in Tingri, and then travel to EBC the next morning. With Tingri being at a lower altitude than EBC, it is beneficial to your acclimatization before you ascend to the height of the base camp.
And the trip to EBC in the early morning gives you an opportunity to get some early morning sunrise shots from Gawu La Pass. The best hotel to stay in Tingri is the Everest Hotel, which is open all year round.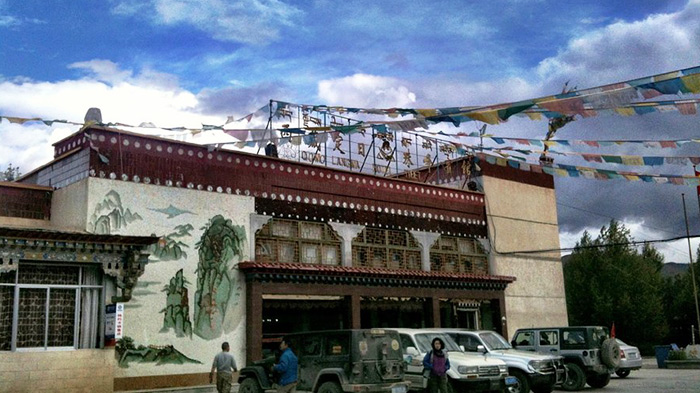 Everest Hotel in Tingri
Another option would be to stay at the small town of Zhaxizong, just outside Lhatse, which is also at a lower elevation. It is relatively close to EBC, and also means a good photo opportunity at Gawu La in the morning.
There is also the option of the guest house at Rongbuk Monastery, which caters to travelers to EBC as well as being a staging point for summit climbers. Rongbuk Monastery is the closest place to EBC to stay in at this time of year, although it is very basic. The altitude is quite high, being the highest monastery in the world, but it does have a great view of the mountain, especially at sunrise from the hill behind.
Tibet Everest Base Camp Tour in Winter: Dining
Eating in Tibet is always a concern for travelers who do not know what to expect from such an exotic region. However, it is important that you eat a healthy diet while in Tibet to fortify you against the high altitude and cold temperatures. For this reason, as you travel from Lhasa to EBC, you should choose restaurants carefully and stick to light meals.
In Lhasa and Shigatse, you can find different restaurants, offering multiple options such as traditional Tibetan dishes, and western and Chinese cuisines. Nepali and Indian food can also be found due to the proximity to Nepal and India.
Traditional Tibetan food is quite basic, relying on barley and yak products. Common traditional cuisine in Tibet includes tsampa, a blend of roasted barley, yak butter and tea mixed to form dough. There are also momos, steamed dumplings stuffed with meat or vegetables and thukpa, a noodle stew. If you can, try to taste some of the fresh yak milk yogurt.
The closer you move to EBC from Tingri, the dining becomes more basic. If you spend the night at the camping site of EBC, you can have some Chinese and Tibetan food in the tents run by local Tibetans.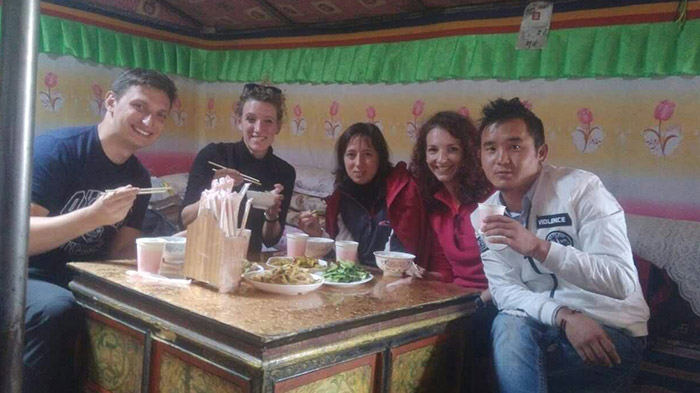 The dining becomes more basic from Tingri to EBC.
Unexpected, the price could be a bit expensive, since most of the ingredients are taken to here by truck from Tingri. At daybreak and night, the temperature is extremely cold at EBC. But no worries, the warm sweet tea or butter tea can bring you back to life.
Tibet Everest Base Camp Tour in Winter: Packing List
Some travelers like to take as little as possible when they go on a big journey. Others prefer to take as many comforts from home as possible. For a trip to EBC in winter, you should include some warmer clothing for the very cold nights. The essentials you need to bring are:
• A medium-large backpack
• 1 pair of Hiking Boots/Sturdy Sneakers
• Sleeping Bag and insulation pad (if camping)
• Ground cloth or tarp (recommended but not required)
• Rain Gear (waterproof pants and jacket)
• Towels
• 3-5 T-Shirts (long-sleeved)
• 2 Lightweight Fleece or Wool Sweaters
• 2 Pairs of Nylon pants
• 5-7 Pairs of Warm Socks
• 3-5 Pairs of Underwear
• Thermal Gloves and Hat
• Sunglasses
• Personal Toiletries (you may want to carry your own toilet paper and some zip-lock bags, as bathrooms may not be readily available.)
• Personal Medication
• Camera, Batteries and Film/Digital Memory Cards
• Adapter and Surge Protector (see detail below)
• Light- weight thermal shirts or long underwear ( recommended but not required)
You might also want to invest in a good thick fleece jacket, or padded snow jacket, as it can get cold when standing still for a while taking photos.
In winter, Tibet's temperature difference between daytime and night is large, and you need to bring a down jacket or coat, good boots, thermal underwear, gloves, hats, etc., to prevent colds and upper respiratory infections. Due to Tibet's strong winter sunshine, you need to bring sunglasses, sunscreen, lip balm, and other protective equipment.
Because of the intense ultraviolet winter plateau, a UV filter should be installed before the camera lens, to avoid biased purple color photographs. Use a backlit scene when shooting people, and use the flash to fill in the light. When shooting plateau scenery, it should be before 9:00 am or after 5:00 pm, as the light generated by low-angle sunlight often makes the picture quite shocking.
Best Places for Everest Photography in Winter
There are several places for Everest photography that are actually better for getting a good shot of the mountain. From the hill near Rongbuk Monastery, you can find the best angle to shoot Mount Everest, and it is accepted by most of photographers. Moreover, the white tower of Rongbuk Monastery can be used as the foreground to increase the depth of the photos, and add some humanity to the scenery.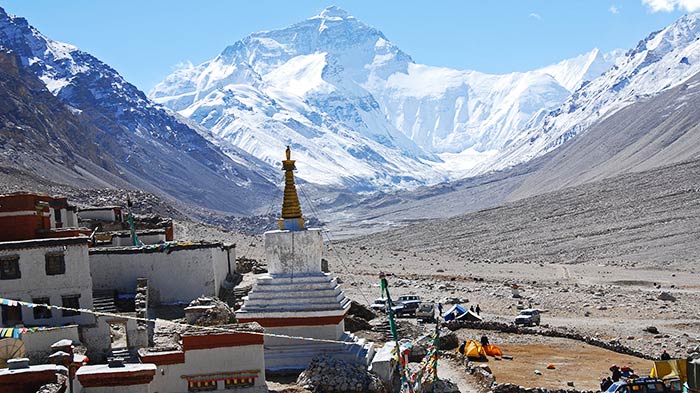 Enjoy spectacular view of Mt.Everest from Rongbuk Monastery
Gawu La Pass is also a good place to get excellent distance shots of Everest, with the increased elevation giving you an almost level view. At Everest Base Camp, you can shoot the mountain without being blocked, but you need to think hard about finding the visual angle to get good pictures of Mount Everest.
Conclusion
Mount Everest Base Camp offers scenic views in winter, and could be visited during the cold season. To enjoy a smooth and secured trip to Tibet EBC in winter, you are suggested to contact a reputable travel agency like us. We provide one-stop service, and can arrange your permits, accommodation and dining, local guide, local transportation etc. Contact us for more details!
Recommended Everest Base Camp Tour Packages