The Ultimate Guide to Mt. Everest Climbing in Tibet
Climbing Everest, the tallest mountain in the world, is something many people can only dream about. There are a lot of things to do to prepare for such a climb, and for many, it is just too much physical exertion. For those who are capable, there are a few things to think about before making the plans to actually make the climb.
Why choose the Tibetan side to climb from?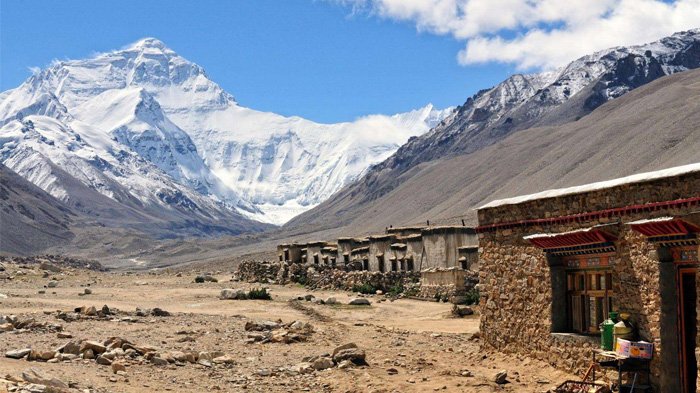 Mount Everest
The Tibetan side is the north side of Mount Everest. The altitude of Nepal's Everest Base Camp is 5,364 meters (17,598 feet). A lot of climbers and travelers camp there, and the gray/white landscape of the Khumbu Icefall makes a special picture in the otherwise bleak landscape. However, the northern side, in Tibet, is more suitable for first time travelers to climb the mountain, as the Chinese government will offer to give you a tourist guide. Professional climbers prefer the Tibet side for the weather and for the ease of access. China has completed a full-length asphalt road that runs from Lhasa right up to EBC, which makes access much easier. In Nepal, it is a 10-day trek up the Khumbu Valley to the south-side base camp. There have also been many other changes made in the route. The ropes are better fixed, all the way to the summit, and the team of rangers keep the area free of litter, making it a much better route altogether. And on top of that, the China-Tibet Mountaineering Association provide registered expeditions with transport all the way to EBC, thus controlling all the climbing on the mountain. The CTMA are doing everything they can to limit the number of accidents when climbing.
Northeast Ridge Route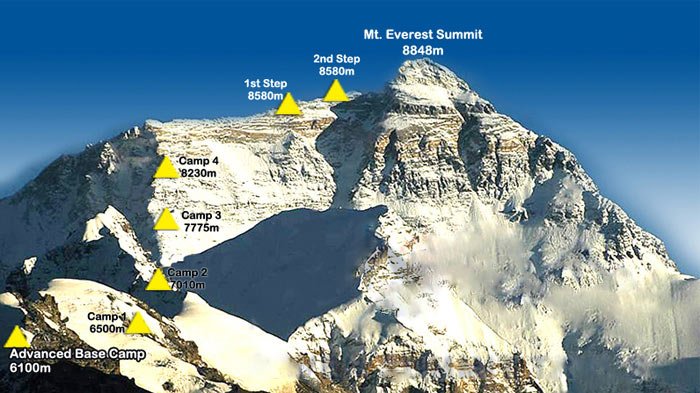 Northeast Ridge Route
From the north side of Everest, in Tibet, the northeast ridge route begins. Expeditions climb up to the Rongbuk Glacier, and on the gravel plain just below the glacier they set up a Base Camp at 17,060 feet (5,200meters). To get to Camp 2, at around 20,000 feet (6,000 meters) climbers ascend the Rongbuk Glacier up to the base of Changste. Camp 3 (Advanced Base Camp) is situated below the North Col at 21,300 feet (6,500 meters). Climbers climb the glacier to the base of the Col and use fixed ropes to reach the 23,000 foot (7,010 meters) high Camp 4. Climbers then ascend to set up Camp 5 at around 25,500 feet (7,775 meters). The route goes up the north face through a series of gullies and steepens into a slabbed terrain before reaching Camp 6 at 27,000 feet (8,230 meters). Climbers will make their final summit push from Camp 6 in three steps, which end at 28,870 feet. The climbers must first make their way through those three stepped rock bands before reaching the final stage which slopes about 50 to 60 degrees to the summit.
A brief history of climbing Mt. Everest
In 1974, two French travelers led an expedition to complete the ascent of the mountain, though on the night of September 9th a large avalanche buried them and 5 Sherpas, none of whom were ever found. Because of what happened the West Ridge was avoided for over 5 years.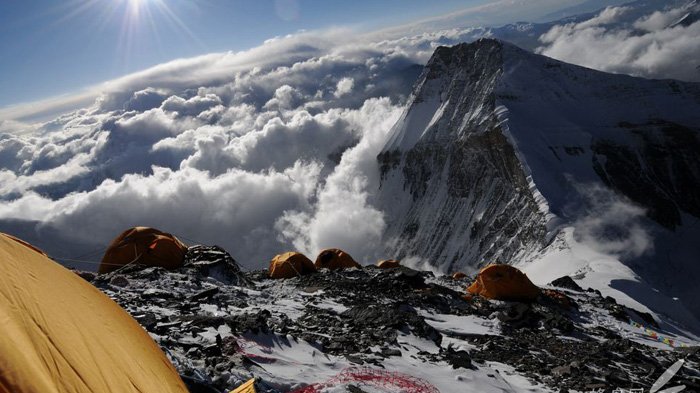 Camping at Mt.Everest
In 1982, two British men (Peter Boardman and Joe Tasker) climbed the mountain and went to the triad of shark's teeth that can be seen in the North East at nearly 26,000 feet. On May 17th they left their camp and went on for 8,000 meters, but then vanished without a trace. In 1992 Boarder's body was discovered by another team of climbers, although Joe Tasker's was nowhere to be found.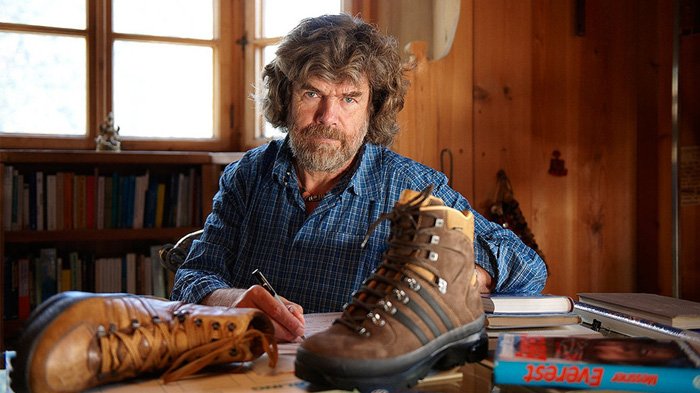 Reinhold Messner
But it is not just fraught with disaster. In 1960 a three-man Chinese team successfully scaled the north ridge, and on August 20, 1980, Reinhold Messner became the first person to ever scale this giant mountain solo without oxygen tanks on the northwest route. And later that year, Japanese climbers, Takashi Ozaki and Tsuneo Shigehiro became the first people to ever make an ascent of the treacherous, sheer north face.
How to prepare for scaling Mt. Everest
Travel documents you need
The northern side of Mt. Everest is part of China, so a Tibet Travel Permit and Aliens' Travel Permit and mountaineering permit are required from the Chinese government for foreign travelers. Foreign travelers are required to travel to Mount Everest on a Chinese travel agency itinerary with a Tibetan mountain guide, and other technical support and logistic supply.
Physical preparation
You must be in top physical, emotional, and psychological condition to reach the summit. You must be using ascenders and jammers on snow and ice, rappelling with a pack, handling extremely cold temperatures and extreme altitude, and using solid gear and equipment. Benchmarks for physical conditioning include successful previous trips above 20,000 feet whenever possible. In addition to solid alpine living, snow and ice climbing skills, good cardiovascular conditioning and significant strength and endurance are what you need.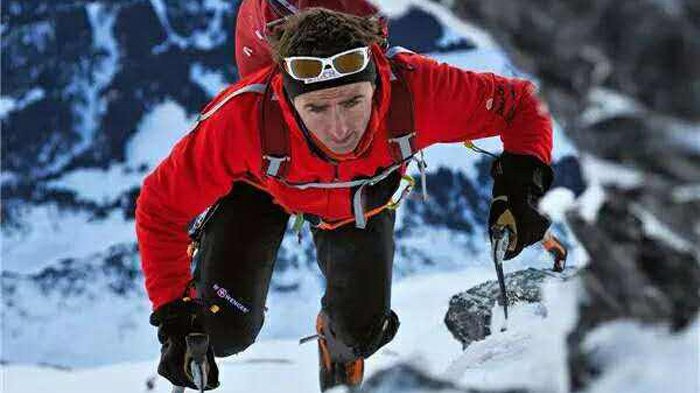 Physical preparation for climbing Everest
Keep in mind that not because you exercise regularly at significantly lower elevation means you have the suitable conditioning needed to stand on top of the world. Cardiovascular fitness isn't enough; you still need to focus on building your physical conditioning at lower altitudes that is necessary to ascend 4,000 feet of elevation on successive days carrying 50-60 pounds. You will not be carrying that much weight on Everest, but by conditioning your body to that degree of high tolerance you will have built extra reserves that will serve you very well on the mountain. This extra reserve will help to focus on the many other components involved in the climb.
Prioritize training efforts in the order shown below:
1. Climbing condition – pack-loaded uphill hiking, walking, and stair climbing
2. Strength training for the lower body
3. Cardiovascular training, including both aerobic and anaerobic workouts with and without pack weight
Flexibility training
At least a year is what most people will need to train specifically for their climb of Everest, building up from a solid baseline of fitness for the last 6 months. You will need to progressively increase your hiking time, distance and elevation during your training to build your climbing condition in a safe and effective way. Rushing will increase the risk of training injuries and not being able to be ready for your trip.
Best season to summit Mt. Everest
The best time to visit Mt. Everest would be in the spring (April-May) and autumn (Sept-Oct). Mount Everest's unique climate is a conclusive factor. The temperature at the summit never increases above freezing, and its temperature in January averages -36 degrees and can drop to -60 degrees. And the average summit temperature in July is -19 degrees Celsius.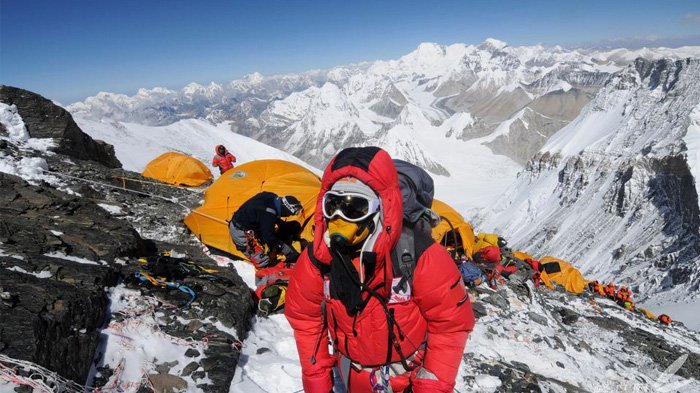 Mt.Everest climbing
In the high summit, the weather condition is spectacularly hard to predict. From January to March (the winter months) the mountain is inaccessible, but from a distant, visitors can see some of the most beautiful glimpses and luminous parts of Mount Everest. Snow can be expected from December to February and during winter the weather is extremely unpredictable. April to May and even the middle of June, it is the ideal time to climb Mount Everest; and the peak is visible and clear.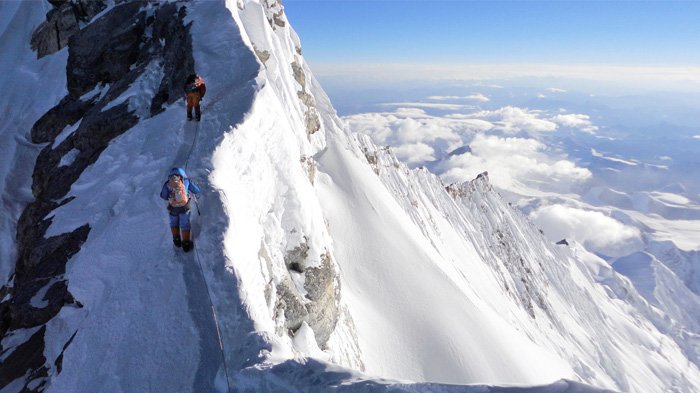 Climbing Mt.Everest
One of the outstanding times to attempt an ascent to the summit is the climbing window between April and May for mountaineers. From the middle of June to August, summer may sound like a good time, but it is also monsoon season in which the mountain receives lots of rainfall. During the monsoon season it is often shrouded in mist. From September to November the monsoon passes and just before winter moves in, a small opportunity for travelers opens up for them to see only a glimpse of the Mountain at its best.
Autumn is also a good time for climbers. For visitors who are drawn to making the trek from Tingri to Everest Base Camp, the best time is in September and October. When the end of September comes through December, the weather becomes stable but with mild to tepid days and wintry nights.
Mistakes to be avoided when climbing Mt. Everest
Packing a lot
Too much Packing might be the most common misconception. All climbers, from amateurs to seasoned travelers, make this mistake. Over-preparation can lead to many extraneous items that you will not need.
Drinking alcohol
Drinking alcohol, even when you're just getting used to the elevation, is a big mistake. When you get to the base of the mountain, you will often want to celebrate by having a few drinks. However, you dehydrate more when you drink alcohol, so this should be avoided at all costs.
Unnecessary Pressure
Having a companion on a trip to keep you motivated during crucial climbs and descents is good. But it should not become part of the pressure of getting to the top. Motivation should be mutual, and friendly, not competitive.
With all of the pros and cons for both sides of the mountain, it can be hard to decide which to take. However, one of the major cons for Nepal has to be the Khumbu Icefall. This icefall has been the cause of many lost lives since the first expedition in 1921, and was the major reason for a change in direction for many of the early expeditions to the northwest ridge.
It is definitely preferable to climb the mountain from Tibet, for it gives you the best weather of the year. There is good food and good company, and the base camp is much better stocked. You can also visit the Everest National Park after your climb.