How to Get to Everest Base Camp (EBC) from Nepal?
There is a huge diversity in the geographical features as Tibet comprises with the barren landscapes of Everest base camp whereas in ascending to Nepal base camp offers green scenic beauty due to the flora, fauna and landscapes. As there is a huge dramatic altitude difference EBC tour in Nepal involves a path through forested temperature zone, alpine and sub alpine areas. Climbers can have a palpable experience of the biodiversity in Nepal as blue pines, birch, Himalayan black bear, musk dear will be on your way whereas you will come across awe inspiring mountains like Mt.Everest(8844.43m), khumbila(5761m), Lhotse(8516m), Makalu(8463m) etc.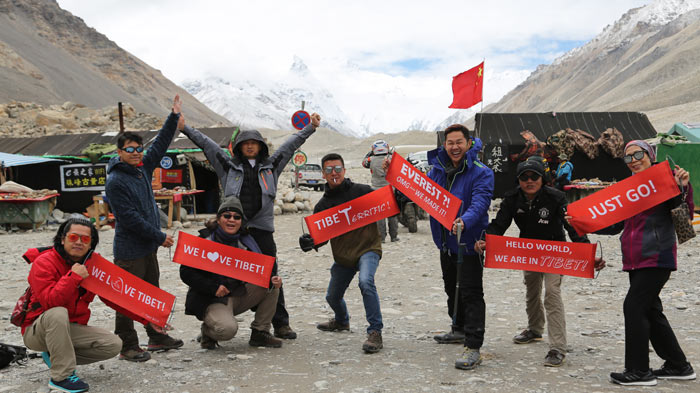 Get to EBC from Nepal
There are two standardised Everest base camps established on the opposite sides of the highest mountain Everest. The EBC of Nepal is called as South Base Camp. It is situated at an altitude of 17,598 ft. (5,364 m) and the other Everest base camp is located in Tibet at 17,060ft (5,200 m) and known as North base camp. These campsites are rudimentary and being used by the mountain climbers while ascent and descent during expedition. While climbing from the southeast ridge and northeast ridge, south base camp and north base camp are used respectively.
North Base Camp in Tibet
This base camp is also known as China side base camp by many people. In order to visit this camp, it is necessary to take permit from Chinese government where permission to visit Tibet must be there. But, one needs not to worry about such permits as these permits are arranged in Lhasa by the travel companies along with the tour package. The package includes hired driver with a vehicle and a guide.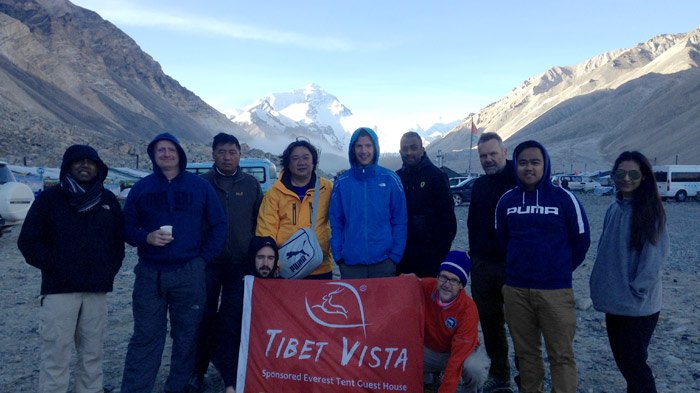 North Base Camp in Tibet
In order to reach the north base camp the vehicle covers 100 km road to south through Friendship Highway road near shelkar. Some climbers opt to trek up from this tourist camp once properly acclimatized and for others buses are arranged by the government to limit the traffic of the road up to the marked hill at 5,200m, where the tourist camp is located somewhere about halfway between the Rongbuk Monastery and the actual climbers camp is situated at the foot of Rongbuk glacier.
Different Ways to Reach North Everest Base Camp From Nepal
Generally, there are two ways to travel to North Everest Base Camp: from China mainland and from Nepal. And if you choose to get to EBC from China mainland, you will pass Lhasa, Shigatse, Tingri, Rongbuk Monastery and finally EBC; then, how to get to Everest Base Camp (EBC) from Nepal?
Travel overland from Kathmandu to EBC via Gyirong Port
Generally speaking, if you are in Nepal and you want to get to EBC, you should first apply for Group Tourist Visa and Tibet Travel Permit to offically enter Tibet from Nepal. Our travel consultants and staff based in Kathmandu can help you get them. Then, you can drive to Nepal-Tibet border (Rashuwaghadi ) and it takes about 5 hours' drive from Kathmandu to the Sino-Nepal border due to the not good road condition.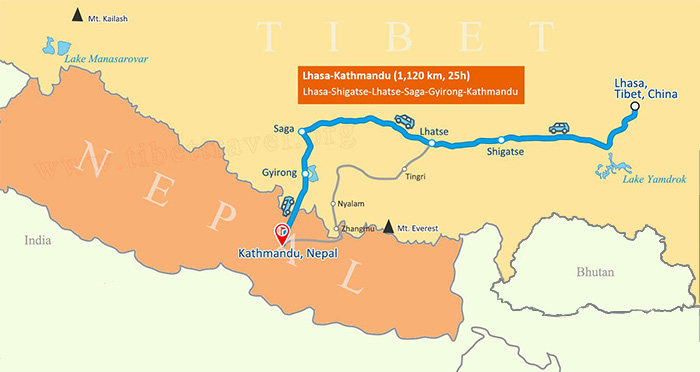 Map of Kathmandu to Lhasa
After your arrival at the border, you can pass the Friendship Bridge and meet your tour guide arranged by the our travel agency (foreign travelers must be organized by qualified travel agency and accompanied by tour guides when traveling in tibet). Then your tour guide will assist you handling certain procedures considering requested permits, certificates and some other documents.
After this, you will pass Gyirong port, which is the replacement of former Zhangmu border due to 2015 Nepali earthquake, and you will be heading to old Tingri along the Sino-Nepal Highway . Then, drive to Rongbuk. There is about 70km bumpy road from old Tingri to Rongbuk passing Rachu, Lamar La and Chugorong with wild grasslands, rapid rivers and high mountains being along the way, and it would take some time driving there. Rongbuk is quite close to EBC, and you can drive or trek to EBC as you like. It takes around half an hour to drive to EBC and 1.5 to 2 hours trekking there.
>> Check the classic itinerary of 9 Days Kathmandu to Lhasa Overland Tour with EBC
Fly from Kathmandu to Lhasa and EBC
You can reach the Everest base camp by flying from Kathmandu to Lhasa. Then you can opt for a hired vehicle to Tingri, which is 520km along sino Nepal Friendship highway from Lhasa and about 100 km to Everest base camp before turning south to Himalaya Natural Reserve. While travelling from Lhasa to Tingri various tourist cities fall on the way like Gyantse, shigatse, karola glacier, Yamdrotso Lake and sakya, the amazing scenic beauty makes the journey worth enjoying and memorable as these can be the perfect places to click pictures.
South Base Camp in Nepal
This is the most popular route for trekking in Himalayas. This camp trek on the south side was used by thousands of climbers every year. To reach here trekkers mostly opt for flight to Lukla from Kathmandu and start trekking in the morning. Many people start trekking from Lukla only to fully enjoy the trekking experience and the other reasons behind is the absence of roads to Lukla from Kathmandu.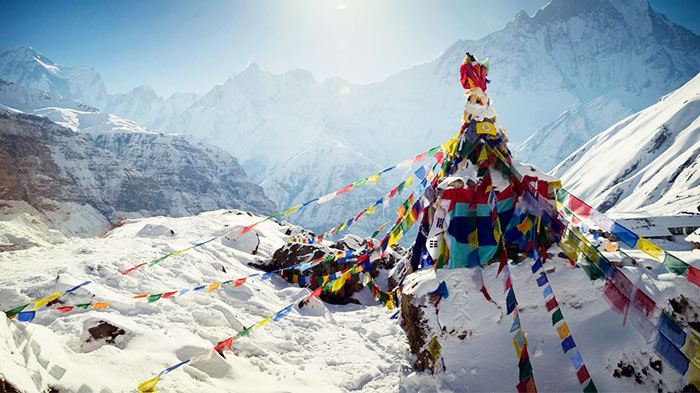 South Base Camp in Nepal
From Lukla the trek starts to Namcha bazar 11,290ft ( 3,440 )m, a Sherpa capital place then follows the valley of Dudh kosi river, since it takes two days to reach this place, the trekkers are allowed to rest for a day and to get acclimatize. Then for another two consecutive days the trek continues till Dingboche 4,260 m (13,980ft) and rest is advised for further acclimatization.Then a route via Gorakshep, a flat field below Mt. Pumori and kala patthar18,192(5,545) is followed for two days which reaches the south base camp.
Different Ways to Reach South Everest Base Camp From Nepal
Many people fly to Lukla from Kathmandu. There are dozens of Airlines which flies everyday and takes 25 minutes to reach. The other is to trek or to walk from jiri to Lukla it takes about 2-3 days to reach. These ways are less popular but are peaceful and pleasant. From jiri to Lukla, then from chheplung to Namche bazaar trek carries on. This route takes around 8 to 9 days. Once you reach village monju you can see a check point leading towards Sagarmantha National Park and so on.
Advantages of Visiting Mt. Everest through Tibet than from Nepal Side
There are few advantages of going through the Tibet route as the North base camp of Tibet 5200m is only 19 km away from Mount Everest 8848m summit. From Tibet tourist can opt for climbing or can go further in a tourist vehicle. The base camp has a lot of rudimentary facilities like tents, post office, tea house etc. Many travellers choose to fly to Lhasa from Kathmandu as gaining straightforward access to the summitis more straightway. Whereas from Nepal one has to trek only as there is no defined road and the way seems a bit more distant than Tibetan way.
Travel Documents Which are Required for Travelling to EBC
Certain permits and certificates are required for travelling to EBC, which are highly necessary. There are three kinds of permit to EBC: Tibet Travel Permit, Alien's Travel Permit and Military Area Entry Permit (needed only for climbing Mt. Everest or trek Mt.Kailash)
1. Tibet Travel permit: you can get this permit through certified travel agencies. For these copies of your photograph, passport and visa and few other documents are required. Fore these documents they may ask you before you board a flight or train. This permit is issued by Tibet Tourism Bureau.
2. Alien's Travel Permit: is issued by the police under Public Security Bureau PSB. It can be applied after reaching Lhasa. To get this your agent or guide will ask you for Tibet Travel Permit and passport and will submit it to PSB's section of Foreign Affairs. The process takes some hours.
3. Military Area Entry Permit: The military area entry permit is required if tourists are planning to travel to some military sensitive areas in Tibet. Like Mount Kailash in Ali, Rowok Lake in Chamdo.
Best Time to Visit EBC in Tibet from Nepal
The suggested best time is spring and autumn season. From April to May till mid of June, this is considered as the best time because the weather will not be as cold as in winters and the peak of the mountains will be clearly visible. Besides that mountaineers choose this period to climb the Mount Everest as the weather is comfortable. The other good months will be September to November; this is the most opted period by the climbers as this period perfect weather wise as it comes after the monsoon and a period before the arrival of winters. These two periods are ideally suggested as per weather and as per the panorama view of the Mount Everest.
Packing List
It is really important to pack your things carefully for a good comfortable trekking and hassle-free experience as it will be really cold there. Here is your complete list:
1. Carry a fleece jacket and down jacket.
2. Carry thermal underwear at least 4 in number. Also take at least three to four synthetic T shirts that too in synthetic fabric as cotton T-shirt absorbs sweat and will make you feel cold.A warm jacket with full sleeves is recommended. Take other warm clothes also like jumper, a pair of thermal inners, 2 pairs of full length pants and track pants as well. 2 pair of woollen socks and sports socks as well, get 2 pairs of gloves both woollen and synthetic, you can keep surgical gloves with you too. Take warm scarf or muffler as it would be really cold in the mountains especially above 3000 m.
3. Take a light and soft pair of slippers or sandals and itwill be useful while visiting the nearby places and take warm broken in high boots for trekking. Arrange for a full length raincoat, woollen hat, and hat for sunny day, and branded and polarised sunglasses.
4. A warm and good sleeping bag is recommended with inner lining as it will make it warmer in winters. Hot water bottle is recommended.
5. Choose toiletries which are travel friendly consisting of good SPF sunscreens, dry travel towel, lip balm, cold cream, tissues and for the days when you can not shower baby wipes can be used.
6. Take water disinfectant drugs with you as you may have to drink water from lakes and rivers on the way.
7. Make your own personal medical kit that must have antidiarrheal, antibiotics for chest or other sinus infections and as its really cold there and higher chances to catch infections carry adhesive bandages and duct tapes.
Advices:
1. It is advised to take proper time to acclimatize as altitude sickness affect you. Be watchful for the signs like dizziness, headaches, sleeplessness, breathlessness and loss of appetite, it might be the signs of altitude sickness.
2. Try to be vegetarian as the meat that may reach you is too old so stick to the daal and rice as it's a god source of protein and energy.
3. Cover yourself well as the sun here is harsh so, use good amount of sunscreen and try to reapply regularly, wear full sleeve and long pants.
Recommended Everest Base Camp Tour Packages