The Best Hotel at Everest Base Camp in Tibetan Side
If you are planning an Everest Base Camp Tour in Tibet, you will very likely be interested in the question considering the hotel at EBC. Then what's the best hotel at EBC and where should you lodge in EBC? In fact, there are hardly any "real" hotels at EBC because of the harsh climate and environment in this region. However, accommodations are still available at EBC.
Most tourists will stay at the Tent Guest House at EBC for it is the closest place to see Mount Everest. While in winter season, the Rongbuk Monastery will be the prior choice, since the tents will be removed. Read to find the best option for your overnight stay at EBC.
Tent Guest House at Everest Base Camp - Stay Closely to Appreciate Mt. Everest
The first option you can choose to stay in the area is the Tent Guest House, where camping site of the EBC lies. It is the closest place to the Mount Everest where you can sleep.
There are several traditional yak wool tents, without doubt, are all basic, but have enough blankets and offer boiled drinks and simple Tibetan and Western food. There is also a stove used to keep warm, and toilets are outside the tents in small huts.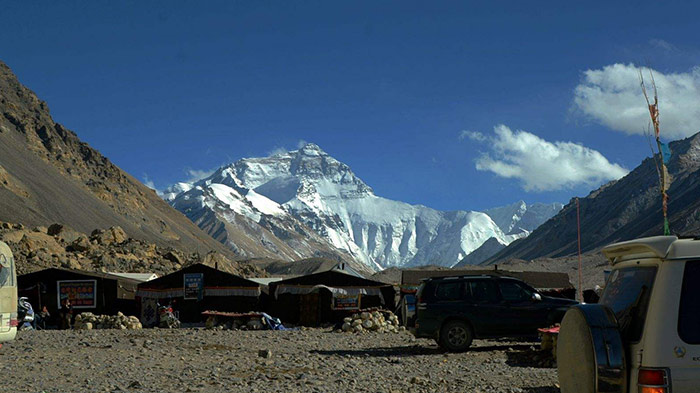 Tent Guest Houses at Everest Base Camp offer a closest view of Mount Everest.
The tents are all set up by local Tibetans for tourists visiting Mount Everest. They are much cheaper and usually a tent can be shared by over ten people. But the tents are just available from late April to early October, owing to the cold weather and climate.
Staying in the Tent Guest House is certainly golden opportunity to appreciate the snow-capped and mighty Mount Everest at close range. Owing to the high altitude of 5200 meters above sea level, it is quite challenging to sleep at these tent houses, the air is too thin to result in the risk of altitude sickness. Therefore, you must keep yourself warm to prevent altitude sickness.
Rongbuk Monastery Guesthouse - Most Popular Hotel in Winter Season
Rongbuk Monastery is just 4 kilometers away from EBC, lies near the base of the north side of Mount Everest at 4,980 meters above sea level. The Rongbuk Monastery Guesthouse is the only place to stay close to Mount Everest in winter, since the tents at base camp will be removed during the time.
There are about 30 rooms in the guesthouse, coming as twin or dorm rooms. The dorm room can sleep up to five adults, and even more in the peak season. The twin rooms are popular but you always need to book in advance to get one. All rooms provide bedding, including the electric blankets. There are also power sockets, lamps, hot water bottles, desk and chairs available in the room.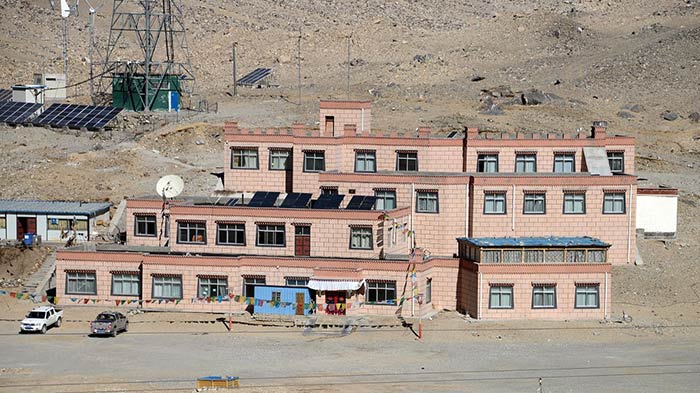 Rongbuk Monastery Guesthouse is the only place to stay near EBC in winter.
The monastery guesthouse seems poorly accommodated inside, but the rooms are very clean and there is even a small restaurant serving simple Chinese and Tibetan dishes and drinks, like noodles, milk, and some other food.
The Rongbuk Monastery Guesthouse is open all the year round and the price can be relatively high due to its unique location. But it offers a good view of Mount Everest's sunset and sunrise. Staying here is quite challenging and exciting.
Imagine that you have just gotten up, while brushing your teeth, glance up the best view of Mount Everest, what such a soul-stirring experience it is. Have your cake and eat it too. That is why so many travelers are most willing to chance their arm.
Recommended Hotels at Tingri - Hotels with Better Facilities Near EBC
Tingri is at an altitude of about 4,300 meters, around 107 km north-west of Mount Everest, often used as a base by mountain climbers or trekkers preparing to trek Mount Everest. As a town, the facilities of the hotels in Tingri are better than other places near to Mount Everest.
There are two recommended hotels - Tingri Everest Shanghai Hotel and Tingri Qomolangma Hotel, which have good supporting facilities. The Tingri Everest Shanghai Hotel is a two-star hotel, offering 3 deluxe suits and 36 standard rooms, all equipped with cable TV, hot water, and international and domestic telephones. The restaurant provides delicious Chinese dishes and Western dishes, and there are also a bar here.
The Tingri Qomolangma Hotel is also two-star hotel, providing dozens of standard rooms with private bathroom. The restaurant of the hotel can receive 120 guests for dining. And business center, bar, conference room are also available.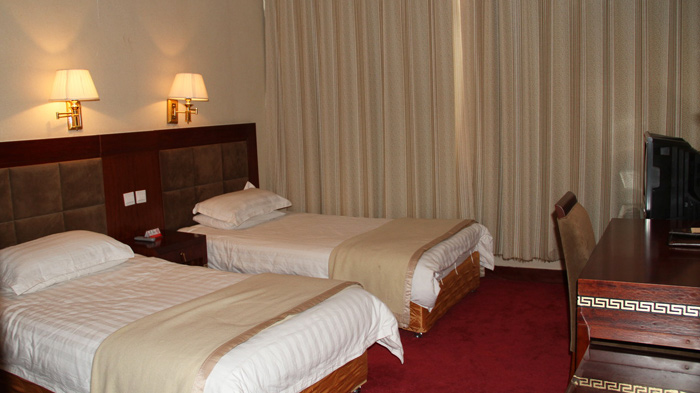 Rooms of Tingri Qomolangma Hotel are of better conditions.
Overall, the hotels and guesthouses in Tingri are quite basic, not comparable with those in Shigatse or Lhasa. But there are many benefits for travelers staying here. First, the lower altitude will make you more comfortable and warmer, the risk of altitude sickness may be lessened a lot.
Also, it just takes some time to drive to EBC, and the scenery along the road can make you be on the top of the world. In fact, an increase number of people are fond of standing at Gawula Pass taking photos of Mount Everest.
Recommended Hotel at Tashi Dzom - Hotels with Lowest Altitude Near EBC
Tashi Dzom is an alternative place to stay in the Everest region, located between Everest Base Camp and Tingri, at the lowest altitude (3950 meters) in the nearby places of EBC. If you decide to stay overnight here, in general, the altitude sickness may not hit you. And getting to EBC from Tashi Dzom, you will spend less time driving.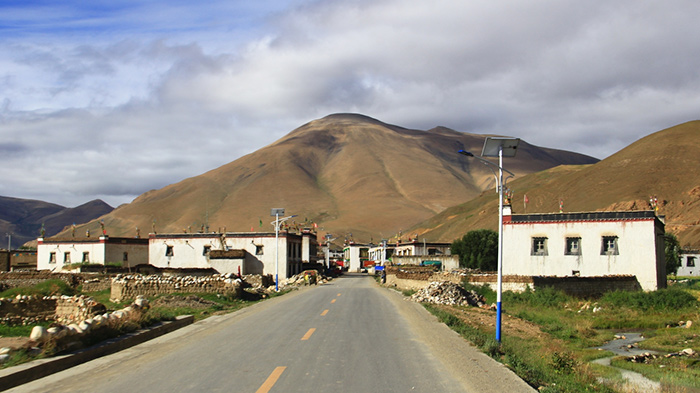 Tashi Dzom is also a good choice for staying with lower altitude.
There are some simple Tibetan style guesthouses. The recommended hotel is Cho Mo Lang Ma Ben Ba Guest House, which is also very poorly accommodated inside. Expect to sleep 2-4 to a room in very basic, yet clean, accommodation and use communal squat toilets as the compromise for the experience.
Duvets are provided but it is recommended that you bring your own sleeping bag along for the added warmth. Hint, ensure that there is sufficient airflow into the room at night (keep the door slightly ajar) to avoid depletion of the oxygen.
Useful Tips for Staying around Everest Base Camp Area
1. Clothing: due to high altitude, warm clothes are extremely important, including down jacket, cotton wadded jacket, wool hat, woolen glove, snow boots and cotton and woolen socks and so on. Sleeping bags are also recommended, to keep warm at night.
2. Food: even if the hotels and guest houses can provide you with food, bringing some food to rejuvenate and replenish yourself is necessary, such as chocolate, sugar, energy bar etc.
3. First-aid: keep antiseptic creams, ointments, syrups, and band-aids or something else that you need.
4. Documents and tickets: Tibet Travel Permit is necessary. Of course, all related documents and tickets can be applied by Tibet travel agency that you contact. In particular, the ticket of EBC should be bought in Tingri, do not forget.
Conclusion
Generally, the Tent Guest House and Rongbuk Monastery Guesthouse are best choices for travelers to stay overnights at EBC. While the hotels at Tingri may offer better accommodation, and staying at Tashi Dzom can have less risk of altitude sickness.
Although the hotels around EBC are all poorly accommodated, they are warm and can make you safe and comfortable at nights. If you still have any question about hotels at EBC, feel free to contact us or leave your comments below.