Best Trek in Nepal: Everest Base Camp Trek vs. Annapurna Circuit Trek
When you walk the crowded streets of Thamel, Kathmandu you will be bombarded by signs advertising trekking tours, guide companies, and a number of shops selling new and used gear. And with good reason: the treks in Nepal, which wind through the world's highest mountains, are unique in the world. And Two of the many treks in Nepal stand out above the rest, and are the most popular with both novice and experienced trekkers; Mount Everest Base Camp and the Annapurna Circuit treks.
Overview of EBC trek in Nepal
The trek begins with an eye-opening flight to Lukla airport, at 2,800 meters. The trek passes through the picturesque Sherpa village of Namche Bazaar culminating in the ascent of Kala Patthar - 5,543 meters - from where classic views of Everest and its surrounding peaks are available. Most of the trek is spent above altitudes of 3000 meters. Although this is a short trek, by Nepal standards, there will be plenty of time to enjoy the culture of the Sherpas, visit ancient monasteries and learn how Buddhism influences Sherpa life. You will stop at numerous teahouses, drink sweetened tea or Chang (millet beer) and get a taste of the hospitality that is unique to the Sherpas. Beautiful, colorful prayer flags, prayer wheels and intricately carved mani stones line every hilltop, rock wall, and trail-side, singing prayers to the gods with every breeze and every passing traveler.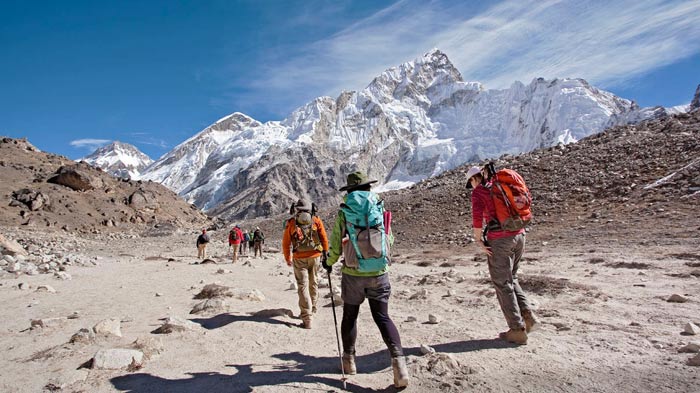 Everest Base Camp Trek
Overview of Annapurna Circuit Trek in Nepal
This truly classic trekking tour in Nepal, around the heart of the Annapurna range, begins with a drive to Besisahar and proceeds by foot up the Marsyangdi River Valley, through the villages of Chime, Bagarchap Pisang and Manang to cross the Thorung La Pass 5,400meters. The trail then switches over to the Kali Gandaki River valley and descends through the villages of Muktinath, Jomsom, Ghorepani and ends in Pokhara. The crossing of the 5,396 meter-high Thorung La Pass requires acclimatization to higher altitudes, good physical condition, and good weather.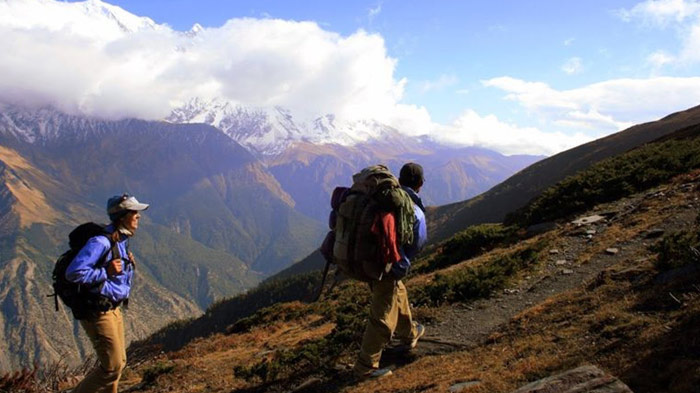 Annapurna Circuit Trek
This route treats the trekker to fantastic close up views of the rugged Annapurna range. Just forty miles between the two river valleys are home to at least twelve peaks over 7,000 meters, with many more above 6,000 meters. As the trek gains altitude slowly, you will have the wonderful opportunity to encounter and observe the local people and their way of life. Lovely lowland farming communities of the Brahmin and Chettri people give way gradually to the resourceful highland trading communities of the Magar, Gurung and Bhutia. As the people change, so do the religions. Temples and shrines, used for worship by the lowland Hindus give way to Shamanism in the middle hills, which in turn gives way to the gompas and monasteries of Tibetan Buddhism of the higher reaches.
How to get to the starting pointing of EBC trek ( Lukla)
The trek to EBC starts at Lukla, in the Khumbu region of Nepal. However, there are no roads going into Lukla, so there are only two ways to get there. The most obvious route, and the one taken by most people is the flight from Kathmandu to Lukla airport. This scary, and eye-opening flight passes over dozens of high mountain ranges on its 30-minute journey, to reach the airport at Lukla. To land, the planes have to come in along a short valley, and land on an uphill incline at the edge of a cliff. Needless the say, the pilots are all experts, and have plenty of experience in landing in such a remote and dangerous location.
The other way is to take a bus to Jiri, and trek for several days to Lukla, although you can trek from Jiri straight to Namche Bazaar. This is a long trek, and if you are pushed for time, not the ideal route. But it is a great walk along the route to Namche, and is a gentle practice for the arduous route ahead.
How to get to the starting pointing of Annapurna Circuit Trek (Besi Sahar)
The Annapurna Circuit trek starts at the municipality of Besisahar, in the Lamjung District of Gandaki Zone, and getting to this region requires either an eight-hour drive or a flight to Pokhara and a two hour drive to the trailhead. While it is not the easiest trail-head to get to, it is one of the most spectacular treks in Nepal.
Trekking documents for EBC TREK
Aside from the visa to get into Nepal, there are certain permits that are required for trekking at Everest. The most important requirement here is the TIMS Card. For safety, all trekkers in Nepal must acquire the Trekkers Information Management Systems (TIMS) Card before trekking. The TIMS Card is mandatory to ensure the safety and security of trekkers in the general trekking areas, and requires a copy of your passport, a passport-sized photograph, and the standard fee of US$20 per person, per trekking area.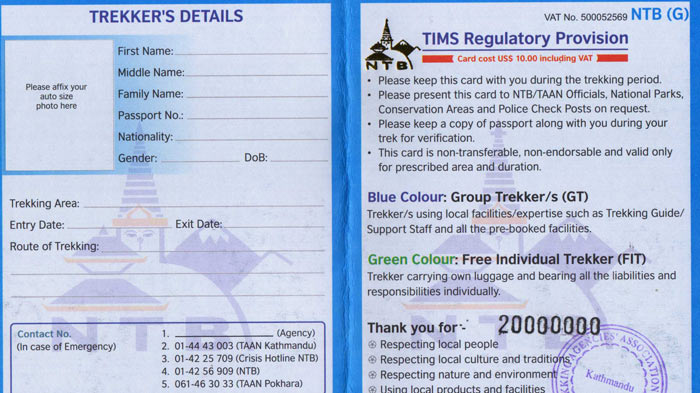 Trekkers Information Management Systems (TIMS) Card
A permit is also needed for the Everest area, which costs US$34 per person, and requires a photograph. Both TIMS and permit can be obtained at the tourist office in Kathmandu, which is just a short walk from Thamel, and is open six days a week until 2pm for the permit and 5pm for the TIMS Card. Processing normally takes around ten minutes for each, but if you do not have time in Kathmandu, you can also obtain both TIMS Card and permit in Monjo, on the route from Lukla to Namche Bazaar.
Trekking documents for Annapurna Circuit Trek
Similarly, there are certain required documents for the Annapurna Circuit Trek, on top of the Nepal visa. The TIMS card is required for all trekking in Nepal, and is valid for multiple treks in different parts of Nepal, but only for the period of its validity. Once you leave the country, it expires and you will need a new TIMS card when you come back.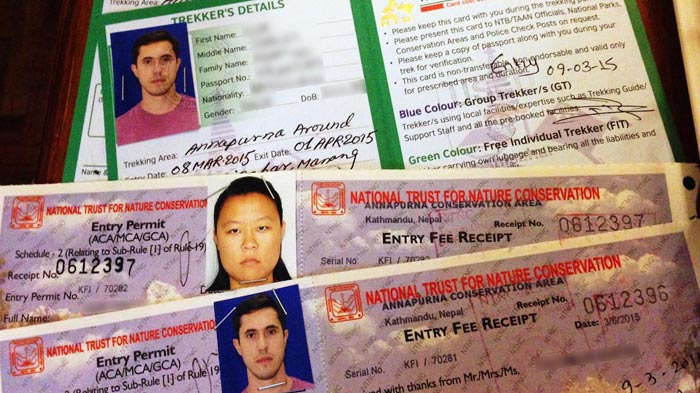 Annapurna Conservation Area project (ACAP) permit
The other permit required for the Annapurna treks is the Annapurna Conservation Area project (ACAP) permit, which is available from local tourist agents and through the official Nepal Tourism Board offices. You can get your trekking permit completed in about 15-30 minutes if there is not rush of people. You will need 2 photos, and the main trekking permit office in Pokhara is also the tourism office of Pokhara. There is a second ACAP trekking permit office in Ghauri Ghat that is a good option, and is often less busy. Offices hours are 10am-4pm (closed Saturdays and Sundays).
Best time for EBC Trek
Most people take on the Everest Base Camp trek during October and November, when the weather is the most pleasant and there is a better chance of clear skies. When you reach Everest Base Camp at this time of year there may not be any tents there, as the climbers and expeditions usually aim to summit in May. The benefit of this time of year is there are fewer trekkers on the trail, which means more room at the guesthouses, and a more peaceful trek to the heady heights of Mount Everest.
>> Read more about When is the Best Time to Enjoy EBC Trek in Nepal
Best time for Annapurna Circuit Trek
The best time to hike the Annapurna Circuit is in October, when the monsoon season ends. The heavy rains have cleared the air, making views of the Himalayas especially dazzling. It is also generally a safe time, because the slopes are not too damp and slippery, and the temperature is just right, neither too hot nor too cold.
Annapurna hikes in early spring, March and April, before the monsoon season begins are another good option. The rhododendrons and other flowers are in bloom, decorating the trails in spectacular colors. This is also the warmest time, which makes it appealing to travelers who do not like the cold.
Acclimatization places and time spent there for EBC trek
As the trek to EBC is constantly increasing in elevation, days are required to be set aside for acclimatization. This is done so that your body can acclimatize to the increased altitude, and helps to prevent altitude sickness while you are trekking. On the average 14-day trek to EBC, there are two acclimatization days, on day three and on day six. The first acclimatization day is spent at Namche Bazaar, at an elevation of 3,440 meters. After traveling from Kathmandu to Lukla, and then climbing up to Namche, you will need to spend some time getting used to the altitude, before moving on.
The second acclimatization day is spent at Pheriche, at an altitude of 4,240 meters. This is the only other day you need to acclimatize, before moving on to Gorak Shep, at 5,160 meters, and then on to the base camp at an elevation of 5,380 meters.
>> Read more about Accommodation and Dining during EBC Trek in Nepal
Acclimatization places and time spent there for Annapurna Circuit Trek
On an average 16-19 day trek in the Annapurna circuit, it is recommended that you have at least one acclimatization day, since there is an increase in elevation during the trek from just over 800 meters to a height of around 4,534 meters, at Thorung Phedi. The acclimatization day is normally chosen as the seventh or eighth day, and is spent at Manang, at an elevation of around 3,357 meters above sea level. The entire day after you reach Manang is spent resting and relaxing, as you acclimatize to the increased elevation.
Trekking route of EBC trek
The basic itinerary for a 14-day trek in EBC starts and ends in Kathmandu. The fourteen days does not include the two days traveling into and out of Lukla. The simple itinerary of this is:
Day 1 Lukla (2,800m) to Phakding (2,650m)
Day 2 Phakding to Namche Bazaar (3,440m)
Day 3 Acclimatization Day in Namche Bazaar
Day 4 Namche Bazaar to Tengboche (3,870m)
Day 5 Tengboche to Pheriche (4,240m)
Day 6 Acclimatization Day in Pheriche
Day 7 Pheriche to Duglha
Day 8 Duglha to Lobuche (4,930m)
Day 9 Lobuche to Gorak Shep (5,288m) and Kala Patthar (5,643m)
Day 10 Gorak Shep to Everest Base Camp (5,380m) to Lobuche (4,930m)
Day 11 Lobuche to Dingboche (4,410m)
Day 12-14: Dingboche to Lukla (2,800m)
>> Read more about Different Trekking Routes to EBC from Lukla
Trekking route of Annapurna Circuit Trek
The Annapurna Circuit Trek can be one of either twelve days, for those who finish at Jomsom, or 19 days, for those who go on to finish at Nayapul. The extra seven days trekking is a little easier than the climb up to Thorung la, and is at lower elevations, so altitude sickness is not an issue. The standard itinerary is:
Day 1: By road to Besisahar
Day 2: Trek to Bhulbule (840m)
Day 3: Trek to Jagat (1,330m)
Day 4: Trek to Dharapani (1,960m)
Day 5: Trek to Chame (2,670m)
Day 6: Trek to Pisang (3,200m)
Day 7: Trek to or Manang (3,540m)
Day 8: Acclimatization in Manang (3540m)
Day 9: Trek to Yak Kharka (4110m)
Day 10: Trek to Thorung Phedi (4,450m)
Day 11: Cross Thorung La (5,416 m) to Muktinath (3,800m)
Day 12: Trek to Jomson (2,700m)
Day 13: Trek to Kalopani (2,430m)
Day 14: Trek to Tatopani (1,190m)
Day 15: Trek to Chitre (1,542m)
Day 16: Trek via Ghorepani (1,387m ) to Ulleri (1,960m)
Day 17: Trek to Birethanti (1,120m)
Day 18: Trek to Nayapul (1,070m), then bus or taxi to Pokhara
Day 19: By road to Kathmandu
Join-in the Most Recommended Nepal Trekking Tours
Highlighted attractions along the way during EBC trek
There are several amazing sights along the way to EBC, which are even more spectacular than the scenery and landscape you are looking at every day. Blink and you could miss Phakding, a small village that sits by the milk white Dudh Kosi river and is often the first stop on the trail to Everest Base Camp. You will be excited about the trek ahead, but don't overlook this little spot. Phakding is a photographer's dream with prayer wheels, rustling flags and Mani stones, all colorful against the cloudy melt water river that rushes down the valley.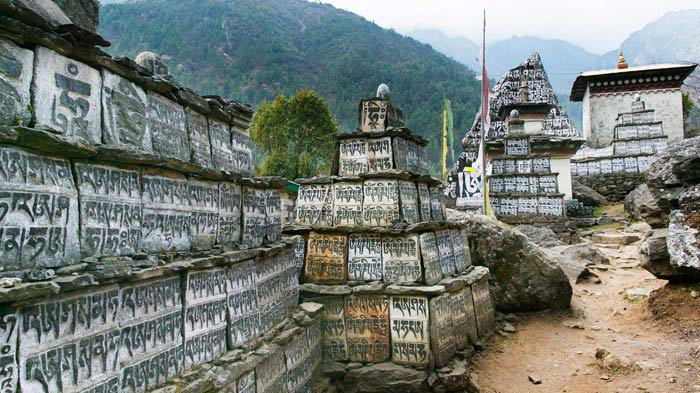 Phakding
One of the first stops on the Everest Base Camp trail, Namche Bazaar is a busy trading centre and the cradle of Sherpa culture. Its Sherpa Museum reveals the extraordinary role local people have played in summiting Everest, often at great personal cost. Next comes the rumored birthplace of Tenzing Norgay and the site of Khumbu's largest Buddhist monastery, the remote village of Tengboche, which is only accessible on foot.
Kala Patthar, at 5,545m, is a tough hike and as high as most trekkers go, but once here, the reward is bucket-list views of Everest (which cannot actually be seen from Base Camp itself) and surrounding peaks, and down over the Base Camp. This rocky clearing of the base camp, with the treacherous Khumbu Icefall just beyond, is where serious Everest summit attempts via the South Col route start. It takes around three hours to trek here from Gorak Shep. During the spring climbing season, it is a tent city, but at other times of year it can be eerily quiet.
>> Read more about Must-see Himalayan Wonders during EBC Trek in Nepal
Highlighted attractions along the way during Annapurna Circuit Trek
Annapurna Circuit is not a true wilderness experience. Apart from the crossing of the Thorong La pass, the Circuit's highest point, you are not going to walk for longer than an hour without coming across a village with tourist lodges. And as the roads into the region have progressed further, the whole idea of being in a remote, out of the way location has long disappeared. However, there are several great sights along the route that are still just as spectacular as before the circuit became overcrowded, and they allowed motorbikes into the Kali Gandaki Gorge.
On the way from Besisahar to Syange there is a beautiful smaller waterfall. It is few meters off the main trek after getting to Siurung village on the left hand side. On a sunny day it is a truly magical place with hundreds of dragonflies, some local kids jumping into the small pools formed by the river and also a great place to refresh yourself in the chilly water.
As you are walking towards Pisang village, you will pass by many apple farms. The locals are selling the most delicious juicy and crispy organic apples you have ever tasted. Try apple brandy or apple pie anywhere on the way, you will not regret it. And when you get to the village of Pisang do not miss the chance to visit Upper Pisang. It is only a few minutes' walk and the view is amazing from there. The temple can be seen from far away, you cannot miss it.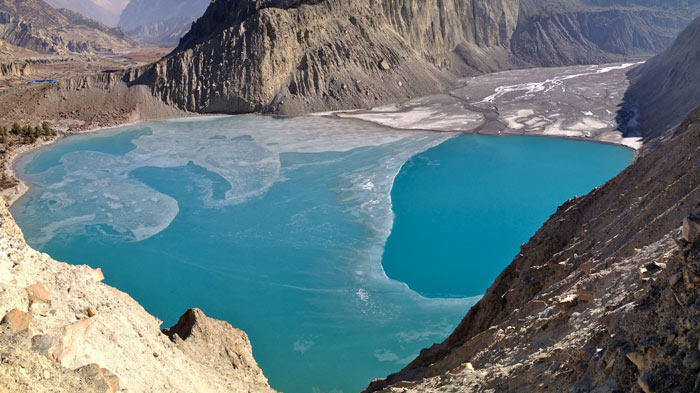 Gangapurna Lake
When you get to Manang take the short walk to the Gangapurna lake. The water is freezing cold so swimming is not recommended, or only for the very adventurous ones. You have a perfect view to the glacier and Gangapurna peak. The temple of Muktinath is one of the holiest place for both Hindus and Buddhists. Each year there are thousands of pilgrims visit the sacred place which is definitely worth visiting to see the culture and get to know more about the religion.
Recommended Nepal Everest Base Camp Tour Packages