Tingri to Everest Base Camp Trekking
Though everyone is eager to have a good view of the majestic Mount Everest, not all people can achieve their dream, let alone trek to visit the Everest. Tingri to Everest Base Camp (EBC) is renowned as a world-class trekking route. Do you want to know whether you are one of the lucky guys who have a chance to enjoy a trekking tour to EBC?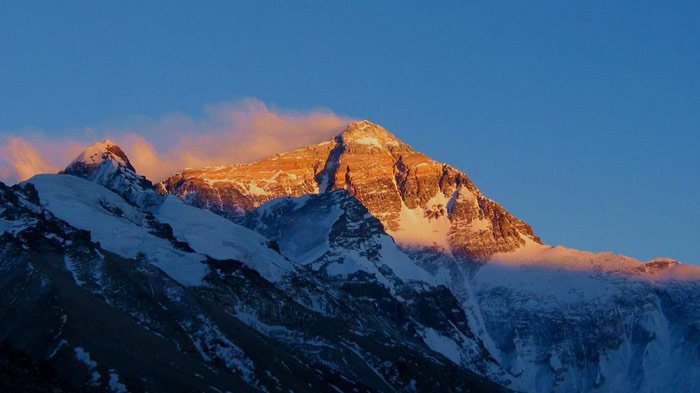 Breathtaking view of Mount Everest.
The trekking trail from Tingri to Everest Base Camp is in a high-elevation region with altitudes ranging between 4400m and 5300m, but it provides a heady mix of solitude, wildlife sighting and physical challenge, onagers and gazelle thriving around the trail, and you might even get lucky and see a Tibetan brown bear rambling in the pastures.
You are advised to accomplish 70km in 4 whole days on foot; on the way to Everest Base Camp you will have enough time to explore the valleys and glaciers below the massive north-face of Mt. Everest and view the most magnificent world's highest mountain scenery. During trekking tour in Tibet, do stay in the sight of your tour guide. Otherwise, hidden risks are approaching you. Getting lost in the wild of Tibet can be very dangerous.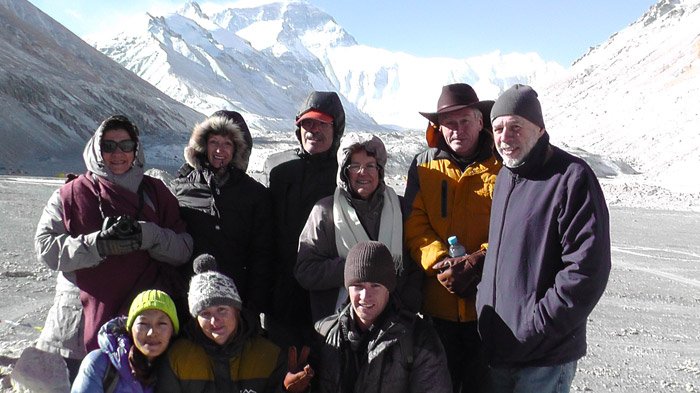 Our clients were taking a group photo at the foot of Mount Everest.
You can also enjoy a shorter trek from Rongbuk Monastery to Everest Base Camp, instead of the trek from Tingri to EBC. It only takes two hours to cover the 8km from Rongbuk to EBC. One day is enough for you to enjoy and shoot the scenery, and trek back to Rongbuk. But you are strongly recommended to go downhill before 16:00pm. To watch the sunrise of the world's highest peak, you'd better get up early at Rongbuk. It is best at around 6:00am.
Route: Tingri-EBC
Distance: 70km trekking
Duration: 4-5 Days
Permits: Tibet Entry Permit & Alien's Travel Permit
Start: Tingri (4390m)
End: EBC (5200m)
Highest Point: EBC (5200m)
Difficulty: Medium to difficult
Accommodation: Camping
Food: Self-sufficient
Everest Base Camp trekking map.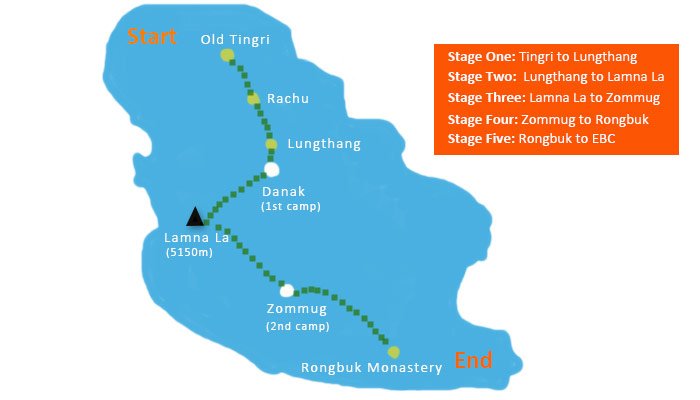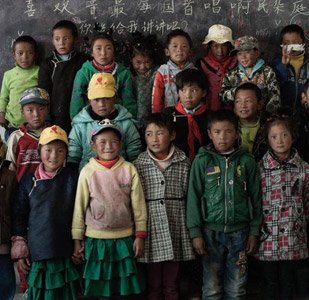 The World's Highest Primary School
Located at an average altitude of 4700 meters at Tingri County, Shigatse prefecture, Basum Primary School is known as the world's highest primary school. As the gate of the school just faces the world's highest peak, students here could see the Everest during the daily flag-raising ceremony.
Basum Primary School is a board school with 250 students and faculties whose daily cost for food and accommodation equals 1.44 yuan per capita. As Amway Company donates 200,000 yuan to help improve living conditions of local students, the school will be renamed as "Tibet-Amway" primary school in gratitude for the company. Basum Primary School is the 12th school Amway has help build up in China's Project Hope, a national program to help school dropouts in poverty-driven areas.
Though another Northland company is expected to carry on long-term financial support to the highest primary school, the students there still need further help. You will be greatly appreciated if you take some books and sports utilities as gifts for the children. Of course, candy and chocolate are the favorite gifts for those lovely children.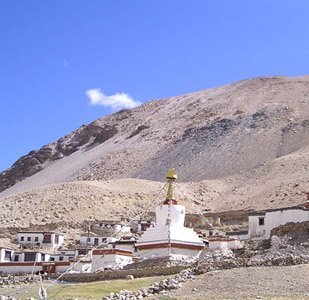 The World's Highest Monastery
Have you ever seen the famous film 2012? In this movie, there is an old Lama standing in front of a temple located on the top of the world. The temple is the famous world's highest monastery Rongbuk. Lying against the backdrop of Mt. Everest (Qomolangma), the Rongbuk Monastery looks mysterious with dark red enclosure, colorful prayer streamers and white stupas. Some 20 km from the peak of Mt. Everest, the monastery is regarded as the best location to appreciate the magnificent peak.
The Rongbuk Monastery also works as a Base Camp for mountaineers scaling the Everest from its north side, and has drawn the public attention with delicate frescoes since it reopened in 2008. Flowing across the mountain foot is the Rongbuk River formed by melting glaciers of Rongbuk, the largest of its kind in the Mount Everest area.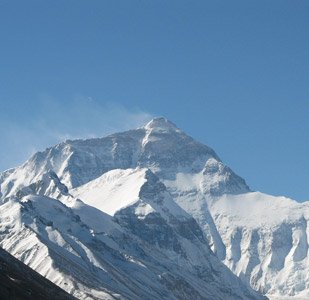 The World's Highest Peak
As the world's highest peak, Mount Everest must be the most famous mountain in the world for its unmatchable height and brilliant history. It is also known as Mt. Quomolangma in Tibetan language, which literally means "The Third Goddess". Towering 8848.13 meters in the middle section of the Himalayas in Tingri County, it has four peaks above 8,000 meters and 38 peaks above 7,000 meters, thus is reputed as the Third Pole on the Earth. If you are lucky enough, you can get a vista of Everest on the roadside at Tingri.
Because of its height, it had been difficult to reach the summit of Mt. Everest. The first half of the twentieth century, many people tried to reach the summit of Mt. Everest. After World War II, many people made earnest efforts to achieve that goal.
Yet, all failed. At last in 1953, Edmund Hillary, and Tenjin Norgay who was a Nepali Sherpa reached the summit. The 2008 Summer Olympics summit of Mt. Everest was the special route of the torch relay as part of the 2008 Summer Olympics held in Mount Everest.
The best time for trekking from Tingri to Everest Base Camp is from May to October when it is warmer, with its average temperature ranging from 15℃ to 25℃, and blue skies and clear weather. So, it is better to avoid the rainy season between July and August. Landslide easily occurs and cripples the roads during the rainy season. But the mountains are at their greenest and wildflowers spangle the alpine meadows during this season.
The most distinctive feature of the climate of EBC may be the dramatic temperature change in the daytime and at night. Even in summer, temperatures can fall well below freezing at night in the mountain areas in Tibet. Sometimes, snow may let you trapped in your tent. In winter, it is too cold and windy to do this trek. Heavy snow should be a great risk for trekking at such elevation.
Lhasa to Tingri
Though there is no regular bus shuttling between Lhasa and Tingri, it is easy to hire a car and drive along the scenic road from Lhasa to Tingri. If you book Tibet tour from us, we can help you to arrange 4WDs or tourist buses. There are two routes from Lhasa to Tingri. One is driving directly along the Sino-Nepal Highway to Tingri. But we highly recommend the other one via Gyantse, a typical ancient Tibetan town. The latter route will take you to visit the turquoise holy Lake Yamdrok and the famed Gyantse Kumbum en route.
The above two routes meet at Shigatse, the second biggest city of Tibet. In Shigatse Tashilhunpo Monastery is a must-visit site. It is regarded as the Tibetan Buddhist centre of Tsang and the seat of the Panchen Lama. Before heading to Tingri, you can make a detour to the Sakya Monastery renowned as "the Second Dunhuang" due to its colossal collection of scriptures, murals and Thangkas.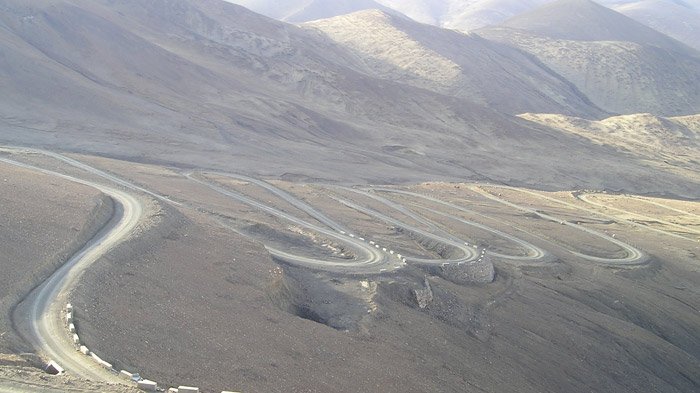 Thrilling winding mountain road to Everest Base Camp.
EBC to Lhasa or Kathmandu
After visiting the highest mountain in the world, you can get to Lhasa or Kathmandu for your home flight or continuing tour. As the road between Tingri and Rongbuk is a little bumpy, 4WDs are recommended. After driving back to Tingri, you can go back to Lhasa. But most travelers to Tibet prefer continuing their trip to Zhangmu and then to Kathmandu, capital of Nepal. A 7-day tour from Lhasa to Kathmandu via EBC is the choice of most foreign travelers to Tibet.
Overnight at Tingri
Trekkers are highly advised to spend at least one night in Tingri for further acclimation of the high elevation there. Tingri is also known as Old Tingri town after New Tingri (Shegar) town is built for the visitors who want to visit Mt. Everest Base Camp. In Old Tingri, the accommodation condition is poorer. Guesthouse is the only choice, no hot water, no heater, but it is enough for enjoying a rest in some remote areas. The best hotel in Old Tingri (well, the best here is only limited in this place in Old Tingri) is the Snow Leopard Hotel. There are also some other hostels and guesthouses in the town.
Overnight at EBC
Rongbuk Monastery offers simple guesthouse and food for tourists to visit Mt. Everest. In fact, there are hardly any "real" hotels in EBC for the accommodation. As to accommodation, hotels in EBC are all not comparable to those in Lhasa or Shigatse because of the harsh climate and environment in EBC. However, accommodations are still available in EBC.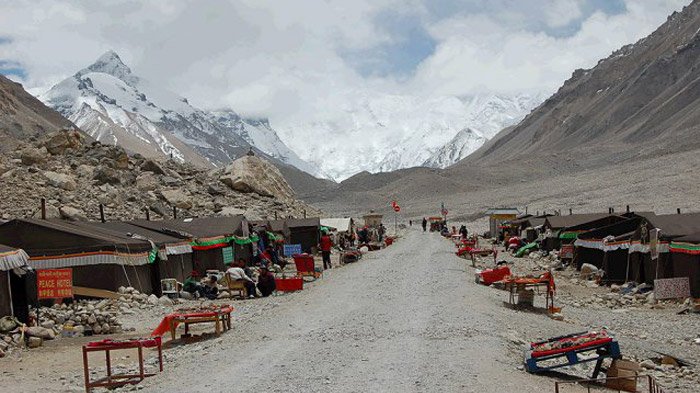 There are a few tent guesthouse at Everest Base Camp.
Generally, travelers have three choices as for lodging in EBC: camping by themselves or staying in tent guesthouse or in the Rongbuk Monastery Guesthouse or the Rongbuk Everest Hotel.
Camping
When trekking in Tibet, you usually need to camp in remote areas without hotels. But trekking from Tingri to EBC is a little different. There are some small villages on the trail offering simple accommodation. However, camping will make your trek more interesting. After arrival at the camp site, you can set up a bonfire, cook some hot food, and then sit around the fire and enjoy your dinner, chat with your travel partners and guide, or just lie down, watch stars twinkling in the sky, carefully hear the sound of different insects. Just imagine that you are sleeping at the top of the world. It seems that you can catch the stars. Is it exciting? Just go to enjoy the natural environment without modern facilities and overtime work.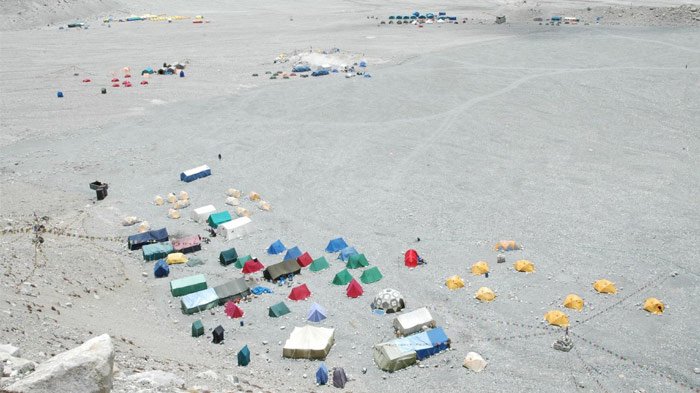 Travelers are camping at Mt. Everest Base Camp.
High Altitude Sickness
You are trekking at the roof of the world. The average altitude of the trekking trail from Tingri to EBC is over 4,000m. Altitude sickness is the biggest risk for this trekking tour in Tibet. Thus full acclimation is a must before starting this trek. During trekking, do not move too fast. Drinking enough water can be helpful.
The initial symptoms of altitude sickness are as follows: losing appetite, nausea, vomiting, insomnia/sleeplessness, dizziness, confusion, persistent headache, weakness, fatigue, heavy legs, breathlessness and breathing irregularity, etc. When you suffer from altitude sickness, please consider stopping ascending; otherwise more serious problems may occur and even cause death sometimes within just a few hours. The only remedy for the Altitude Sickness is to walk to a lower altitude.
Attack from Animals
Tibet is the paradise of all kinds of animals. Some are rare animals under state protection. It is advised to respect the wildlife and stay a safe and legal distance with the animals during trekking in Tibet. But our reputable and professional guides can help you to cover your trip smoothly. You may be bitten by insects during trekking, so take some medicine along with you.
Besides, beware of the Tibetan dogs when you tour in Tibet, in the countryside and pastoral areas in particular. Nearly every family in Tibet has a maneating Tibetan Mastiff for housekeeping. Actually the dogs usually do not attack people who do not offend them. So just stay far away from them and do not play with them, you will be OK.
Clothing and Equipment
Be aware that you are trekking in a region over 4,000m above sea level. The climate is a little harsh, with strong wind and changeable weather. The weather conditions and terrain vary significantly from one region, or even from one trail to another. Seasonal changes can significantly alter any track. Wind-proof and water-proof clothes and shoes are necessary and helpful.
But the temperature in mountain areas of Tibet has great difference between daytime and night. It may be a little hot in day time. At night, the temperature will drop to below zero. Thus, warm clothes are recommended for trekking in Tibet, even in summer. Even it is hot, it is not advisable to wear shorts for you might be bitten by insects in the wild. raincoat and a rain boot are also recommended.
Though you may find simple guesthouses on the trekking trail from Tingri to EBC, the condition is really very very simple. You might be waken up by freezing mid-night. You should take at least a down sleeping-bag to help you to enjoy a good night.
If you plan to camp, a wind-proof and water-proof tent, a warm sleeping bag and a moisture-proof pad are a must as it is really very cold and wet at night. Cooking wares, at least including a stove and an autoclave, are also necessary.
Trek Support
Tingri to EBC is widely considered as the highest trek in the world, so it is not easy to accomplish this trek in Tibet. There are some tips for trekking in Tibet. It is not a pleasant thought to carry your luggage by yourself when hiking through high regions. You should hire a porter or trek animal to carry your luggage and trekking gears.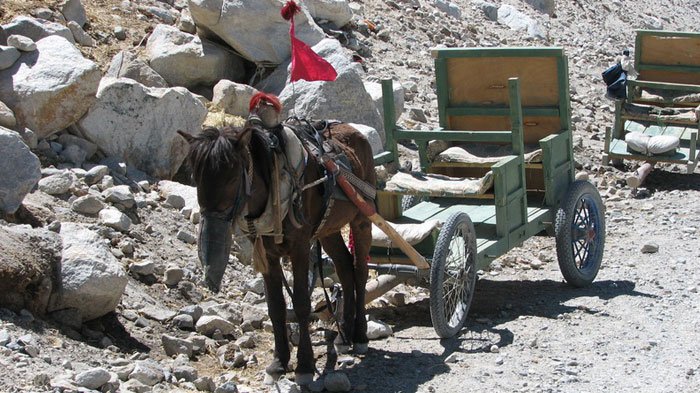 Horse Cart at EBC can help travelers to port baggage.
Villagers charge around Y150 per yak per day. Usually, herders feed themselves and provide their own camping gear, but make this clear before you set out. A yak can carry two or three backpacks, depending on their weight. Small groups of two or three people are more likely to end up with a horse than a yak, as single yaks are notoriously difficult to manage.
Stage One: Tingri (4390m) to Lungthang (4510m)(5 hours/12km/150m ascent)
This Tibet trek tour begins at the 5145 milestone 6km west of Old Tingri, goes through the Tingri plain as the trail heads south towards Cho Oyu Mountain. Trekking along the Ra-chu Valley, you will see the beautiful valley scenery with extensive meadow. Mostly, you will find herders in this territory.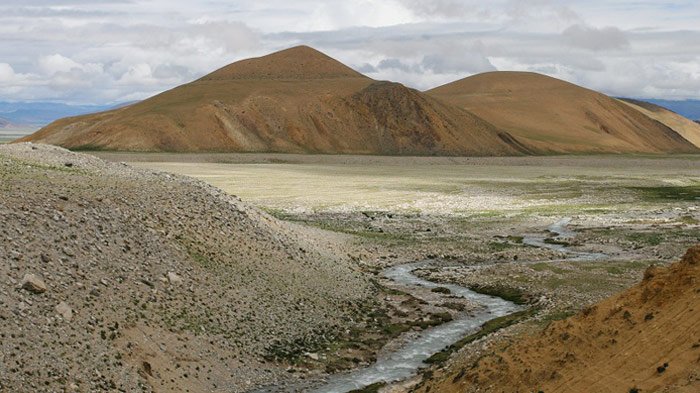 Beautiful natural landscape of old Tingri.
First, you should buy entrance tickets to Mt. Everest Nature Reserve at the ticket center at Tingri. Take the path at the milestone to Che Village. After walking about one hour, you will reach the checkpoint of Mt. Everest Nature Reserve. You can find yak and porter trekking at Che Village.
There are two paths from the village to Zhaka. The west one is accessible, but the east one is the shortest route for trekkers. You will meet a wider path after 10 minutes from Che Village. The path leads to Ra-chu Valley directly. One hour later, you will reach a seasonal campsite for nomads where you will begin to ascend to a pass at 5170m.
Then you will pass through Chholong Village on the way to Lung Thang. As you approach the village, a small Gompa is visible. It is a bleak region surrounded by barren flats. Further on, barren plains open up. Amazingly, even in these barren fields local villagers yield good harvest of barley. Most villagers here are also herders. You can select a superb campsite at Lung Thang to spend the night.
Recommended Everest Base Camp Tour Packages