Dangers Facing Mt.Everest Climbers
Reaching the top of Mt. Everest has long been the biggest ambition for many. To this end, a tremendous amount of efforts is made only to wait for the best time to ascend Mt. Everest. Traditional, climbers can either follow the South Col Route in Nepal or North Face (also known as Northeast Ridge) Route in Tibet, China to summit Mt. Everest.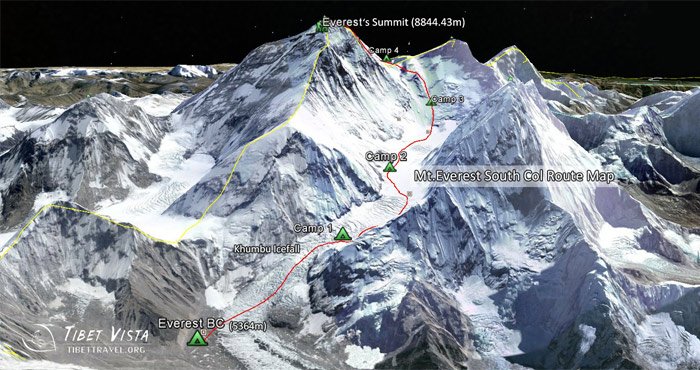 Climb Mt. Everest via South Col Route in Nepal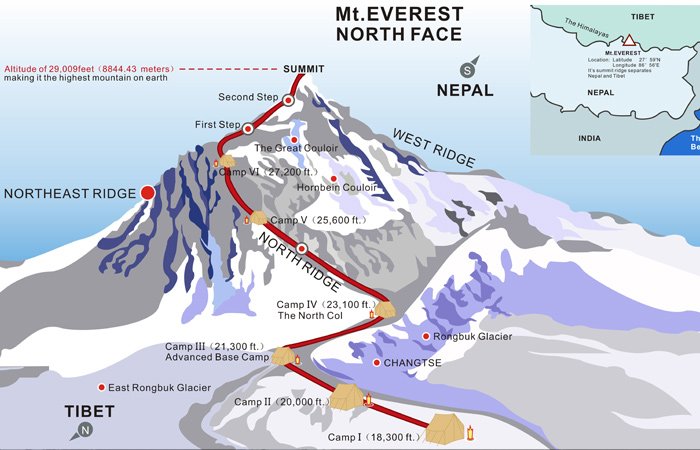 Ascent to the summit of Mt. Everest from its North Face or Northeast Ridge in Tibet
Facts about Mt. Everest Climbing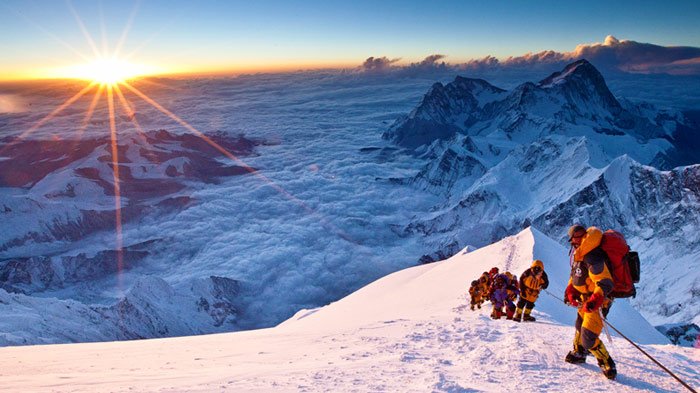 Ascend to the summit of Mt.Everest
Climb Mt. Everest North Face (in Tibet):
Compared with the South Col Route in Nepal, technically climbing Mt. Everest from its north face in Tibet is more challenging but less crowded. Tourists can choose to trek from Tingri to Everest Base Camp (5200m) or take tour bus to reach it. And it's easier to reach mid- level camps. However, climbers have to face harsher wind and menacing crevasse, dangling rock race and colder temperature.
Mt. Everest Climb for the First Time:
On 29 May 1953, Edmund Hillary, a New Zealand mountaineer and Nepalese Sherpa mountaineer Tenzing Norgay became the first climbers to reach the summit of Mount Everest.
Mt. Everest Climbing Season:
The best time for mountaineers to summit Mt. Everest is believed to be from April to May when the so-called "the window" appears. "The Window" means a relatively stable 4 or 5 days weather with mild wind over the summit of Mt. Everest; While the best time to visit Everest Base Camp(5200m) in Tibet is from April to June and Sept. to Nov.
Mt. Everest Climb Distance:
The linear distance between Everest Base Camp (5200m) to the summit of Mt. Everest (8844.43m) is 18.7km. Well, the actual distance is around 40km.
Mt. Everest Climb Duration:
In addition to 2-3 month's physical preparation and stocking enough supplies to the ascent, climbers normally need to spend 4-7 days and move slowly back and forth to reach the summit of Mt. Everest.
Mt. Everest Guide:
Born with extraordinary ability and physique to acclimatization to extreme altitude (up to around 8000m), Sherpas are undoubtedly the best guide of Mt. Everest climbing. Most of them live in eastern regions of Nepal and lead a life of farming, cattle raising, mountain guide, etc. at high altitude.
Mt Everest Climb Cost:
It's estimated to cost you around 330,000 CNY (or 49372.37 US Dollar) in 2016. The money will be mainly spent on permit, insurance, gear, travel, logistics, guide, coordination, etc. Most importantly, to be qualified to climb Mt. Everest, one has to obtain a mountaineering certificate that shows you once summited a mountain with an altitude of around 8000m.
Climbing Mt. Everest Dangers
However, the summit of the world is never a pushover. The notoriously violent storm on the top of the Mt. Everest can reach 189km/h with temperature dropping to minus 73 Celsius (163.4F). Besides, the oxygen content in air on the mountain is only two thirds of that of sea level. For years, many ventured into this holy mountain and never came back. Most of the tragedies were as a result of avalanche, exposure, fall (into a crevasse or from the cliff), ice collapse, altitude sickness, exhaustion, earthquake etc.
Other Mount Everest Climbing Risks
Why climbing Mt. Everest is so dangerous? The following issues play a part in Mount Everest climbing fatalities:
Lack of Experience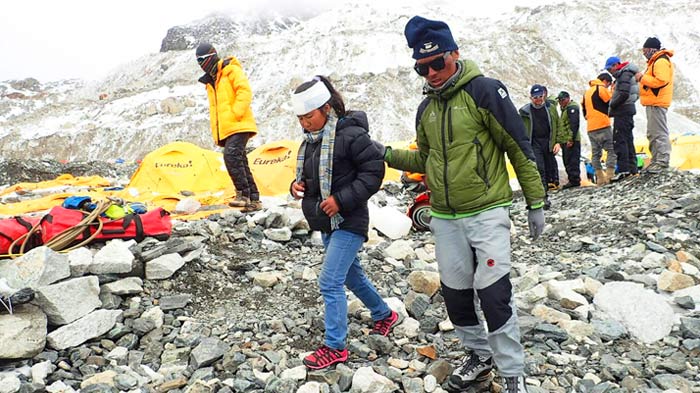 A sherpa guide escorted an injured woman to retreat from EBC in Nepal.
When it comes to the climbing Mt. Everest, one of the biggest dangers facing mountaineers is the lack of experience. Due to inadequate mountaineering training at extreme altitude, many fail to correctly estimate their stamina and physical limit. What makes it fatal is that, they have no idea when to stop climbing and return to lower base camp. As a result, they make wrong decision to keep ascending, which leads to tragedy. "Only half of all mountaineers have enough experience to climb Mt.Everest." Panuru, a seasoned mountain guide, said. Nowadays, 90 percent of successful Mt. Everest climbers come from group tour led by a mountaineering leader. Yet, many of the clients even don't have the basic mountaineering skills.
Low-cost Mountaineering Management
A handful of mountaineering and expedition companies run their business by cutting the necessary cost. They don't have stable employees, knowhow, and proper mountaineering gears and technical backup to guarantee the safety of clients when the accident occurs. These low-budget mountaineering operators often hire fewer Sherpas, sometimes even less experienced mountain guides. Unexpectedly, to a great extent the recent deaths on Mt. Everest have something to do with low-cost mountaineering management and inexperienced tour operators. Therefore, when choosing a mountaineering guide company or expedition tour operator, clients are advised to find a well-established mountaineering company that can meet international standard.
Relentless Mountaineering Mania
Being able to ascend to the summit of Mt. Everest remains the most glorious feat to people of all walks of life. So far they are approximately 4000 climbers who have successfully reached the top of Mt. Everest, among whom some even made it more than once. All of a sudden, the previous unattainable goal seems to become within reach to many. However, such false concept makes this sacred mountain a constant remainder of all the mistakes made by mountaineers.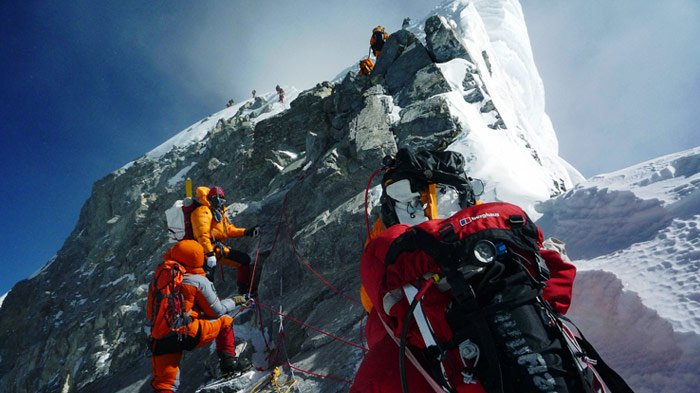 Mountaineers from around the world line up at hillary step to scale Mount Everest.
In 1963, there were only 6 people who reached the top of Mt. Everest. While in spring, 2012, the number jumped to over 500. "Barely can you find a place to stand on the summit of Mt. Everest, it was too crowded." as one climber described the moment when he reached the summit. Meanwhile, at the bottom of "Hillary Step" where the vertical rock face only allows one climber to pass at a time, many have to line up at dangerously cold temperature.
The result is exposure and sheer exhaustion. If they were caught by unexpected storm, the outcome would be catastrophic just like 1996 Mount Everest disaster in which eight were caught in blizzard as they tried to descend from the summit or waited to ascend. Another ironic reason is that as weather forecast becomes more accurate, all the mountaineers want to pick the best day to summit. Consequently, the "rush hour" comes.
Mount Everest Environmental Concerns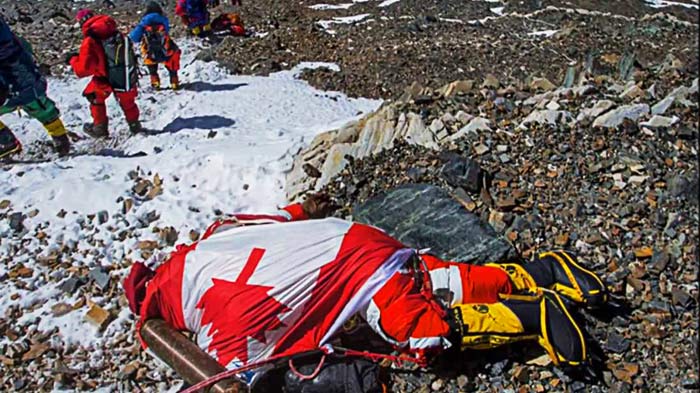 Intermittently, Corpses are seen scattered on Mt. Everest as you climb the mountain.
In addition to stunning scenery, another horrifying reminder of the awe-inspiring mountain is the dead bodies scattered on Mt. Everest. Most of the corpses can be seen along the "Death Zone", which is at an altitude of above 8000m. They died and got frozen instantly. Since it was extremely dangerous to carry them down the mountain, they were left to where we were with their empty oxygen bottles. Besides, human waste and garbage on the mountain are another big environmental concern.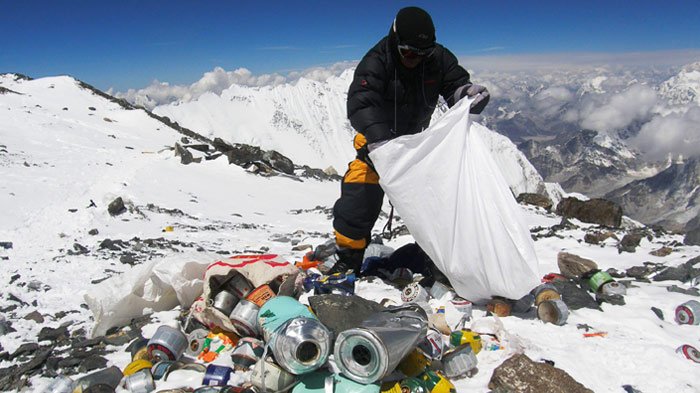 A sherpa is collecting the oxygen bottles and other trash left on Mount Everest.
Tour Everest Base Camp for Most Tourists
In spite of all these issues, the allure of Mt. Everest to world-wide explorers never fails. And for the majority of tourists, the most achievable goal is to tour the Everest Base Camp(5200m) to enjoy the awe-inspiring mount Everest and share their memorable moments and stories with friends and relatives.
Recommended Tibet Everest Base Camp Tour
Recommended Mount Everest Climbing Tour Packages