EBC Trek in Tibet vs. EBC Trek in Nepal
Mount Everest is located on the border between Nepal and Tibet, China. It's the world's highest mountain with Tibetan name Chomolungma and Nepalese name Sagarmatha. Both are popular with trekkers and mountaineers, and in the peak seasons for each, they are often crowded with people. But which side should you visit? There are pros and cons for both the Nepal and Tibet EBCs, and really, the decision on which to visit depends on what you are looking for in your trek.
Different itinerary and trekking routes
The Nepal side is the south side of Mount Everest - the most popular side for summit ascents. The Nepal side is Sagarmatha National Park, containing one of the most popular trekking routes in the Himalayas - the Everest Base Camp Trail. Trekkers usually fly to Kathmandu, then fly to Lukla at 2,840 meters, and start the 14-day trek to Everest Base Camp (EBC) and back.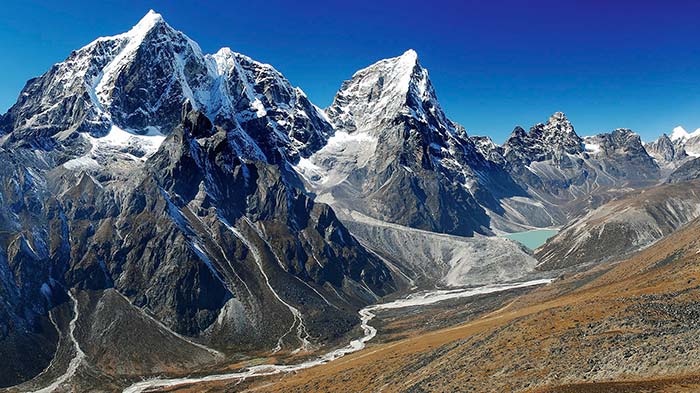 Sagarmatha National Park
The China or Tibetan side is the north side of Mount Everest. For foreign travelers, a Tibet Entry Permit and Aliens' Travel Permit are required by the Chinese government before being allowed into the area. Foreign travelers are required to travel to Mount Everest on a Chinese travel agency itinerary with a Tibetan tour guide. There are also shorter EBC treks on the Tibetan side, which start at either Old Tingri to EBC, or from EBC to the Advanced Base Camp (ABC), at 6,500 meters. The trek from Tingri to EBC is four days long, while the EBC to ABC trek is five days.
Different altitude change
Everest Base Camp on the Tibetan side is at a slightly lower altitude of 5,200 m (17,060 ft). There is a China Post Office on the site, and you can send a postcard to your friends or yourself with the Mount Everest Base Camp postmark. The elevation difference is also a lot less in Tibet than in Nepal, as the whole of Tibet is already at a high altitude anyway. The nearby Rongbuk monastery is the normal stopping-off point for EBC visits, and is at an elevation of 4,980 meters. Even when traveling from Lhasa, which is at 3,490 meters, the increase in altitude is far less than in Nepal.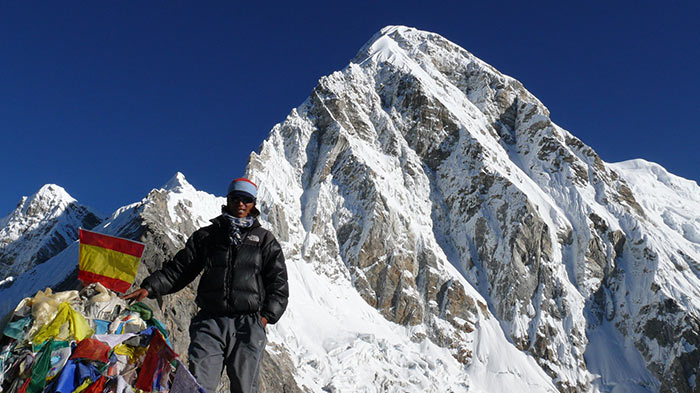 Trek from Lukla to Everest Base Camp in Nepal
The Nepal trek to EBC is much more of an increase in altitude than in Tibet, with the start of the trek being in Kathmandu, at an elevation of 1,400 meters. The first stage is a flight to Lukla, which is at just 2,860 meters. With the base camp being at 5,364 meters, and the highest point of the trek being at Kala Patthar, which is at an altitude of 5,545 meters. With such a large increase in elevation along the trail, the trek requires you to have two separate days for acclimatization at different points, usually at Namche Bazaar (3,480m) and Pheriche (4,371m).
Different highlights of treks
Because of the lower altitude and southwest monsoon, the scenery along the way is more colorful than on the China side. You can see temperate hillside forests, ravines, the red earth of terraced farms, and small villages surrounded by huge mountains. When you reach 3,800m (12,500 ft) at Khumjung, you can see different highland scenery of bare rock and earth above the snow line surrounded by snow-capped. The excitement mounts as Mount Everest draws near. The sunset is the biggest highlight from Nepal side. The sun reflects off the summit in a stunning picture of gold and pink light on white snow. However, the best view of Everest's peak is not from the base camp, but from Kala Patthar, several kilometers away.
Nepal is predominantly Hindu, although in the mountains there are more Buddhists, although the local customs and traditions are not very different between the two. Many of the traditions and religious beliefs and activities are combined in the two religions, making it hard to tell Hindu from Bhuddist. The Sherpas are the main people of the Sagarmatha region, and are a very unique and traditional people, who are well suited to high-altitude life.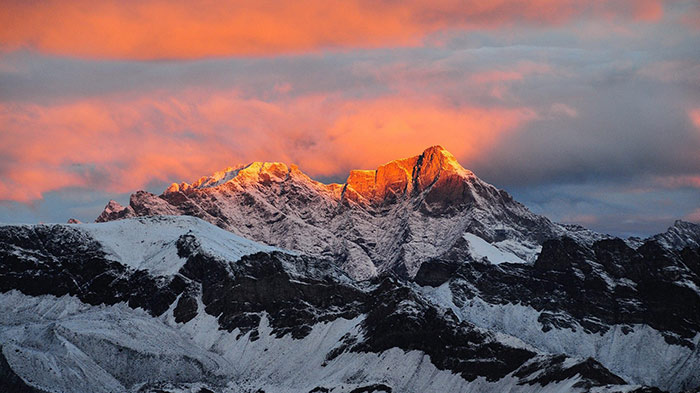 Stunning Sunset over Mount Everest
Mount Everest's Tibetan side is a kilometer-wide U-shaped valley area. The sunset at Mount Everest is one of the top highlights of the China side. The sun setting from the west shines on the summit, making a golden triangle, which is often best seen from afar, but which can be seen from the base camp. There is also plenty of beautiful scenery to enjoy and Tibetan culture to experience on the way to Everest in Tibet, and the advantage to getting there is the paved road that now leads right up to the base camp.
Tibet is a predominantly Buddhist region, with a little Hinduism, Jainism, and Bonism thrown into the mix. However, the people are very tolerant of each other's religions. Tibetans are a very friendly people, who are devout in their religious beliefs, and who apply them prominently in their everyday life. In many ways, the religion and culture of Tibet is so intertwined that it is hard to tell where religion ends and culture starts.
Who is suitable for EBC Trek in Tibet or EBC Trek in Nepal
Trekking in both EBCs, in Nepal and Tibet, is not restricted by age, sex, or athleticism, although for the classic Nepal EBC trek, it is a good idea to train a little beforehand. Whether it is Nepal or Tibet, people of all ages, and from all walks of life have taken the trips to EBC, on one side or another. Children as young as seven have made the trek to EBC Nepal, although it is unwise to bring children any younger, and those that do go should be checked by your doctor first. EBC on both sides has also seen people as old as 70 making the trek or journey to the camps, making it an ideal place to visit for almost everybody.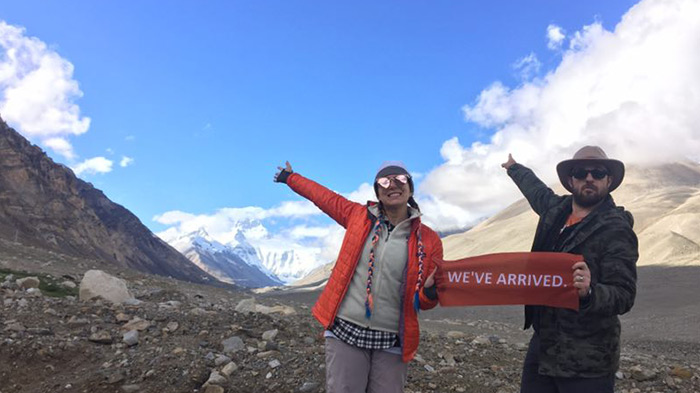 Made it to Everest Base Camp in Tibet
Different budget planning
Nepal is one of the cheapest places in the world to trek in the mountains, but budgeting for your EBC trek in Nepal is an important part of the preparations. One thing you do not want to do is run out of money before you run out of trek. Budgeting properly, and making sure you have allowed a little something for emergencies – or even for those little knick-knacks you discover in the small shop that your aunty would love - can mean the difference between an enjoyable trek and an absolute disaster. Budgeting for your tour is harder in Nepal, despite the cheap prices, since you are required to manage your daily budget for everything, from your breakfast to your trekking porters and transport.
In Tibet, it is easier to manage your budget, since your entire tour (with a few exceptions) is already paid for. The tour operator handles the costs of travel inside Tibet, hotels and other accommodation, and even some of the food. Tickets and entry permits for some places are also already included. This means that, pretty much, all you need to think about is a few entry tickets, your lunch and food budget, and what to buy as gifts for everyone at home.
Join-in Everest Base Camp Trek Tours in Tibet and Nepal
Different travel documents needed
Documents are very different for people traveling to the different base camps. In Tibet, you are required first to have a Chinese entry visa from the Chinese Embassy, and then book an organized tour with a registered tour operator. The tour operator will them obtain the Tibet Travel permit from the Tibet Tourism Bureau, and your guide will sort out the Alien's Travel Permit and Military Permit for you to be able to travel outside Lhasa, and to EBC itself. Independent travel is not permitted, and you must be accompanied by your guide at all times outside the city limits of Lhasa.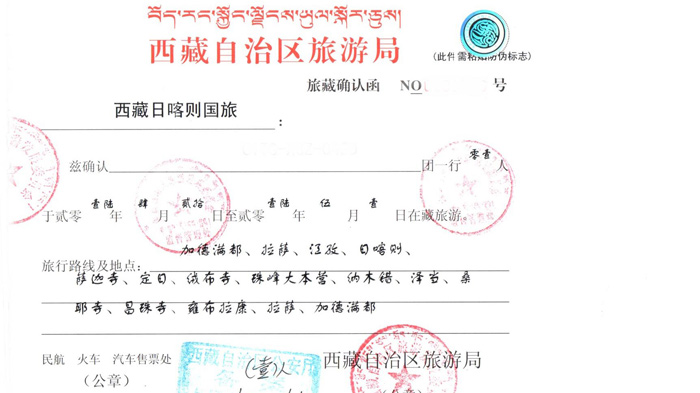 Tibet Travel Permit
For Nepal, there are very different requirements. Firstly, there is no requirement for an organized tour and you can trek and travel completely independently. Aside from the visa to get into Nepal, there are certain permits that are required for trekking at Everest. The most important requirement here is the TIMS Card. For safety, all trekkers in Nepal must acquire the Trekkers Information Management Systems (TIMS) Card before trekking. The TIMS Card is mandatory to ensure the safety and security of trekkers in the general trekking areas, and requires a copy of your passport, a passport-sized photograph, and the standard fee of US$20 per person, per trekking area.
A permit is also needed for the Everest area, which costs US$34 per person, and requires a photograph. Both TIMS and permit can be obtained at the tourist office in Kathmandu, which is just a short walk from Thamel, and is open six days a week until 2pm for the permit and 5pm for the TIMS Card. Processing normally takes around ten minutes for each, but if you do not have time in Kathmandu, you can also obtain both TIMS Card and permit in Monjo, on the route from Lukla to Namche Bazaar.
Different best times for the trek
The Tibetan base camp is not as cold or bleak as the summit, being more than 3,000 meters lower at 5,200 m, below the snow line, with daytime temperatures above freezing from spring to fall. The best time to visit is from either before June or once October has begun. When camping or hiking the dry season is best. These two periods are ideal time to visit Mount Everest when the ice melts by the afternoon, the daytime temperature is above freezing, and it hardly rains. These periods have most clear days, giving you the best chance to see the peak of Mount Everest. In clear weather the night sky will show a spectacular view of the stars.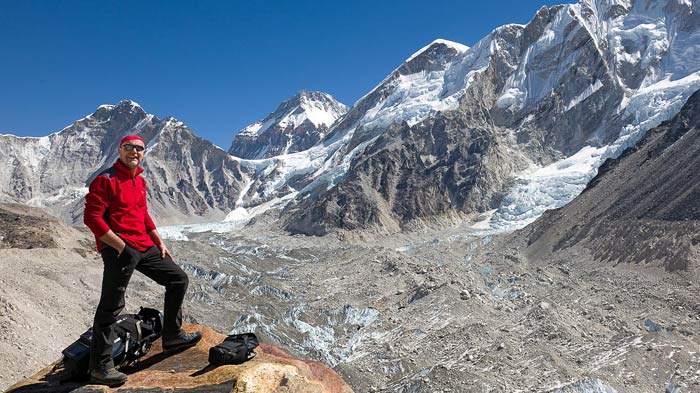 The best time to trek in Nepal is from February to May
While the higher sections of the EBC region in Nepal are known for extremely cold and adverse weather conditions, there are times throughout the year where the weather stabilizes and tends to be very mild, making it great for trekking. Contrary to what you might think, the best time to trek to Everest Base Camp is not during the height of summer. Rather, large window periods on either side of summer provide the best conditions for the trek. The spring months from February to May are probably the most popular in the region as a whole. You might be caught in the occasional snow showers if you catch the end of the winter season, but the weather should be largely stable and dry – perfect for trekking and high altitude climbing. The ideal weather comes at a price as the routes during this time will be at their busiest. Most Everest summits occur during these months so you will likely come across many climbers, summiteers and their support crews.
September to October is also a great time to trek to EBC Nepal. Clear days are characteristic of this popular trekking period. Although colder days (and colder nights) are to be expected, this is a small price to pay for the wonderful vistas and perfect views of the regions peaks. The odd snowstorm has been known to hit the region during this time so be sure to pack correctly. An added bonus of trekking during this time is the option to choose some other, less well-known routes in the area that still offer amazing views but without the hustle and bustle of the more popular routes. The Gokyo Lakes Trek to the Everest Base Camp is a perfect example.
Recommended Everest Base Camp Tour Packages