Everest Base Camp Nepal vs Everest Base Camp Tibet
Topping all the other tourist destinations in Everest region, Everest Base Camp is justifiably recognized as a Mecca for adventurous travelers to both Nepal and Tibet. In fact, there are two Everest Base Camps exist to the opposite of the mighty Mt.Everest. One is the south base camp in Nepal and the other is the north base camp in Tibet.
If you try to figure out which Everest Base Camp could be the best choice for you, just follow our travel expert's detailed analysis below, and learn more of these two Everest Base Camps to make the right decision.
1. Mt.Everest Has Two Everest Base Camp: Located in Tibet and Nepal Separately
As the mighty Mt. Everest (8844.43m) straddles the border between Nepal and China, two Everest Base Camps actually exist to the opposite of Great Himalayas.
The North Base Camp is situated at an altitude of 5200m (17,056ft) in Tibet Autonomous Region, China whereas the south one is based in Nepal with an elevation of 5364m (17,597ft).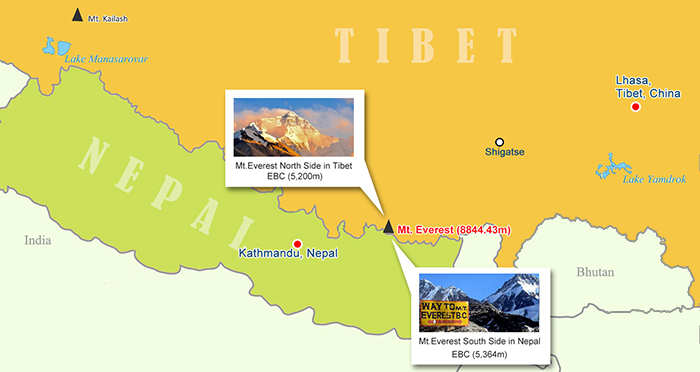 map of Mount Everest at Nepal and Tibet
From the North Base Camp in Tibet, you will get to behold the North Face of Mount Everest. Mainly the view around the North base Camp constitutes of the trans-Himalayan ranges with their snow-clad peaks and the blue sky.
From the South Base Camp in Nepal, you will get a very beautiful view of Sagarmatha National Park. Also you will get the sight of other trans-Himalayan ranges from the base camp area. Moreover you will get the beautiful sight of Kumbhu Icefall to the right of the base camp area.
2. Everest Base Camp in Tibet is a Little Lower Than the One in Nepal (5200m vs 5363m)
The North Base Camp, situated in the Tibet Autonomous Region, sits at an elevation of approximately 5200m, while the South Base Camp rests slightly higher at about 5363m above sea level.
During your visit to either Base Camp, it's essential to take rest at various points along the journey, ensuring a gradual change in altitude that won't adversely affect your body.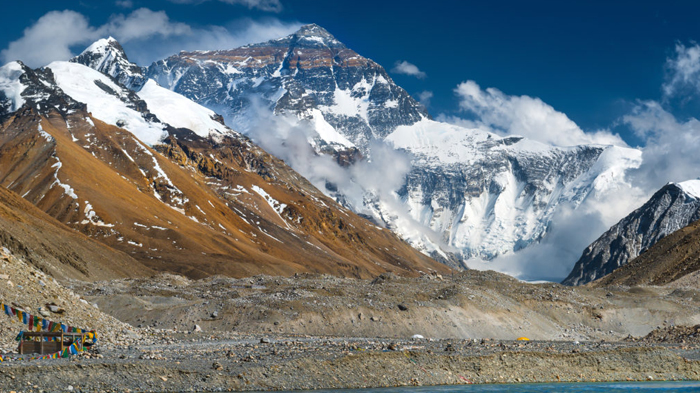 Seeing the North Face of Mount Everest from the Base Camp in Tibet at 5200m
Moreover, exercising caution and taking necessary precautions is crucial. This includes wearing appropriate woolen clothing to stay warm, applying sufficient sunscreen and moisturizers to prevent chapping.
Remember to wear sunglasses and carry sunscreen and other protective ointments when venturing out during the daytime. Avoid going on an empty stomach and consume plenty of carbohydrate and calorie-rich foods to sustain your energy levels.
3. For Sightseeing Tourists, the Everest Base Camp in Tibet is Much Easier to Reach and Visit
With its lower altitude, the Everest Base Camp in Tibet can be reached more conveniently. The well-paved asphalt road of Friendship Highway extends in the direction of Mount Everest from Lhasa. You can take a drive from Lhasa to Shelkar directly, which is only 100 km away from the base camp.
The Road Condition from Lhasa to Everest Base Camp
Alternatively, if you are interested in trekking, you can first journey to Old Tingri via Friendship Highway and then enjoy a Tingri to Everest Base Camp trek in 4 days.
On the other hand, the South Base Camp in Nepal is not accessible via vehicles, so you have to trek or take a helicopter to get there. The South Base Camp is closer to Lukla in Nepal, and most trekkers begin their trek from Lukla. Many trekkers prefer to fly to Lukla from Kathmandu to save energy and time.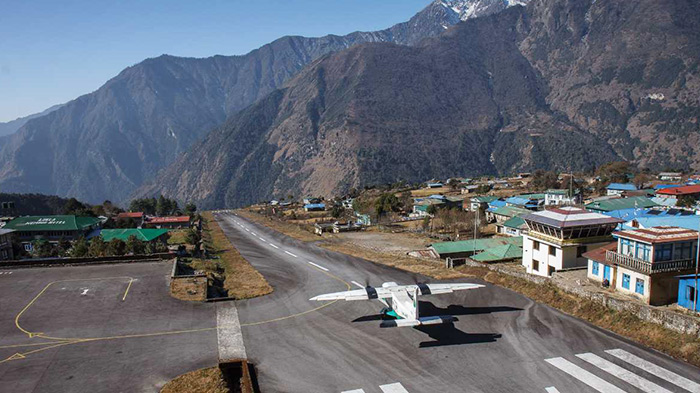 Lukla Airport is the starting point for trekking to Everest Base Camp in Nepal.
4. It is possible to take an Everest Base Camp helicopter tour in Nepal but not in Tibet
The Everest Base Camp helicopter tour is only available in Nepal and offers two main itineraries: one starting and ending in Kathmandu, and the other departing from Lukla.
Typically, these flights accommodate 4-5 people per trip. The cost for a private Everest helicopter tour starts at approximately USD 4,500 per flight, while joining a group flight costs around USD 999 per person.
On the southern side of Mount Everest, the Everest helicopter tours usually last between three to five hours, including time for breakfast. Early morning departures at around 7:00 am ensure a return to Kathmandu by approximately 12 noon.
Please be aware that traveling from 1,300 meters to over 5,500 meters in a helicopter involves a significant risk of altitude sickness when stepping out. The abrupt increase in elevation can cause feelings of sickness, nausea, headaches, and dizziness at both EBC and Kala Patthar. Take it slow and allow your body time to adjust to the high altitude.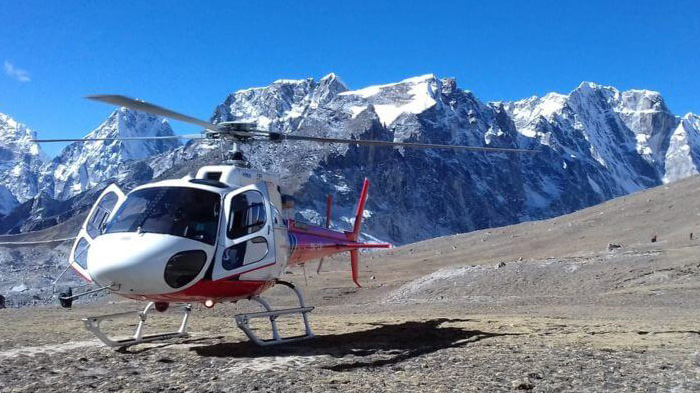 Taking a helicopter to view the scene of Everest Base Camp
5. The Scenery of Each Everest Base Camp is Largely Different
The scenery of Everest Base Camp in Nepal and Tibet varies significantly. Nepal's Base Camp features diverse landscapes, waterfalls, and forests with breathtaking views of Ama Dablam and Lhotse. Tibet's Base Camp offers unobstructed views of Everest's majestic summit and unique "Flag Clouds" at Rongbuk Monastery.
In Nepal, ascending to the Base Camp (5364m) provides a diverse and captivating journey. The Everest Base Camp trek in Nepal involves crossing through forested temperate zones, subalpine zones, and alpine zones, offering a wide array of flora, fauna, and landscapes. Breathtaking lakes, waterfalls, suspension bridges, and wildlife make this trek one of the most desirable destinations. You'll encounter a rich biodiversity, including blue pines, firs, birch, musk deer, Himalayan black bears, and more.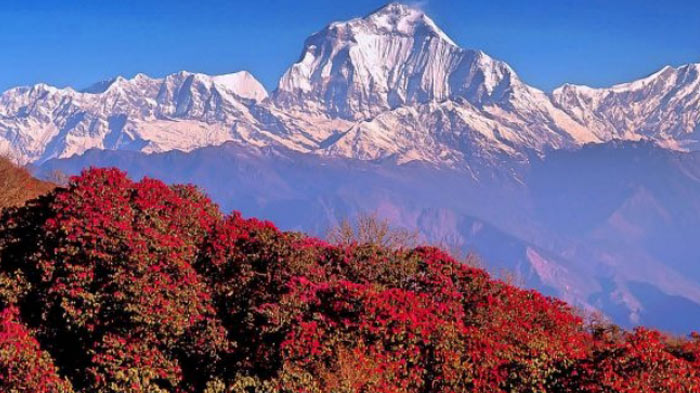 The spring season of Mount Everest in Nepal
The Everest trek in Nepal also boasts awe-inspiring mountain views like Ama Dablam (6856m), Pumori (7165m), Mt. Everest (8844.43m), Lhotse (8516m), Nuptse (7879m), and Khumbu Icefall (5486m). Culturally, you can immerse yourself in the Sherpa culture, mingling with locals in Namche Bazaar or Tengboche, visiting their cultural museum and Buddhist gompas.
On the Tibet side, Everest Base Camp (5200m) offers a different yet equally mesmerizing spectacle. Standing at Rongbuk Monastery and EBC allows you to witness the majestic Everest in all its unobstructed glory. The pyramid-shaped summit, gleaming with golden hues during sunsets, and the surreal "Flag Clouds" hovering above create unforgettable memories.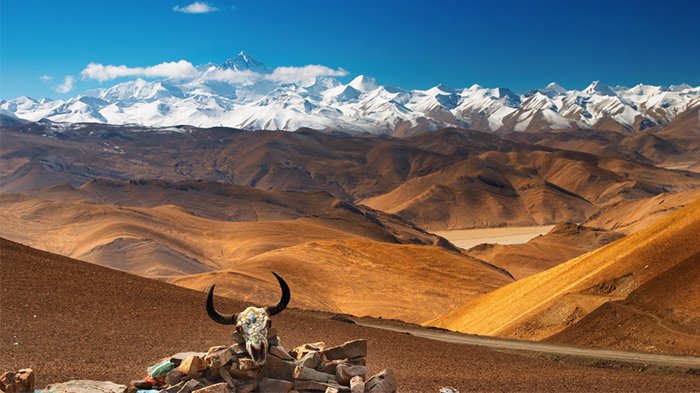 Spectacular views of the Gawu La Pass on the way to Everest Base Camp in Tibet
As you journey from Lhasa to Everest Base Camp, three perfect spots provide breathtaking views of Mount Everest's beauty: Gawu La Pass (5198m), Rongbuk Monastery (5154m), and EBC itself (5200m). Gawu La Pass offers the best panoramic view of the majestic Himalayan Range, with Makalu, Lhotse, Everest, Cho Oyu, and Shishapangma standing tall, adorned with fluffy white clouds above.
6. For Trekkers or Adventurers, There are More Trekking Routes Available in Nepal Side
For trekkers and adventurers, Nepal provides a plethora of trekking routes, far outnumbering those available on the Tibetan side. Nepal's diverse topography and well-developed trekking infrastructure make it a haven for outdoor enthusiasts.
On the Nepal side of Everest, the iconic 10 days Everest Panorama Trek stands as the most renowned route, leading to the foot of the world's highest peak. Additionally, trekkers can embark on the challenging Everest Three Passes Trek, offering breathtaking views from Renjo La, Cho La, and Kongma La passes. The Gokyo Lakes Trek in Lukla showcases the mesmerizing beauty of turquoise lakes, and the Jiri to Everest Base Camp Trek provides a longer, historic journey through picturesque landscapes.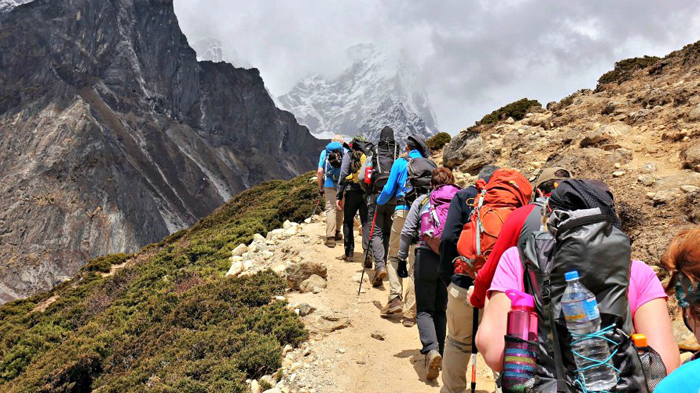 Everest Base Camp Trekking Tour in Nepal
In contrast, Tibet offers the popular Tingri to Everest Base Camp Trek from the northern side, providing a unique perspective of the mountain and access to the legendary Rongbuk Monastery. Also, there is the famous Gama Valley trek in the eastern slope of Mount Everest in Tibet.
While both sides offer incredible experiences, the multitude of trekking options in Nepal appeals to adventurers seeking diverse landscapes, cultural encounters, and unforgettable Himalayan vistas.
7. The Best Time to Visit Each of Everest Base Camp is Different
Located on the north and south sides of Mount Everest, the two Base Camps experience significantly different climates.
Nepal is influenced by the monsoon season, with noticeable rainy periods. Therefore, the best trekking seasons to visit Everest Base Camp in Nepal is from October to early December and April to May. After the rainy season, October begins the prime trekking and mountaineering seasons, offering iconic blue skies, breathtaking views of Ama Dablam and Mt. Everest, and superb visibility. Equally enchanting, April to May welcomes trekkers with cozy sunshine, awakening the frozen highland region with spring breezes and bird songs. Avoiding crowds in October, the spring time also treats you to blooming rhododendrons and encounters with lively creatures like deer and wild rabbits along the trails.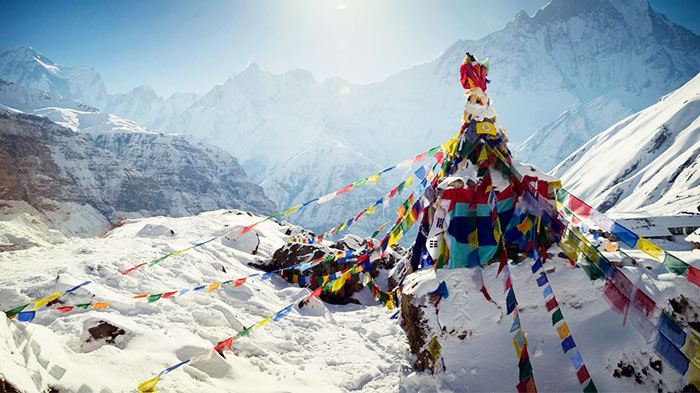 South Base Camp in Nepal
Unlike Nepal, Everest region in Tibet has less rain and different weather pattern. The best time to visit Everest Base Camp in Tibet is from Mid-April to early June and September to October. During this time, the weather remains clear and comparatively less cold. The visibility is perfect for people visiting the place for photographic expeditions. The azure sky with fluffy white clouds will accompany your journey. Never miss the rare chance to see famous "Flag Clouds" over Mt. Everest and incredible "Golden Summit" during the sunset.
For climbing Mount Everest, early April to late May is considered the best time due to stable weather conditions. For a budget Everest Base Camp tour in Tibet, visiting from November to early February is a smart choice as there are fewer tourists and more discounts available.
Mt. Everest presents its clear summit view in spring.
8. The Necessary Travel Documents for Visiting each of Everest Base Camp are Different
Before you head to Everest Base Camp in Tibetan side, you need to prepare required documents, including Chinese Visa, a valid passport, Tibet Travel permit, and Alien's Travel Permit. Remember, independent travel is not permitted for international tourists in Tibet, so you'll need to book a guided Tibet tour with a Tibet Travel agency – either a private or group tour.
Make sure you have got a Chinese tourist visa in advance and send the scanned copy of your Chinese Visa and passport to your travel consultant to apply for the Tibet Travel Permit. The Alien's Travel Permit will be obtained before heading to Qomolangma National Nature Preserve after you arrive in Tibet.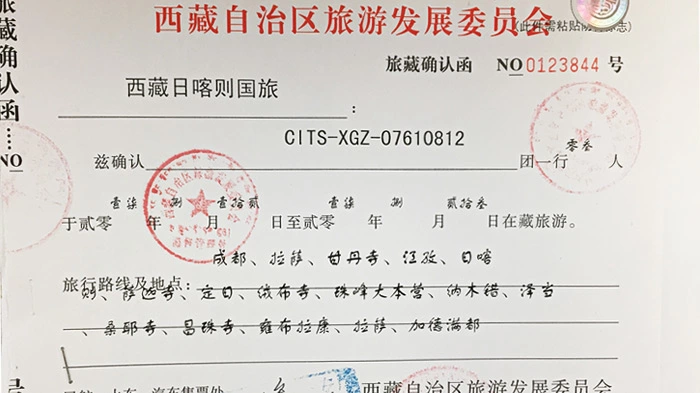 A Sample of Tibet Entry Permit
In comparison, visiting Everest Base Camp in Nepal involves simpler procedures. All you need to do is get Nepal Visa, TIM (Trekking Information Management System) card and the entrance fee of Sagarmatha National Park.
You can get an On Arrival Visa at Tribhuvan International Airport for various duration with corresponding fees. The TIM card can be acquired at the Tourist Service Center in Kathmandu. Alternatively, international tourists can enter the Everest Region by paying Rs 2,000 without obtaining the TIM card beforehand. Don't forget to pay the entrance fee of Rs 3,000 per person for Sagarmatha National Park, where EBC is located.
A Sample of Chinese Visa
9. The Accommodations and Dining at Each of Everest Base Camp are Different
In the remote regions of Tibet, accommodations and food supply are limited, especially around Everest Base Camp (EBC).
The Tibetan tent hotels at EBC in Tibet are always the first choice for tourists. The tents are made of yak hide, keeping you warm with a stove fueled, which could be an authentic Tibetan experience. Shared square beds are available, and the food includes Tibetan noodles, dried yak meat, and butter tea.
Keep in mind that tent hotels at base camp are only available from mid-April to mid-Oct. Otherwise, Rongbuk Monastery is your only option. The guesthouse at Rongbuk Monastery provides basic facilities with double rooms or dormitories. There's no private bathroom or heating, and the food options are simple.
How is the Everest Baese Camp tent condition like
Bring a sleeping bag for better hygiene, and consider medication for altitude sickness. Remember, this adventure is about experiencing the wonders of Everest up close, and the unforgettable sunrise makes it all worthwhile.
On the Nepal side, EBC trekking presents a different experience. There is no need to worry about accommodation facilities and dining for EBC trek in Nepal at all. The tea house trekking route offers cozy teahouses every one or two hours. Sherpas and Nepalis provide excellent services with basic tents available too. No need to carry much food or camping gear; you can hire a guide or porter instead. Book your teahouse in advance during high season. Savor delicious Dal Bhat, Nepali noodles, and more to keep energized. Enjoy the wonders of the Everest region without worries.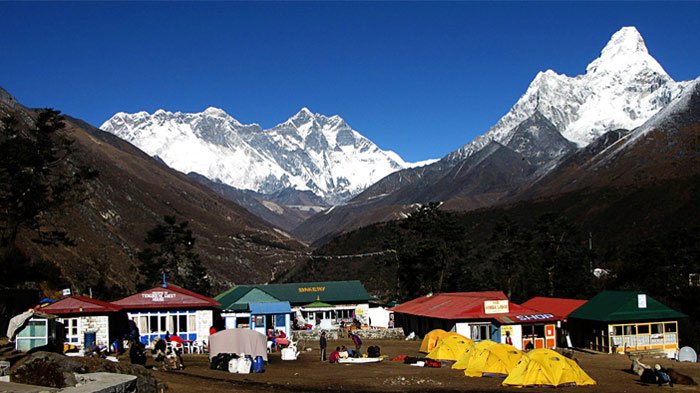 Well-established teahouses and lodges for trekkers along the route to EBC in Nepal
10. The Most Classic Tour Itinerary of Everest Base Camp in Tibet VS Nepal
The most classic tour itinerary of Everest Base Camp in Tibet and Nepal offers distinct yet equally enchanting experiences.
In Tibet, the most popular Everest Base Camp tour begins in Lhasa, where you explore the wonders of the Potala Palace, Jokhang Temple, and Barkhor Street. The scenic drive to Everest Base Camp passes through picturesque landscapes, including the turquose Yamdrok Lake and ancient Gyantse Kumbum. The highlight is reaching Rongbuk Monastery, the world's highest monastery, with stunning views of Everest's northern face. Accommodations at Rongbuk or tented camps provide an authentic Tibetan experience.
On the Nepal side, the Everest Base Camp adventure commences in Kathmandu, exploring the city's cultural treasures before flying to Lukla. The Everest Base Camp trek leads through charming Sherpa villages, suspension bridges, and lush forests. The trail takes you to Namche Bazaar, Tengboche Monastery, and Gorak Shep before finally reaching the iconic Everest Base Camp.
Conclusion
A journey to Everest Base Camp is one of the most sought-after trip in the whole of the world. Before you pack your bags, getting to know somethings about this holy destination is never useless. And if you have more questions about EBC, you can just contact us for inquiry, or leave your comments below.
Most Popular Tibet Tour Packages