When is the Best Time to Visit Tibet Everest Base Camp in 2023/2024
The Everest Base Camp, the protection zone built for protecting the core area of Qomolangma with altitude of 5,200 meters, is one of the must-sees for any of trip to Tibet.
Weather in the mountains is notoriously difficult to predict. However, it is not as gloomy and cold as you imagine, and the temperature generally features the big temperature gap, cold at night while warm during daytime.
Just follow our utmost guide to find out the detailed climate and travel experience in different time all around the year.
Best Time to Tour Everest Base Camp in Tibet: April to June & September to November
Generally, you can take a Mount Everest Base Camp Tour at any time from April to next February. Sceneries of Everest Base Camp and along the way vary from April to next Feb, so you can take the Everest Base Camp tour any time you like during this period of time in the year to experience the changing views.
While the most recommended time for touring the Mount Everest falls from April to June and September to November.
Tibet EBC Weather in Spring and Autumn
| | | | |
| --- | --- | --- | --- |
| Month | Max. Temperature (℃) | Min. Temperature(℃) | Rainfall (mm) |
| April | 10 | -5 | 8 |
| May | 15 | 0 | 8 |
| June | 17 | 5 | 31 |
| September | 19 | 5 | 39 |
| October | 12 | 4 | 18 |
| November | 10 | -10 | 1 |
The two periods of the recommended time for Tibet EBC tour bears a lot of similarities. From April to June, the temperature rises moderately and the weather turns to be much warmer. Days start to stretch out to provide more daylights for visitors to explore while the night tends not to be as cold as in winter time.
Down the trail in the valley, flowers are in early bloom and plants and trees are all turning green. The grassland becomes luxuriant everywhere with strong vitalities. This period of time is widely accepted as not only the best time for Everest Base Camp tour but for the Mount climbing as well.
With the receding of the yearly monsoon reason in September, October and November, days are gradually dominated by the constant bright sunshine with warm temperature and comfortable fresh air.
Wind blows away the thick covering clouds and the Everest mountain peak is brought to light again. With great visibility, a variety of trees and plants start turning yellow or red, making the EBC trail the multicolored one with the most stunning views among all the seasons.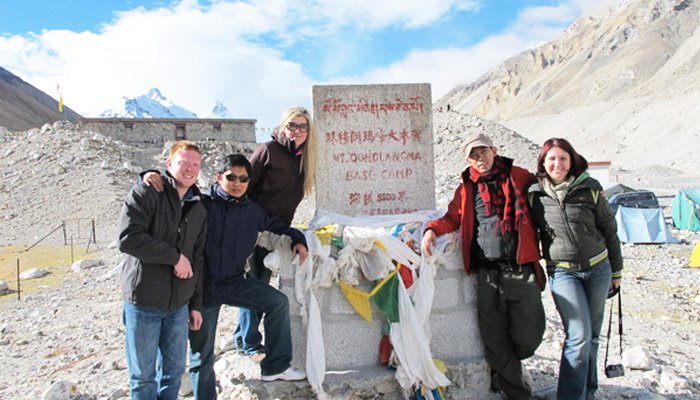 Our clients enjoyed a great time at Everest Base Camp in October.
>> Check to join our most classic Lhasa to Everest Base Camp tour.
July and August are the Rainy Season to Visit Tibet EBC
During Tibetan monsoon season from July to August, rain falls constantly during these two months. At the same time, the temperature rises and maintains at the highest level of the entire year. So the weather tends to be moderate with perfect humidity. July and August are also the peak season of the year to receive worldwide visitors.
Tibet EBC Weather in July and August
| | | | |
| --- | --- | --- | --- |
| Month | Max. Temperature (℃) | Min. Temperature(℃) | Rainfall (mm) |
| July | 16 | 8 | 94 |
| August | 16 | 6 | 108 |
One of the worrying things that baffles you must be the weather during monsoon season. Well, to tell the truth, you definitely encounter rains during the season no mater you arrive in Tibet in early, middle or late of each of these months.
However, the summer rain is not as horrible as you have imagined. You don't have to worry too much about the monsoon rain. It's not the continuous heavy rain or the non-stop and intense rainstorm, rather, it is just a short spurts of rain or a slashing rain that lasts a short period of time at night or in the afternoon.
Meanwhile, after the intermittent rain there always follows the sunshine. The sunshine becomes much brighter, and sometimes with rainbow across the blue sky. The thin cloud shrouded mountain peak adds more mysteries to every place of the sacred Mount Everest, turning to be another fantastic panorama view to document.
Moreover, if you are exposed to the sunshine, you may find it quite fierce and easy make your skin get burnt. But once you enter the room or stay in the shade, a sense of cool sweeps all over your body immediately, effectively keeping you from the summer heat.
Insider Tips: Due to the short duration of summer rain, your tour to the Everest Base Camp cannot be hampered if the rain gears are fully prepared in advance.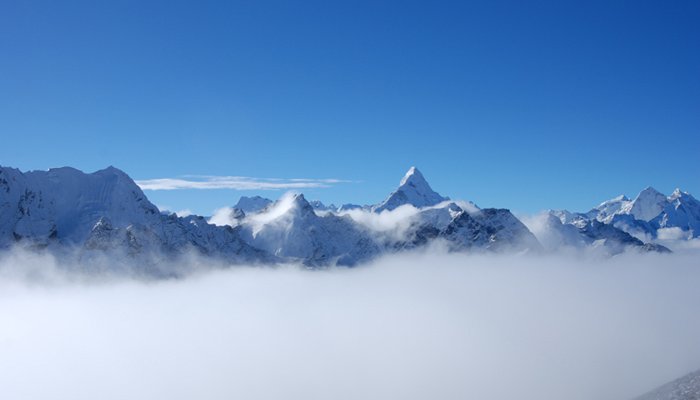 The Everest is easily covered by mist and cloud in rainy season.
Can I Visit Everest Base Camp in Tibet in Winter?
Winter tends to be a good time to tour EBC, for the clear sky and the constant sunshine. Winter Everest Base Camp tour is thrilling and full of possibilities to explore more exciting things that are rarely-seen during other seasons.
Tibet EBC Weather in December, January & February, March
| | | | |
| --- | --- | --- | --- |
| Month | Max. Temperature (℃) | Min. Temperature(℃) | Rainfall (mm) |
| December | 4 | -15 | 2 |
| January | 4 | -17 | 6 |
| February | 4 | -15 | 4 |
| March | 7 | -12 | 4 |
In winter, the temperature drops fast, sometimes accompanied with hollowing wind and heavy snow. Nevertheless, winter Everest Base Camp is eminent for its clear deep blue sky in the daytime and the star-studded milky way at night.
With no dense or even the shrouded clouds, Mount Everest unveils its iconic mountain peak unreservedly with golden sunrise and sunset glow painted on it, making the entire mountain peak much more magnificent than most of the days during the peak tourist season.
Besides, with less precipitation, the possibility for tourists to be enchanted by the canopy of the heaven dotted with shimmering stars has, to a great extent, increased. The mysteriously colored Milky Way lies silently in the sky, revealing the magnificence in all its splendor, making constant tranquility in every visitor's heart. Much clearer and brighter stars are around you, seeming like you have stumbled into the boundless universe.
With much better visibility, Gawula Pass which accepted as world's best site to get a panorama view of the Himalaya Mountains on the way from Tingri County to the Everest Base Camp turns into another scene. The cloudless sky becomes deep blue, with the picture scroll of snow-capped Himalaya Mountains presenting clearly in front of your eyes.
Besides the Everest Base Camp, a great number of other interesting things relating to the natural resort and cultural custom you can find in some warmer cities like Lhasa, Shigatse and Nyingchi in winter.
Insider tips:
1. The temperature tends to be a bit low, especially at night. Put on more clothes and pay attention to keep warm.
2. Guesthouse in Rongbuk Monastery is the only place that all visitors can stay overnight near the Everest Base Camp in chilly winter. (Approximately 4 km away from EBC)
3. In March, the temperature begins to increase but the whole Tibetan is due to be closed until April 1.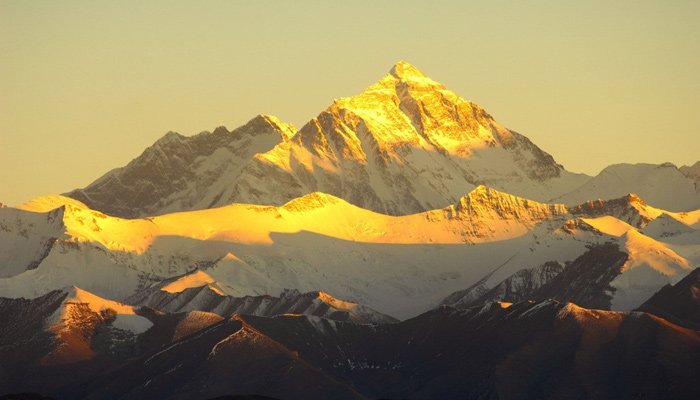 Beautiful Sunrise of Everest in Winter Photoed by Ben, one of our clients
Best Time to Trek Everest Base Camp in Tibet
Typically, there are mainly two routes in Tibet for the trekking to the Everest Base Camp. The following two Everest Base Camp trekking routes are favored most by our clients.
One route, also the preliminary trekking route is the old Tingri to Everest Base Camp Trek. And apparently, trekking from old Tingri to the Everest Base Camp can be much more thrilling than arriving at there just by taking the tourist buses.
The other route, which is also regarded as more competitive and challenging one, is the Everest Base Camp to Advanced Base Camp trekking, which can provide you with the unparalleled experiences to trek so close to the Mount Everest.
Trek from Tingri to EBC: April to June and September to October
The best time to trek from Tingri to the Everest Base Camp is from April to June and September to October. The temperature maintains at a comfortable level with less rainfall but much more sunshine. Mellows are turning green and sheep and goats can be seen grazing land grass everywhere.
If you have no alternative time during these months, you can also take July and August into consideration. The summer rain masses the trekking trail a little bit, but it never slows down your forward steps, for the rain doesn't last for a long time.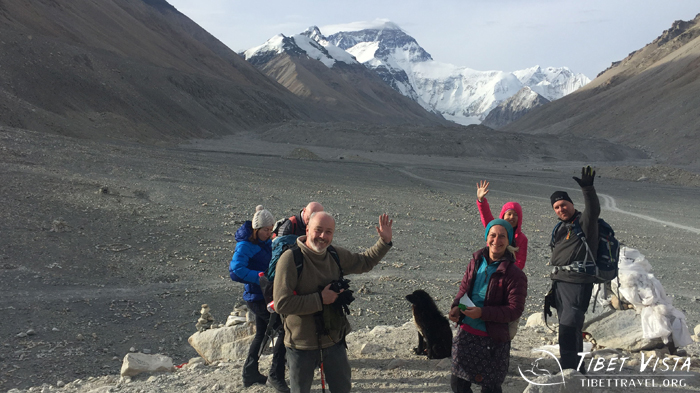 Enjoy Everest Base Camp trekking
>> Check for the detailed information about Tingri to Mount Everest Base Camp trekking tour itinerary.
Trek from EBC to ABC: April to May and September to October
As the world's highest Tibet trekking route, the best months for trekking to the advanced base camp are in April, May, September and October. Make full use of the small window of opportunity available to climb the Mount Everest before and after the monsoon season.
Before and after the monsoon season, days are mainly sunny with less rainfall and perfect visibility. Glaciers, ridges, pinnacles are seemingly near at hand. Along the trekking route, every piece of view is magnificent, and what you need to do is just adjust your breath and stepping forward.
>> Check for the detailed information about EBC to ABC trekking itinerary.
Best Time to Climb the Mount Everest in Tibet
Many experienced mountaineers choose to climb the Mt. Everest from the north side as it is more challenging than the south side. Tibet EBC is located at an altitude of 5,200 meters (17,056 ft) and is used when climbing via the northeast ridge. The North Base Camp has vehicle access (at least in the summer months) through a 100km road branching to the South from the Friendship Highway near Shegar. So the worldwide climbers and mountaineers can choose to arrive at the North Base Camp by bus.
Typically, climbers rest at base camp for several days for acclimatization to reduce the risks and severity of altitude sickness. In fact, the "tourists Base Camp" is located about half-way between Rongbuk Monastery and the actual climbers Base Camp at the foot of Rongbuk glacier.
The best time for mountaineers to climb the Mt. Everest is from April to May and from September to November, which are also the most ideal periods to visit the Mount Everest Base Camp.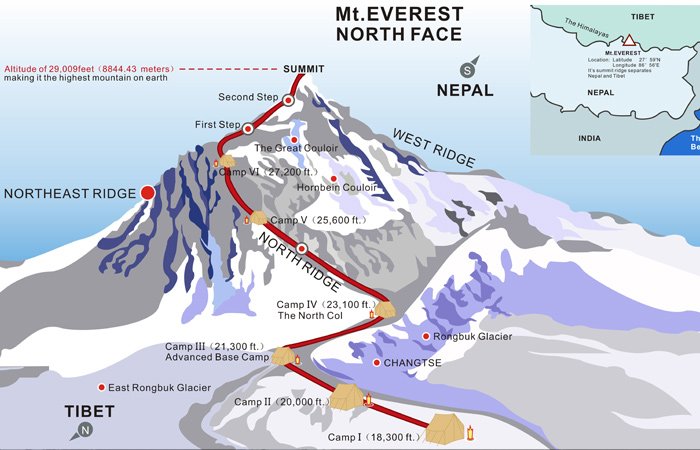 A guide map showing the hiking route of Mount Everest in Tibet side.
>> Check to know more about Mount Everest Climbing Expedition.
When is the Best Time to Visit Everest Base Camp in Nepal?
The Mount Everest is located at the border between Nepal and Tibet. Its northern part is located in Tingri County in southwestern Tibet. There are two Everest base camps on opposite sides of Mount Everest, namely South Everest Base Camp in Nepal and North Everest Base Camp in Tibet.
Both of the Everest Base Camps are on the same mountain and share quite some similarities for the best time to travel. For the Everest Base Camp in Nepal side, the best time of a year to trek are in September, October and November.
Nepal EBC weather in September, October and November
| | | |
| --- | --- | --- |
| Month | Max. Temperature (℃) | Min. Temperature(℃) |
| September | 18 | -5 |
| October | 16 | -5 |
| November | 7 | -15 |
With perfect temperature and less precipitation, Everest Base Camp in Nepal side enters its best time for trekking. Sky turns to be much clearer with little clouds but bright sunshine. Temperature maintains at a comfortable level. Swarms of visitors can be found on the beaten track, making the Everest Base Camp one of the most popular spots to tour.
Weather during this period could possibly and reliably be the best among the whole year, but it can be still unpredictable. Bad weather like a sudden rain or a snowstorm occasionally hits Everest Base Camp.
From mid-November, temperature begins to fall dramatically with gradually dry air and less rainfalls, Everest Base Camp is becoming calm with tranquil beauty. More thick clothes are needed if you want to stay overnight on the Everest Base Camp.
Insider Tips: No matter in warmer September and October or in cold November, the night on the Everest Base Camp turns to be nippy and cold. To ensure a better sleep on the Everest Base Camp, you are recommended to go to bed warm than cold, for it takes you hours to warm up and fall asleep.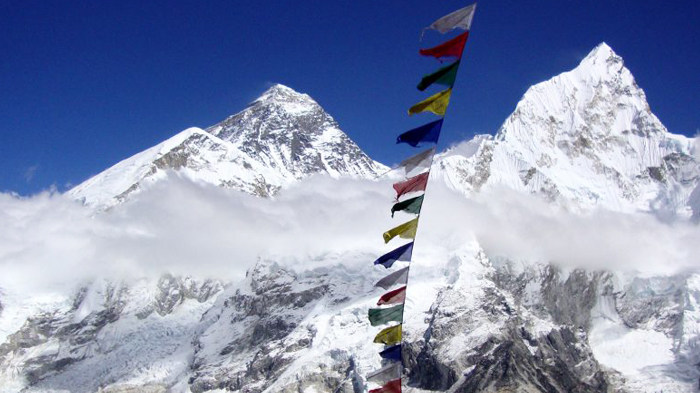 Everest view in Nepal Side
Conclusion
Planning your Mount Everest tour at the right time can make your lifetime journey much smoother. If you have any other questions, please don't hesitate to consult our friendly guide or feel free to drop us a line.
For tourists who are ready to visit Mount Everest, join in our most recommended Tibet EBC tour to enjoy our one-package service, including Tibet travel permit application, flight and hotel booking etc., to enjoy a worry-free trip to Tibet.
Most Popular Tibet Tour Packages