Best Guide to Everest Base Camp Tour for the Elderly
One of the important questions that people ask about a tour to the world's highest mountain at the Everest Base Camp (EBC) in Tibet is "Am I too old to go to EBC?" The simple answer to this is no, you are never too old to travel to Mount Everest, as long as you are fit and well enough to manage the trip. Travel to Mount Everest is an arduous journey that can be hard for even the fittest young people, but that does not mean that as you get older, you will not be able to make the journey. The most hazardous thing about traveling to EBC is the altitude, and if you can manage to acclimatize properly without any major concerns, then you will be able to travel to Mount Everest.
With the correct planning, a well-organized tour with a caring and reputable travel agency, and enough information to enable you to be well prepared for the journey ahead, there is no reason why anyone of any age should not make this lifetime trip to see the Roof of the World.
Is It Safe for the Elderly or Seniors to Visit EBC in Tibet?
If you think it is not safe for seniors and the elderly to visit Tibet's Everest Base Camp, then you are very much mistaken. EBC in Tibet is just as safe to visit as your local hiking trail or the nearest area of outstanding natural beauty at home. And we have had more than our share of pensioners that have taken on the challenge of traveling to Tibet. From the 82-year-old Gerhard who took on the grueling 52-kilometer Mount Kailash Kora Trek, renowned as the toughest trek in Tibet, to the 84-year-old Anne and her 60-year-old daughter who took the tour to Everest Base Camp, making them our oldest clients for their respective trips.
Sturdy Mr. Gerhard who made it to EBC and even Mt. Kailash kora in Tibet at the age of 82.
Gerhard, a hiking lover from Germany in Europe, regularly walks several kilometers a day, but still had to train and exercise for the longest trek he ever took part in. Walking 12-14 kilometers around three times a week has always been part of his daily life, but in order to take on the daunting Mount Kailash Kora Trek, he started working a little harder to maintain a good level of physical fitness for the trip to Tibet.
But not everyone is a fitness addict in their senior years, and Ann Gentry from the United States took the trip to EBC at the age of 84, making her the oldest client we have had for any of our tours to Mount Everest. Anne, who is passionate about life and a cheerful person, made the trip to EBC across the vast Tibetan plateau from Lhasa with her daughter, who was also a senior at the age of 60. So if you still have the passion to explore, and want to take a trip to Mount Everest, you can be sure that it is perfectly safe, no matter what your age.
What to Prepare for the Elderly to EBC
Preparation is the key to traveling to Tibet as a senior citizen, and with a little help from our expert advisors, and the care and competence of our fully-trained guides and staff, there is no reason why you should not take on the trip to Mount Everest.
Am I fit enough for EBC tour in Tibet?
Tibet has a very unique climate, which varies greatly depending on the altitude of the various areas of the plateau. The climate of the plateau is harsh and cold most of the year, and then hot and damp for the rest, which is not exactly your typical alpine plateau climate. A four-season climate, the winters are cold almost everywhere, while summers can be hot and wet in the east and drier and cooler in the west. All of this is taken into consideration when deciding if you are fit enough to travel to Tibet. - Find out the best time to visit EBC in Tibet.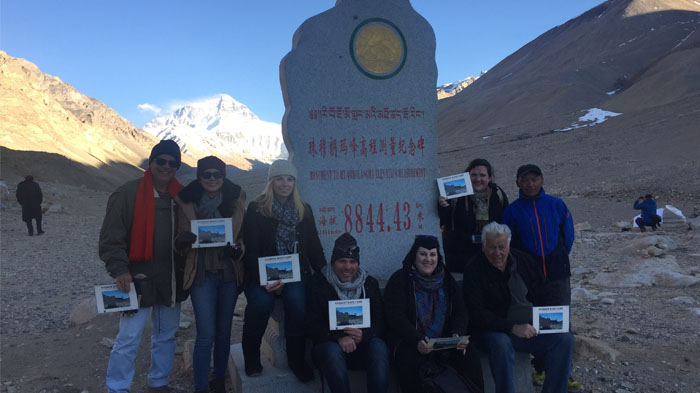 Travelers of all ages made it to EBC via our small group tour.
Altitude in Tibet is also a major factor to consider, and if you are fit enough to walk around unaided at home, without being heavily out of breath or in severe pain, then you are fit enough to travel to EBC. While the altitude may be high, acclimatization is the key to a successful trip to Tibet, even for those that may not be at their peak these days. If you are thinking about a trip to EBC in Tibet, then a little mild exercise routine daily can help with making sure that your trip is uneventful in the right sense. Walking around the area instead of driving everywhere is a great way to exercise for the trip, and is not the hard regimen of training that some people believe you need before traveling to the high-altitude plateau.
Acclimatize to Tibetan Plateau at Your Pace
Acclimatizing to the altitude of Tibet is the most important aspect of your preparations for the trip across the vast plateau to EBC. It is important to make sure that you acclimatize properly in Lhasa before departing from the capital to travel west to the mountains of the Himalayas. All of our EBC tours take two full days in Lhasa, the Tibetan capital, to acclimatize and see the sights. As part of our expertly-designed itineraries, this acclimatization period is set to give everyone the chance to become fully adjusted to the increased altitude of Tibet, before heading to higher areas of the plateau. Everyone gets altitude sickness when arriving in Lhasa, whether by flight or train, and with proper care and attention to your rest times, what you eat and drink, and your general health and well-being, these symptoms often depart within 24-48 hours of reaching the Tibetan capital.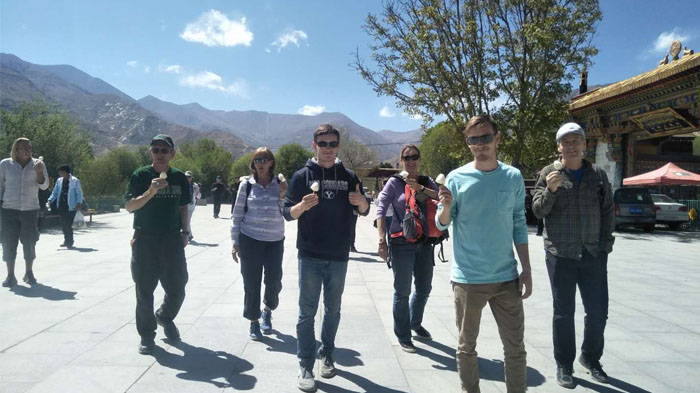 Our clients tour Lhasa city while acclimatizing to Tibetan Plateau.
Contrary to popular opinion, the train to Lhasa, while being slower, does not aid in acclimatization to the higher altitudes due to the oxygen that is pumped into the carriages from Golmud to Lhasa. However, once in the capital, taking care of yourself can help to reduce the effects of altitude sickness and speed up your adjustment period. Healthy eating, including eating plenty of vegetable and drinking much water, can help reduce the effects, as can avoiding strenuous exercise for the first two days, abstaining from drinking alcohol or strong coffee (Tibet is better known for its teahouse culture), and refraining from smoking. You should also ensure that you get plenty of rest, and remain well hydrated by drinking plenty of water throughout the day.
What's more, we have an amazing team of guides and drivers that are all well-trained in ensuring a safe and comfortable trip for our elderly clients. All our guides are trained in recognizing the effects of altitude sickness and how to treat it in all its forms, as well as being able to assist elderly and senior clients for safer travel across the plateau to EBC.
Dress properly for the EBC tour for the Elderly
The climate and weather in Tibet is changeable, and the temperature difference between night and day is massive. This is even more apparent when you travel west to Mount Everest and the western Himalayas. While the days may be warm and sunny, with temperatures that can reach as high as 16-18 degrees, the nights can get cold, and can drop down to as low as 6-8 degrees in the summer months. If you are traveling in the spring or autumn, then be prepared to experience temperatures of around or even below freezing at night.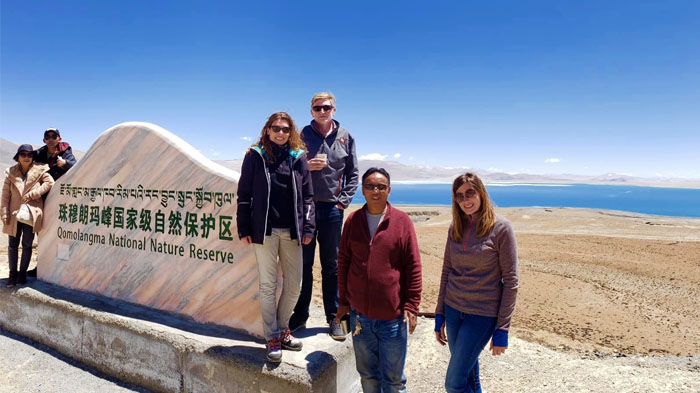 Down jacket is needed even in summer of Tibet
Warm clothes are necessary at EBC even in the peak months of summer, when the daily temperatures can reach up as high as 17 degrees, as the biting winds from the mountains can make it feel colder than the bright sunshine suggests. A warm fleece to wear in the colder periods, or a couple of warm sweaters are ideal for staying warm in the summer months. For spring and autumn, thicker sweaters and down or fleece jackets with hat and gloves may be required, and in the winter months, it is advisable to wrap up very warm as temperatures can reach below freezing in the daytime.
Having a Healthy Eating Habit in Tibet
Eating healthily is important for the elderly traveling to Tibet, and the local Tibetan food, whilst generally nutritious and healthy, may not be adequate to meet all your needs. It is recommended to have some healthy and nutritious food with you, since some areas of Tibet have only very basic local meals that may not be enough. - Learn more of what to eat during your tour to Tibet?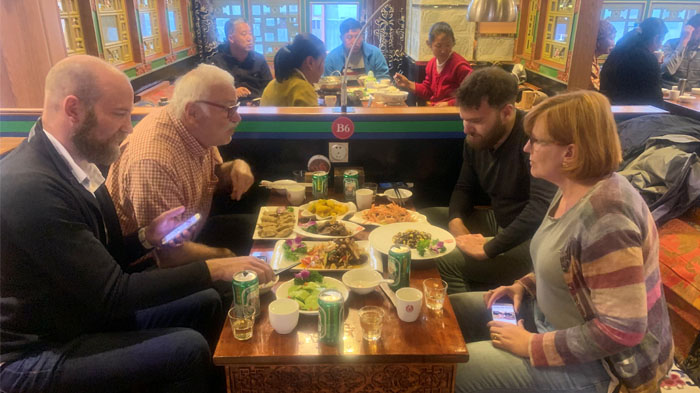 Dine in a local restaurant in Lhasa
Lhasa has a wealth of restaurants and cafes that serve all kinds of foods, from local Tibetan cuisine and Chinese dishes from all over China (mostly Sichuan cuisine) to Nepalese, Indian, and western dishes. However, as you travel further west towards EBC, you will find that the places to eat become less frequent and are more basic in both design and cuisine. If you are planning a trip to EBC along the Friendship Highway, then you should bring packet foods, dried noodles and soups, and other easy-cook foods with you to supplement the local cuisine where necessary.
Choose the Right Time to Visit EBC
While the main season for EBC in Tibet runs from April to the end of October, there are certain times of the year when it is better to travel than others. Spring and autumn, from around the middle of April to early June and September to the end of October are the optimum times to travel for the best weather on the plateau. Skies are clear and bright and the weather is warm enough to be comfortable. Summer can be a little wet in some parts of the plateau, and there is no guarantee to be able to see the summit of Mount Everest due to the monsoon clouds. Winter, however, is not an ideal time of your for travel for the elderly as it can get very cold in the west from November to March.
Be Optimistic and Open-minded for EBC Tour
One of the main things to remember about any trip to Tibet is to have an open mind about the people, culture, religion, and environment of the Tibetan plateau. A curiosity for travel and meeting people from another culture is important when traveling to Tibet, as is respect for that culture, and with a little optimism that you can do this, you are already halfway set to take that trip to EBC in Tibet.
Take Your Medication for the Journey
If you are taking any regular medication prescribed by your doctor, then you should first consult with them as to whether you would be able to make the trip to the high-altitude plateau. If your doctor gives you the go-ahead, then you should make sure that you have enough of your regular medication for the entire trip, as well as some extra to account for any extended stops on your journeys, so that you do not run out. Obtaining prescription medication is hard in most of China for international travelers, and is impossible in Tibet.
Book Your EBC tour with a Reliable Travel Agency
Before booking a tour of Tibet, you should make sure that your travel agency is reputable, reliable, and registered to handle tours of the Tibet Autonomous region. Only registered tour companies can operate tours to Tibet, and the more reliable and reputable the better. We can offer you a responsible guide that has experience catering to elderly or senior travelers, and can offer as part of the standard package such luxuries as a regular oxygen supply for treatment of altitude sickness, a customized itinerary if you require a private tour, private porters for carrying your packs and equipment, and an excellent service throughout the entire tour. We can also ensure that you can have access to the Hyperbaric Oxygen Chamber at Everest Base Camp in case of medical emergencies.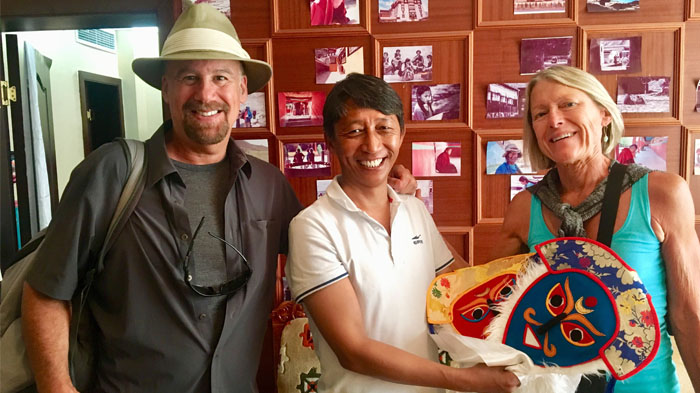 Mr. Kunga, our customer service manager, is receiving our clients at the office.
TripAdvisor and Lonely Planet forums are the best place to view independent reviews of the various travel companies that offer trips to Tibet, and we will just let our own client's reviews speak for themselves.
Conclusion
Not matter how old you are, you are never too old to take a trip to Tibet to visit the stunning Everest Base Camp. While the camp does lie at an altitude of 5,200 meters above sea level, proper acclimatization, healthy eating, regular exercise, and a good team of tour guide and support staff can make sure that your trip to EBC goes without a hitch. With plenty of experience under our belts taking seniors and the elderly to Everest Base Camp, we can give you the best bucket-list vacation on the Tibetan plateau, so you can finally go home saying you made it to EBC and the Roof of the World.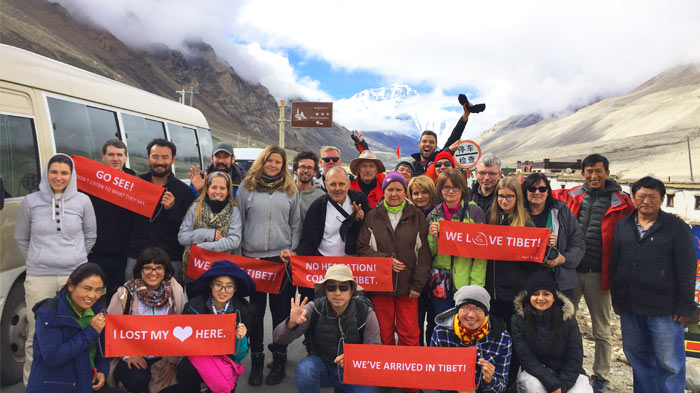 The Elderly was visiting EBC with Tibet Vista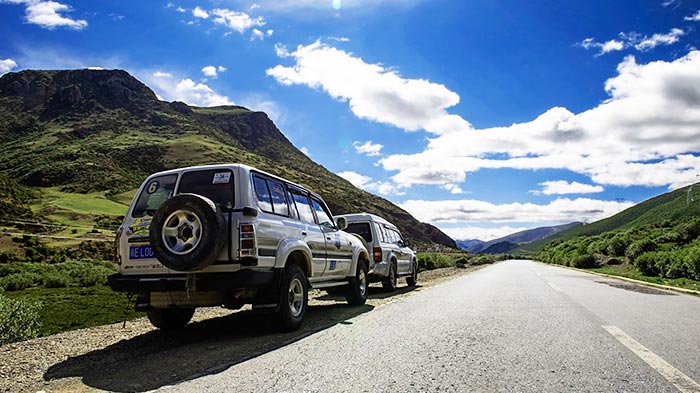 Getting to Everest Base Camp by car is the most popular means of transportation.
Recommended Everest Base Camp Tour Packages