Everest Base Camp Tour Cost: How Much Does It Cost for a EBC Tour from Lhasa
Cost is closely related with our Tibet tours and sometimes, cost is the most important thing when we plan a travel. Nowadays, Everest Base Camp (EBC) tour is becoming more and more famous and many people from both at home and abroad are planning some Tibet tours. Then, do you know how much does it cost from Lhasa to Everest Base Camp (EBC)? In fact, things are not so simple when talking about the cost of traveling to EBC, for there are many things which are not for sure. There are lots of things involved in traveling including transportation, hotels, restaurants, entrance fees of tourist sites and the like. Here, I can only give you some general information about the costs of different things you need during your travel. Below is Everest cost breakdown for your reference.
Cost to Reach Everest Base Camp
The first cost is transportation fee. Let's give the one week Lhasa and Everest Base Camp tour as an example. The shortest journey from Lhasa to EBC is over 1400km. And foreign travelers who travel in Tibet must be organized by qualified travel agencies, which will usually rent you vehicles for your Tibet tours. According to the types of different vehicles, they charge different fees basing on mileage. There are usually three types of vehicles: 4WDs, mini-vans and tourist bus. And the transportation fees of different types of vehicles also vary in different seasons ranging from 3RMB to 10RMB per kilometer.
Accommodations on Lhasa to Everest Base Camp Travel Route
As for the hotel, it also depends. The cheap ones can be around 100RMB per night, while the expensive ones can be around 400RMB per night. And the charges also vary from hotel to hotel and from time to time. So, it's hard to give you an exact number of hotel costs. However, I'd like to introduce some hotel and guesthouse in Lhasa, Shigatse and Everest Base Camp for your reference.
Accommodation in Lhasa
Accommodation in Lhasa offers you a wide range of options, varying from 5-star hotels to humble hostels. The advantage of choosing a hotel is to enjoy modern facilities and high-quality service, but the price is relatively higher. Usually, it would cost you around 150 - 3000 RMB per night. Just name a few as below: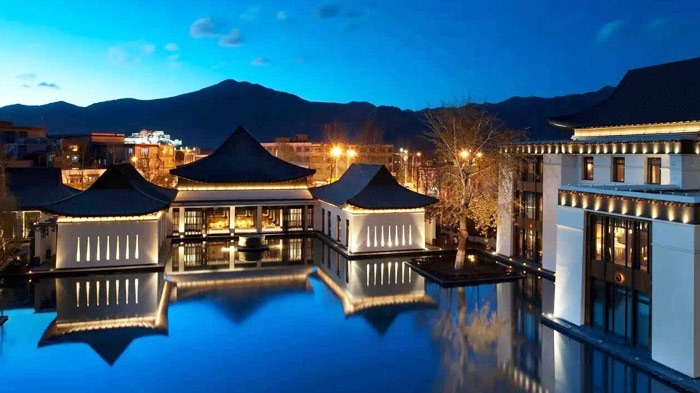 St. Regis Lhasa Resort
5-Star Hotels in Lhasa: Intercontinental Lhasa Paradise, Luxury St. Regis Lhasa Resort, Four Points Sheraton Hotel in Lhasa
4-Star Hotels in Lhasa: Lhasa Gang Gyan Hotel, Lhasa Thangka Hotel, Lhasa Yak Hotel
3-Star Hotels in Lhasa: Lhasa Shangbala Hotel, Lhasa New Mandala Hotel
Guest Houses in Lhasa: Phuntsok Kasang International Youth Hostel, Dong Cuo International Youth Hostel
Lhasa accommodation is divided into three periods, namely, the off-season (March - June), the peak season (July - October) and the closing season (November - February). The price of hotels varies greatly between off-season and peak season. For example, a standard room in off-season just costs you 80 yuan, but it would be sold for 300 - 400 RMB in Chinese National Holiday, and sometimes it's even hard to find a room. So it's highly suggested to book ahead for your Tibet tour to cut down the unnecessary cost.
Accommodation in Shigatse
As the traffic center and second largest city of Tibet, Shigatse has a little better accommodation than other prefectures in Tibet. Compared with the luxury hotels in Lhasa, Shigatse provides you with a more basic selection, changing from 4-star hotels like Shigatse Manasarovar Hotel to a basicguesthouse. It would take you around 25 -200RMB per night.
Everest Base Camp Tent Guesthouses
Put up by local Tibetans, EBC Tent Guesthouses give you a warm stay. Due to the high altitude and harsh weather, Everest tent guesthouses are only available from April to November. When winter comes, those tent houses at Everest would be torn down. Just a kind reminder, the living condition in EBC guesthouse would be very very simple and basic. There is no toilet inside and tourists can only use the hot water to wash faces, brush teeth, etc. A warm bath is not possible here. All the visitors in the same tent have to share a wide bed with others. It cost about 40 - 100RMB per person.
Everest Base Camp Tent Guesthouses
Rongbuk Monastery Guesthouse
Tourists can also choose to stay overnight at Rongbuk Monastery Guesthouse. As the highest guesthouse in the world, Rongbuk Monastery Guesthouse is 8 kilometers away from Everest Base Camp. The living condition inside is very poor and simple without heat and shower. The biggest advantage here is to enjoy the stunning sunrise and sunset over Mount Everest. It would take you about 30 - 40RMB per person. During the peak season from May to October, it's hard to find a vacant bed. So early booking is highly recommended.
Everest Restaurant Costs
Actually, there are many restaurants scattering along the way to Mount Everest. Join our Everest Base Camp tour, you don't need to worry about dinning at all. Our professional Tibetan tour guide will bring you to enjoy the authentic local food at a very reasonable price. It often costs you around 30RMB for each meal. By the way, you can also tell our guide where you want to eat in advance, and then we'll be able to arrange it. And it's best to prepare some snacks and fruits before departing from Lhasa for the long-distance driving.
In Everest Base Camp area, you would have very limited options and the price is much higher than the town. For instance, a cup of instant noodles would cost you around 10CNY and a portion of fried rice would take you around 30CNY. The average food cost at Everest Base Camp is about 100CNY per day. To save your budget for EBC tour, it's advisable to bring you food and drinks here.
Entrance Fees of Tourist Sites on Lhasa to EBC Tour
The entrance fees of tourist sites are relatively stable. But the entrance ticket of Potala Palace can be pretty hard to get, and sometimes, you will have to pay a much higher price to buy one entrance ticket for it. Here I'd like to introduce the tourist attractions along the way to EBC from Lhasa.
Potala Palace
In the seventh century, Potala Palace was built by Tibetan Tupo King Songtsen Gampo for the marriage with Wenchen Princess from Tang Dynasty. With the breakdown of Tupo Kingdom, it was once declined. In the early 1740s, it was rebuilt by the Fifth Dalai Lama and the Potala Palace flourished again. It gradually became the power center for ancient Tibetan and the Dalai Lama's Winter Palace. In 1961, Potala Palace was listed as "National Key Cultural Relics Protection Units." In 1994, Potala Palace was included in the "World Heritage List."
Potala Palace
Located on Mt.Maburi, the center of Lhasa city, the castle-style complex has one white palace and one red palace, covering an area of 410,000 square meters. It houses 13 floors and 999 rooms. Not only can you appreciate a large number of historical relics collected in the palace, appreciate the wonderful architectural art of the Tibetan people, but also perform a spiritual baptism in that holy atmosphere.
Entrance Fee: 200RMB per person in peak season; 100RMB per person in low season
Jokhang Temple
Jokhang Temple in Lhasa, Tibet is the end of pilgrimage for Tibetan Buddhists. It has an extremely high and holy position in the history of Tibetan Buddhism. In Tibetan Buddhists' mind, Jokhang Temple is sacred and not inferior to Potala Palace. At the beginning, Jokhang Temple was built by Tibetan King Songtsen Gampo in the mid-seventh century to place the 8-year-old Buddha statue brought by Nepalese Princess Bhrikuti. And Tsongkhapa, the master of Gelugpa Sect, had once promoted the Buddhism here, which greatly helped lay the important foundation for Jokhang Monastery in Tibetan Buddhism. Judging from the geographical position and the significance for Tibetan Buddhists, Jokhang Temple undoubtedly is the spiritual center of Tibet, which has been included in "World Cultural Heritage List" at 2000.
Entrance Fee: 85RMB per person
Barkhor Street
Barkhor Street in Lhasa, Tibet is the most typical representative of Tibetan folk customs. Literally, Barkhor Street is the circumambulation road around Jokhang Temple. Broadly defined, it should refer to a residential area composed of many alleyways extending in all directions. The most prosperous part of Barkhor Street is the kora around Jokhang Monastery. Here you can find local specialties, tourist attractions, folk culture, distinctive buildings have rolled into one place. Barkhor Street, also known as Bajiao Street, is listed in the "Top Ten Chinese Historical and Cultural Street" for its rich cultural heritage and grand historical tradition.
Entrance Fee: for free
Drepung Monastery
As the largest temple in the world, Drepung Monastery is one of the top three temples in Lhasa and one of the six major temples of Gelugpa Sect. It has unique features and enjoys high status in the history of Tibetan Buddhism. The biggest highlight in Drepung Monastery is the annual Buddha exhibition in Tibetan Shoton Festival. It's so amazing to watch a splendid Buddha Thangka of 600 square meters hanging down from the mountain, and hundreds of thousands of people queue up to celebrate this hilarious festival. Drepung Monastery was founded by the Gelugpa Sect in the early 15th century and has a long history of about 600 years. It has been listed as " Tibetan Key Cultural Relics Protection Units" and "National Key Cultural Relics Protection Units."
Entrance Fee: 60RMB per person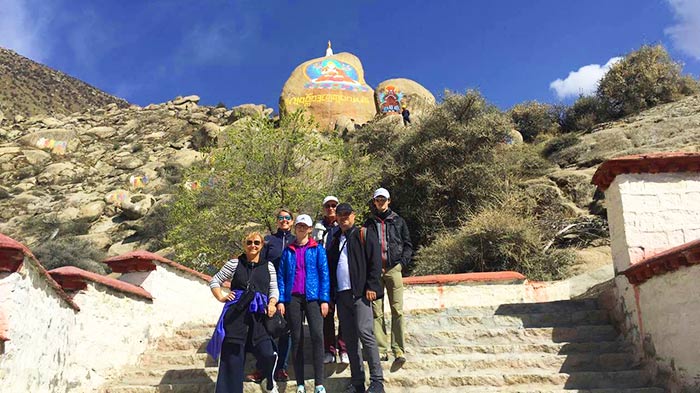 Drepung Monastery
Sera Monastery
Located on the southern slope of Mt.Serawoze, Sera Monastery is one of the top three temples in Lhasa and the second largest monastery in Tibet. In the grand Tibetan-style monastery, you can appreciate sacred Buddha statues, Buddhism scriptures, exquisite Thangka, special embroidery, exquisite murals and many valuable art treasures. The things you shouldn't miss in Sera Monastery is the vigorous monks debating. The debating ceremony is held in the north field of Sera Monastery, starting from three o'clock to five o'clock in the afternoon. Please be aware that it would be canceled on Sundays and some special festivals. It's so interesting to see some monks sit on the ground and one stand on the opposite with exaggerated facial expression and hand gestures.
Entrance Fee: 50RMB per person
Yamdrok-tso Lake
Located in Nangartse, Shang, Yamdrok-tso is one of the top three holiest lakes in Tibet. At the altitude of 4441 meters, Yamdrok-tso Lake covers a total area of 638 square kilometers with a coastline of 250 kilometers. It's also the largest inland lake in the northern foot of the Himalayas and the largest waterfowl habitat in southern Tibet. It houses more than ten islands and is home to various kinds of fishes and birds. Especially when winter comes, a large flock of migrating birds like pigeons, ospreys, etc. would stop here till the weather turns warm. Actually, Yamdrok Lake looks more stunning in the distance than close look. After passing through Gambala Mountain Pass(5,030m), the road down to the lakeshore would be the best spot to capture the beauty of Yamdrok-tso. There are several viewing platforms along the way, and our Tibetan driver will pull over and leave you enough time to take shots.
Entrance Fee: 40RMB per person
Pelkor Monastery and Gyantse Kumbum
Located in Gyantse, Shigatse, Pelkor Monastery is a precious temple of Sakya, Gagyu and Gelug Sect in Tibetan Buddhism. It is a typical example of temple architecture in Tibetan areas from the late thirteenth century to the mid-fifteenth century. It's famous for exquisite architectures, delicate Buddha statues, and well-preserved scriptures. Another big attraction here is the Gyantse Kumbum, which have 9 floors, 77 chapels, 108 doors and over one hundred thousand Buddha murals. That's the reason why it is also called as one-hundred-thousand Buddha Tower.
Entrance Fee: 60RMB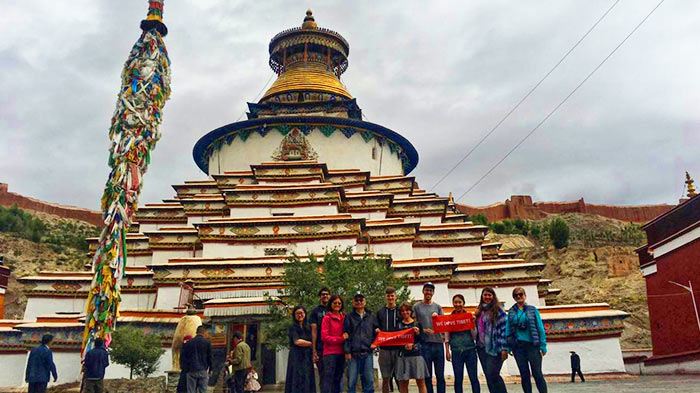 Pelkor Monastery
Tashilunpo Monastery
Situated on the southern slope of Mt.Nyiseri, Tashilhunpo Monastery is the largest monastery of Gelugpa Sect in Tibet. It has been the main place where generations of Panchen Lamas carry out religious activities and festive celebrations after the fourth Panchen Lama. Covering an area of over 150,000 square meters, Tashilunpo Monastery was built along the mountain, winding up and down. With a 3000-meter-long circumference, it treasures 57 chapels and 3600 rooms. You will be fascinated by the harmonious building layout.
Entrance Fee: 80RMB
Rongbuk Monastery
Located on the northern foot of Mount Everest, Rongbuk Monastery(5154meters), the highest monastery in the world, belongs to Nyingma Sect of Tibetan Buddhism. The monastery is divided into two parts, the old section and the new section. Located 3 kilometers south of the new part, the old temple is closer to Mount Everest and preserves the medication cave used by Guru Rinpoche as well as his handprints printed on the stones and towers.
Since it's just about 20 kilometers away from the peak of Mount Everest, Rongbuk Monastery has become a base camp for mountaineers who plan to climb Everest from the northern slope in Tibet. It's also one of the best spots to enjoy the superb vista of Mount Everest. There is a pilgrimage kora route around Rongbuk Monastery. And a platform in front is built for people to watch the cham dance during Tibetan festivals. The Mani stone piles outside is often used by photographers as a foreground for Mount Everest. Another interesting thing here is that monks and nuns live together under the same roof.
Entrance Fee: 35RMB
Everest Base Camp
Located in the south of Rongbuk Monastery, Everest Base Camp is surrounded by a group of tent guesthouses, with a Chinese national flag and an Everest Reserve flag in the center. Everest Base Camp mainly provide tourists with basic accommodation, toilets and tents post office (China's highest post office).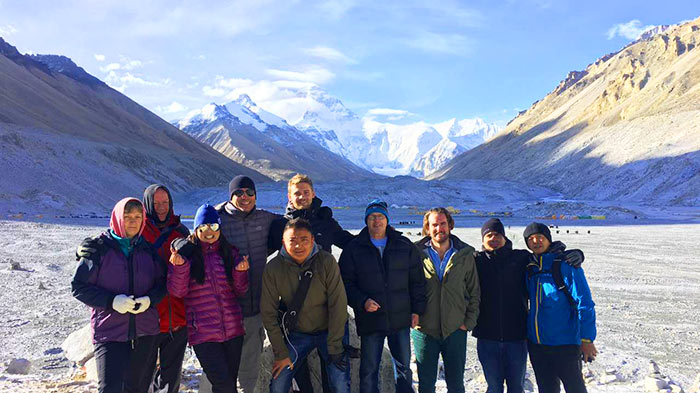 Everest Base Camp Tour
The best time to ascend Mount Everest is from April to May and September to October. So during those periods, climbers from all over the world will stay overnight here and replenish energy. It's so spectacular to see all kinds of colorful tent groups scattering around Everest Base Camp. On April 5, 2006, the first mountaineering team composed of amateur climbers in China began to enter the base camp and most of them have successfully climbed the summit of Mt.Everest.
Entrance Fee: 180RMB
Cost to Visit Everest Base Camp
The costs of different itineraries to EBC with different mileage and time length as well as tourist sites to be visited are also different. And here, I would like to recommend some hot itineraries of Everest Base Camp tour for you and you can contact our professional trip adviser for detailed information about the tour and its cost.
Recommended Everest Base Camp Tour Packages