Everest Base Camp Tour Cost: How Much Does It Cost for an EBC Tour from Lhasa
Things are not so simple when talking about the cost of an Everest Base Camp tour, for there are many categories which are not sure. The total cost will comprise transportation, hotels, restaurants, entrance fees for tourist attractions and the like.
But there is some general information about the costs of different things you need during your travel. Check the tour cost breakdown as follows for reference.
1. Everest Base Camp Tour Cost: Transportation
The first major part of the EBC trip cost is the transportation fee. Usually, you need to first get to Lhasa from your current location, either by flight or train.
The train is much cheaper, taking the shortest one from Xining to Lhasa as an example, which charges 781 RMB per person for a soft sleeper berth (net price for reference). While the flight from Xining to Lhasa may cost over RMB 1000 per person. Of course, the further you live from Lhasa, the higher you will pay for your train ticket.
Then from Lhasa, you will travel overland to the Everest Base Camp. The shortest journey from Lhasa to EBC is over 1400 km. And foreign travelers who travel in Tibet must be organized by qualified travel agencies, which will usually rent you vehicles for your Tibet tours.
According to the types of different vehicles, they charge different fees based on mileage. There are usually three types of vehicles: 4WDs, mini-vans, and tourist buses. And the transportation fees of different types of vehicles also vary in different seasons ranging from 3RMB to 10RMB per kilometer.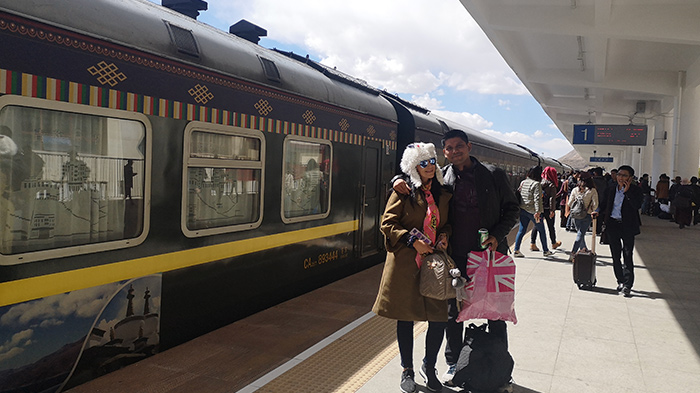 Take the train to Lhasa
2. Everest Base Camp Tour Cost: Accommodation
On the way, you will pass different cities and stay in different hotels. It's hard to give you an exact number of hotel costs. However, I'd like to introduce some hotels and guesthouses in Lhasa, Shigatse, and Everest Base Camp for your reference.
Accommodation in Lhasa
Accommodation in Lhasa offers you a wide range of options, from 5-star hotels to humble hostels. The advantage of choosing a good hotel is to enjoy modern facilities and high-quality service, but the price is relatively higher. Usually, hotels in Lhasa would cost you around 150 - 3000 RMB per night. Just name a few as below:
* 5-Star Hotels in Lhasa: Intercontinental Lhasa Paradise, Luxury St. Regis Lhasa Resort, Four Points Sheraton Hotel in Lhasa
* 4-Star Hotels in Lhasa: Lhasa Gang Gyan Hotel, Lhasa Thangka Hotel, Lhasa Yak Hotel
* 3-Star Hotels in Lhasa: Lhasa Shangbala Hotel, Lhasa New Mandala Hotel
* Guest Houses in Lhasa: Phuntsok Kasang International Youth Hostel, Dong Cuo International Youth Hostel
Besides, the price of hotels varies greatly between off-season and peak season. For example, a standard room in the off-season just costs you 80 RMB, but it would be sold for 300 - 400 RMB in Chinese National Holiday, and sometimes it's even hard to find a room. So it's highly suggested to book ahead for your Tibet tour to cut down the unnecessary cost.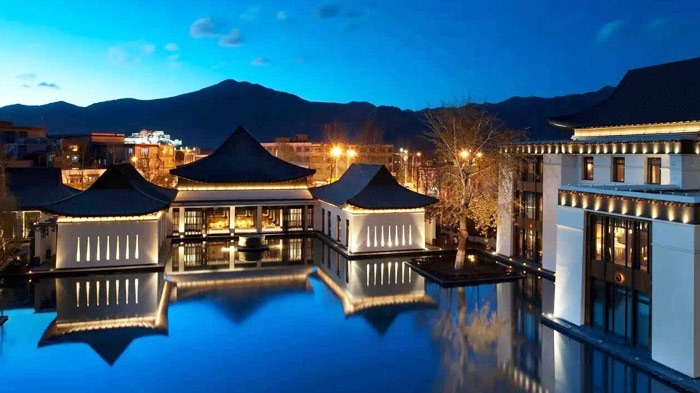 St. Regis Lhasa Resort in Lhasa
Accommodation in Shigatse
As the traffic center and second largest city of Tibet, Shigatse also offers good accommodation. Compared with the luxury hotels in Lhasa, Shigatse provides you with a more basic selection, changing from 4-star hotels like Shigatse Manasarovar Hotel to a basic guesthouse. It would cost you around 50 -1500 RMB per night.
Everest Base Camp Tent Guesthouses
Put up by local Tibetans, EBC Tent Guesthouses give you a warm stay. Due to the high altitude and harsh weather, the tent guesthouses are only available from April to November. When winter comes, these tents at EBC would be torn down.
Just a kind reminder, the living conditions in these tents would be very simple and basic. There is no toilet inside and tourists can only use the hot water to wash faces, brush teeth, etc. Visitors in the same tent usually share a wide bed with others. It cost about 40 - 100RMB per person.
Rongbuk Monastery Guesthouse
Tourists can also choose to stay overnight at Rongbuk Monastery Guesthouse. As the highest guesthouse in the world, Rongbuk Monastery Guesthouse is 4 kilometers away from Everest Base Camp. The living condition inside is very poor and simple without heat and a shower.
The biggest advantage here is to enjoy the stunning sunrise and sunset over Mount Everest. It would take you about 30 - 40 RMB per person. During the peak season from May to October, it's hard to find a vacant bed. So early booking is highly recommended.
3. Everest Base Camp Tour Cost: Dining
Actually, there are many restaurants scattering along the way to Mount Everest. Join our Everest Base Camp tour, you don't need to worry about dining at all. Our professional Tibetan tour guide will bring you to enjoy authentic local food at a very reasonable price. It often costs you around 30RMB for each meal.
By the way, you can also tell our guide where you want to eat in advance, and then we'll be able to arrange it. And it's best to prepare some snacks and fruits before departing from Lhasa for the long-distance driving.
In the Everest Base Camp area, you would have very limited options and the price is much higher than in the town. For instance, a cup of instant noodles would cost you around 10 RMB and a portion of fried rice would take you around 30 RMB. The average food cost at Everest Base Camp is about 100 RMB per day. To save your budget for the EBC tour, it's advisable to bring your food and drinks here.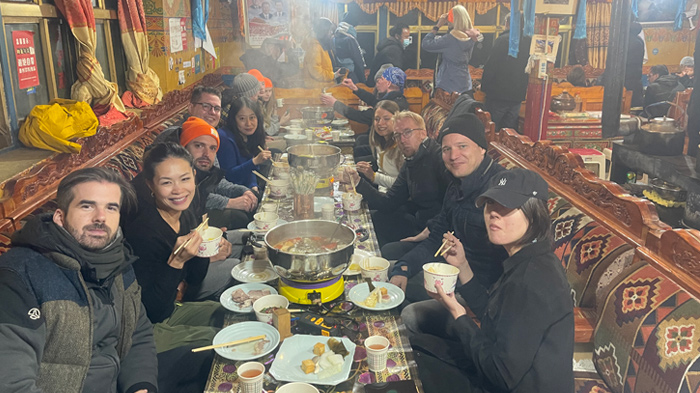 Enjoy local food in Tibetan restaurant
4. Everest Base Camp Tour Cost: Entrance Fees to Attractions
The entrance fees of tourist sites are relatively stable, and usually only vary between peak season and low season. Here we list the entrance fees of major attractions you will probably visit during the trip from Lhasa to EBC.
| | |
| --- | --- |
| Attractions | Entrance Fee (per person) |
| Potala Palace | 200 RMB in peak season; 100 RMB in low season |
| Jokhang Temple | 85 RMB |
| Drepung Monastery | 60 RMB |
| Sera Monastery | 50 RMB |
| Yamdrok Lake | 120 RMB in peak season; 60 RMB in low season |
| Karola Glacier | 50 RMB |
| Pelkor Monastery | 60 RMB |
| Tashilhunpo Monastery | 100 RMB in peak season; 50 RMB in low season |
| Rongbuk Monastery | 35 RMB |
| Everest Base Camp | 180 RMB |
Note:
1). The price is only for reference.
2). Usually, the peak season is from May to October, and the rest of the year is low season.
3). The entrance ticket of Potala Palace can be pretty hard to get, and sometimes, you will have to pay a much higher price to buy one entrance ticket for it.
Potala Palace is a must-see in Tibet.
5. Everest Base Camp Tour Cost: Necessary Travel Permits
You need to get the required travel documents so as to visit Tibet and Everest Base Camp. This includes Tibet Travel Permit, Aliens' Travel Permit, etc.
The Tibet Travel Permit can only be obtained through an authorized travel agency. You can enjoy our free service to get the Tibet Permit, if you book your Tibet tour with us. And the Alien's Travel Permit can be applied with the help of your tour guide and costs 50 RMB per person.
6. Everest Base Camp Tour Cost: Tips for Tour Guide and Driver
During the trip, you will always be accompanied by your tour guide, as individual travel is not allowed in Tibet. Also, your tour operator will offer you a vehicle and a driver when there is a need to drive from one destination to another.
Although it is not required to give a tip to your guide and driver, it does help them with their income and show your gratitude. Usually, tips for guides in Tibet are around 100 - 500 RMB per day. And the tips for drivers range from 75 - 125 RMB.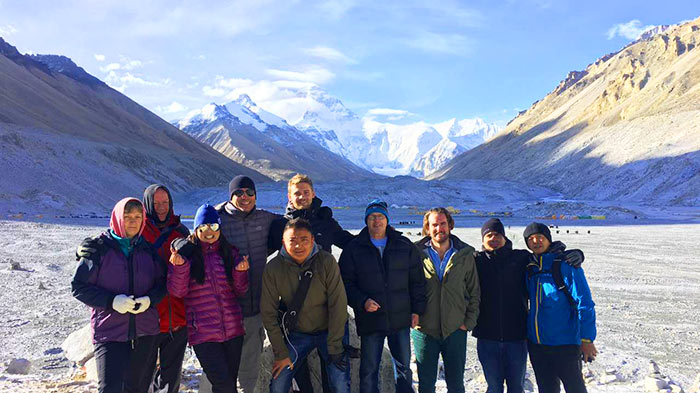 Enjoy an Everest Base Camp Tour with local guide
7. Everest Base Camp Tour Cost: Personal Expenses
Besides, you will probably buy some snacks, souvenirs or gifts during the travel. The cost of these personal items can be entirely up to you. As a suggestion, you can go to Barkhor Street to buy souvenirs. And bargaining is also suggested, but do not push so hard, in case the vendors will feel angry.
8. Join in a Small Group Tour to Save the Cost
Foreign travelers are required to join a tour to visit Tibet. Therefore, you can either choose a private tour or a group tour to make your trip to Everest Base Camp. And we offer well-crafted small group tours for those who want to save cost and enjoy quality services at the same time.
Our 8-day Lhasa to EBC small group tour will let you explore both cultural and natural highlights of Tibet, following the well-paved highway from Lhasa to Shigatse and EBC. Besides Tibet Permit and other documents, our tour package also includes entrance tickets of attractions in the itinerary, comfortable hotels, specified meals, an experienced local Tibetan guide, a comfortable tour vehicle and driver, etc. Contact us for more details!
Conclusion
A trip to Everest Base Camp will not be cheap, but it can also be less expensive if you make a reasonable plan. You can choose the proper transport, moderately priced hotels, and join in a small group tour if you want to save more money. For more questions about Everest Base Camp tour cost, feel free to contact us for inquiry.
Recommended Everest Base Camp Tour Packages