Clothing for Everest Base Camp Tour
Mount Everest, as the roof of the world, is absolutely the most attractive place where adventurers dream of conquering. However, such ambitious goal definitely goes too far for ordinary Everest visitors. Fortunately, you don't have to go through rigorous training and risk your life to reach the top of the world. Visiting Everest Base Camp, either in Nepal or Tibet, can be a manageable challenge for all. Here we detail the useful clothing advice for those who are planning Everest Base Camp Tour both in Tibet and Nepal.
Clothing for Everest Base Camp Tour in Tibet
Unlike the conventional wisdom held by many that Everest Base Camp (5200m) must be bitterly cold all year round, in reality, the annual average temperature is between 10.75 Celsius and minus 7.7 Celsius. One thing tourists should pay attention to is the drastic temperature change between day and night and strong wind. Due to the ample sunlight and its strong radiation during the daytime, the temperature is fairly warm and cozy, with the max temperature around 19 Celsius from May to September. While at night, the temperature could drop down to minus 17 Celsius. Meanwhile, the strong wind is another factor you need to take great care of, never get cold because of it. Here are some useful tips for you to get full preparation for your Everest Base Camp (EBC) Tour.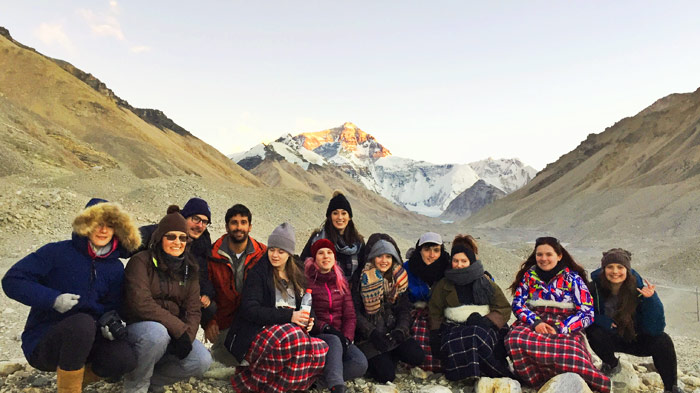 Everest Base Camp tour in Tibet
First and foremost, what you should know is that the best time to travel to EBC is from April to October, during this time, the climate is better and the temperature is relatively higher than that in winter. However, even when you travel to EBC and the area around it in summer, it can be very cold, especially at night. So, you should take proper clothes when you travel to EBC. Though the clothing depends largely on your tolerance of the cold and the time you travel to EBC, there are certain clothes you are suggested to take along with you when you travel to EBC in Tibet.
Recommended Clothing for Tibet Everest Base Camp Travel
• Light and weight thermal tops;
• Fleece Wind-Stopper jacket or pullover;
• Fleece sweater (preferably breathable fabric);
• Waterproof shell trousers/pants (preferably breathable fabric);
• Lightweight thermal gloves;
• Moisture-wicking underwears (highly recommended) - As you travel to Mount Everest or trek to EBC during the daytime, you can sweat easily. Then wearing breathable and moisture-wicking underwear can prevent travelers' temperature (body) loss as a result of heavy perspiration;
• Shorts - To prevent from catching a cold, tourists are not advised to have a shower in EBC. So having an extra short or a couple of woolen socks can make you feel more comfortable;
• Lightweight cotton long trousers/pants;
• Light and weight thermal pants;
• Warm fleece hat or light balaclava;
• T-shirts ;
• Thin, lightweight (woolen socks).
First Aid Medicine
• Broad-spectrum antibiotic (norfloxacin or ciprofloxacin);
• Anti-diarrhea medication (antibiotic);
• Diamox (altitude sickness - highly recommended) - As the majority of new-arrivals in EBC (5200m) will have sorts of altitude sickness symptoms, there is no need to feel panic. Do take some medicine and ask your guide for help, as your body gets acclimatized to this altitude, you will feel much better.
Toiletries
• Sun hat or scarf, sunglasses, sun cream, clapstick (lip balm) - The climate in Everest region is extremely dry, so the above products are very handy in locking the moisture of your skin. Besides, the sunglasses can shield you from the harmful influence of the strong wind and dazzling reflection of light from snowy mountains;
• 1 medium-sized quick-drying towel;
• Toothbrush/paste (preferably biodegradable);
• Multipurpose soap (preferably biodegradable);
• Deodorant (optional);
• Face and body moisturizer (optional);
• Feminine hygiene products;
• Small wash towel.
Miscellaneous Accessories
• Sleeping bag rated to 0 degrees (for 4 seasons) - An individual bag is needed because the hostel in EBC has only the most basic facility and the sheet could be dirty. Besides, the temperature could be extremely cold at night. Having a sleeping bag can help you sleep better;
• Camera, battery, portable charger, flashlight etc;
• Thermal Water bottle.
Join-in Classic Tibet Everest Base Camp Tours
Clothing for Everest Base Camp Tour in Nepal
What clothing you should prepare for Nepal Everest Base Camp tour totally relies on the season in which you to travel to a great extent. The weather and climate of Everest Base Camp in Nepal are different from that of Tibet. The south base camp is located at the edge of the influence of the Indian Monsoon, also in the windward slop of the Himalaya region, which will result in frequent rain and heavy clouds during the Monsoon season from June to September. Therefore, it is not beneficial to trekking. In actual fact, due to at the high altitude, the temperature will not be high in general, preparing proper clothing is much more important. However, the followings are some useful tips to guide you to pack for EBC tour.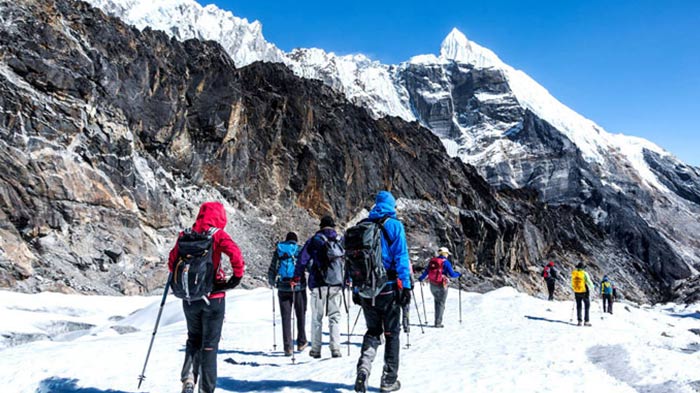 Everest Base Camp tour in Nepal
Recommended Clothing for Nepal Everest Base Camp Travel
• Wool base layers, such as cotton shirts, wool shirts, if you want to trek to EBC, they are good at wicking moisture away from the body. Cotton clothes should also be packed sufficiently, because you should not have a shower at this high altitude area to avoid catching a cold, which also can decrease the risk of the High Altitude Sickness to a certain extent;
• Pack windcheaters, flannels and raincoats for safety measures, owing to the unpredictable and changeable climate and weather in this Himalaya region;
• Trousers should also be packed in woolen, cotton and also flannels to keep warmth;
• Woolen scarves, wide brim trekking hats, beanie, neck gaiter, and caps are also necessary;
• Pack some woolen gloves along with you - two pairs of woolen gloves will be enough;
• Socks should positively be taken, both woolen socks and cotton socks to wick moisture when you trek;
• Underwear also needs to be breathable and moisture wicking, it is better to bring the abundance of underwear;
• Hiking boots, trekking shoes, gaiters.
First Aid Medicine
• Band-Aids, bandages, blister plasters, ointments, for small cuts and blisters, they will become quite helpful;
• Painkillers or ibuprofen;
• Digestion syrups, all kinds of medicines, such as antidiarrheal, Diamox for altitude sickness (highly recommended).
Toiletries
• Sunscreens of high SPF and UV protection facilities should be packed because of in the high altitude;
• Travel toothbrush and toothpaste, toilet paper should be part of your basic toiletries;
• Soaps, lip balms, moisturizer can protect your skin.
Miscellaneous Accessories
• Water bottles;
• Portable charger;
• Trekking gears, such as trekking poles, maps;
• Sleeping bags, in fact, the road to EBC in Nepal also is called the tea-house road, therefore, accommodation is not a problem for trekkers, due to the high altitude, the sleeping bag can help keep your own warm enough;
• Duffel bag, backpack, daypack, rain cover, dry bag;
• Camera, battery, portable charger, flashlight etc.
Note:
Generally, the trek to Everest Base Camp in Nepal is your only option, so the equipment should be concentrated on trekking, you clothing also should be hydroscopic and breathable material to avoid hypothermia at such a high altitude. At the same time, all trekking gears and accessories can be rented in Kathmandu, or Namche Bazaar, your luggage will be lighter, maybe the trek will become easier.
What is said above, you must feel more confident than before about what clothing should be packed. Certainly, getting in touch with us - the best local Tibet tour operator, to inquire more details is the most reliable option. We will assist you with all travel documents, such as Tibet Travel Permit for free. No matter where you want to visit, in Nepal or in Tibet, or tour these two places in one tour, we absolutely offer one-stop service. Please consult us and book your own Everest Base Camp tour.
Join-in Popular Nepal Everest Base Camp Tours
Recommended Everest Base Camp Tour Packages