Hailed as the best highlight for Tibet travel, Everest Base Camp tour brings you to the foot of the Mt. Everest(8844.86m) at Everest Base Camp (5200m) and unveils the grandeur of mighty Himalaya and Tibetan culture in an exhilarating adventure.
The most classic itinerary is the 8-day Lhasa to Everest Base Camp tour. It can be visited all year round. As the award-winning Everest Base Camp tour operator, we offer you the expertly-crafted Everest Base Camp small group tours and private tours. Pick your favorite Everest Base Camp tour below and join us to have your bucket list tick off now.
Our Most Classic Small Group Everest Base Camp Tours
Explore Everest Base Camp together with other 10 or less like-minded English-speaking travelers from all over the world, sharing one professional Tibetan local tour guide and comfortable sightseeing bus. SAVE UP TO more than 40%! Click for more Tibet small group tours.
Guarantted Fixed Departures
No Optional Hidden Cost
All-Incluside Service
5% Off for Early Book
8 Days Lhasa to Everest Base Camp Small Group Tour
Tour Route:Lhasa - Gyantse - Shigatse - Everest Base Camp - Lhasa
Almost all the itineraries covering Everest Base Camp originate from this classic itinerary. The travel route to Everest Base Camp involves all the awe-inspiring attractions, religious sites and magnificent natural wonder.
From USD 817 p.p
View Details
Private Tibet Everest Base Camp Tour Packages
Visit Everest Base Camp in exactly the way you want. Our private Everest Base Camp tours offer you a great chance to bring your inspiration into full play. You can control over the tour pace, budget, and what's included by taking a private tailor-made tour, discovering the Tibetan culture, religion, people and lifestyle in a deeper way with personal tour guide and vehicle. All at a reasonable price!
Everest Base Camp Videos
Take a glimpse of the imposing Mt. Everest and feel the contagious excitement shared by our clients through videos recorded at Everest Base Camp in Tibet.
FAQs about Tibet Everest Base Camp Tours
1. What is the best time to visit Everest Base Camp in Tibet?
Though Everest Base Camp in Tibet can be visited all year round, to some with a particular goal, the best time for Everest Base Camp might vary.
Best View of Everest: April, May, Early June, Sept, Oct. Nov. Dec.
| | | |
| --- | --- | --- |
| Month | Max Temp(°C) | Min Temp(°C) |
| January | -5 | -15 |
| February | -2 | -14 |
| March | 0 | -7 |
| April | 10 | 2 |
| May | 15 | 3 |
| June | 17 | 5 |
| July | 22 | 6 |
| August | 22 | 8 |
| September | 19 | 10 |
| October | 12 | -4 |
| November | 10 | -10 |
| December | 6 | -14 |
During this time or roughly the dry season of Tibet, the visibility is exceedingly great, with clear blue sky and crisp air. You are more likely to enjoy the entire summit of Mt. Everest, esp. the golden summit at sunset and sunrise, not to mention the epic view of top 5 eight-thousanders along Great Himalaya.
If you travel on a budget, time your visit from Nov to mid-Feb next year, the hotel and flight ticket will be much affordable and plenty of Everest Base Camp tour promotion activities will bring you many surprises.
Temperatures in spring and autumn can reach around 10-12 degrees during the day but drop to well below freezing at night, mainly due to the high altitude and thinner atmosphere. Because of these moderate temperatures and clearer skies, spring and autumn are the best times to visit.
While July to August is traditionally known as the monsoon season in Tibet. The Mt.Everest might be shrouded in cloud and mist. So, your chance to see entire Mt. Everest at Everest Base Camp depends on how lucky you are.
2. Is there any age limit for an Everest Base Camp tour in Tibet?
Well, there is no age limit for visiting Everest Base Camp. So long as you are healthy and have a sense of adventure, you are the eligible travelers for Everest Base Camp tour.
So far, some of the oldest clients who traveled with us to Everest Base Camp are Anne Gentry, an 64-year-old American lady who visited Everest Base Camp from Lhasa with her 60-year-old daughter in Aug 2016 and 82-year-old Gerhard Raab, a German client, who made it to Everest Base Camp in Sep. 2018 during his 15-day Lhasa to Mt.Kailash tour via Everest Base Camp.
While the youngest clients we had was a family visit from Switzerland. This Swiss parent took their 2 kids( one is 4, the other is 6) to join our 8-day Lhasa to Everest Base Camp tour. - Check the video of our brief interview of this Swiss family.
So, please do not hesitate to visit Everest Base Camp. We will provide all the services for a safe and delightful journey.
3. How many days are needed to visit Everest Base Camp in Tibet?
The most classic Everest Base Camp tour takes for 8 days. Your journey begins in Lhasa and gradually heads southwest to Shigatse, the gateway to Mt. Everest (or Qomolangma) nature reserve until arriving at Everest Base Camp. On day 5, you will reach the Everest Base Camp and after spending an incredible night at Everest Base Camp we will travel back to Lhasa.
The 7 Days Lhasa to Kathmandu including Everest Base Camp is a similar tour, but without the two-day trip back to Lhasa. After touring around Lhasa, you take the same route through Gyantse and Shigatse. After your stop at Everest Base Camp, you head to the town of Gyirong, close to the Sino-Nepal border. From there, you will transfer to the border crossing and process through immigration. After that, you will need to walk across the Resuo Bridge, which crosses the beautiful Trishuli River Gorge, into Nepal. From there, an arranged car or public bus/van can take you to Kathmandu.
If you travel from Kathmandu to Lhasa by road, on day 3 you will be reaching the Everest Base Camp. However, it is also more challenging for your heart and soul.
4. Do I need to worry about altitude sickness for Everest Base Camp tour in Tibet?
Great question! There is no need to worry about altitude sickness. Instead, learning more of what leads to altitude sickness and scientific ways to avoid it helps you beat the anxiety.
To most of the travelers, It's pretty common to have symptoms like dizziness, rapid pulse, and shortness of breath, headache, etc. when you visit places above 3000m. Drink plenty of water, stay hydrated, keep calm; it's your body's natural response to altitude ascent and your discomfort will disappear in a couple of days.
Our expertly-designed itinerary gives your body enough time to get acclimatized to high altitude in Tibet. You will spend 3 days in Lhasa, touring the landmark attractions while adjusting to the new environment. Then we will gradually travel to Everest Base Camp in 2 days.
Throughout your journey, our seasoned Tibetan guide will closely follow your health condition and check your pulse and oxygen level with pulse oximeter exp. at Everest Base Camp. And oxygen supply is readily available in our tour vehicle. While at Everest Base Camp, we even have hyperbaric oxygen therapy for treating acute mountain sickness. Our 24/7 call service and emergency plan and well-trained Tibet guide will ensure you a safe and once-in-a-lifetime Everest Base Camp journey.
5. What is the road condition from Lhasa to Everest Base Camp in Tibet?
The road from Lhasa to Everest Base Camp is actually one of the best in the region, and for most of the journey follows the famous Sino-Nepal Friendship Highway which is now a completely asphalted road.
From Lhasa, it is around 690 kilometers (428 miles) to the base camp itself, and the journey normally takes around two days, with stops in several cities along the way, including Gyantse and Shigatse. The excellent road conditions make it a fast drive between the cities along the route.
The section from Old Tingri, where you turn off the Friendship Highway, to Rongbuk Monastery, is also asphalt now, and there are few gravel or dirt stretches along the entire route. However, from Rongbuk to Everest Base Camp, the road is a gravel track.
6. Where to stay at Everest Base Camp in Tibet and how is the accommodation there?
The locally-run Everest Base Camp tented camp and the guesthouse of Rongbuk Monastery are the only places to stay at Everest Base Camp. Both have very basic and humble facilities.
Furnished in traditional Tibetan style, then tented camp can accommodate 8-12 travelers. In the middle of the tent is a stove for heating and cooking. Beds and blanket and pillow are laid in an orderly fashion. The tent is adorned with Tibetan prayer beads and turquoise or amber necklaces.
There is no running water and showering facilities due to the shortage of water at this high altitude(5200m). Outside, only the pit toilet is available. The tented camp is available to travelers from mid-April to around mid-Oct.
Not far away from the tent is guesthouse of Rongbuk Monastery. The small building is simply built. You may have thick beds and electric blanket to beat the cold night. If you can't stand the filthy sheets, you may bring your own sleeping bag. Again, there is running water and showering facilities. And the concrete pit toilet can be a nightmare to westerners.
Though you may have a rough night at Everest Base Camp, the stunning view of Mt. Everest at sunrise and lifetime experience will explain why nothing can stop people from visiting Everest Base Camp and all of your ordeals is worth it. Come on, Everest Base Camp tour is an adventure tour. No one would come here for luxury hotels and fancy food.
7. What to eat at Everest Base Camp in Tibet?
Accommodation at Everest Base Camp is very basic, so is the food available here. Mostly, egg fried rice, yat meat stew, and noodles, vegetable soup, sweet tea, etc. served in the Rongbuk monastery restaurant or tented camps. However, imagine yourself dining at the Rongbuk restaurant while enjoying the epic vista of Mt.Everst. It's definitely a lifetime experience to be remembered. A great suggestion is to stock up on some canned beef, bread, and biscuit and instant noodles prior to your visit to Everest Base Camp.
8. What to pack for Everest Base Camp tour in Tibet?
Traveling light is always preferred. Basically, you need to bring warm clothes, warm headwear and sun protection gears, comfy hiking shoes.
For head to toe:
Beanie, scarf, sunglasses, lip balm, facial moisturizer
These stuff will shield you from the powerful UV light and head-numbing biting wind at Everest Base Camp and keep your skin comfortable in such an arid region.
Thermal underwear, down jacket, wind-proof jacket, pullover, gloves, thermal pants, jeans, T-shirts,
A good quality warm jacket is needed all year round, to protect you from the chill, especially once the sun goes down. The best way to keep out the cold is with layers, which trap body heat better, so plenty of layers of clothes are essential. You can add or remove layers as you wish, depending on the temperature.
Due to the high altitude and dramatic temperature between day and night, it is always a good idea to have some warmer clothes, or plenty of layers, with you, even in the warmest of summers. In winter, you will need warmer clothing layers, as it can get very cold.
Pair of shorts, thick woolen socks, hiking boots
Good strong hiking boots are a necessity around the base camp, even if you are not hiking, as the ground is rough and rocky, and thick woolen socks will help to keep your feet warm.
Optional Gears:
Sleeping bags, toiletries, medicines for cold, and altitude sickness, etc.
Because of the shortage of water at Everest Base Camp, the bed sheet or quilt might not be that clean as opposed to the facilities of hotels in Lhasa. We offer the rental service for sleeping bags if you need one. Please feel to tell us your needs.
9. How about the night sky at Everest Base Camp in Tibet and its sunset or sunrise?
For stargazers, the stunning galaxy seen at Everest Base Camp would make your jaw drop. To photograph the starry night, you may time your visit in May, late Sept, and Oct. These are the most ideal time for photographing the night sky at Everest Base Camp. Standing at Everest Base Camp (5200m), you will be able to capture the surreal milky way hanging up on the vast starry night.
Arm to teeth with your warm clothes; bring your ultra-wide-angle lens, DSLR, and stable tripods and wireless trigger, and multiple batteries; the dramatic show is staging before your eyes.
While the golden summit of Mt.Everest at sunrise and sunset is the most iconic scenery for Everest Base Camp tour. 7:00 - 8:00 am is the best timing for photo shooting as the glowing sun casts the golden light over the peaks of Mt.Everest. Be ready to battle for the best position for the shot.
If your tour group arrive late for the sunset at Everest Base Camp, you may have an early rise tomorrow for the epic sunrise at Everest Base Camp or hit the road back to Gawu La Pass for the amazing view of Mt. Everest with other giants along the mighty Himalayas.
10. Where are the best spots to shot the Mount Everest?
Photographing Mount Everest is normally done from Everest Base Camp itself, or the small hill closer to the mountain, though this is not the only good spot from which to get a great view of the mountain.
Tingri Town - A great place to view the mountain for those not actually visiting it, the watching point in Tingri Town is mainly for those traveling from Kathmandu, as the route from Lhasa requires a side trip to get there. However, the view of the mountain's summit is magnificent, and should not be missed if you can make it.
Gawula Mountain Pass - Lying on the road from Lhasa to Everest Base Camp, the pass has one of the most stunning vistas of the Himalayas in Tibet. Located around 30km from Tingri, on the road from Shigatse, this amazing location gives you a panoramic view of Mount Everest, as well as several of the other highest mountains in the world.
Rongbuk Monastery - A short distance from the base camp, Rongbuk has one of the best views of the mountain in the world, and there is no better view than watching the sun rise or set on the side of the mountain from Rongbuk Monastery. You will have to climb the small hill behind the monastery to get the best view, but it is worth it.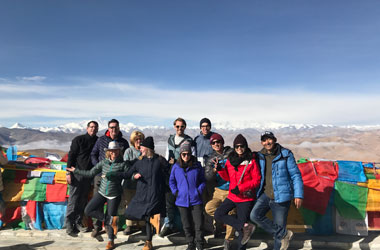 More Articles about Everest Base Camp Tour Planning
If you are planning to enjoy a trip to Everest Base Camp in Tibet, yet have no ideas of how to sort it out the details, no worries! We would like to hear your tour plan and offer free professional consultancy and viable solutions. Please feel free to contact us.
Tell Us your Travel Plan
All Tibet Tours Catergories
By Destination

By Interest

By Entry Cities

By Customer Types
Get Started -
Tibet Everest Base Camp Tour
You're getting closer to your dream Tibet vacation! Fill out this form so our travel designers can start helping you plan a trip.
Privacy Policy: Your information is kept strictly confidential. Tibet Vista will never sell, trade, or give away your contact information to a third party.