Everest Base Camp Weather: a detailed guide to climate and weather of Everest Base Camp in Tibet
The weather at Everest Base Camp (EBC) is one of the extremes, both in terms of temperatures and winds. The temperature at the base camp rarely gets above freezing throughout the year, and the biting winds that blow across the Himalayas make the temperatures feel even colder. The coldest months of the year are from December to February, when temperatures drop well below freezing, even during the day, with the warmest temperatures in the rainy season in July and August. For most people traveling to EBC, the best time of the year is from April to May and September to October.
Climate and Weather of Everest Base Camp
Tibet is a land that lies on the world's highest plateau and the temperatures and weather can be cold for most of the year, with high winds and a very varied climate.The weather conditions in Tibet depend on where you are and at what altitude, with the worst conditions being at the highest altitudes, such as that of EBC. Compared to the lower altitudes of Lhasa and Nyingchi, where the weather is relatively mild even in winter, EBC sees some of the harshest weather on the plateau.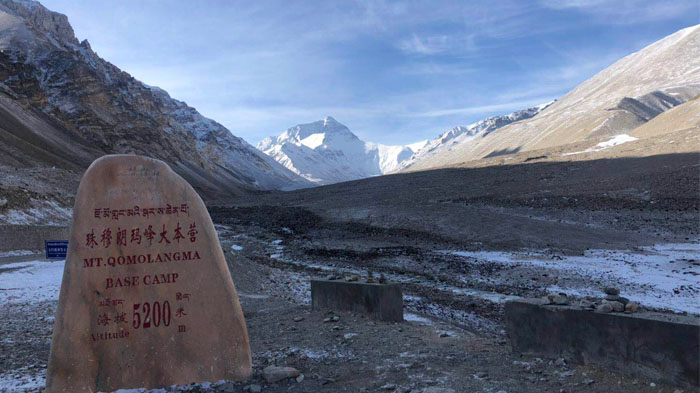 Weather at EBC is varied throughout the year.
At an altitude of 5,200 meters above sea level, EBC has a climate that is characterized as a mountain plateau climate, which can be cold throughout the year. The average temperature is -17 degrees Celsius, which is considered the coldest during the year mostly from mid-December to January. During spring months the temperature warms up rapidly but the night remains still cold and chilly, dropping to below freezing. Temperatures range throughout the year from around 22 degrees in the height of summer to as low as -5 degrees in winter during the day, with temperatures at night ranging from -15 in the winter to around 4 degrees in the summer months.
Everest Base Camp Weather in Four Seasons
Spring (April - May)
Daytime temperature: 15°C
Nighttime temperature: -1°C
Wind speed: 11km/h
Precipitation/month: 7mm
Sunshine hours/day: 9
Spring at EBC is one of the best times of the year to visit. The weather is generally bright with clear skies and few clouds, so visibility of the summit is much better. The base camp is fully open, and the tent guesthouses are up once more, giving tourists a place to stay and eat in traditional Tibetan style. Temperatures may not be as high as summer, but it is still warm enough to be comfortable.
Monsoon Season (June - September)
Daytime temperature: 22°C
Nighttime temperature: 4°C
Wind speed: 10km/h
Precipitation/month: 170mm
Sunshine hours/day: 7-8
The monsoon season sees a much higher rainfall at EBC than throughout the rest of the year, and while some areas of the west of Tibet are not as wet, the area around Mount Everest sees high rainfall for this altitude. Temperatures are high, reaching up to around 22 degrees, but the higher rainfall can make the area muddy and hard to traverse.
Plan a visit to Everest Base Camp in September
Autumn (October - November)
Daytime temperature: 17°C
Nighttime temperature: -8°C
Wind speed: 22km/h
Precipitation/month: 2.5mm
Sunshine hours/day: 9-10
The autumn season in Tibet is another great time to visit EBC, with the skies being clear once more after the monsoon rains and the landscape still as lush and verdant as ever. Bright sunshine is warming, with highs of up to 17 degrees, though the winds can still be strong and cold, making it feel cooler. The heavier clouds are gone now, and the summit of the mountain is once more clearly visible from the base camp.
Winter (November - April)
Daytime temperature: -5°C
Nighttime temperature: -15°C
Wind speed: 7-8km/h
Precipitation/month: 5mm
Sunshine hours/day: 7-8
Winter is the coldest time of year at EBC, though January is actually the coldest month, with an average temperature of around -10°C through the season. However, there is almost no rain and the winds have died off a little, bringing in clear skies and bright sunshine that can still make it worth visiting. Despite being the middle of winter, there is often little snow around EBC, and it is still possible to travel to the base camp easily, even in January.
Best Time to Visit Everest Base Camp for Different Travelers
Mount Everest Base Camp is actually open all year round, and can be accessed from Lhasa quite easily, even in the depths of winter. For those planning a trek to EBC, the best time to travel is from April to May and September to October, when the climate is moderate and there is little rain. Wet weather can make the trek from Tingri to EBC a little harder.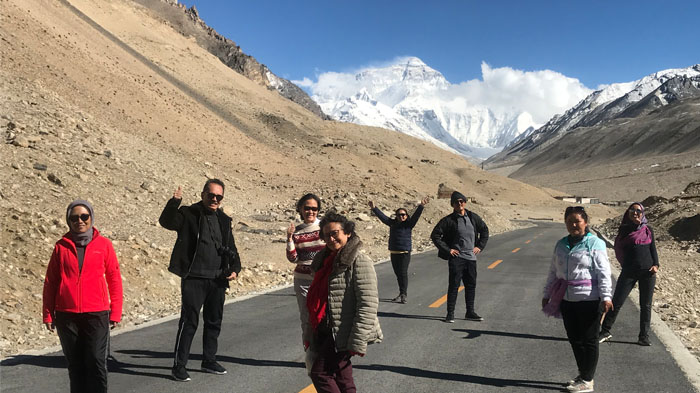 The best time to trek to EBC is from April to May and September to October.
For those that are traveling on a budget, the winter months are actually the best time to travel, as the cost of the tours is cheaper. You will also find that there are cheaper accommodations in the winter months, though there is only the Rongbuk Guesthouse to stay in at EBC in the winter, as the tent guesthouses have packed up until April. But with fewer tourists and cheaper costs, it is better to travel from November to February for a cheap EBC tour.
Packing List for Everest Base Camp Tour
For a good visit to Tibet you need to pack carefully, as it can be cold there at any time of the year. Make sure that you have your valid passport and Chinese Entry Visa with you at all times, and that it is kept secure or on your person at all times.
Tibet Travel Documents
● Tibet Travel Permit: This permit is issued by the Tibet Tourism Bureau and is required for all international travelers heading for Tibet. You need to apply for this permit one month prior to your arrival in Tibet as this permit takes some time to get ready and you need to produce the original copy of this permit at the Airport before you board the flight.
● Alien's Travel Permit: required for travel outside Lhasa, this permit is issued by the Public Security Bureau in Lhasa once you arrive, and can be obtained in an hour by your guide, using your passport and Tibet Travel Permit.
● Frontier Pass: This is required for all tourists heading for the areas around the border of China with Nepal, India, and Bhutan, of which EBC is a part.
Clothes
Tibet is renowned for having a very high temperature difference from day to night, and the temperatures at night at EBC can get pretty cold, even in the summer months, make sure that you have layers of long and short tops to keep warm with, a good fleece or down jacket and a couple of woolen sweaters, and rain and windproof coats. Bring along plenty of underwear, including long underwear for the colder times, and thick woolen socks to keep your feet warm.
Strong hiking boots are an advantage, as you will be walking on rough and rocky terrain, and you need to make sure your feet are kept dry and your ankles are supported. Sports shoes are only useful for towns and cities and using in the hotel.
Bags
Take a large backpack, a small bag and a waist bag is enough. Bigger backpack will be a wise option as it will be unable to keep clothes and will be easy to carry as the path is not that smooth to walk. The small bag will be usable to carry the things for daily use, such as hand towels, toiletries, etc., while the waist bag will be useful to carry some small and important things such as your passport and documents, cellphone, etc.
Toiletries and skin protection
Though the solar radiations are strong in Tibet, it is necessary to keep sunscreen with minimum SPF 35, lip balms, cold cream, moisturizer, UV protection sunglasses, sun hat, ear buds, nail clippers, etc. Do not expose your skin in the sun as rays are harsh there and may cause sunburn. You also need to make sure that you have enough toiletries, such as Toothpaste, toothbrush, soap, oil, shampoo, small hand towel, shaving kit, deodorant, etc.
Cash not Credit Cards
Bring cash in different denominations and try to keep enough cash with you as when you will be away from Lhasa in remote areas cash is the only form of payment available. Credit cards are usable only in the big hotels and restaurants.
Trekking Equipment
You need to take the necessary equipment with you because, in remote areas, availability of things is rare. Take trekking equipment including sleeping bags, sleeping mats, stoves, cookware, water filter, camp bathroom, tents and tarps, first aid kits for an emergency, expedition food, multi-tools, Swiss knife, compass, maps, etc.
Medicines
Consult your doctor and do carry the prescribed medicines, if you take any on a regular basis. Take medicine for cold, insect bite, headache, stomach ache, and diarrhea. Bring an adequate amount of cleaning solution for your contact lenses as you may not find that easily in Lhasa. There are some medications for altitude sickness available, but you should consult your own doctor before you take them, and it is not recommended.
Conclusion
With such a varied climate around the year, travel to EBC is something that does require careful planning in terms of making sure that your packing is right for the time of year. Always pack the necessary things for the trip, and leave behind things you may not need, as you will be restricted in weight on the flights. Spring and autumn are the best months to travel to EBC, and for those that want to make the trip a little cheaper, winter is the best option, as long as you do not mind a little colder weather and do not want to trek.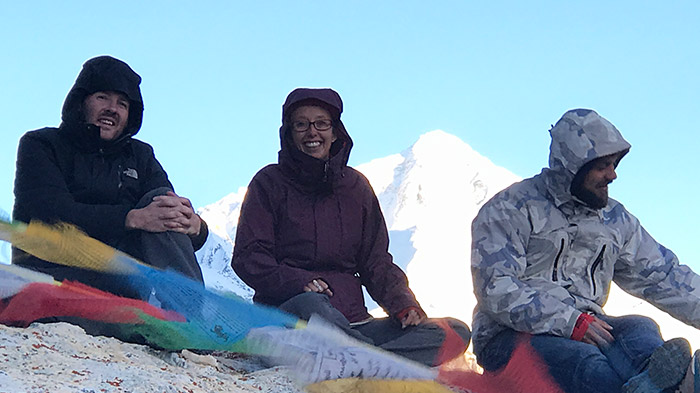 Appreciate the stunning sunrise over Mount Everest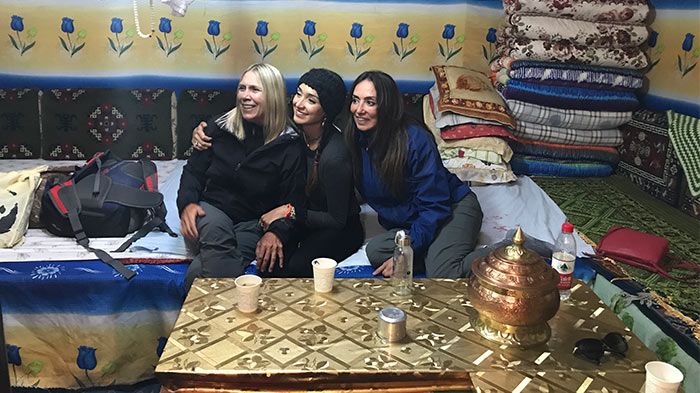 Accommodation at Everest Base Camp
Recommended Everest Base Camp Tour Packages