For a great many people, travelling to the highest mountain in the world is a dream trip. Standing in the base camp and looking up at Mount Everest is an experience that is, quite literally, almost out-of-this-world. And the best place to see the spectacular summit of Mount Everest is from the Everest Base Camp (EBC) in China's Tibet Autonomous Region.
So, how does one plan a trip to Mount Everest?
Where do you start? What do you need to arrange? When should you go? All of these things can seem a little overwhelming when planning the trip of a lifetime to Mount Everest.
However, professional help is at hand. We can help you make all the arrangements simply and easily, leaving you just needing to get on the plane, and enjoy your trip.
Things to Do in Mount Everest
As a paradise for adventurous souls, Mount Everest regions have enough reasons for exploration. In addition to enjoying the classic road trip to EBC from Lhasa, you may opt for cycling, motorcycling, or trekking to EBC and even prepare to climb Mount Everest. Click the top 4 activities for Mount Everest travel.
Most Frequently Asked Questions about Mt.Everest Tour
Still have no clue what to prepare and expect for your upcoming Mt. Everest tour? No worries! We gather the top 6 FAQs concerning Mt. Everest to facilitate your preparation. Please click the useful information below.
Tibet Permits Required for Everest Base Camp Visit
The first things to think about are the visas and permits. Depending on where you enter Tibet from (you can enter Tibet from Nepal or through Chinese gateway cites) will be the deciding factor on what visas and permits you need.
From Chinese gateway cities, you will need to obtain:
1. Chinese Visa to get into China to travel to Tibet
2. Tibet Travel Permit to allow you to get into and travel around most parts of Tibet
3. Alien Travel Permit to allow you to travel to Mount Everest region of Tibet
From Kathmandu, in Nepal, you will need to obtain:
1. Nepal Visa to get into Nepal
2. Group Tourist Visa and Tibet Travel Permit to get into Tibet from Kathmandu (being part of an actual group is not required) and visit most parts of Tibet
3. Alien Travel Permit to allow you to travel to Mount Everest region of Tibet
The Tibet Travel Permit is issued by the Tibet Tourism Bureau, and is required for all travelers to Tibet for tourism. The Alien Travel Permit is required to travel to certain restricted areas within Tibet. However, it is not possible to obtain any of the Tibetan Permits on your own. All Tibet Travel Permits and Alien Travel Permits must be obtained through a registered tour agency. And we can help you get your Tibet Travel Permit for free, after you book one of our Tibet tours.
Tourists are also not allowed to travel in Tibet by themselves. All tourists must be accompanied by a registered tour guide, and have a private vehicle, as travel on public transport (except the train coming into Tibet) is not allowed.
We offer one-stop tour service, which includes all of the permits needed to get to Mount Everest.
When Is the Best Time to Visit Mount Everest
Travelling to Mount Everest has its on-peak and off-peak seasons. For ordinary tourists, the golden season to take a Mt. Everest tour would be in April, May, early-June, September and October, and early November. At these times of the year, the skies are clearer, with very few days where visibility is even slightly limited.
There is very little rain and snow, and daytime temperatures, while not the hottest in the year, are well above freezing, and quite comfortable for trekking and touring the region. Although, you will still need some warm clothes for the nights, which can still get quite cold.
However, tours to Mount Everest can be arranged at any time of year, given an individuals' unique preference. As long as you are not a professional mountaineer with a particular time frame to summit the mountain, Everest Base Camp welcomes you whenever you come.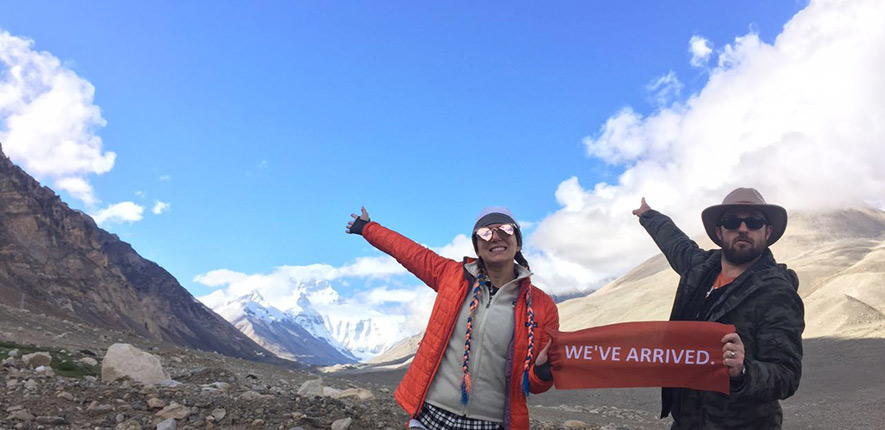 We've arrived in Everest Base Camp Tibet
Extra tips:
1. Take photos in EBC
From Sept. to Nov., or autumn to the mid- winter season, you can enjoy the highest visibility of Mount Everest in the year. With the stunning vistas and spectacular sights of 14 lofty peaks of over 8,000 meters, it is the perfect time for landscape photography. Do take enough clothes and protection because the wind can get freezing cold. But your reward is just epic, the best view of Mt. Everest in a year.
2. Low possibility of seeing Everest
The rainy weather in the monsoon season (mid-June to August) often leads to dense clouds that obscure the entire view, especially not suitable for mountaineering and hiking in Everest region. However, no one can tell for sure, there is a chance of not seeing Mt. Everest at all. It is simply a test of how lucky you are.
With more than ten years' experience running tours to Mount Everest and the rest of Tibet, we can assure you that we can offer you the best Tibet Mount Everest tour you can imagine.
How to Get to Everest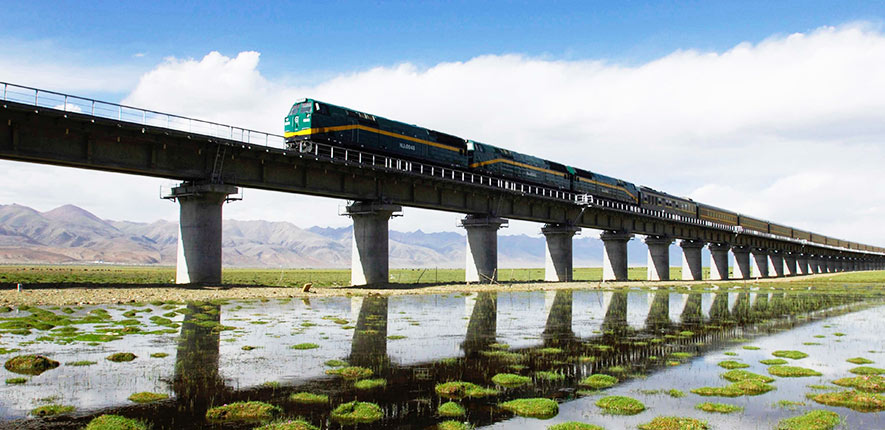 Taking Tibet train to Lhasa
There are several ways that you can get to Tibet. Flights leave daily, from several major airports in China for Lhasa, where you can start your tour to Mount Everest. There are also intermittent flights from Kathmandu, in Nepal, that land in Lhasa. Alternatively, there is the world-famous Tibet Train.
Taking the train to Tibet
The train to Tibet leaves from several locations across China, such as Beijing, Shanghai, Chengdu, Xining, Xi'an, Guangzhou, Chongqing and Lanzhou. However, it is a myth that traveling on the train will help you acclimatize to the altitude on the way. You will still need to spend a couple of days acclimatizing in Lhasa before going anywhere else in Tibet.
For some, flying to Tibet is a popular choice, and then taking the train out once the tour is over, while others like to take the train both ways, to get a longer time seeing the amazing sights of the region.
The train to Lhasa from China takes between one and four days, depending on where you come from, and the views of the countryside through China, as well as the climb up to the Tibetan plateau and over the highest railway pass in the world, make the trip very worthwhile.
Traveling to Everest
Once you reach Lhasa, visitors normally spend around two days acclimatizing to the high altitude, before traveling across the region to Mount Everest. However, you time is not wasted sitting in the hotel acclimatizing.
Lhasa has hundreds of beautiful religious and cultural sites for travelers, and though you may not get to see them all (that would take weeks, or even months!), you have the chance to spend your time in Lhasa visiting the most spectacular sites of Tibetan Buddhism and culture.
Travel from Lhasa to Mount Everest is normally done by road, since there are several amazing sights that you can see along the way. The total driving time is around 14 hours, which is split into several shorter journeys.
The run from Lhasa to Shigatse takes around six hours, and you will visit sites along the way, as well as seeing some of the sights of Shigatse, such as Yamdrok Lake, Karola Glacier, and Pelkor Monastery.
From Shigatse to Tingri is a journey that normally takes around four hours, and on the way you will get your first, distant view of the mighty Mount Everest.
The journey to Mount Everest Base Camp is shorter, and concludes with your tour of EBC, and the chance to take photos of this massive peak.
There is an option of taking the train to Shigatse from Lhasa, and then driving, with your guide, to EBC from there. The train to Shigatse takes around three hours, but does not give the opportunity to visit sites along the way.
Where to Stay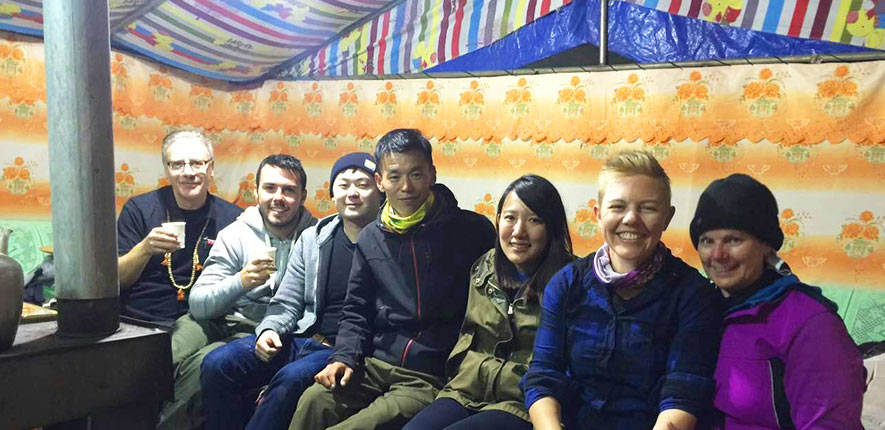 Tenthouse
Well, the accommodation options for EBC tour in Tibet and Nepal vary a lot, largely due to the distinct topography and road condition.
Places to stay from Lhasa to EBC in Tibet
To reach EBC, to the majority of tourists you need to move westward from Lhasa and pass Gyantse , Shigatse and Tingri and reach Rongbuk Monastery and finally trek 4km to the camping site of EBC.
For the first part of the journey from Lhasa to Shigatse, you are expected to stay in standard 3-4 star hotels, with comfortable rooms, clean bed sheet and, hot water for shower, and air conditioner. Normally, these hotels will include breakfast for free.
After leaving Shigatse, we will head directly towards EBC. As we move closer the Everest region, the accommodation gets more humble and basic owing to high altitude, and inhospitable environment. In most cases, the tour vehicle will drop you at Rongbuk guesthouse, right next to famous Rongbuk Monastery and you are expected to spend a night there.
It's a perfect place to enjoy the vista of Everest while the facilities are very basic. You get basic hostel style rooms with beds, lots of bedding and an electric blanket. There is no shower, no sink, no heating and only communal squat toilet is available. You will eat around a central stove with other travelers, for noodle soup, egg fried rice, yak meat, veg, etc. Though looking very humble, the stunning view of Everest seen here will give you a lifetime experience.
Places to stay from Kathmandu to EBC in Nepal
Unlike Tibet, the accommodation facilities for EBC tour are well-developed in Nepal. Owing to unique terrain, normally tourists need to fly from Kathmandu to Lukla and trek all the way to EBC.
You will be amazed at the comparative luxury that you can have when trekking in Nepal. From dome tents with mattresses on the ground and dining tables for dinner to the tea lodges that are an integral part of Nepal trekking, there are plenty of places to stay when trekking around the region.
The initial part of the trek from Lukla to famous Sherpa village in Namche Bazaar, in many cases, you can enjoy find lovely cafes and drink the coffee while enjoying the epic Himalayan view. From Namche up, the prices start to get higher and the accommodations more basic.
As you ascend and get closer to EBC, you will stay in tea lodge and villages and tent hotels, offering basic food and shelter for the EBC trekkers.
What about Packing for an EBC Tour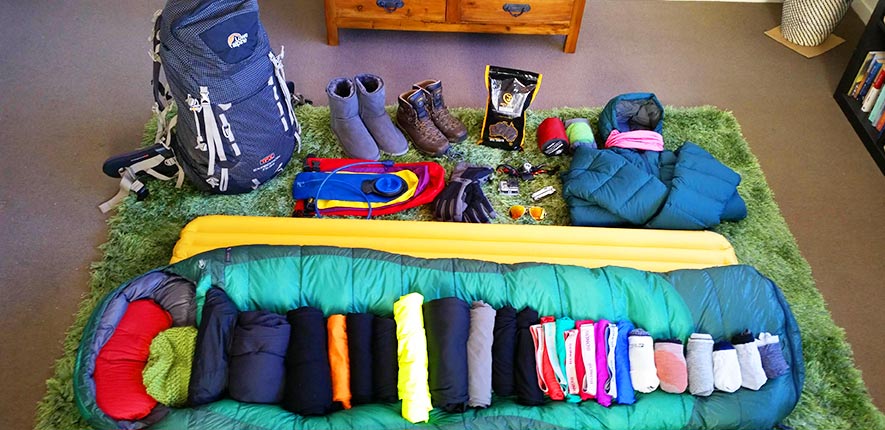 EBC Tour Packages
There are several things to remember when planning a tour of Tibet, and especially EBC. And packing requirements are important. As well as warm clothes, strong rugged boots, warm gloves, and a decent fleece or down hat, we recommend you pack the following, to make your trip easier:
Sun Cream - The sun in Tibet is stronger than people realize, and has a higher UV content than at sea level, so sun cream is a necessity.
Sunglasses or Snow Glasses – The UV intensity is strong at these altitudes, so sunglasses can protect your eyes from harmful ultraviolet light as well as snow blindness in the high mountains.
Lip Balm and Moisturizer – The dry, cold climate of Tibet can easily damage your lips and skin, so moisturizing and using lip balm will help protect you better.
Down Jacket – Nights can get very cold at EBC, and down jackets are the best for keeping in body heat at high altitudes. If you are camping, an arctic-rated sleeping bag is a necessary.
Spare Batteries – EBC does not have a good electricity supply, so bringing spare batteries will make sure you can take as many photos as you want, and your camera never dies.
Food – If you are not used to local food, then bringing some with you is a good idea. Dried and packaged foods are best, and hot water for cup noodles and such is easily available in most places.
Medicines – Aside from any medication you need to take normally, we recommend that you speak to your doctor before leaving to discuss altitude sickness medication, which can help to prevent and treat the symptoms of Acute Mountain Sickness (AMS).
Our typical eight-day tour to EBC consists of two days acclimatization and sightseeing in Lhasa, a full day traveling to Shigatse with sightseeing along the way, another day acclimatizing at Rongbuk, two days for EBC and back to Lhasa, and the Lhasa arrival and departure days.
How Long Is Needed to Visit Mount Everest?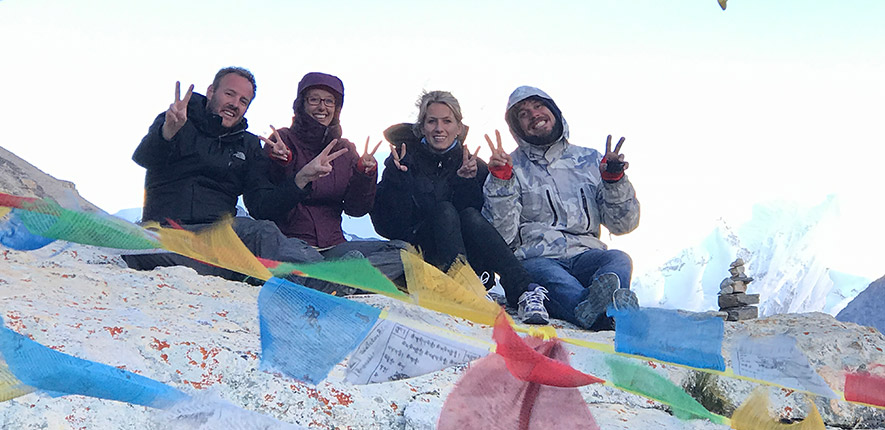 Typically, to travel from Lhasa to north EBC in Tibet covers 1340km and normally it takes around 8 days, both there and back. We recommend at least 2-3 days in Lhasa acclimatizing. The scenic tour incorporates travelling to major Tibetan town and city like Gyantse and Shigatse and your guide will need to obtain your Alien Travel Permit to allow you to travel to EBC.
We also recommend at least one full day for the visit to EBC itself, and many people camp overnight at the site or stay in the EBC tent guest houses that are set up by local Tibetan entrepreneurs, to give visitors a sense of what it is like to live in a typical Tibetan home.
Whereas in Nepal, due to the different topography, it's a completely different picture. Typically, tourists need to firstly fly from Kathmandu to Lukla and trek steadily to south EBC.
The total distance from Lukla to EBC and back is around 130km and around 14 to 17 days are needed for a typical trek (entire tour). Of course, the actual days of travel vary based on your team leaders and your acclimatization.
More Things to Know before Your Mount Everest Tour
Mount Everest Fact

Everest Base Camp Trip Cost

Everest Base Camp Travel Map

Restaurant and Dining

More Travel Tips in General

Mt Everest Tour for Kids and Elderly
Recommended Everest Base Camp Tour Packages