How to Budget Your Cost for EBC Trek in Nepal?
Nepal is one of the cheapest places in the world to trek in the mountains, but budgeting for your EBC trek is an important part of the preparations. One thing you do not want to do is run out of money before you run out of trek. Budgeting properly, and making sure you have allowed a little something for emergencies – or even for those little knick-knacks you discover in the small shop that your aunty would love - can mean the difference between an enjoyable trek and an absolute disaster.
Cost for visa and permit
Tourist visas to Nepal are relatively easy to obtain, and can be done before you leave your home country, at the local Nepal Embassy, online over the embassy website, or when you arrive in Nepal, at Kathmandu Airport. This is known as visa-on-arrival, and is a useful way to obtain the visa for someone traveling around many different countries. However, this is not available for everyone, so check the requirements on the Nepalese Embassy website to make sure your country is on the approved list. The standard 30-day tourist visa costs US$40, and is a single entry visa. They are valid for three months from the date of approval, and can be extended while in the country for up to 150 days.
Currently, visa-on-arrival is only available at the land border crossings in seven points along the border, which are:
Kakarvitta, Jhapa (Eastern Nepal)
Birganj, Parsa (Central Nepal)
Kodari, Sindhupalchowk (Northern Border)
Belahia, Bhairahawa (Sunauli)
Jamunaha, Nepalgunj (Banke, Mid Western Nepal)
Mohana, Dhangadhi (Kailali, Far Western Nepal)
Gaddachauki, Mahendranagar (Kanchanpur, Far Western Nepal)
A trekking permit is required to trek in any part of Nepal. If you want to trek two areas, you will need two permits. Each permit requires details for the route and region. Police check points are set up in some areas so do not venture off the set route. The most important requirement here is the TIMS Card. For safety, all trekkers in Nepal must acquire the Trekkers Information Management Systems (TIMS) Card before trekking. The TIMS Card is mandatory to ensure the safety and security of trekkers in the general trekking areas, and requires a copy of your passport, a passport-sized photograph, and the standard fee of US$20 per person, per trekking area.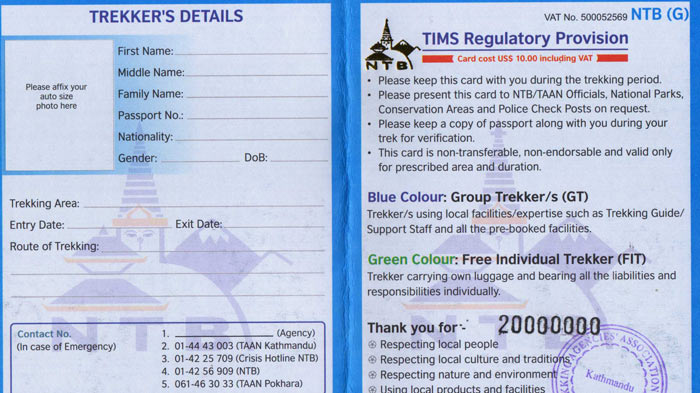 TIMS Card
A permit is also needed for the Everest area, which costs US$34 per person, and requires a photograph. Both TIMS and permit can be obtained at the tourist office in Kathmandu, which is just a short walk from Thamel, and is open six days a week until 2pm for the permit and 5pm for the TIMS Card. Processing normally takes around ten minutes for each, but if you do not have time in Kathmandu, you can also obtain both TIMS Card and permit in Monjo, on the route from Lukla to Namche Bazaar.
Cost for flight
While there are several dozen airports in Nepal, only one has the capacity to accept international flights from cross-continental locations. Moreover, this airport only accepts flights from certain international destinations, which means visitors from some countries will need to take connecting flights to get to Nepal. The best way to find out your optimum flight details is to search online for the best flights and prices.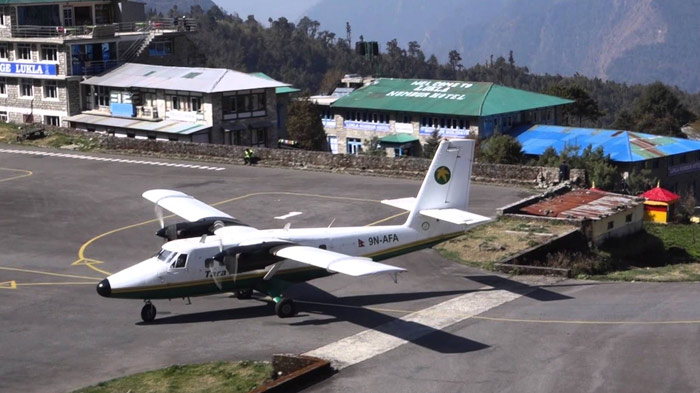 Lukla Airport
Flights from Kathmandu to Lukla, the start of the EBC trek, run every day, in the mornings, with scheduled flights leaving between 9:00am and 11:00 am. The flight takes around 30-40 minutes, and the cost of the flight is around US$ 177. This price does not change between high and low seasons, which means there is really no saving by flying there off-peak. There is also no first, business, and economy class on the flights, as all seats are the same class, and there is a 10kg baggage limit per person, which cannot be increased due to the limited size of the aircraft. Lukla is Nepal's busiest domestic airport, and in the peak season, the airlines operate over 50 flights a day through the airport.
>> Read more about Lukla Airport You Must Use for EBC Trek in Nepal
Cost for insurance
Insurance is a requirement for trekking in Nepal. No one want to have an accident while they are traveling, however, it happens when you least expect. There is always an element of risk when trekking in the mountains, so the policy should cover for any accidents and when an emergency helicopter evacuation is needed. A helicopter evacuation for someone not covered by insurance costs around US$5,000, a fee that few trekkers can afford.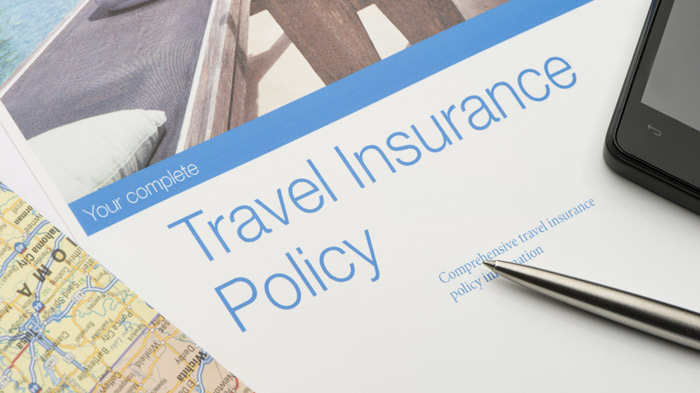 Insurance is a requirement for trekking in Nepal
Prices for insurance can vary from company to company, and depends on the cover you require, the activities you will be partaking in, and your overall general health at the time of the policy. On average, a 30-day insurance policy is likely to cost around $150, and covers all of the standard emergencies and requirements, as well as cover you for trekking up to 6,000m.
Cost for trekking gear (hire or buy yourself)
The cost of equipment needed for the trek is highly variable and largely depends on how much of it you already own and if you want to hire or buy the rest. The basics that you will need to bring include a cold weather sleeping bag, thermal clothing, hiking boots, trekking poles, a backpack and duffle bag, a warm waterproof jacket, gloves, sunglasses, a peak cap, and a beanie.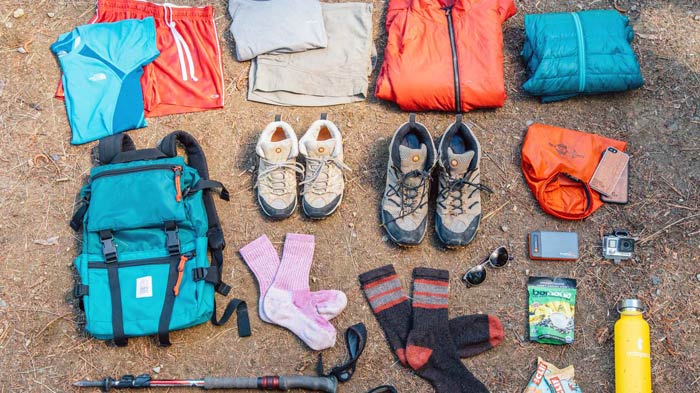 Nepal EBC Trekking Gears
Buying the full list of equipment from scratch will set you back as much as US$2,000 but most people tend to own some or most of the equipment listed so the cost tends to be a few hundred dollars instead. It is recommended that you use good quality, worn-in shoes and comfortable clothing, as there is nothing worse than getting blisters and sores on day 1 of the trek.
Travel independently or travel with a group
There are pros and cons for both sides of this consideration, and it really depends on what you want from your trek. When you travel independently, you are not restricted in what you do or how fast and slow you travel. There are no other people to distract you from what you want to see, and trekking independently has a spiritual quality all of its own.
Conversely, much can be said for traveling with a group. You have company along the trail, and people to talk to, which, if you are a very social person, is better than trekking alone or with just a guide. The costs of the guide and porters can be shared between the group, making your overall costs cheaper, and some lodges give discounts for large groups staying overnight. Ideally, it is all about weighing up your options and what you want, and deciding from there.
>> Read more about Guide to Solo Trek to Everest Base Camp in Nepal
Cost for lodges and dining
The cost of lodges and food on the trail to EBC does vary from lodge to lodge, though not normally by much. The main difference in prices is the lower lodges compared to the higher lodges. The higher you get, the more it costs. On average, most people budget on around US$25-US$30 per day, to cover all the food and lodging expenses.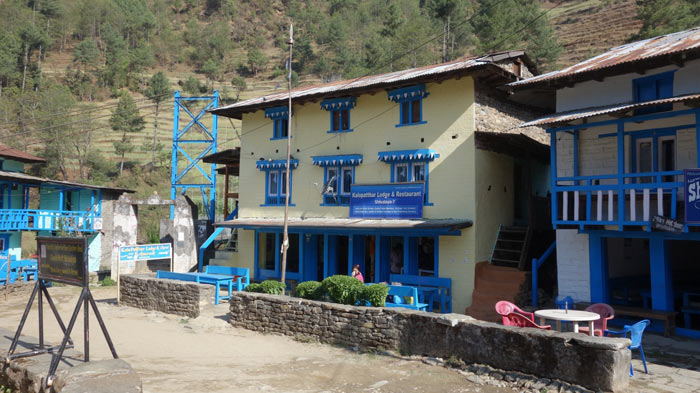 Lodges
Obviously, everyone's spending habits are different, and it depends a lot on the things you decide you want to pay for, but once you get past Namche Bazaar, there is very little to spend on except the lodges and food.
>> Read more about Accommodation and Dining during EBC Trek in Nepal
Cost for hiring a Sherpa porter or guide
There are various reasons both to hire a guide and/or porter, or not to, for virtually any trekker. While the standard route to Everest Base Camp (EBC) is generally easy to navigate without a guide, people do get evacuated due to altitude sickness relatively often, and it is easy enough to get lost if you venture off of the main trail when going via the passes or to a smaller town.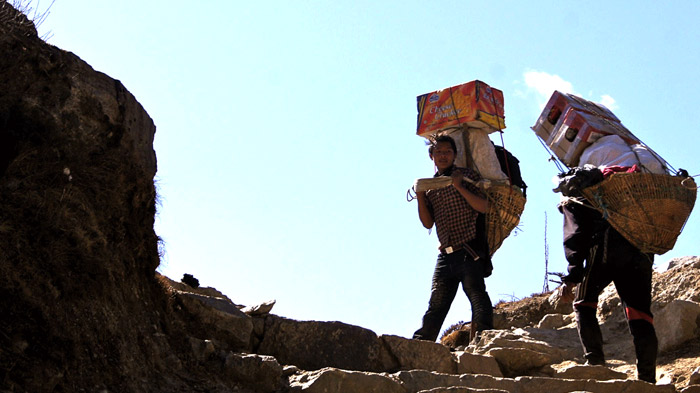 It is a goood idea to hire a porter
The cost of porters and guides does vary depending on where you hire them. Many guides operate out of Kathmandu, while some operate out of Lukla, which is a pretty hit and miss thing to rely on. Even in the low season, Lukla guides can be fully booked. The disadvantage of hiring guides in Kathmandu is that you will have to pay for their return flight to Lukla, although for them it is half price each way. A good licensed guide costs around US$25 per day, which includes his food, lodging and insurance. For a guide/porter you can expect to pay around US$20 per day, including food, lodging, and insurance, and for a porter alone, around US$15 per day. Porters can be more easily hired at Lukla, so you can save the cost of air fare for the porter by hiring them there.
Join-in Nepal Everest Base Camp Trekking Tours
Tips for budget trekker and family trekkers
1. It is not the scary, daunting experience that people imagine it to be. Trekking to EBC is actually a lot of fun and can even be done as a family, although small children are not recommended.
2. Make sure you bring your money in cash, as there are few ATMs after you leave Kathmandu, and even those rarely have cash in them. Take a mix of dollars and Nepali rupees, as some things will be paid for in rupees and others in dollars.
3. For those people who love to drink tea, bring your own tea bags. Tea on the trail is expensive, while hot water is cheap. If you plan on drinking a lot of tea, then BYO is the way to go.
4. You can buy used trekking equipment in some of the shops in Thamel, Kathmandu, which has only been used by someone who bought new, and returned for a lower price after they had finished. If you do buy any second hand gear, it is not returnable, so unless you are taking it home, you could always give it to the guides and porters when you are done. They would appreciate it.
5. Potato chips and chocolate are expensive, and having your own little stash for treats is a good idea. Sometimes when the altitude gets to you, the only thing that feels good going down is chocolate. It is a good idea to have some with you, and you can buy it fairly cheaply in Kathmandu.
6. Bring a water purifier or purification tablets – you can help save the environment and your wallet. Just fill water as you go for free and purify it yourself. Make sure that the streams of faucets you are getting the water from is clear, before you purify it.
7. Keep batteries close to your body at all times, and sleep with them in your sleeping bags. Charging batteries is very expensive on the mountain (almost US$5 per hour), and the cold drains batteries quickly. You can extend their life by keeping them warm.
Recommended Nepal Everest Base Camp Tour Packages