Things You Must Know for Everest Base Camp Trek in Nepal
Nepal, the land of enigma and charm and variety, provides scopes for a number of interesting treks. There are various different exquisite trekking sites in Nepal like the famous Annapurna Circuit Trek, Langtang Valley Trek, Annapuran Base camp trek, Kanchenjunga base Camp trek and other such exotic trekking sites.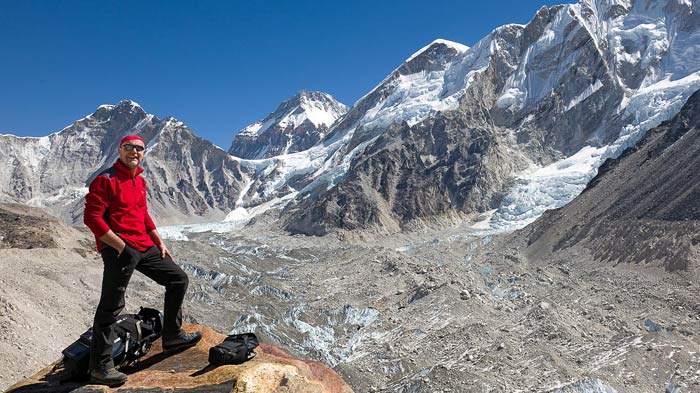 Visiting Everest Base Camp from Nepal side
However, surpassing all these, you are going to have the famous Everest Base Camp trek which is sure going to give you a mesmeric lifetime experience. Though Everest can be scaled by the efficient and professional hikers only, the trekking to Everest base Camp is usually done by the normal tourists only. Although much precaution is required to be taken, trekking up to Everest Base Camp requires no professional efficiency. Therefore the beauty of the entire route and the mesmeric charm is a great positivity to indulge in the trekking to EBC. In this article, we are going to discuss about the basic information that you must know about trekking to EBC.
Different Trekking Routes of EBC trek
Conventional Path to EBC
There are many different ways to trek to EBC in Nepal. The one is the conventional path that includes trekking from Lukla via Nemche Bazaar, Dingboche and directly to EBC. The whole journey will involve your flight journey to Kathmandu and then from Kathmandu, take a flight to Lukla. Then from Lukla, your actual trekking will start.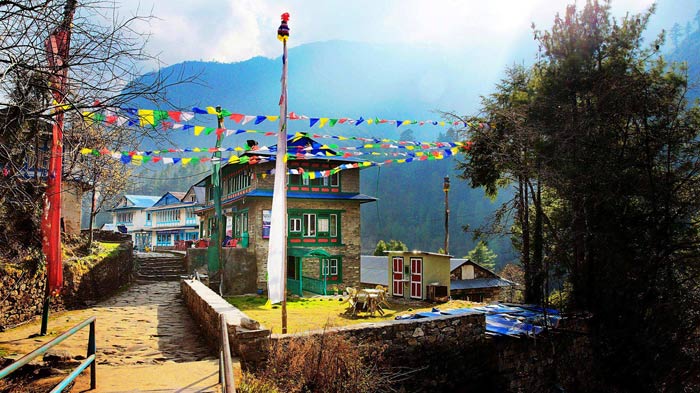 Lukla, the starting point of EBC trekking in Nepal
Day 1 Lukla - Phakding
Lukla to Phakding trekking is required to be done. The path has few ascents and descents but the scenery is mesmerizing. It consists mostly of arid brown mountainous regions and several bridges. There is an exclusive Himalayan stargate and other scenic views like Mani stones where the mantras are chanted carved so that the travelers can indulge in a happy journey. Several villages and crowded towns will fall on the way. You can sit there and enjoy the delicacies. As Lukla to Phakding has got many ascents and descents, porters might be needed for the trek. It takes almost three hours to reach Phakding from Lukla.
Day 2 Phakding - Namche Bazaar
The journey next day consists of Phakding to Namche Bazaar. This journey takes place along the valley of Dudh Kosi river. The path is very beautiful with two minor ascends and descends. The trek takes a total of one and a half hour to get completed with little problems. Here the documents are checked very minutely. The trek will gift you with some iconic views like the swaying Bridge. The altitude changes from 2652 to 3440m.
After trekking for some time, we will come across the entrance of the Namche Bazaar. The Bazaar is an orderly town consisting of many markets. Also there are several museums that you can take a look at while you stay at Nemche Bazaar for acclimatization. The view of the Everest that is obtained from Namche Bazaar is just breathtaking. In Namche Bazaar, during the trek from Phakding to Namche Bazaar, you will need a porter to take your luggage as the ascent is quite high and the change in altitude is quite intense.
Day 3 Namche Bazaar - Tengboche
The next day, the trek involves from Namche Bazaar to Tengboche. After walking comfortably for one hour, you will come across Shanasa. Then after a walk of five hours altogether, you will get to your destination. The altitude changes from 3440 to 3867m. The path usually traverses through Khunde and Khumjung. The way will provide you with one of the most magnificent views of Ama Dablam.
There on reaching you will also find the magnificent Tengboche Monastery. You will see the trails of hadas tied in the line from the top of the monastery to the ends of the road. The change in the altitude is not much but the ascent is quite steep. Therefore do positively take amends for such an exhausting trek. Rest every now and then and keep your body hydrated.
Day 4 Tengboche - Dingboche
The following day's journey involves trek from Tengboche to Dingboche. The altitude of the place is 4410m. The walk from here is up-hill for most of the time. The difficulty however is not that much. The total trekking time required is about 3 hours and 30 minutes. The place of Dingboche is mostly snow-covered and also the trekking lanes are muddy and slippery. You have to be very careful while trekking along this path. However from Tengboche, there are more elaborate ways to travel to Dingboche. Majority of the people usually travel from Tengboche to Pheriche. It is also needed to spend a day at Pheriche in order to acclimatize your body.
Day 5 Pheriche - Duglha
Then from Pheriche, they travel towards Duglha. This trekking time required is about 3 hours and thirty minutes. The altitude changes from 4730m to 4620m. Duglha is a small village that provides a very clear view of the Himalayan ranges.
Day 6 Duglha - Lobuche - Gorakshep - Everest Base Camp
From Duglha we will trek towards Lobuche finally and then from Lobuche to Everest Base Camp via Gorakshep. The vicinity of Gorakshep is nothing but laked bed that has been frozen and that has been covered with sand. The elevation while trekking from Lobuche to Gorakshep changes from 4920m to 5140m. It takes about 3 hours in total to reach Gorakshep from Lobuche. Even though the climb is not steep, the high elevation will most probably affect the health of the person. The vicinity of Gorakshep is totally arid. No trace of greenery can be observed in this area.
From Gorakshep, the next day, you have to travel towards Kala Patthar. Kala Patthar summit, having an elevation of 5644m is considered to be one of the most interesting scaling points in the Everest Base Camp trek. The mountain is entirely black in colour from where it has got its name of Kala Patthar or the black stone. You will also get a very clear view of the Mount Everest from this point.
Day 7 Lobuche - Dingboche - Lukla
The return journey then comprises of Lobuche to Dingboche and then finally from Dingboche to Lukla. Lukla is a very small Sherpa village that has grown to be the popular destination for the trekkers. A number of flights depart from Lukla and travel to Kathmandu. A number of such flights at variable timings, so booking flights will not be a problem at all.
Other Alternative Trekking Routes
Except for this most common trek route, there is also another trek route present. In that route also, there are two alternatives - either to fly from Kathmandu to Lukla or to Phaplu airport. Or you can also take a drive to Jiri. From Jiri, you have to trek to Shivalaya, the altitude is at 1900m. Then from Shivalaya, you have to trek to Bhandar, standing at an altitude of 2150m.
Then from Bhandar, again you have to trek to Sete on the next day. Sete is located at an altitude of 2500m. From Sete you have to trek to Junbesni which is located at an altitude of 2650m. From Junbensi, situated at an altitude of 2650 again start trekking to Nunthala, located at an altitude of 2300m. From Nunthala, start trekking to Bupsa at an altitude of 2400m and then again to Cheplung at an altitude of 2700m.
From Cheplung you can go to Namche bazaar and then follow the traditional trekking path as has been stated earlier. Also there is a village known as Monju which is considered to be the entrance to the famous Sagarmatha National Park. Once you are close to Sagarmatha National Park, you come closer to the Everest Base Camp. Thus you can also avail this village. Remember to produce your passport properly.
>> Know more details on Different Trekking Routes to EBC from Lukla
Best Time for EBC Trek in Nepal
Winter is not at all the perfect time to do trekking, especially in the Everest Base Camp, situated as high as 5363m. The road remains slippery, there are many inaccessible points and also the vision does not remain clear. Moreover the atmosphere becomes biting cold. Therefore winter is not at all the perfect time to indulge in this trekking. You can no doubt do the trekking but the end result in winter will not be as fruitful as in the peak season.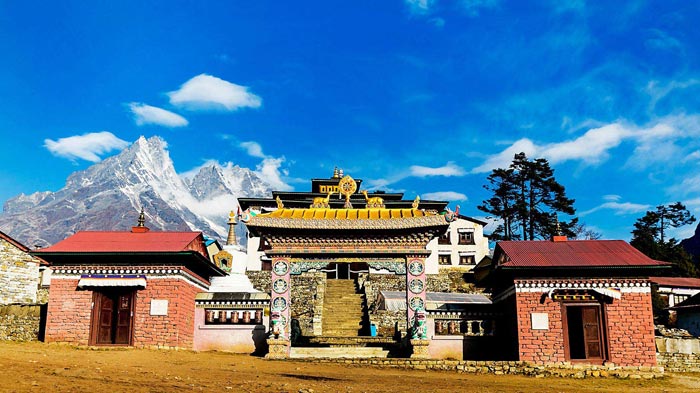 Trek towards EBC from Tengboche Monastery under great sunshine
The peak season for trekking to Everest Base Camp in Nepal is thus considered to be between mid Februarys to the end of March. Also on April, September and October, the trek is plausible to carry out. During this time of the year, the weather remains perfectly clear, the visibility of the entire Mount Everest is the highest and there is easy accessibility in all directions. Moreover the weather remains comfortable and more or less predictable. Hence this is the best time to indulge in a trek like Everest Base Camp.
>> Know more details on Best Time to Enjoy EBC Trek in Nepal
Travel Documents
Trekking to Everest Base Camp, even though is the most popular tourist experience, is actually quite tough. The high altitude of the place and also the location of the Everest, make it susceptible to a number of official issues. Hence while trekking to Everest Base Camp, you have to remain very careful especially with your documents. The basic documents required for the trek are -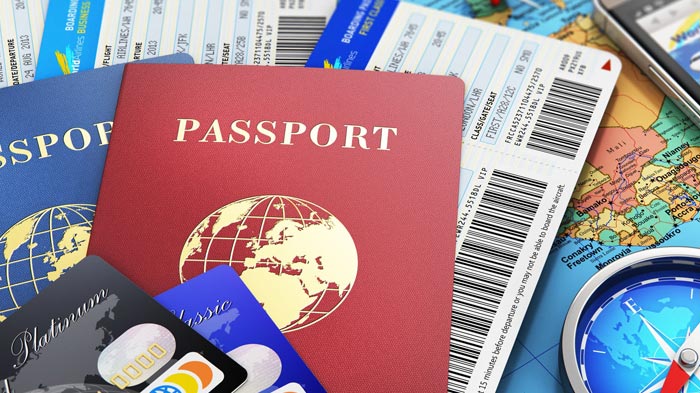 Travel Documents
• The Tourism Visa sanctioned by Nepal Government.
• Passport should always be kept handy.
• The introductory page of the passport should be photocopied and the photocopy should always be carried.
• Except for these, other receipts should be kept handy, like the rental documents, the health check up documents and so on.
Accommodations
Many accommodations are available on this popular trekking route. You will be able to spend the night in any lodgings. Especially, in the Khumbu region on the way, maximum accommodations fall. However the lodges in Khumbu region always accept currencies of Nepal. As a result, you have to be very careful and keep enough Nepalese currencies. Also a number of accommodations are available in Dingboche and the famous tea houses are located in the Base Camp area. The accommodation in the tea houses in the base camp region is very cool and also clean. Even the meals served are hygienic. Thus, accommodations facilities are immense in this particular trek route.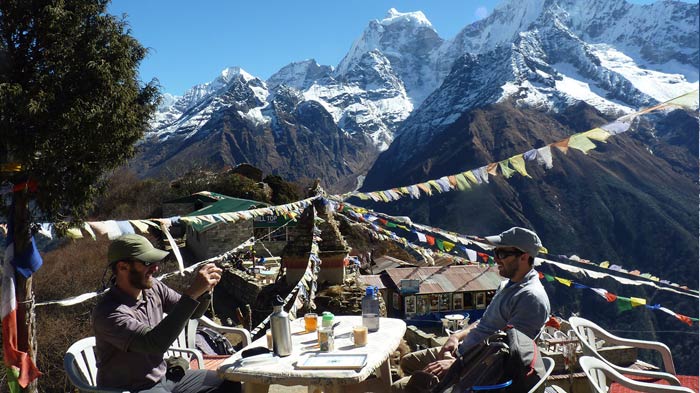 Tea houses
Regarding the dining, the lodges serve wholesome meals at a moderate price. However, if you are skeptical, then better carry your own raw ingredients or dry foods or instant foods like noodles. However the meals served in the tea house is full of variety and is equally clean. They are also wholesome and good in quality. Thus lodging and accommodation have no problem in this trek route.
>> Know more details on Accommodation and Dining during EBC Trek in Nepal
Packing List
Packing should be done carefully and elaborately, especially while you have undertaken a trek as tough as Everest base camp trekking. Therefore a planned packing is also very important. The basic materials required to be packed for this journey are -
• Woolen clothes like jackets and sweatshirts.
• Enough of woolen and cotton socks and scarves. Also take a hat.
• Take sufficient cotton clothes.
• Inner wears should be taken both in cotton and woolen materials.
• Windcheaters and raincoats should also be taken. Flannels are necessary too.
• Personal accessories might include sunglasses, sunscreens, moisturizers and cold creams to keep your chapped skin safe, trekking poles, etc.
• Tissues and enough of wipes.
• Also keep an elaborate first aid kit along with you. Keep all the types of medicines required for your journey.
• Keep packaged water and dry food, especially chocolates with you.
Thus these are the very few important things that must be kept in mind while you are planning for an Everest Base Camp trek in Nepal. The altitude of the place and the whole preparation must be done very carefully. Each and every individual of this earth is requested to plan the Everest base Camp trip at least once in a lifetime. The various places that you are going to witness like the famous Namche Bazaar with its variety, the Khumbu falls, the Sanasa and other such regions are mesmeric. You also have to trek along the beautiful Dudh Kosi river valley that presents you with mesmeric sites. The living, the thrilling experiences of trekking and camping, the marvelous site if Mount Everest basking in the early morning rising sun or the setting sun are just the best aspects needed in a trip to get rejuvenated and to feel blessed in this lifetime.
Join-in Nepal Everest Base Camp Trekking Tours
Recommended Nepal Everest Base Camp Tour Packages