Mt. Everest Base Camp Maps
Mt. Everest (8844.43m), situated in the majestic Himalayas in Asia, proudly dominates the other lofty mountains as the highest summit in the world. Its imposing massiveness stretches from Tibet, China to Nepal, making it the ultimate destination for mountaineering and sightseeing.
Mt. Everest in Tibet and Nepal Map
Since Tibet and Nepal jointly share Mt. Everest, two Everest Base Camps are built separately in Nepal and Tibet, China and both serve as the base camps for organized M. Everest climbing and Mt. Everest sightseeing tours to the majority of tourists.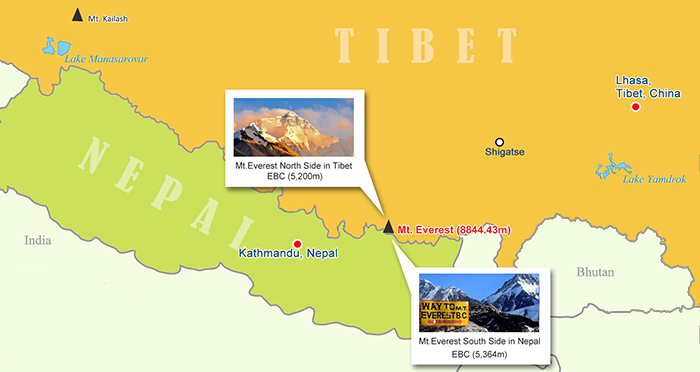 (Simple click to enlarge the map)
Mt. Everest Nepal Tibet Map
North Base Camp in Tibet
Location: Tingri, Shigatse
Altitude: 5200m
Transportation: take tour bus; trek
Travel documents: Tibet Visa (also known as Tibet Travel Permit); Alien's Permit
Best Time to Tour EBC: April to Mid-June; Sept to Nov
View of Mt. Everest: Stunning Panoramic view of the north ridge and entire summit of Mt. Everest
Accommodation: cozy tents run by locals
South Base Camp in Nepal
Location: Sagarmatha National Park
Altitude: 5364m
Transportation: only way in is via trekking
Travel Documents: Passport; Sagarmatha National Park Entry Permit
Best Time to Tour EBC: Oct to Nov
View of Mt. Everest: Can't see the peak of Everest since your sight will be likely blocked by neighboring peaks. However, scenery of Gokyo valley is just incredibly beautiful.
Accommodation: trekking lodge; camping
Lhasa to Mt. Everest Tour Map

(Simple click to enlarge the map)
Lhasa to Everest Base Camp on Map
Touring Tibet from Lhasa all the way to Everest Base Camp has been one of the most popular Tibet tour packages and travel route for overseas tourists. This classic tour route literally entails all the highlighted attractions from capital city Lhasa to Gyantse, and Shigatse where Mt. Everest, the world's summit, lies.
The gradual ascent gives tourists more time to acclimatize to high altitude and enjoy the mind-blowing alpine lakes, intriguing Tibetan customs and mysterious Tibetan Buddhism.
Old Tingri to Everest Base Camp Trekking Map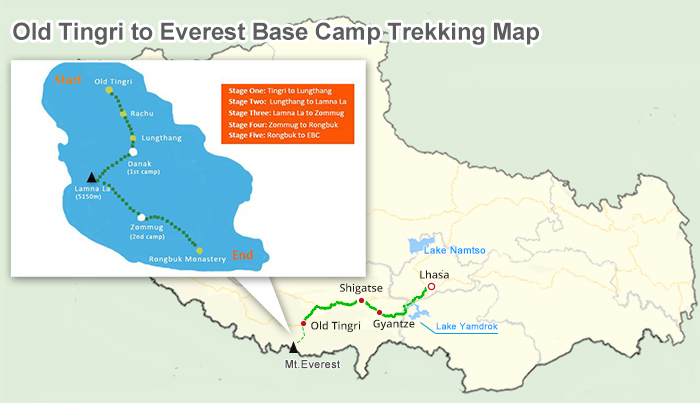 (Simple click to enlarge the map)
Old Tingri to Everest Base Camp Trekking Route on Map
Unlikely the case in Nepal where tourists can only reach Everest Base Camp(5364m) in Sagarmatha National Park through trekking, to tour Everest Base Camp( 5200m) in Tibet, tourists can choose either taking tour bus or trekking.
Physically demanding as it is, trekking from Old Tingri to Everest Base Camp remains a popular choice for many tourists. Not only is it a special way to prove one's toughness but also the oldest and best way to experience the holiness of Tibet.
Nepal Everest Trekking Map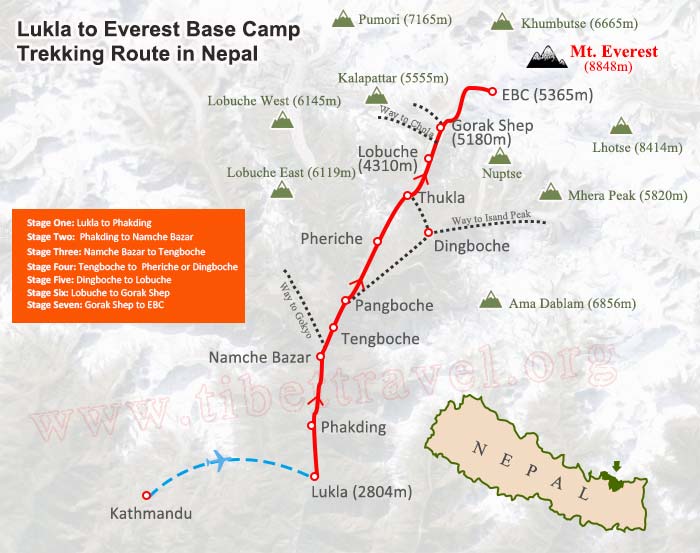 (Simple click to enlarge the map)
Nepal Everest Trekking Route on Map
Believed to be "the kingdom of trekking and outdoor adventure", Nepal is blessed with the finest. And most abundant trekking resources in the world, amid which the classic trekking route from Lukla (2860m) to Everest Base Camp (5364m) promises the best of best trekking experiences in Nepal.
Highlights of Trekking:
a. Tour Historical Kathmandu Valley:
Durbar Square; Pashupatinath; Bouddhanath
b.Enjoy pristine forest, diverse flora and fauna
c.Visit Sherpa village
d.Enjoy the breathtaking view of Lhotse, Ama Dablam, fluted ice walls, Island Peak, etc.
Mt. Everest Climbing Route Map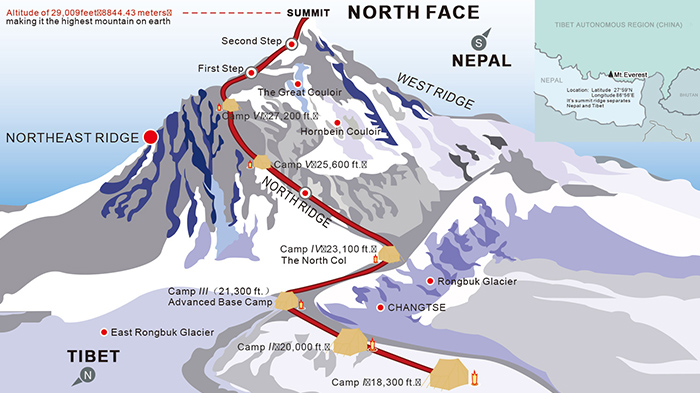 (Simple click to enlarge the map)
Mount Everest North Face on Map
Technically, it's more challenging to summit Mt. Everest via its north ridge from Tibet's side than on Nepal's side. Everest since the first successful ascent by Edmund Hillary and Tenzing Norgay in 1953, over 2 thousand intrepid explorers have made it to the summit of the world from Tibet's side.
How Much Does It Cost to Climb Mount Everest
The average cost to climb Mt. Everest is estimated to be around 30,000 USD to 50,000 USD, including travel cost, travel permit cost and insurance, supply and climbing gears, logistics, Sherpa guide, etc.
How Many People Climb Mount Everest
Tibet Side: 2,580 summits with 106 deaths through August 2015
Nepalese side : 4,421 summits with 176 deaths through August 2015
Climbing Mount Everest Risks
Climbing the world's summit is definitely not a pushover. It involves months of training and preparation and it's often organized by seasoned Everest mountaineering companies or clubs. However, sometimes the tragedy does happen. And most of the death is as a result of avalanche, exposure, fall, acute altitude sickness, ice collapse, exhaustion, lack of experience, etc.
Route to Climb Mount Everest
Base camp: 5200m
Interim camp: 6187m - 5 to 6 hours (first time)
Advanced base camp: 6492m - 6 hours (first time)
North Col or C1: 7000m - 4 to 6 hours (first time)
Camp 2: 7500m - 5 hours
Camp 3: 8300m - 4 to 6 hours
Yellow Band
First Step: 8500m
Mushroom Rock - 8549m - 2 hours from C3
Second Step: 8577m - 1 hour or less
Third Step: 8690m - 1 to 2 hours
Summit Pyramid - 2 hours
Summit: 8844,43m - 1 hour
Return to Camp 3: 7 -8 hours
Return to ABC: 3 hours