Restaurants around Everest Base Camp in Tibetan Side
Eating is the most basic part for any human being to live. People need food to have energy and keep alive. Then, how about eating during your Tibet Everest Base Camp tour? This article will share you some information about the restaurant around Everest Base Camp (EBC).
Restaurant in Rongbuk Monastery near EBC
As for the restaurants, there are mainly two kinds of restaurants here around EBC: one is the restaurant in Rongbuk Monastery, the other is the tent restaurants. And of course, none of them can match those restaurants in other cities or towns at lower altitude in Tibet.
The monastery restaurant is managed by the Rongbuk Monastery which is around 4km away from EBC. It is very small, and serves simple Chinese and Tibetan dishes and drinks, like noodles, rise, milk, fried dishes etc. Besides, there is also a shop selling instant food and canned food etc.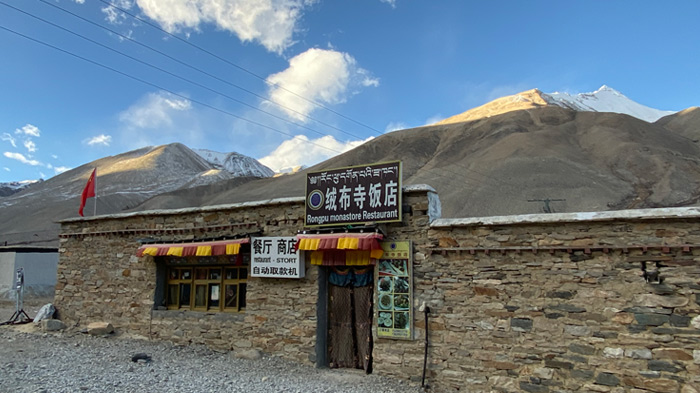 Rongbuk Monastery Restaurant at EBC offers simple Chinese and Tibetan dishes.
Compared to the tent restaurants, the monastery restaurant is big in space and warm. And there are people from all over the world gathering there sitting around a yak-dung burning stove. And if you spend the night in the monastery guesthouse, it is more convenient for you to eat in the monastery restaurant.
Tent Restaurants at EBC
Along the way from Rongbuk Monastery to EBC, there are tent restaurants managed by local Tibetans. Tent restaurant is very small and in fact it's only the small kitchen of a tent. While, the food served are similar to that in the monastery restaurant, which are mainly fried rice and noodles and some other food and dishes.
Green vegetables are very scarce here, and you'd better not expect to have some here. Besides, the prices of the food are much higher than those of other places. As we all know that Mount Everest is the highest mountain in the world and on such high altitude, no crops are able to grow. So the food here is mainly transported from Shigatse.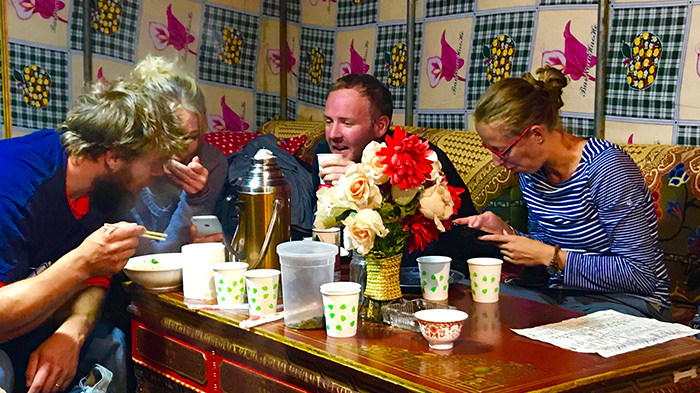 Tent Restaurant at EBC offers basic food.
Recommended Restaurants at Tingri
There is not much to eat around EBC and if you want to eat better, you can go to Tingri County for restaurants there. Tingri is at a lower altitude of about 4300 meters, and is 114 kilometers away from the Everest Base Camp. The road condition is very good all the way, except for the sharp curves on the mountain roads to the Gawula Pass.
Restaurants and eateries are in various kinds at Tingri. Besides traditional Tibetan food, you can also enjoy Sichuan food, Moslem food, Northeast cuisine, etc. There are also tea houses, bars etc. If you choose to stay overnight at Tingri, you are recommended to book Tingri Everest Shanghai Hotel or Tingri Qomolangma Hotel, which offer both good accommodation and dinning.
Tips on Dining around Everest Base Camp
1) It is suggested to pack some instant food in your bag, like self-heating rice, bread, biscuits, and other food that are easily digestible. Instant noodles may not be highly recommended, for it is hard to boil water at EBC of such high attitude.
2) You can also bring some snacks like chocolate, sugar and so on to replenish energy. Whether you travel overland from Lhasa to Everest Base Camp, or trek to Everest Base Camp from Tingri, it can be a quite energy-consuming trip.
Conclusion
There are only two kinds of restaurants around Everest Base Camp in Tibetan side, and the dishes offered are quite basic and simple. But you can also go to Tingri for better food there, or bring some food of your own preference. For more question, just contact us or leave our comments below.
Recommended Everest Base Camp Tour Packages