Hotels along the Way from Lhasa to Everest Base Camp
First of all, it is necessary for you to learn the information about the hotel in Tibet before your visiting. There are vast differences between the hotels in Tibet and those in China mainland. Actually, Lhasa can offer more hotels for different travelers, the hotel facilities are also the best on the way to Everest Base Camp. However, when you leave Lhasa, the more isolated and higher altitude regions you visit, the fewer hotels you can choose. Certainly, the facilities are poorer.
Besides spending in the hotel, guesthouse is another option. But the guesthouse in Tibet is not very comfortable, because there is no bathroom in the room. Meanwhile, you may share your room with other travelers. Also, on the way to Mt. Everest Base Camp, it is very hard to stay in the guesthouse for its extremely poor condition. However, when you appreciate the mighty Mount Everest, your satisfaction is easily worth the initial investment of time and energy. Here we also will offer some hotels for you to choose.
Hotels in Lhasa
It is not difficult to imagine that the facility of hotels in Lhasa must be the best on the way to Everest Base Camp. In order to suit the need of different tourists, here we will list some different standard but recommended hotels for you. If you want to sleep well and have the finances allotted for the tour, 4 to 5-star hotels are the best choice. 4 to 5-star hotels' facility and service are closer to same class hotels in China mainland. Needless to say the comfortable rooms and good breakfast, some 5-star hotels provide more service like Spa, doctor service, etc. Hotels offer heating and 24-hour hot water in winter. At the same time, there are oxygen facilities, which can reduce the risk of altitude sickness to spend the wonderful night in the hotel. However, the heavy dependency on oxygen facility is also inadvisable, after all, the altitude sickness is caused by the quick ascent.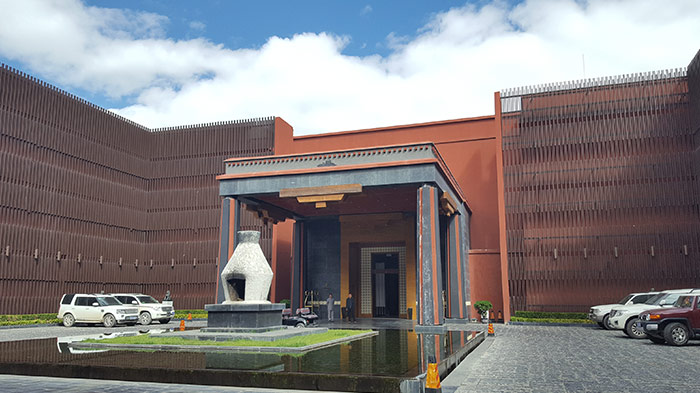 St. Regis Lhasa Resort
Surely, there are some hotels that may a little far from the center of Lhasa, such as Intercontinental Lhasa Paradise, about 7 km to Potala Palace, the hotel does not have the shuttle bus. But it is full of Tibetan charm, especially the restaurant, there is not only a variety of local food, the design is also quite tense, unique architectural style makes it a new landmark in Lhasa. Besides, St. Regis Lhasa Resort is another good option. Actually, we recommend that you stay in this hotel. St. Regis Lhasa Resort is just 3km to the Potala Palace, located at the Barkhor Street. If you stay here, It just takes a 10-minute walk to the Jokhang Temple and 8 minutes to the Potala Palace.
Besides staying in 4 to 5-star hotels, some other 2 - 3-star hotels in Lhasa are alternative options. If you pay more attention to experiencing Tibetan culture and appreciating the beauty of Tibet, Lhasa Shangbala Hotel is quite recommended. Shangbala Hotel is located at the Barkhor Street in Lhasa, east of Jokhang Temple, near the Potala Palace, so its position is superior, wherever you want to visit, it is easy to arrive. The hotel has Chinese and Western restaurants serving authentic Sichuan, Cantonese, and authentic Western dishes. At the same time, the hotel is equipped with many small and Tibetan crafts. Therefore, staying here, you will be surrounded by a great Tibetan atmosphere. More importantly, can you imagine what it is a charming picture when you sit viewing the Potala Palace on the rooftop of Gang-gyan Lhasa Hotel.
If you want to travel on a limited budget, guest houses can be available. Guest Houses at normal standard, have clean dorm beds, sharing showing, simple breakfast, 24 hours hot water, 4-12 dorms a guest room. The front desk can speak English. No heater inside the room in winter. Free Breakfast: Steam bread, Chinese porridge.
Hotels in Gyantse
The hotels in Gyantse are not as good as those of Lhasa, after all, it is a county. As we all know, the remoter place you visit, the fewer hotels you can choose. As a result, you must prepare yourself emotionally to travel in the remote region. The best hotel in Gyantse is Gyantse Hotel which would cost you about 50USD for the room rate. The breakfast is pretty good and quoted 10USD per person. Much warmer than other hotels in winter, hot water is sufficient. Gyangze Hotel is near Gyantse Fortress which is one of the best-preserved Dzongs in Tibet and surrounded by a number of local specialty restaurants.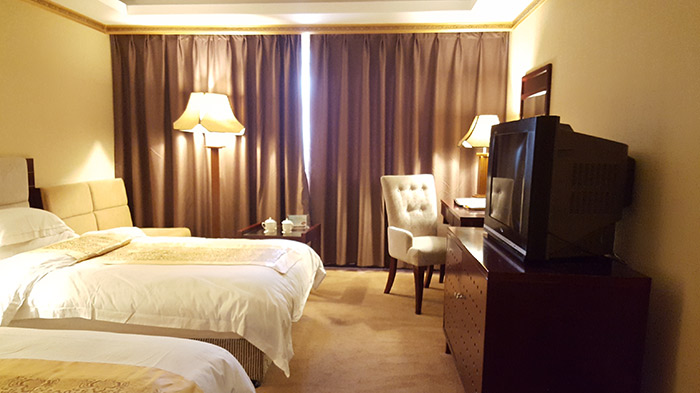 Gyantse Hotel
Certainly, if you want to stay in the guest house, it is easier to get accommodation. Guest Houses are very simple, no shower, Guesthouse offers a thermos bottle of hot water for washing face and hands. Sharing bathroom is necessary. 2-4 dorms in a room. Free Breakfast: Steam bread, Chinese porridge. No heating in winter, bedding is not clean enough, the host can speak some English. We recommend Gyantse Jianzang Hotel.
Hotels in Shigatse
There are more hotels in Shigatse, and the facilities of hotels are much better. Due to enough hotels in Shigatse, you do not need to worry about accommodation. 3 to 4-star hotels can be available, such as Shigatse Manasarovar Hotel, Jiumu Yamei Hotel, Zanglong Grand Hotel, Shigatse Hotel, Shigatse Yak Hotel and so on. The recommended hotels are Shigatse Manasarovar Hotel, Jiumu Yamei Hotel and Shigatse Hotel. Generally, rooms are warm and comfortable in winter, breakfast is fine. Bedding is very clean.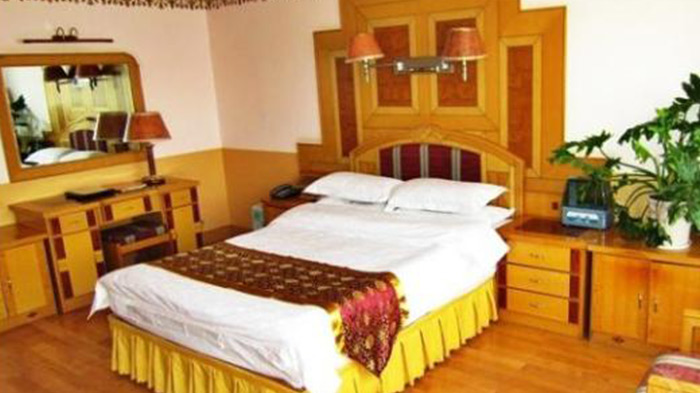 Shigatse Hotel
Manasarovar Hotel is recommended in particular. It is a Tibetan style hotel, all rooms are equipped with air-conditioning, TV and telephone. Located in the city center of Shigatse, it is near the ancient local Tibetan village with its trade market, and it is quite convenient to get to the Tashilumpo monastery. Founded in 1447 by the 1st Dalai Lama, Tashilumpo monastery is a historic and culturally important monastery in Shigatse, the full name in Tibetan of the monastery means "all fortune and happiness gathered here" or "heap of glory". Hence, it is a must-see destination when you travel to Shigatse.
Hotels in Sakya and Lhatse
Lhatse and Sakya are two little towns, there are fewer hotels that can be available. Tourists are keen on staying in Lhatse on the way to EBC or Kathmandu from Lhasa. There are only 2 or 3 hotels. Lhatse Shanghai Grand Hotel is the best accommodation there and owned by Chinese who cannot offer English Service, rooms are not bad. The breakfast is also quite simple. You can buy Chinese porridge and Baozi for breakfast in a small restaurant in the morning. Lhatse Tibetan Farmer Guest House is very popular among foreign travelers, the host is hospitality, hotel offers basic accommodation for tourists and private twin rooms with bathroom.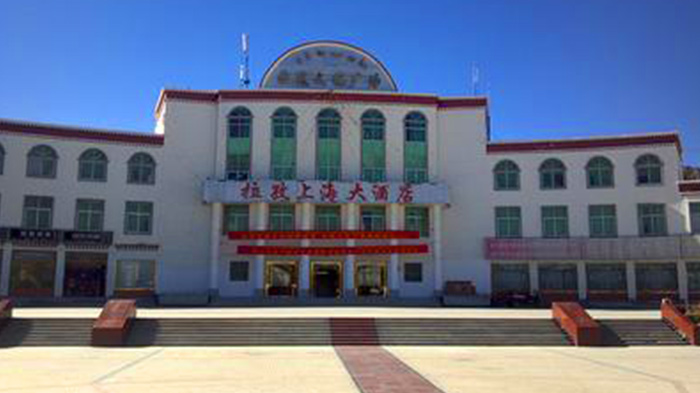 Lhatse Shanghai Grand Hotel
There is only one hotel in Sakya - the Sakya Manasorovar Hotel. If you are interested in Tibetan Monastery, staying in Sakya Monasorovar Hotel is an absolutely good choice. There is a monastery named Sakya Monastery which is next to the hotel. After you have meals, strolling in this monastery can lead you to experience Tibetan Buddhist Culture and help digest food, which really kills two birds with one stone. The people at the reception in the Sakya Manasorovar Hotel can speak simple English, facilities are very simple but private twin rooms are available. The hotel provides hot water and nice breakfast buffet. However, the facilities of Guest Houses in Sakya are very poor, much poor than those of hotels in Gyantse and Shigatse. All these hotels and Guest Houses in Sakya and Latse have no heating in winter, even the hot water supply is not enough. So It is better do not choose to stay in Sakya and Lhatse in winter.
Hotels in New Tingri
New Tingri is also called Shelkar or Shekar which is famous for the Shelkar Chode Monastery, and the early British expeditions to Mount Everest in 1921, 1922 and 1924 all stopped at Shelkar Dzong on their way to the northern side of Everest. Due to about 70km to Everest Base Camp, the facilities are very simple, but private double rooms are available. In this region, don't expect to spend less for a single room. In fact, they are even far more expensive than those in big cities. The hotel provides hot water and nice breakfast buffet but no heating in winter. Here are some recommended hotels, such as Tingri Qomolangma Hotel, Tingri Everest Shanghai Hotel, Snow leopard Hotel. Snow leopard hotel has a very good view of Mt. Everest, it is located in old Tingri, on the way from Everest Base Camp to Nepal Border.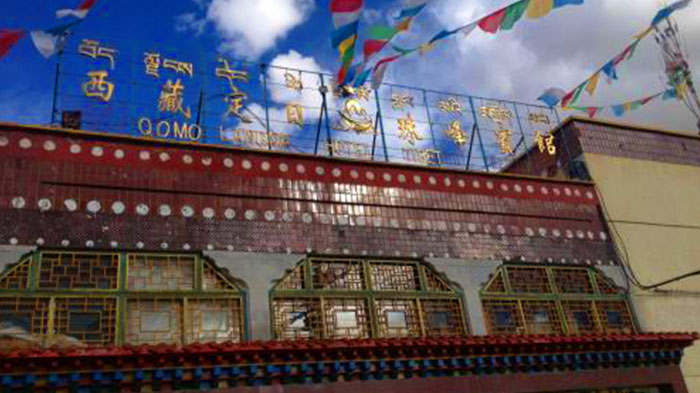 Tingri Everest Shanghai Hotel
Hotels in Rongbuk Monastery and Everest Base Camp
Rongbuk Monastery is a monastery which is 4km away from Everest Base Camp, and also is claimed to be the highest monastery in the world. As a result, there is the choice between Everest Base Camp Tent Guesthouse and Rongpuk Guest House, 2-4 dorms a room in Rongpuk Guest house, the guest house has a restaurant which provides a warm and friendly atmosphere. About tents, 6-12 people share a tent, but it is difficult to choose in summer when the Everest Base Camp is overcrowded. We highly recommend tents because the tents have stoves inside which is warmer than in cold stone rooms.
Accommodations are very primitive, no toilet, no sink area, no electricity but some hot water given by the host. As the accommodations are in the wild, so no special bathroom, you have to relieve yourself in the wild too. Breakfast is simple, like Pan-cake, yak butter tea. The tent hosts offer better breakfast than Rongbuk Guest House. Most of the hosts can speak English.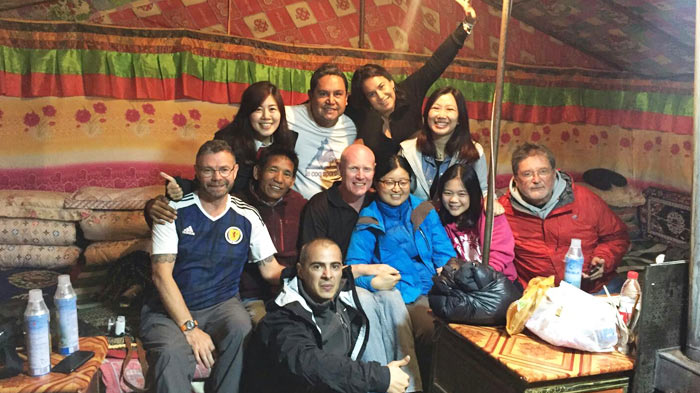 Guesthouse at Everest Base Camp
There is also a hotel called Everest Hotel or Everest View Hotel, it offers twin room but no private bathroom. The bedding is cleaner than the guesthouse, breakfast is in Chinese Style. But the room rate is pretty expensive, 380RMB for a night and two breakfasts. Because it is the only hotel at Rongbuk. As there is no heating system at Rongpuk Area, so the hotel is extremely cold in winter.
Staying Rongbuk Monastery or Everest Base Camp is absolutely an unforgettable experience in one's whole life. Imagine that you sleep with Mount Everest, how wonderful it is! Certainly, you can also view the fog and morning light of Mount Everest while brushing your own teeth. Every coin has two sides, staying such a high altitude region means that the risk of altitude sickness will be increased. But it is not necessary to worry about this, as long as you are accompanied by the local tour guide arranged by us, the only thing what you should do is appreciation.
Recommended Everest Base Camp Tour Packages