The Ultimate Mt Everest Tourist Route Maps
Mt. Everest, the highest peak in the world, stands lofty at the Mahalangur range of the Great Himalayas, exactly on the border line of Nepal and Tibet. The peak is co-owned by China and Nepal, so there are two Everest Base Camps(EBC) located at the opposite sides of the peak respectively, to serve the thousands of tourists and mountaineers coming every year for a Mt. Everest Base Camp tour. Here we provide you a detailed tourist route map to Everest Base Camp from both sides, namely the north side in Tibet and the South side in Nepal.
Mt. Everest's position in Tibet and Nepal Map
The north EBC situates at an altitude of 5200m (17,056ft) in Tibet while the south EBC at 5364m(17,597ft) in Nepal. Tourist would follow two different routes to reach EBC if they come from Tibet or from Nepal.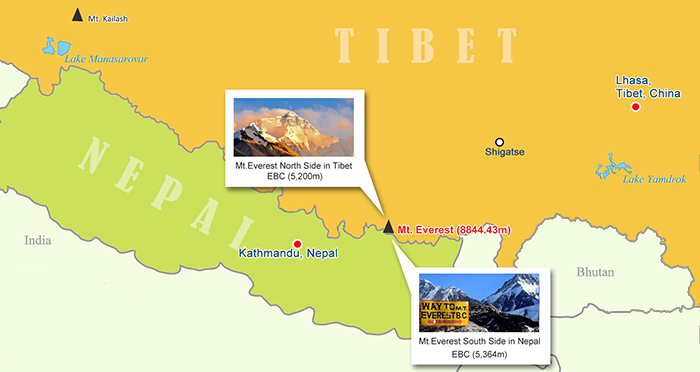 (Simple click to enlarge the map)
Mt. Everest in Nepal and Tibet Map
North Base Camp in Tibet
Location: Tingri, Shigatse
Altitude: 5200m
Transportation: take tour bus; trek
Travel documents: Tibet Visa (also known as Tibet Travel Permit); Alien's Permit
Best Time to Tour EBC: April to Mid-June; Sept to Nov
View of Mt. Everest: Stunning Panoramic view of the north ridge and entire summit of Mt. Everest
Accommodation: cozy tents run by locals
South Base Camp in Nepal
Location: Sagarmatha National Park
Altitude: 5364m
Transportation: only way in is via trekking
Travel Documents: Passport; Sagarmatha National Park Entry Permit
Best Time to Tour EBC: Oct to Nov
View of Mt. Everest: Can't see the peak of Everest since your sight will be likely blocked by neighboring peaks. However, scenery of Gokyo valley is just incredibly beautiful.
Accommodation: trekking lodge; camping

Route map to North EBC from Lhasa by business car
Everest Base Camp in Tibet is located in Qomolangma National Nature Reserve, County Tingri, Shigatse, Tibet. There is no direct flight, train, or bus to Tibet EBC. You need to enter Tibet first usually by way of Lhasa.From Lhasa you can take a chartered car to EBC and it generally takes about 2 days. Our travel agency provides business cars to tourists with experienced local guides who speak fluent English. You can also take a train from Lhasa to Shigatse( about 3 hours) and then take our business car to EBC (about 8 hours). What listed below is the route map from Lhasa to EBC by business car.

(Simple click to enlarge the map)
Lhasa to Everest Base Camp on Map
Our Everest Base Camp Join-in Small Group Tour
Trekking map to Everest Base Camp from Tingri
When you arrive old Tingri(4800m) in Shigatse then the trek to Everest Base Camp begins. This is a classic trekking route among the tourists. The whole trekking route has a distance of 120km and generally lasts for four days. During the trekking, you will pass Lungthang, Lamna La Pass, and Zommug and till Rongbuk Monastery(5154m). And then the remaining trek from Rongbuk Monastery to EBC (5200m) is about 8km. What listed below is the route map from Tingri to EBC.Though trekking at such altitude is physically demanding, many international tourists insist on taking this route as a special way to have a life-time experience and challenge themselves physically.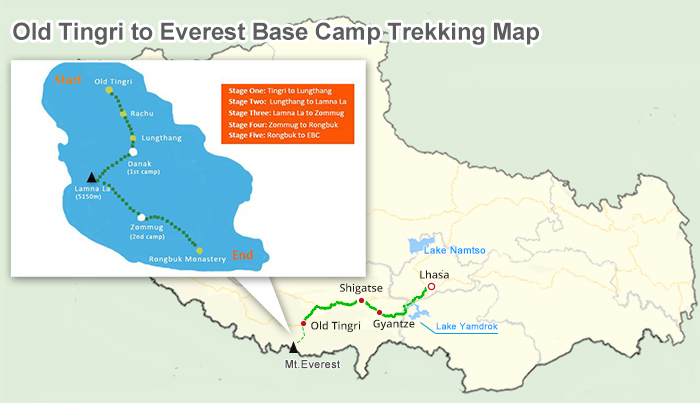 (Simple click to enlarge the map)
Tingri to Everest Base Camp Trekking Route on Map
Trekking map to South EBC from Nepal
South EBC is the south side of Mount Everest, the most popular side for summit ascents. The Nepal side is located within Sagarmatha National Park, containing one of the most popular trekking routes in the Himalayas — the Everest Base Camp trek. Everest Base Camp in Nepal can only be reached through trekking due to the inaccessible topography on Nepal side. However, the route to South EBC offers breathtaking natural beauty to tourists on such a tour. What listed below is the route map from Lukla to EBC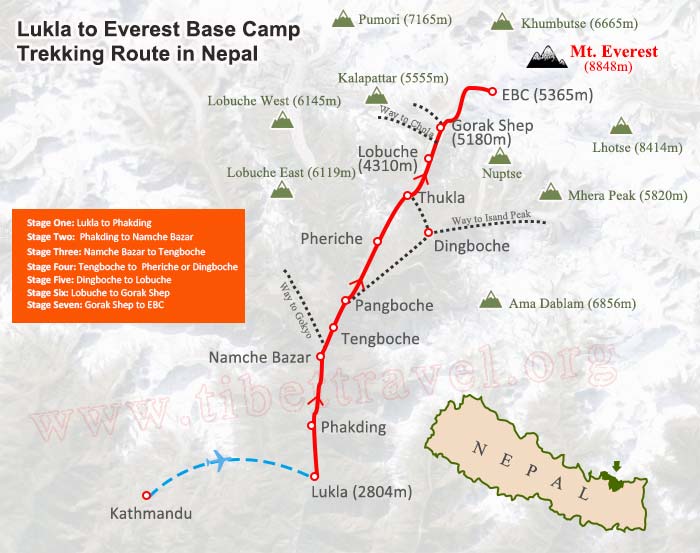 (Simple click to enlarge the map)
Everest Trekking Route from Nepal on Map
Normally, tourists would first fly from Kathmandu to Lukla (2840m) and then trek upwards from Namche Bazaar(f3440m), Tengboche(3860m), Dingboche (4350m), and Gorak Shep(5170m) and finally end up in Everest Base Camp(5364m). The trek normally takes about 12-17 days.
Mt. Everest Climbing Route Map
It's more challenging to scale Mt. Everest via north side from Tibet than from Nepal side. Everest since the first successful ascent by Edmund Hillary and Tenzing Norgay in 1953, over 2 thousand mountaineers have made it to the summit of Mt Everest. What below is a route map to climb Mt Everest for your reference or try. Normally we do not suggest tourist climb the peak if you are not a professional mountain climber. To climb the peak needs years of mountaineering experiences and well equipped, or else it would be very dangerous to challenge the highest peak on earth.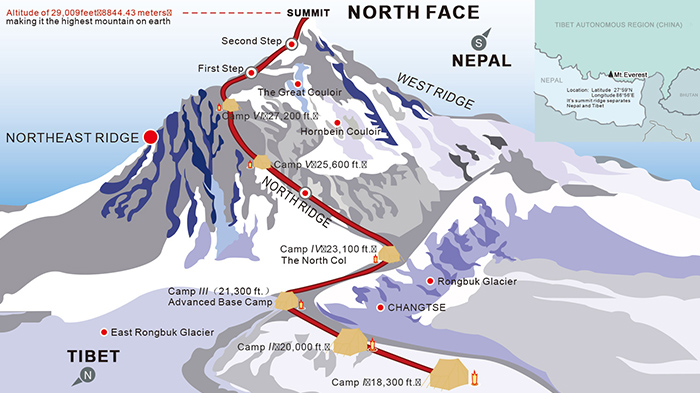 (Simple click to enlarge the map)
Climb Mount Everest On North Side on Map
Route to climb Mt. Everest
Base camp: 5200m
Interim camp: 6187m - 5 to 6 hours (first time)
Advanced base camp: 6492m - 6 hours (first time)
North Col or C1: 7000m - 4 to 6 hours (first time)
Camp 2: 7500m - 5 hours
Camp 3: 8300m - 4 to 6 hours
First Step: 8500m
Mushroom Rock - 8549m - 2 hours from C3
Second Step: 8577m - 1 hour or less
Third Step: 8690m - 1 to 2 hours
Summit Pyramid - 2 hours
Summit: 8844,43m - 1 hour
Return to Camp 3: 7 -8 hours
Return to ABC: 3 hours

Some tips on Mt. Everest climbing
When to go
The best time to climb Mount Everest is in early May before the monsoon. Dry seasons like May, June, September, and October are ideal times to have a tour to Mt. Everest without much rain and cold. Mid October to November is also a proper time to get views of the peak with clear and dry weather. Photographers may prefer April, as it is the best time to shoot the flag-like cloud floating above the peak.

Where to stay
People stay in Dingri before their trip to Mount Everest. Dingri has a 3 hours' car ride to the base camp. Most tourists choose to stay one night or two in Rongbuk Monastery guest house at the foot of Mt. Everest. You could also stay at Rongbuk Monastery Hotel 3 km north of the monastery. Mt. Everest Base Camp consists of some tents and huts. You might consider camping and bring your own tents if you think the sanitation is not so ideal in the lodges around EBC area.
Physical conditions needed
Before you visit Mt. Everest, please make sure that you are in good physical condition. Seek medical advice in advance. If you have asthma, high blood pressure, or similar conditions you are suggested to not take on an Everest tour for safety reasons. Take some physical training to reduce altitude sickness prior to your tour. You could stay in Lhasa (3,650 m) or Shigatse (3,800 m) or Dingri (4,300 m) for several days for acclimatization.

Travel Permits required
To enter Tibet and travel around Tibet, travel permits are needed. Besides a Tibet Entry Permit, an Aliens' Travel Permit is required to travel to Mt. Everest. We could help you get all the permits required if you are a contracted guest of our travel agency.