Tibetan Culture Heritage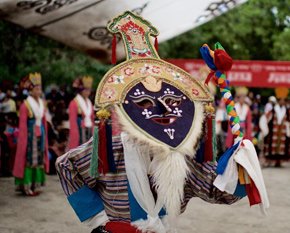 Tibet Opera
Qinghai-Tibet Plateau has long been known as the sea of songs and dances. Tibetans have also been reputed as an excellent ethnic group good at singing and dancing. During Tibetan Festivals, you can encounter all the locals dancing and singing together, whether boys or girls, young or old, men or women. Circle-dance, a typical kind of Tibetan dances, prevails in Tibet Autonomous Region, which is named as Guozhuang Dance in Qamdo, Zhuoxie Dance in Lhasa and Shannan, Duixie Dance in Shigatse.
In addition, Tibetan Opera, Heroic Epic-King Gesar and Tibetan music also draw great attention of tourists at home and abroad.
Just a Reminder
Joining in a small group tour is the very BEST way for solo travelers or traveling Tibet on a budget!
As the Pioneer of Tibet Tourism for global tourists since 1984, TIBET VISTA has been the FIRST TOUR OPERATOR of running join-in group tour business in local and with ability of organizing over 5000 visitors a year. For Tibet Vista's special contribution to Tibet Tourism especially to Mt. Everest Tour, we were the ONLY company awarded by Tibet Tourism Bureau Shigatse "THE EXCELLENT ORGANIZER OF MT. EVEREST TOUR "in 2015.
View our Tibet Small Group Tour