Zhuoxie Dance
Zhuoxie is a kind of public dance with a long-handle oval drum tied to one's waist, popular in Lhasa and rural Shannan areas. While dancing, the drummer will beat the drum with two curved drumsticks. Zhuoxie means song and dance in Tibetan language.
Zhuoxie consists mainly of three parts. The first part is entirely dance. Its slow tempo gradually quickens. The people dance to the drumbeat in changing patterns to express their feelings. Sometimes a special display of skill in beating the drums is given. The drum teams in Nedong County are known for their vigorous beating while shaking their heads. The second part is singing. Holding tall feathers, the troupe, in a semicircle facing the audience, sing songs to express their wishes for a happy occasion. In the third part the performers beat the drums while singing. They conclude the performance with a bow to the audience.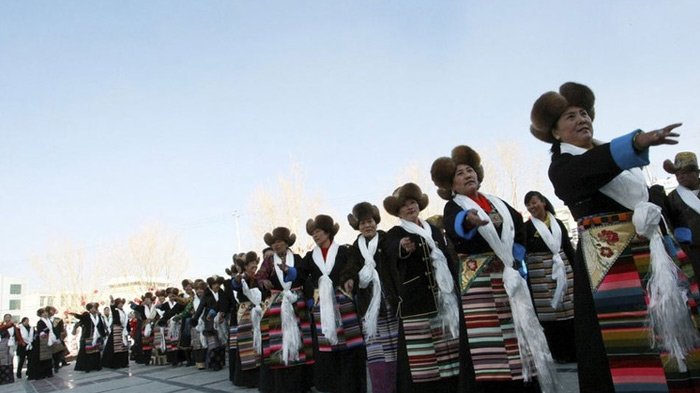 Zhuoxie Dance in Shannan Prefecture
Zhuoxie dance has always been performed at ceremonies of blessing and for entertaining guests. The villages of Nedong, Zalang, Qonggya and Sagya in Shannan region all have waist drum teams of their own. Most of them perform the drum dance. Even numbers of people participate in the dance for the convenience of changing patterns. The leader of the dance, zhuoben, wearing sheepskin and a mask, appears first. Holding tata (coloured arrows), he stands in the centre to conduct the dance and drumbeat. Sometimes he shouts out the drumbeat, "One beat, three beats, five beats, seven beats, nine beats," to coordinate the drumming and dancing.
Zhuoxie does not use any special musical instruments for accompaniment except for small bells fastened to the performers' knees. One version of Zhuoxie depicts the construction of Sagya Monastery: clearing the ground, driving piles, transporting bricks and building with rocks, praying to god for protection, a lion playing with a tiger, setting the pillars and roof beams in place, fixing doors and windows, clearing the dust, welcoming the king to ascend the throne, imitating a walking crow, weaving carpets, and inauguration of the structure to express best wishes to the people.
Zhuoxie became popular in Yalong and the rest parts of Tibet in the 17th century, not only was it performed in the inauguration ceremony for the Sangye temple and recorded but also performed again on the magnificent and glorious wedding ceremony when the Tibet king Songtsen gampo married the princess Wencheng from the Tang empire according to some legends. For more than one thousand years, the dance Zhuoxie has been showing its lasting vitality.