Gyantse Damar Festival
It is said that the Gyantse Damar Festival started as an athletic competition in the 1400s. As the years went by, it became an important inter-village competition. Buddhist worship and other events and festivities were added in. Of course, if a lot of people from various villages get together, they need to eat together peaceably, and they'll have a picnic. They'll also swap merchandise and have a swap meet, and a market will start as people come to try to sell their merchandise.
A Tibetan horseman is picking up Hada on the grassland.
What to See in Gyantse Damar Festival
- Fast running horse competition.
- A well decorated horse.
- Many horsemen with Typical local Ethnic dress up.
- Yak race, wrestling, track and field events, and ball games.
- Tibetan Opera, Tibetan singing and dancing show.
- Hundreds of bussinessmen diplaying the local products.
- Showing different skill during Archery competition.
- Hundreds of Tibetan spectators with typical ethnic dress up.
- You can still observe the ancient butter system there.
- Thousands of foreign visitors and journalists.
- Hundreds of Tibetan tents with full of spectators.
When to Go for Gyantse Damar Festival
Gyantse Damar Festival, also known as Gyantse Horse Racing Festival, is usually held in fourth lunar month of the Tibetan calendar. With most ethnic features, it should be wonderful to make a tour to Tibet in summer.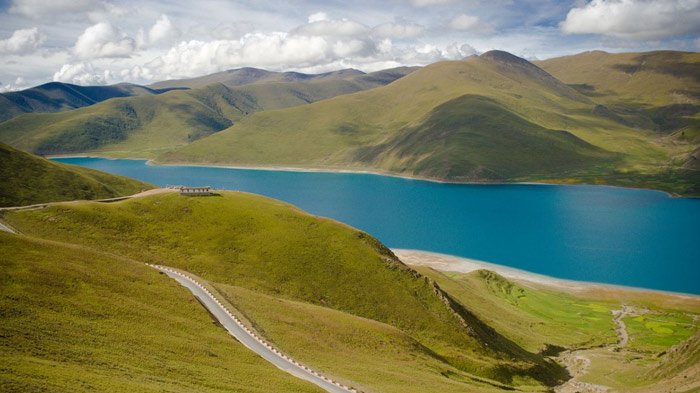 Yamdrok Lake
The town of Gyantse is situated in a valley between high mountains, and compared to the rest of Tibet, more of the traditional way of life continues on there. During summer, the scenery in Gyantse is also amazing. A lot of flowers are blooming on the plain at an altitude of about 4,000 meters. There are also several famous tourist sites in and near Gyantse, like Yamdrok Lake suited by the road from Lhasa to Gyantse, the Kumbum Stupa which is the only Nepalese-style stupa in Tibet, Palkhor Monastery on the northern side of Gyantse, Tashilhunpo Monastery that is the home of the Panchen Lama.
The road condition from Lhasa to Gyantse is very good. Gyantse is about 245 kilometers southwest of Lhasa. If you are interested in making a Gyantse Horse Racing Festival Tour, just let us know. Tibettravel org can arrange Tibet permits, train tickets or air tickets to Tibet, tour guide and vehicles.