Duixie Dance - Tibetan Tap Dance
Duixie is a popular folk dance in rural areas of western Tibet. In Tibetan language, Dui means "upper" or "highland", referring to the round dance popular in rural areas of Ngamring, Dingri, Lhatse, and Sagya counties at Shigatse Prefecture on the upper reaches of the Yarlung Zangbo River, while Xie means "songs." Therefore, Duixie actually means a performance by dancing and singing.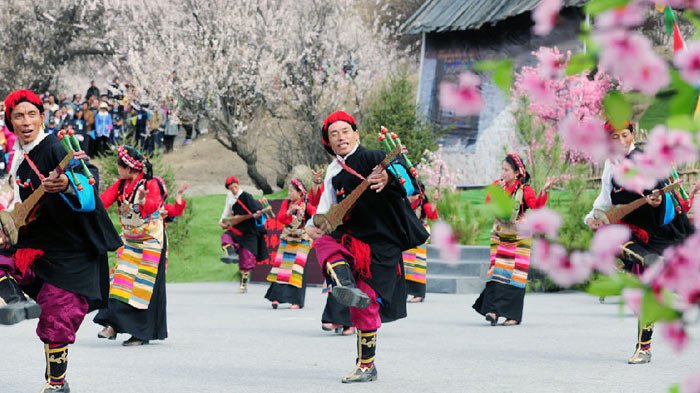 Zhuoxie Dance in Shigatse Prefecture
Duixie also refers to the tap dance performed by urban people after the folk dances was introduced into Lhasa. It becomes a cheerful and enthusiastic folk dance popular throughout Tibet, and later, after improvement by actors and dancers, evolved into a kind of urbanized Tibetan tap dance. Most popular on the streets and in the open squares and Lingkas (parks) in Lhasa, this dance is also known as the Lhasa Tap Dance.
The popular tap dance that has evolved from the rural Duixie Dance is a complex combination of a change of movement after every three steps — five, seven, and nine quick mark-time steps with turns. The taps are rhythmic.
In the mid-seventeenth century the fifth Dalai, in an effort to reinforce his rule by combining government with religion, stipulated that Shoton Festival be held in Lhasa from the end of June to early July every year. During the Shoton Festival, groups from all parts of Tibet converged on Lhasa to perform. A group from a dui area in Tibet performed a lively and vigorous tap dance that was immediately loved and improved on by people in Lhasa. The major improvement was to start on the second beat, followed by a change of step after every three steps.
In Duixie Dance, the dancers tap vigorously to music played on flutes, Chinese plucked stringed instruments, plucked six-stringed instruments, dulcimers and clusters of small bells. The music for accompaniment of Duixie has been formalized into a slow opening, short interlude, allegro and finale. This Duixie has gradually been transformed from a recreational dance to stage exhibition.