Tibetan Incense
In Tibet, for many centuries, incense has been a part of their daily lives. Widely used for relaxation, meditation and the cleansing of the home environment, it has an aroma that often helps to calm and soothe restless minds. Incense is also widely used in Buddhist temples and monasteries, and people will burn incense in the temples while worshiping Buddha.
What is Tibetan Incense?
Made from all natural ingredients, with no harmful glues or carcinogens, there are hundreds of different types of incense that have been used by the monks and people for hundreds of years. Compared to incense from other places in the world, Tibetan incense is unique. It is made by hand, using only pure herbs, spices and flowers, and it does not contain a central stick of bamboo to hold it together.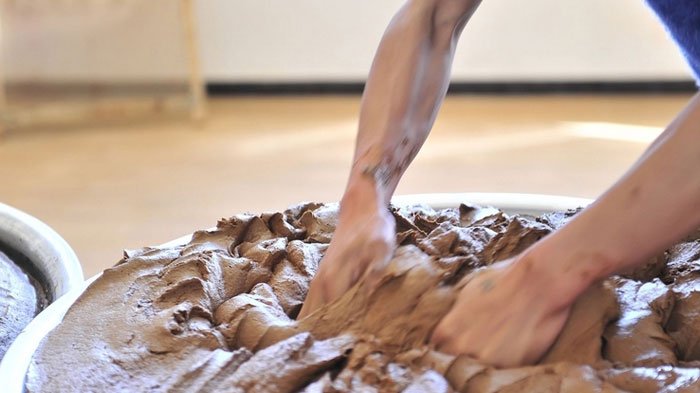 Making Tibetan Incense
How traditional Tibetan incense is made
Tibetan incense is made up of many different types of herbs, spices and flowers, and can contain as many as 28 different ingredients. The main ingredient of Tibetan incense is wood. The wood is cut into small pieces and then ground into a fine powder. The other required ingredients are then added and the mixture is put into a container and left to dry.
Ingredients of Tibetan incense
The main ingredients found in most incense are: sandalwood, agar wood, pine or cedar; myrrh, amber, frankincense, snow lotus herb, hibiscus, saffron, red orpine, clove, borneol and Chinese Caterpillar Fungus. The incense always contains one of the types of wood, and many other ingredients. Charcoal powder is sometimes added, as is makko powder, made from the bark of the tabu-no-ki tree, which helps to bind the powders together, with a little water. With the mixture bound together, it is extruded into strips by hand - although they would traditionally use a bulls horn drilled with holes - and left to dry.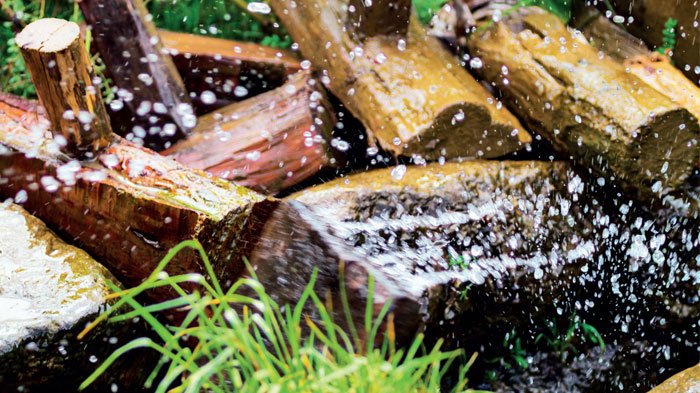 Raw material of the Tibetan Incense
The incense "paste" is sometimes formed into characters from the Tibetan alphabet, or complex, maze-like shapes, that burn in patterns and are believed to bring good fortune.
Rope incense
Tibetans also use a rope incense. This is made using thin sheets of rice paper, cut into strips. A small amount of the dry, powdered ingredients are placed on the paper, and it is spread evenly along the length of the paper. It is then gently twirled between the fingers, twisting the paper, making sure not to break or rip it. Once it is twisted along its length, it is doubled back on itself and the two halves are twisted together in the same fashion. This forms the classic "rope" look of the incense.
The sticks are traditionally burned in incense holders, standing upright,while the rope incense is normally burned either lying flat on a bed of ash, or in a miniature cast iron cauldron in bundles.
The History of Tibetan Incense
Tibetan incense and Buddhism
Incense in Tibet is believed to have come from India over 1,300 years ago, and has been made in a time-honored method ever since. However, there are some ancient Tibetan texts that have been dated back over 2,000 years which include ingredients and composition of incense. The sticks were made to very precise formulas and methods that were strictly controlled by the monks. Buddhist tradition says that the Buddha made the first sticks himself, and passed the secrets on to his disciples, as the "masters of incense", placing at their disposal a powerful tool for healing and meditation. Ancient Bon texts also speak of cleansing the air with smoke, which alludes to the burning of incense.
Contemporary Tibetan incense
Originally, the incense was made only by the monks in the Buddhist monasteries, however, there are now cottage industries for making the incense, the largest of which is in the village of Tunba, in Nyemo County, over 200km west of Lhasa. The "first village" of Tibetan incense, it is also the hometown of Tunmi Sangbuzha, the creator of the Tibetan language and Tibetan incense. During the Tang Dynasty in China, Sangbuzha was sent to India to study, and brought back Sanskrit, which was the base for the traditional Tibetan language.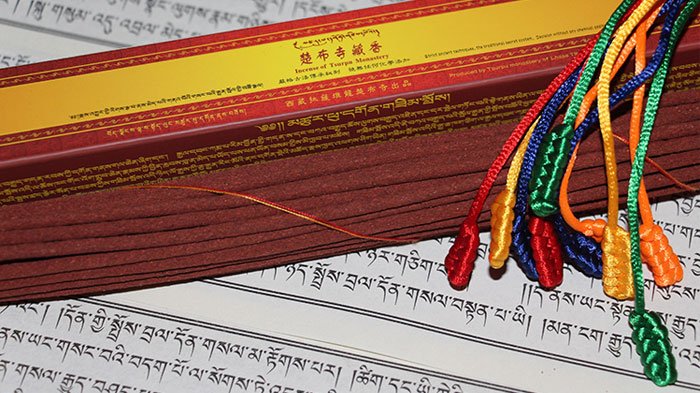 Tibetan incense from Tsupu Monastery
The village is the home of Tibetan incense today, and production there has become a little more modern than in its early days. The main ingredient of the Tunba incense is Cypress wood, and they use more than 30 different kinds of herbs and spices.
Famous Tibetan Incense
The most famous of all Tibetan incense comes from Mindroling Monastery, in Shannan Prefecture. It is one of the six major monasteries of the Nyingma school of Buddhism, and was founded in 1676. Tibetan legend says the incense from Mondroling was originally invented by the founder of the monastery, Rigzin Terdak Lingpa, and was restricted for the use of the Dalai Lama alone, and to this day, the recipe is known only to a few lamas.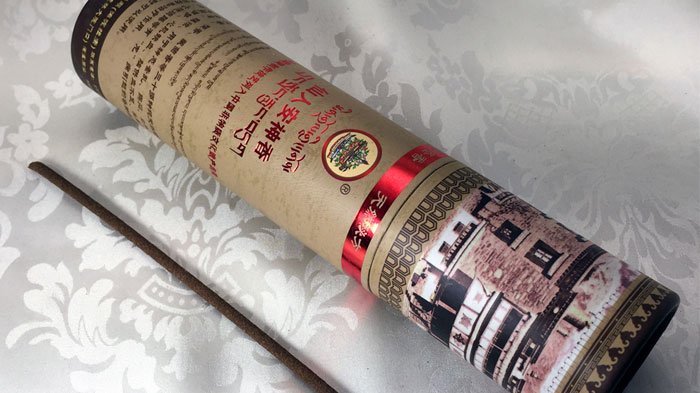 Tibetan Incense from Mindroling Monastery
Another popular incense comes from Tunba Village in in Nyemo County. They have been making incense for over 1,300 years, and their incense is sold all over the world. The Tibetan Incense Mill produces the incense to traditional recipes as well as new, innovative ones, using more variety of ingredients. Their incense combines Tibetan culture and medicine, and conforms to their own four characteristics; clean, pure, fine and natural.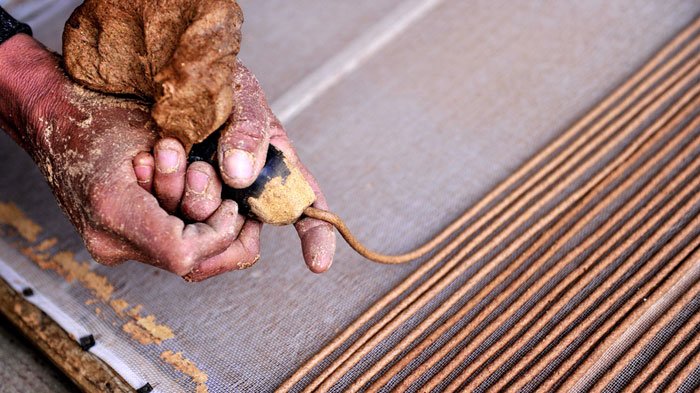 Making Tibetan Incense
Tibetan incense can be bought almost anywhere these days, with the advent of internet marketing. Sites like Amazon and eBay have authentic incense for sale, but you need to be careful in choosing the seller, as some are obvious fakes.
The best place to buy traditional Tibetan incense is in Tibet, either from the Mindroling Monastery, Tunba Village or in Barkhor Street, in Lhasa. Many varieties can be found, with a huge range of ingredients giving of different scents.