Ongkor Festival (Bumper Harvest Festival)
Each August in Tibetan Calendar, the Ongkor Festival is held in farming areas to celebrate the bumper harvest; "Ongkor" in Tibetan means "surrounding the farmland." The celebrations include horse racing, shooting, dancing and singing, Tibetan traditional Opera, stone lifting and wrestling, people show all their contentment and happiness on bumper harvest during the festival celebration.
Video about Ongkor Festival
The "Ongkor" is also a good time for farmers to have a rest. Since crops ripen in different times, the festival is held accordingly.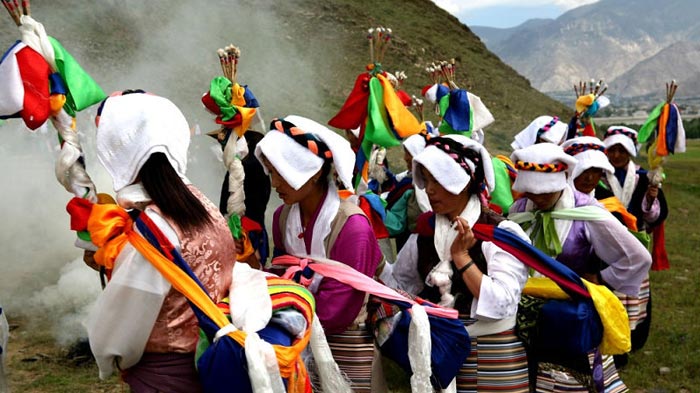 Tibetans are circling around the field during Ongkor Festival.
The Ongkor Festival comes from the middle and lower reaches of the Yarlung Zangbo River. In the village, people initially offered sacrifices to gods to pray for a good harvest. Tsedang in Shannan Region holds the Ongkor Festival in mid-summer. Each family choose a representative, usually a woman to form a 100-member team. They are dressed in grand Tibetan robes, wear their gold and silver jewels, carry dou (a measure for grain) and scripture book showing a good harvest on their back and hold colourful arrows. Under the leadership of a revered man and accompanied by the sounds of ritual trumpets and drums, they move round the farmland outside the village, shouting: "Yangguxiu! Yangguxiu!" (meaning "Come back, the soul of the earth!" ) The old villagers will burn mulberries on the way the Ongkor team must pass to worship gods.