Visit Qinghai Tibetan Inhabited Area without Tibet Permit
In addition to the Tibet Autonomous Region, there are four other provinces where Tibetan people live together with other ethic groups in mainland China.
Qinghai province is the biggest Tibetan inhabited area next to the Tibet Autonomous Region (TAR). To visit this part of Tibetan-inhabited area, for international tourists, you can freely explore here, without having a Tibet Permit.
If you plan to visit Qinghai Lake or Ta'er Monastery before taking the Tibet train to Lhasa, having a detour to the Tibetan-inhabited area in Qinghai can be a great choice. Read this guide to know how to visit the Qinghai Tibetan Inhabited Area.
Map of Qinghai Tibetan Inhabited Area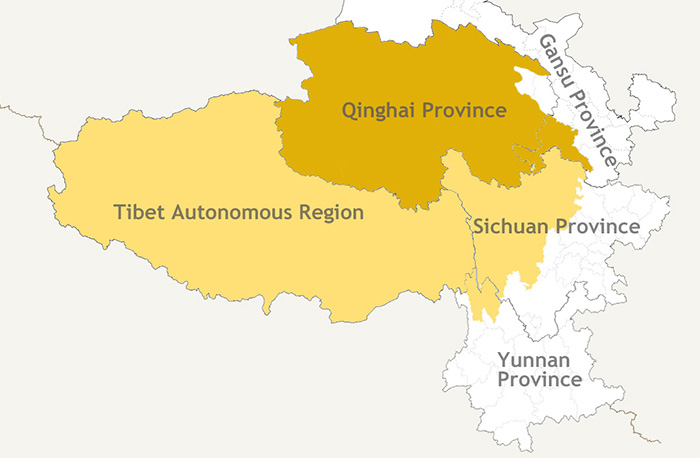 Map of Qinghai Tibetan Inhabited Area
Located mostly on the Qinghai-Tibet plateau, Qinghai province is adjacent to Tibet and lies to its northeast. The province has long been a melting pot for a number of ethnic groups including the Han, Tibetan, Hui, etc.
Tibetans reach 1,400,000, accounting for 1/4 of the whole population of Qinghai. They almost cluster together in six Tibetan inhabited regions of the province, namely Hainan, Huangnan, Guoluo, Yushu, Haixi, and Haibei Tibetan Autonomous Prefectures.
Travel Highlights of Qinghai Tibetan Inhabited Area
Qinghai is unique for its majestic natural scenery on the Tibetan Plateau. It also includes many famous ancient temples, rock paintings etc. You can enjoy various highlights of the place during your trip.
Qinghai Lake
Qinghai Lake means "the green sea" in Tibetan language. It is the largest inland lake in China, as well as the largest salt water lake. On its west side lies the Bird Island, where you can view and photograph thousands of flying birds from April to June every year.
The east side of the lake is dominated by beach scenery, with the famous Riyue Mountain. The best time to visit Qinghai Lake is July and August, when rape flowers bloom and the annual cycling race around the lake is held.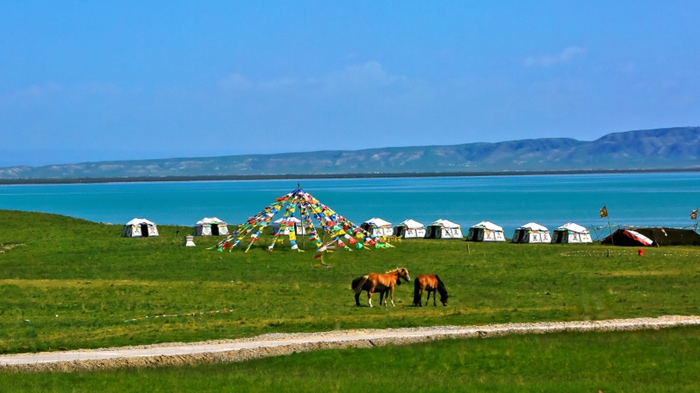 Beautiful Qinghai Lake
Ta'er Monastery (Kumbum Monastery)
Ta'er Monastery is also known as "Kumbum Monastery", and is one of the the six major monasteries of the Gelugpa school of Tibetan Buddhism in China. It is also the birthplace of the world's second greatest Buddha, Guru Tsongkhapa.
Withe a history of over 400 years, the monastery is rich in architecture, treasures and incense, and you can feel the strong religious atmosphere when you come here. There are also many Buddhist texts and academic monographs on history, literature, philosophy, medicine, legislation, etc. in the temple.
Chaka Salt Lake
Chaka Salt Lake is located in Haixi Mongolian and Tibetan Autonomous Prefecture of Qinghai Province, 298 km east of Xining. The lake is a famous natural crystalline salt lake, with a salt yield that can last for about 75 years for the whole country.
The lake is popular known as "Mirror of the Sky", and you can walk barefoot on the lake to see your own reflections. If lucky enough, you can see mirages forming on the surface of the lake during the daytime. And there are many salt sculptures to see here, and you can also take a small train to the center of the salt lake for sightseeing.
Hoh Xil Nature Reserve
"Hoh Xil, which means "indigo mountain ridge" in Mongolian, is one of the most perfectly preserved pristine ecological areas in the world. The reserve is averagely 5000 m above sea level, with continuous snow-capped mountains and endless wilderness.
The Reserve is inhabited by a variety of rare wildlife, including the famous Tibetan antelope, the unique species in China. Tourists may have a chance to witness this mysterious land when taking a Tibet train, as it passes the edge zone of the reserve.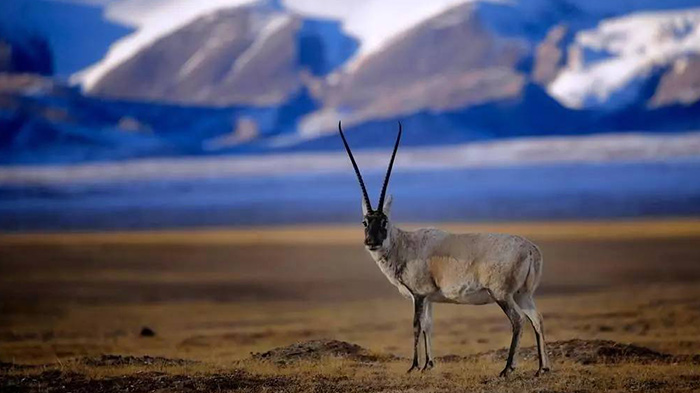 Tibetan antelope of Hoh Xil Nature Reserve
Witness Tibetan's Life and Culture
The Tibetans in Qinghai province all believe in Tibetan Buddhism. That's why there are about 530 lamaseries here, many of which are famous for their profound history and grand construction. The fresco paintings on the wall are extremely delicate and artistic.
Many Tibetans here raise sheep, yaks, horses and other highland livestock and are nomadic on the vast plateau. Local Tibetan herdsmen are often experienced and very friendly. Owning to the fertile earth, local livestock is strong and healthy. During grazing season, you can see flocks of cattle and sheep wandering on the green grassland casually under the sapphire sky. What a picture!
More Highlights of Tibetan Autonomous Prefectures in Qinghai:
Huangnan Tibetan Autonomous Prefecture: this place is renowned as "the hometown of handmade art" in Qinghai.
Hainan Tibetan Autonomous Prefecture: the south route of the Ancient Silk Road will lead you back to the mysterious past.
Guoluo Tibetan Autonomous Prefecture: there are many beautiful lakes scattering casually, like the pieces of jewelry left behind by fairies.
Yushu Tibetan Autonomous Prefecture: its average elevation is 4200 meters above sea level. The Black-neck Crane Nature Reserve is one of the most popular destinations.
Haixi Tibetan Autonomous Prefecture: the Delingha Alien Ruins is a must-go place if you are a huge fan of "crop circle". Maybe you will encounter one alien or two.
Best Time to Visit Qinghai Tibetan Inhabited Area
The best time is visit Qinghai Tibetan-inhabited area is from May to October. During this period, the weather begins to warm up, flowers thriving, grass booming. The blossoming rape flowers cluster around the sapphire Qinghai Lake, with thousands of migratory birds spreading wings in the sky. In summer, the road condition is pretty excellent, but you have to prepare for occasional rainfalls.
How to Visit Qinghai Tibetan Inhabited Area?
To visit Qinghai Tibetan inhabited area, you only need to prepare the Chinese Visa in advance. The visa can easily be obtained by yourself in your home country, by submit your application to local Chinese Embassy.
Then you can take a flight to Xining, the provincial capital of Qinghai. Xining has a lower altitude for better acclimatization, and you can tour the city's landmarks including the Ta'er Monastery. From Xining, there are convenient transportation to other attractions of Qinghai. And you can spend one day touring Qinghai Lake, or more days on other farther attractions.
Accommodation and Food in Qinghai Tibetan Area
Accommodation in Qinghai Tibetan Area
Accommodation in Qinghai ranges from economical guest house to luxury 5-star hotel. Especially in Xining, you can find the proper hotel according to your preference and budget. But be aware that the overall accommodation conditions here are not as good as those in developed cities in coastal area of China.
The hotels can be very expensive during the peak season, like the summer vacation of July and August, when many domestic tourists swarm to the place. So it is suggested to avoid the peak season. Of course, if you can't find a suitable hotel, you can also contact us and we will recommend a suitable hotel according to your requirements.
Food in Qinghai Tibetan Area
Food in Qinghai is mainly salty and spicy, and mostly cooked wheaten food. Stir-fried dishes are mainly Sichuan style. Beef and mutton are the best here. Local famous dishes like "mutton eaten with hands", "mian pian", beef noodles, yak yogurt are worth your try.
There are various kinds of cuisines since different ethnic groups live here. But if you have special requirements for diet, please inform the hotel in advance to make appropriate arrangements.
Besides, when you travel to remote places, you may not be able to have daily meal on time. So prepare some small snacks or chocolate and other high-calorie food on the way. And the climate here is dry, you'd better drink more water.
Apply for Tibet Travel Permit If You Go further to Tibet Autonomous Region
If you are interested in a Tibet tour covering both Qinghai and top destinations in Tibet, you also need to prepare the Tibet Travel Permit. In this case, it is recommended to contact a trustworthy travel agency like us to handle your tour from Xining to Tibet, to have a smooth journey all the way. Just feel free to email your inquiry to us for free consultation.