Visit Qinghai Tibetan Inhabited Area
Qinghai Province is the biggest Tibetan inhabited area next to the Tibet Autonomous Region (TAR).
To visit this part of Tibetan-inhabited area, for international tourists, you can freely explore here, without having a Tibet Permit.
If you plan to visit Qinghai Lake or Taer Monastery before taking the Tibet train to Lhasa, having a detour to these Tibetan-inhabited areas in other parts of Qinghai can be a great choice.
Online Apply for Permits Entering Tibet from Qinghai
Map of Qinghai Tibetan Inhabited Area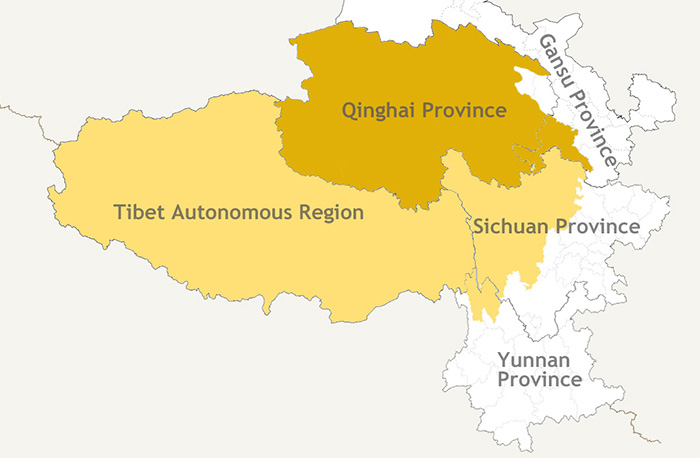 Map of Qinghai Tibetan Inhabited Area
Located mostly on the Qinghai-Tibet plateau, the province has long been a melting pot for a number of ethnic groups including the Han, Tibetan, Hui, etc.
The Tibetans reach 1,400,000, accounting for 1/4 of the whole population of Qinghai. They almost cluster together in Hainan, Huangnan, Guoluo, Yushu, Haixi, and Haibei Tibetan Autonomous Prefectures.
Tibetans Living in Qinghai Province
The Tibetans in Qinghai Province all believe in Tibetan Buddhism. That's why there are about 530 lamaseries here, many of which are famous for their profound history and grand construction. The fresco paintings on the wall are extremely delicate and artistic. - Learn more of Tibetan people and their culture.
Animal husbandry contributes to Qinghai's economy the most. Local herdsmen are often experienced and very friendly. Owning to the fertile earth, local livestock is strong and healthy. During grazing season, you can see flocks of cattle and sheep wandering on the green grassland casually under the sapphire sky. What a picture!
Qinghai Tibetan-Inhabited Areas & Travel Highlights
In addition to Xining, you may visit the following Tibetan inhabited regions in Qinghai:
Huangnan Tibetan Autonomous Prefecture: This place is renowned as "the hometown of handmade art" in Qinghai.
Hainan Tibetan Autonomous Prefecture: The south route of the Ancient Silk Road will lead you back to the mysterious past.
Guoluo Tibetan Autonomous Prefecture: There are many beautiful lakes scattering casually, like the pieces of jewelry left behind by fairies.
Yushu Tibetan Autonomous Prefecture: Its average elevation is 4200 meters above sea level. The Black-neck Crane Nature Reserve is one of the most popular destinations.
Haixi Tibetan Autonomous Prefecture: The Delingha Alien Ruins is a must-go place if you are a huge fan of "crop circle". Maybe you will encounter one alien or two. - Check the classic Xining to Tibet tours by Tibet train.
Opened cities and counties in Qinghai Province
Xining City, Huangzhong County, Pingan County, Ge'ermu City, Gonghe County, Gangcha County, Guide County, Ledu County, Dulan County, Wulan County, Maduo County, Jianzha County, Tongren County, Xinghai County, Tongde County, Zeku County, Yushu County, Maqin County, Jiuzhi County, Chengduo County, Nangqian County, Zaduo County, Zhiduo County, Qumalai County.
Best Time to Visit Qinghai Tibetan Inhabited Area
The best time is from May to October. The weather begins to warm up, flowers thriving, grass booming. The blossoming rape flowers cluster around the sapphire Qinghai Lake, with thousands of migratory birds spreading wings in the sky. In summer, the road condition is pretty excellent, but you have to prepare for occasional rainfalls.
Interested in a Tibet tour covering both Qinghai and top destinations in Tibet, please feel free to email your inquiry to us for the free consultation.