Visit Sichuan Tibetan Inhabited Area without Tibet Permit
Visit Tibetan areas without Tibet Travel Permit? It is true if you visit Sichuan Tibetan areas.
In the north and west Sichuan, there are Three Tibetan regions, namely Ganzi Tibetan Autonomous Prefecture, Aba Tibetan Autonomous Prefecture, and Muli Tibetan Autonomous Tibetan County.
For international tourists, you can enjoy independent travel in Sichuan Tibetan areas without a Tibet travel permit.
Start Your Trip in Sichuan Tibetan Areas Now
Map of Sichuan Tibetan Inhabited Areas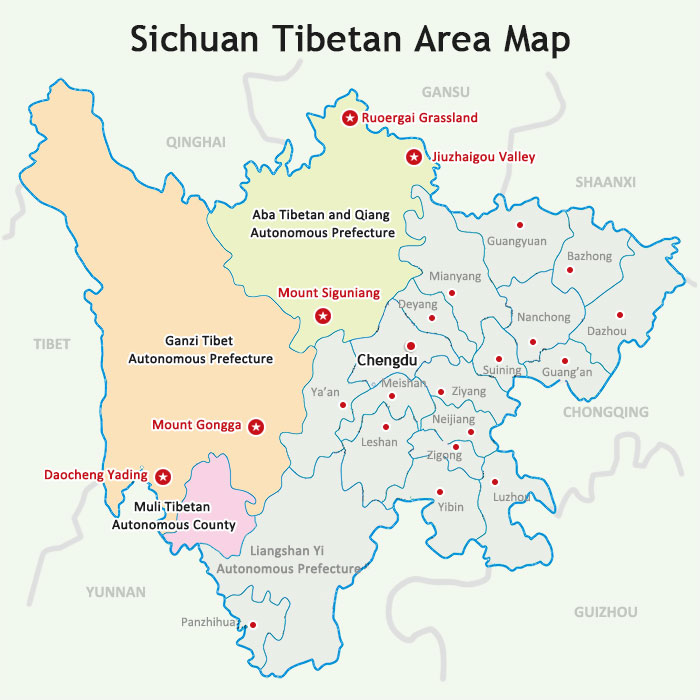 Map of Sichuan Tibetan Inhabited Area in Sichuan Province.
Wedged amid Tibetan Plateau, Qinghai province, Yunnan province, and southern Gansu province, Ganzi Tibetan Autonomous Prefecture and Aba Tibetan Autonomous Prefecture are the major places Tibetans mainly inhabit in Sichuan Province.
In the south of Sichuan Province, next to Yunnan Province, there is another county where Tibetans inhabit, called Muli Tibetan Autonomous County.
Totally, there are 32 Tibetan counties in Sichuan province, which offer various kinds of natural scenery and cultural heritage for you to explore. Keep reading for more about the best attractions in the Sichuan Tibetan inhabited areas.
Ganzi Tibetan Autonomous Prefecture
Located in western Sichuan, Ganzi or Garzê is the largest Tibetan-inhabited area in Sichuan with a total area of 153,002 square kilometers.
The population sums up to 900,000, 78.4% of which are Tibetans. The Tibetans in Ganzi Prefecture mainly belong to the same Kham Tibetans as the Tibetans in eastern Tibet.
Ganzi is covered with snow-capped mountains, forests, and running rivers. You can also find nomads wandering with their herds cozily on the grassland, singing pastoral songs.
Highlights for Touring Ganzi Tibet Autonomous Prefecture
One of the popular tourist destinations in Ganzi Prefecture is Yading Nature Reserve in Daocheng County, also known as Daocheng Yading. You will be amazed by the incredible reflection of snow-blanketed peaks of the above holy peaks, together with pristine forest and idyllic pasture in the last "Shangri-la".
Another highlight of Ganzi Tibetan Prefecture is Mount Gongga, or Minya Konka, which is crowned as the "King of Sichuan Mountains" with an altitude of 7,556m above sea level. It is not only a sacred mountain for local Tibetans, but also a great destination for trekkers around the world.
Lithang County of Ganzi is famous for its annual horse festival. This is an amazing opportunity for you to know the nomadic culture, such as archery, dining, and livelihood of Tibetan nomads. If you are interested in it, don't miss out the great chance to enjoy Litang Horse Racing Festival Tour.
What's more? The topography of Ganzi is diverse, with snow-capped mountains, canyons, and alpine lakes dominating the landscape. You can explore the world's largest Buddhist academy in Seda County, witness the monastic lives of nuns in Yaqing Monastery in Baiyu County, or travel through the valley of Danba Tibetan Village. If you would like to do trekking, Ganzi is also a place you will love with heart and soul.
Best Time to Visit Ganzi Tibet Autonomous Prefecture
Spring (April to May) and autumn (Sept. to Oct.) are believed to be the best seasons to visit Ganzi prefecture. In spring, you will enjoy the Rhododendron in full blossom that blankets the mountain valleys. While in autumn, the colorful forest, and grazing horses on the grassland in Xinduqiao will allure a great number of photographers scrambling to get the best vantage point.
How to Visit Ganzi Tibet Autonomous Prefecture
To most travelers, the best way to enjoy the highland view of Ganzi Prefecture is by enjoying the Chengdu to Lhasa overland tour via G318 National Highway. In this way, you can easily begin your journey from Chengdu and explore the distinctive Tibetan culture and enchanting land of contrast in Kangding, Xinduqiao and Litang, etc.
If you love cycling, we also offer the tailor-made cycling tour from Chengdu to Lhasa via Ganzi Prefecture. Our celebrated cycling expert will help you make day-to-day cycling plan. The back-up 130 truck loaded with supply and staff will follow you to provide timely help.
Aba Tibetan Autonomous Prefecture
Aba is located in northern Sichuan and covers around 84,242 square kilometers. The population reached 1,110,000 in 2019, with Tibetans making up 58.1% of the entire population. The next comes Han (20.6%), Qiang (18.6%), and Hui (3.2%). When traveling in Aba, you will get the idea that God created Aba first, and then made a copy which he called "Heaven".
Highlights for Aba Tibetan Autonomous Prefecture
Listed as World Natural Heritage by UNESCO, Aba Prefecture draws a ceaseless flow of worldwide visitors for its serene lakes in Jiuzhai Valley and Huanglong Scenic area. If you want to escape from the hustle and bustle of city life and immerse yourself in a silent and tranquil world, Jiuzhaigou Valley is your best choice. - Check the popular Jiuzhai Valley tour in Aba Region.
Because of the featured landscape and climate in Aba, many endangered animals like pandas, regard it as a paradise to live in. Located in Wenchuan County, around 142km northwest of Chengdu, Wolong Giant Panda Nature Reserve offers you a chance to get closer to the lovely pandas in a much bigger and natural setting environment with fewer tourists than Chengdu Giant Panda Breeding & Research Center.
Within 5 hours' drive from Chengdu, Mount Siguniang is a paradise for mountain climbers from all over the world. The three valleys in the nature reserve, namely Shuangqiao Valley, Changping Valley, and Haizi Valley are also perfect destinations for nature sightseeing and trekking. – Look for a 6-day Mt. Siguniang trekking tour in detail.
In the northern part of Aba Prefecture, bordering Gansu Province is the Ruoerge Grassland (Zoige Grassland). The Ruoergai wetland, of around 53,000 square kilometers, is the largest high-altitude marshland in the world. It's also home to a variety of birds, like the Black-necked cranes, Bar-headed geese, and Brown-headed gulls, larks, snow finches, etc. You can visit the tent of a Tibetan nomad's family, and lay back on the massive grassland blanketed by colorful flowers, with grazing yaks and sheep roaming freely.
Best Time to Visit Aba Tibetan Autonomous Prefecture
For the most incredible lake view in Jiuzhaigou, do time your visit anytime between May and Oct. The ample precipitation will produce sparkling waterfalls and colorful lakes that will take your breath away. As the leaves turn yellow and red in Oct, the charming Jiuzhai Valley and Miyaluo will receive an army of tourists for photography and sightseeing.
Summer is the best time to visit Ruoergai grassland. Although it is the rainy season for mountainous areas where traffic is difficult, you can enjoy the vast green grassland dotted with numerous small lakes and the sea of wildflowers.
If you have more questions concerning your journey to visit Tibetan-inhabited regions in Sichuan Province, please feel free to email your inquiry to us for a free consultation.
How to Visit Aba Tibetan Prefecture
Known as the "backyard garden" of Chengdu, Aba prefecture is easy to be reached from Chengdu, the capital city of Sichuan Province. Most travelers choose to take a short trip to the major attractions in Aba from Chengdu, such as a 4-day Jiuzhaigou tour and a 5-day Mount Siguniang trekking tour.
Since there are two airports in Aba Prefecture, namely Jiuzhai Huanglong Airport and Aba Hongyuan Airport, it is also available to travel to Aba from Chengdu by air if you are short on time.
If you want an in-depth overland journey in Aba, you can travel via the G317 national highway, the northern route of the Sichuan Tibet Highway. Also, the 8-day Northern Sichuan and Southern Gansu overland tour from Chengdu to Lanzhou is another famous trip in Aba prefecture, during which you can enjoy the beauty of Jiuzhaigou and Ruoergai grassland and experience the local Tibetan culture together.
Muli Tibetan Autonomous County
Hidden deep in the midst of towering the Hengduan Mountains, Muli Tibetan Autonomous County is the most mysterious and far-flung Tibetan-inhabited county in the Liangshan Yi Autonomous Prefecture, southwest of Sichuan Province. To most travelers, the Muli County seems so remote that beyond their reach. The humble tourism infrastructures there are not so tourist-friendly.
However, if you love trekking and self-driving on 4WD or explore the untouched nature, Muli County can be a fantastic place for adventure. June and Sept. are two of the best seasons to enjoy the rhododendron flowers on the plateau and autumn scenery here.
Highlights for Muli Tibetan Autonomous County
Muli Monastery, one of the largest Gelugpa monasteries in western Sichuan, is the landmark of Muli County.
The trip to Muli Monastery is a kind of off-the-beaten journey in the small county in southern Sichuan. Since there are few tourists, the monks always welcome visitors with heaps of smiles. You can worship the gigantic golden statue of Maitreya (or the future Buddha) and walk the kora around the stupas of the 9th living Buddha.
How to Visit Muli Tibetan Autonomous County
Muli is usually an optional attraction in a trip in southern Sichuan or northern Yunnan. You can travel to Muli by land from Lijiang, Yunnan, or Xichang, Sichuan. If you start directly from Chengdu, you can reach Muli via Ya'an and Panzhihua. The total distance is 889.2 km and takes 12.5 hours. You can also take a train from Chengdu to Panzhihua or Xichang first, and then transfer to Muli by car.
Accommodation and Food Tips in Sichuan Tibetan Area
While enjoying the beautiful scenery in Sichuan Tibetan Area, you need to prepare for the harsh local environment, which is worse than the living conditions in big cities like Beijing and Shanghai.
Accommodation in Sichuan Tibetan Areas
Hotel services and facilities in mountainous regions of western Sichuan can't be compared with that of the big cities in Beijing or Shanghai. Only Jiuzhaigou Valley has 5-star hotels. The living options in most counties in the Tibetan prefectures in western Sichuan are 2-star or 3-star hotels and guesthouses. In most cases, English-speaking receptionists are hard to be found.
Food in Sichuan Tibetan Areas
As to Dining, you can enjoy unlimited options for Sichuan cuisines and Tibetan Dishes. Typical Tibetan food and drinks that you can taste in Sichuan Tibetan areas without going to Tibet include yak meat, Tibetan pork, tsampa, butter tea, and so on. Due to the long car ride, you can carry some snacks with you when you travel in Sichuan Tibetan areas.
Apply for Tibet Travel Permit if you go further to Tibet Autonomous Region
You don't need to get a permit to visit the Tibetan areas in Sichuan Province. But if you plan to take a Sichuan Tibet overland tour via G318 or G317, you need to apply for Tibet Travel Permit to enter Tibet Autonomous Region.