Visit Sichuan Tibetan Inhabited Area
There are two Tibetan regions in Sichuan Province: Garzê Tibetan Autonomous Prefecture and Aba Tibetan Autonomous Prefecture.
Luckily, to visit these two places, you don't need to have a Tibet Permit.
For international tourists, you can enjoy independent travel.
If you are not pressed for time and plan to visit Tibet from Chengdu, capital of Sichuan province, there is no point not to visit a string of world-renowned attractions in these Tibetan-inhabited areas in Sichuan.
Online Apply for Permits Entering Tibet from Sichuan
Map of Sichuan Tibetan Inhabited Areas?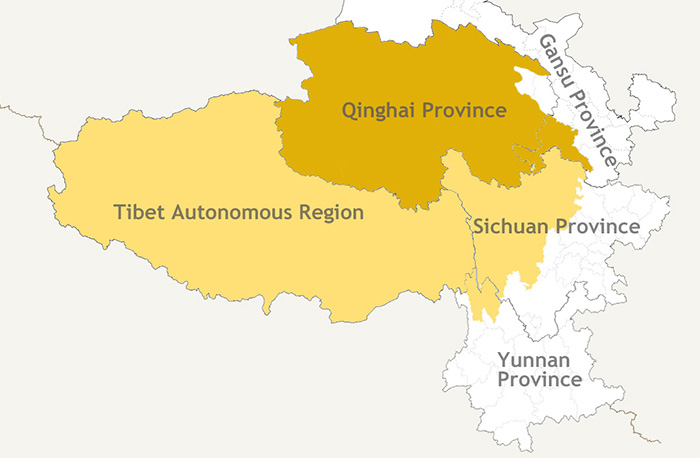 Map of Sichuan Tibetan Inhabited Area in Sichuan Province.
Wedged amid Tibetan Plateau, Qinghai province and parts of Sichuan province, Garzê Tibetan Autonomous Prefecture, and Aba Tibetan Autonomous Prefecture are where Tibetans inhabit.
Garzê Tibetan Autonomous Prefecture
This region is located in western Sichuan, covering a total area of 153,002 square kilometers. The population sums up to 900,000, 78.4% of which are Tibetans. Garzê is covered with snow-capped mountains, forests , and running rivers. You can also find nomads wandering with their herds cozily on the grassland, singing pastoral songs.
Best Time to Visit Garzê Tibet Autonomous Prefecture
Spring (April to May) and autumn (Sept. to Oct.) are believed to be the best seasons to visit Garzê prefecture.
In spring, you will enjoy the Rhododendron in full blossom that blankets the valley. While in autumn, the colorful forest, and grazing horses on the grassland in Xinduqiao will allure a great number of photographers scrambling to get the best vantage point.
How to Visit Garzê Tibet Autonomous Prefecture
To most travelers, the best way to enjoy the highland view of Garzê Prefecture is by enjoying the Chengdu-Lhasa overland tour via G318 National Highway. In this way, you can easily begin your journey from Chengdu and explore the distinctive Tibetan culture and enchanting land of contrast in Kangding, Xinduqiao and Litang, etc. And our staff will help you get the Tibet permit for entering Tibet autonomous region.
If you love cycling, we also offer tailor-made cycling tour from Chengdu to Lhasa via Garzê Prefecture. Our celebrated cycling expert will help you make day-to-day cycling plan. The back-up 130 truck loaded with supply and staff will follow you to provide timely help.
Highlights for Touring Garzê Tibet Autonomous Prefecture
Lithang County of Garzê is famous for its annual horse festival. This is an amazing opportunity for you to know the nomadic culture, such as archery, dining, and livelihood of Tibetan nomads. If you are interested in it, don't miss out the great chance to enjoy Litang Horse Racing Festival Tour.
What's more? The highest mountain of Garzê is Hengduan Mountain, whose peak reaches 7,556 meters above sea level. Many other mountains rise above 6000 meters. If you would like to do trekking, Garzê is a place you will love with heart and soul.
Aba Tibetan Autonomous Prefecture
Aba is located in northern Sichuan. The population reached 1,110,000 in 2019. Roughly half of them were Tibetans. When traveling in Aba, you get the idea that God created Aba first, and then made a copy which he called "Heaven".
Highlights for Aba Tibetan Autonomous Prefecture
Listed as World Natural Heritage by UNESCO, Aba Prefecture draws a ceaseless flow of worldwide visitors for its serene lakes in Jiuzhai Valley and Huanglong Scenic area.
Because of its special landscape and climate, many endangered animals like pandas, regard it as a paradise to live in. If you want to escape from the hustle and bustle of city life and immerse yourself into a silent and tranquil world, Aba is your best choice. - Check the popular Jiuzhai Valley tour in Aba Region.
Best Time to Visit Aba Tibetan Autonomous Prefecture
For the most incredible lake view, do time your visit anytime between May and Oct. The ample precipitation will produce sparkling waterfalls and colorful lakes that will take your breath away.
As the leaves turn yellow and red in Oct, the charming Jiuzhai Valley and MiYaluo will receive an army of tourists for photography and sightseeing.
If you have more questions concerning your journey to visit Tibetan-inhabited regions in Sichuan Province, please feel free to email your inquiry to us for a free consultation.