Tibet Permit Without Tour
Unlike traveling elsewhere in China, for international tourists, you have to get a Tibet Permit to visit Tibet.
Besides, only through a local Tibet travel agency can you get it. So, can you only get a Tibet permit and travel independently in Tibet?
Well, the answer is no.
Apply for Permit Online
Can you just offer me the permit? I want to travel to Tibet indecently?
We often get such questions. But we are sorry to say no as we cannot provide permit-only service.
According to the requirements of the Tibetan Tourism Bureau, the Tibet Travel Permit must be submitted through the travel agency responsible for providing travel services to you. Individual applications are not accepted.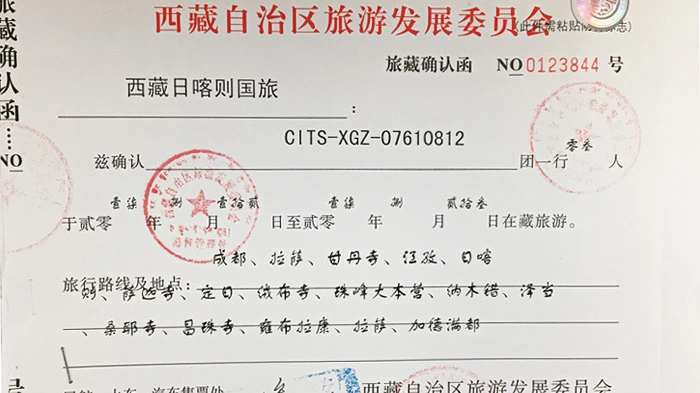 A Sample of Tibet Entry Permit
The only way to get a Tibet Permit is to join a group tour in Tibet?
No, it is not the only choice, but somewhat the best choice for most first-time travelers and backpackers to Tibet.
Since you have to book a tour service with a travel agency, you have to hire a tour guide for the whole trip and spend a lot on renting a car instead of taking a bus within Tibet.
To reduce your Tibet tour cost, we offer you Tibet small group tour to help you save more money. We offer several popular group tours with regular departures each week, such as Lhasa to Everest Base Camp or Kathmandu. The cost can be reduced to 120-150 dollars per day, even for a long trip.
Prefer Peace & Quiet? Customizing a Private Tour is the Best Option.
If you are not the kind of group tour person, then tailor-making your Tibet journey will give you the greater flexibility and freedom you prefer.
Simply tell your needs and interest to our travel consultants. They will offer you plenty of feasible travel advice and solutions and help you customize a Tibet tour.
If you have more questions concerning the Tibet permit and Tibet tours, please do not hesitate to reach us for free consultation.