Alien's Travel Permit: Permit to Western and Remote Area of Tibet
Many international travelers know that a Tibet Travel Permit is a must to visit Tibet. However, during your trip around Tibet, you will always need to obtain another important document: Alien's Travel Permit.
The Alien's Travel Permit is required if you are going to visit Mt. Everest, Mt. Kailash and other areas in western and remote Tibet. Read this guide to know which attraction or region requires an Alien's Travel Permit, how to apply for it, and more other necessary permits to tour Tibet.
What is the Alien's Travel Permit?
The Alien's Travel Permit is an international travel document issued by the Local Public Security Bureau (PSB) of Tibet, and is also called "PSB Permit". It is not a must for foreign travelers to enter Tibet, but is required when you go to visit areas outside Lhasa.
If you want to explore those "closed" or restricted places, such as Mount Everest Base Camp, Tsedang Samye Monastery, then you need to further apply the Alien's Travel Permit, in addition to the Tibet Travel Permit.
Which Areas in Tibet Require an Alien's Travel Permit to Visit?
Alien's Travel Permit permits international tourists to visit "restricted" or "non-open" areas in Tibet. And at present, only Lhasa and eastern part of Nagqu are open to foreigners with Tibet Travel Permit. Check the areas and attractions that require an Alien's Travel Permit as follows:
Shigatse Prefecture: including Mount Everest, Rongbuk Monastery, Sakya Monastery etc.
Gyantse County: including Pelkor Chode Monastery & Kumbum Stupa etc.
Ngari Prefecture: including Mt. Kailash and Lake Manasarovar, etc.
Shannan Prefecture: including Samye Monastery, Tomb of Tibetan King, Changdruk Temple, Yumbulakhang, etc.
Nyingchi Prefecture: including Basum Tso, Bomi etc.
Western Nagqu Prefecture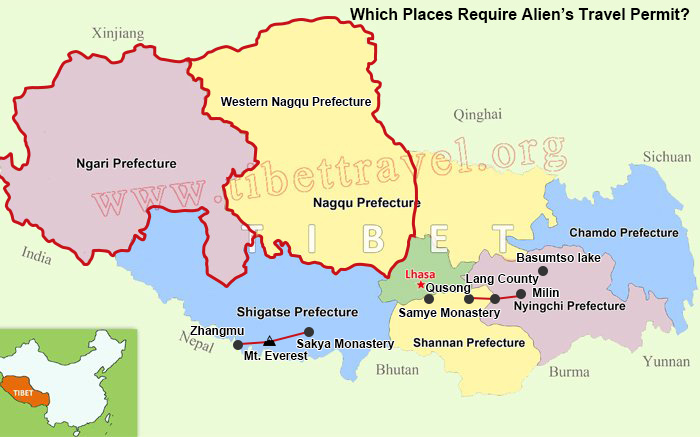 Map of Aliens' Travel Permit Required Area
Note:
Some places in Tibet are currently unavailable to international tourists, even when you've got a permit. These places include: Yarlung Zangbo Grand Canyon, Nanyi Valley in Nyingchi; Lhamo La-tso in Shannan; Zhangmu in Shigatse; and the entire Chamdo Prefecture. Please double check with your tour operator about the places you plan to visit before you leave.
How to Apply for the Alien's Travel Permit?
The Alien's Travel Permit is quite easy to apply and can only be arranged by travel agencies who are just arranging the Tibet tours for you. It is applied after you enter Tibet, because your original passport and Chinese Visa are needed to arrange it.
Normally, your guide will submit the application while you are touring Lhasa city, and get the permit before you travel to your next destination outside Lhasa. The application process is quite easy, and only takes around 1 to 2 hours.
Besides, the Alien's Travel Permit can also be applied in other city of Tibet, like Shigatse or Nyingchi. For example, if you are going to travel to Mount Everest, you can also get Aliens' Travel Permit in Shigatse city. If you fly to Nyingchi directly, you can also get the permit there.
The Alien's Travel Permit will be checked at various road checkpoints during your trip around the above "unopened" areas. Just discuss your travel itinerary with us, and we will help to arrange it in advance when the permit is needed.
Note:
As a tourist, everyone could get the relevant permits through a travel agency, but for those who travel to Tibet for Non-tourism purposes, such as diplomats, journalists, and government officials, you should travel to Tibet under the arrangement of the Foreign Affairs Office of Tibet Government.
More Permits to Visit Western and Remote Area of Tibet
Except for the Alien's Travel Permit, you may need to obtain more other documents in order to visit some "restricted " areas in western and remote Tibet.
Military Permit & Foreign Affairs Permit
The Military Permit is required if you are going to visit military sensitive areas in Tibet, such as Mount Kailash and Lake Manasarovar in Ngari, Basum Tso in Nyingchi. The permit is issued by the military affairs office, and is applied through your tour operator before you enter Tibet.
Together with Military Permit, the Foreign Affairs Permit is additionally needed when your itinerary includes some sensitive borders such as eastern Tibet, as well as Tholing and Tsaparang in western Tibet.
For tourists booking your Tibet tour with us, we will help to get your Military Permit and Foreign Affairs Permit. Since it takes a long time (about 2 weeks) to arrange them, it is suggested to plan your trip at least 30 days before the departure, if your itinerary include the restricted areas as follows:
Western Nagqu Prefecture
Entire Ngari Prefecture, including Mt.Kailash and Lake Manasarovar
Entire Nyingchi Prefecture, including Basum Tso, Bomi, and Nyingchi City
Shigatse Prefecture: Zhongba County
Chamdo Prefecture: Ranwu Lake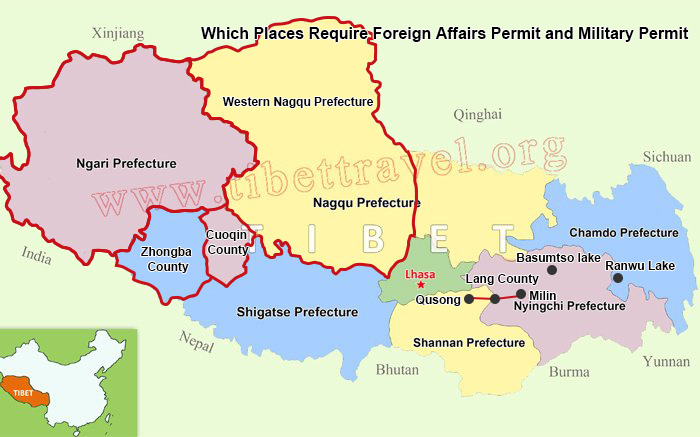 Map of Foreign Affairs Permit and Military Permit Required Area
Tibet Travel Permit
As everyone knows, the most basic permit to Tibet is Tibet Travel Permit which is issued by Tibet Travel Bureau and is required as an must entry pass to Tibet for every traveler. Without it, you will not allowed to take the train or flight to Tibet. And it is also the precondition for you to obtain other necessary documents, like the Alien's Travel Permit.
Travelling with Tibet Travel Permit, also called TTB Permit, you can go around Lhasa city, main tourist roads in Nyingchi, Gyantse, Shigatse, Namtso and Nagqu. Once you step beyond these regions, you will need to obtain more permits to continue your trip, as mentioned above.
The Tibet Travel Permit can only be obtained through an authorized travel agency, which also handles your whole trip in Tibet. As the leading tour operator based in Lhasa, with years of successful permit application experience, we can help you to get your Tibet Travel Permit smoothly. Just remember to contact us for application at least 20 days before you leave for Tibet.
Conclusion
Tibet Travel Permit will not be sufficient if the travelers' destination covers some "closed" areas or the border area in Tibet. In addition to Tibet Travel Permit, you also need to apply for Aliens' Travel Permit, Foreign Affair Permit, and Military Permit.
However, there is no need to worry about getting them. Our Tibetan guide will help you get the one needed before you for the next destination in Tibet. As long as you book your Tibet tour with us, we will arrange all required documents for you in advance.
For more questions about Alien's Travel Permit and Tibet tours, please feel free to email us and our professional travel consultants will offer one on one consultation within 1-24hrs.