Environmental Issues on Mt. Everest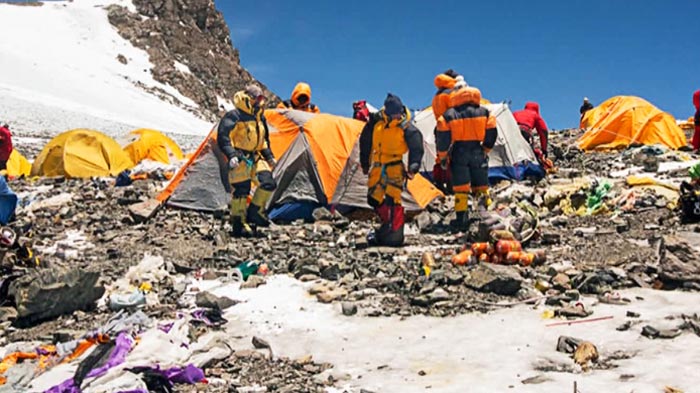 Trash scattered on Mt. Everest
According to official statistics, there have been over 4000 mountaineers who successfully reached the summit of Mt. Everest ever since the Sir Edmund Hillary and Tenzing Norgay's great accomplishment in 1953. In 2014, there were 180 climbers who attempted to summit Mount Everest from northeast ridge in Tibet, among whom 120 summited. With the improved weather forecasting technology and mounting mountaineering experiences, commercial expeditions to Mt. Everest have mushroomed in recent years in both Tibet and Nepal.
"Everest is no longer a wilderness experience," says mountaineer Graham Hoyland. "It's a McDonald's experience." Not only did the booming tourism create employment and better service, a series of environmental issues started to surface as well. "The two standard routes, the Northeast Ridge and the Southeast Ridge, are not only dangerously crowded but also disgustingly polluted, with garbage leaking out of the glaciers and pyramids of human excrement filled in the camps ", climber Mark Jenkins wrote in National Geographic.
Everest on Nepal side: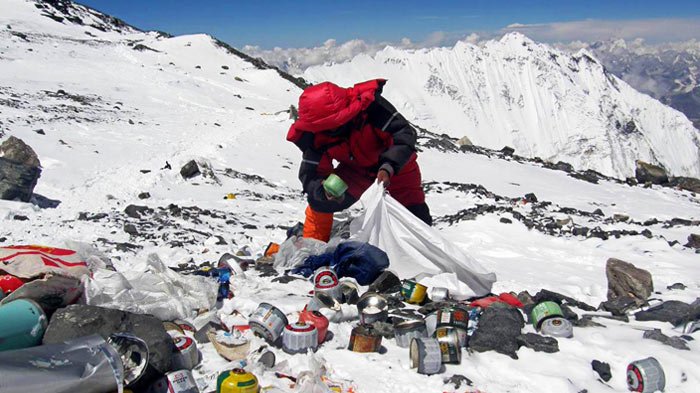 A Nepalese climber is collecting garbage left on Mount Everest.
Unlike the challenging northeast ridge route in Tibet, climbing Mt. Everest from Nepal side is a more achievable goal for most climbers. As mountaineers explore the sacred mountain and benefit the local economy, they also play a major part in tipping the eco-balance of Everest region. During the high season, the human waste, abandon mountaineering gears (e.g. empty oxygen cylinders, food wrapper, broken tents, battery, etc.) and other trash become the hazardous by-product of relentless commercial Everest expedition.
Ironically, in most cases these sorts of pollutants were not produced by ill-bred climbers on purpose. When climbing at extreme altitude (such as the notorious death zone at around 8,000 m or 26,000 ft), the survival comes first. Then, abandoning used gears and other unnecessary stuff would be considered as a wise decision to keep one's stamina.

Just as Jenkins wrote in National Geographic, "Even under the best conditions, climbing the tallest mountain in the world is exhausting, dangerous work. Dropping used supplies on the mountain rather than carrying it with them can save vital energy and weight... But the accumulated trash is still steadily ruining one of the most unique places on Earth." That was also the very reason why as many as 200 corpses still left on way to the top of Mount Everest. Carrying these trash and bodies down the mountain was not only extremely dangerous but also technically expensive.

Nowadays, as more people come to realize the seriousness of environmental issues on and around Mount Everest, things have improved. Many locals in small towns or villages begin to use solar power system and handle the trash in a recyclable way. Instead of burning or bury the rubbish in the mountain, they are prone to use yaks to carry non-biodegradable rubbish out of mountain for disposal. Some makeshift restrooms are also built in Everest Base Camp.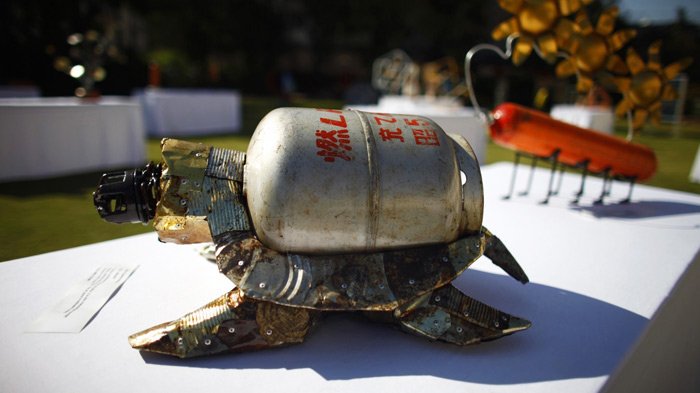 Art exhibits made from used fuel bottle and oxygen cylinders on Mt. Everest.
Nepalese government also works with some non-governmental organizations to ease the situation. In 2011, Everest Summiteers Association organized by Sherpas teamed up with Nepalese government and collected 1.5 tons of garbage which included oxygen cylinders, ice piton and scraps from a helicopter and had them shifted to Kathmandu. With a twist by artists , these useless stuff were turned into pieces of art. All were sold for the clean-up fund. Meanwhile, Nepal Mountaineering Association also cooperates with other trekking companies to voluntarily collect tons of trash out of Mt. Everest. In fact, now Nepalese government demands mountaineers to bring back its waste, otherwise they will face a 4000$ fine for their negligence.
Everest on Tibet side: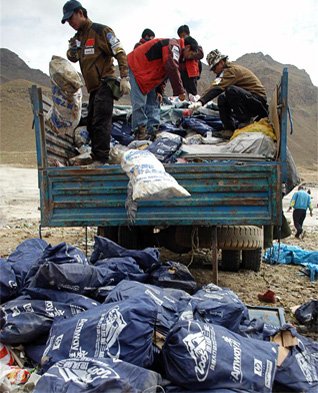 Chinese environmentalists collected 400 bags of trash from Mt. Everest.
Compared with the terrain in Nepal, the northeast ridge of Mount Everest in Tibet is a daunting challenge to climbers. Therefore, the number of mountaineers to Everest Base Camp in Tibet is fewer than that of Nepal. However, with mounting mountaineering teams and tourists each year, how to strike a balance between tourism and environmental protection has become an urgent issue.

Unlike Nepal, Everest Base Camp (5200m) in Tibet is not a place for mountaineering. It can be reached via vehicles and is the closest place for the majority of tourists to enjoy awe-inspiring Mt. Everest. The trash mostly comes from beer bottles, coke cans, and wrappers of foods, etc.


For the trash and bodies left on Mt. Everest, it will take a long time to degrade given the freezing temperature. So there will be no imminent environmental disaster. Nevertheless, as Mt. Everest works as the major source of fresh water in Asia, if it was contaminated, the outcome would be catastrophic.

To better protect the environment in Everest region, Tibet keeps exchanging experience with Nepal and works out many feasible solutions. For instance, the mountaineers have to pay certain amount of deposit before they head to climb Mt. Everest and are supposed to bring their trash back. If they fail to do so, their deposit will be confiscated.

The Qomolangma( Everest) National Nature Reserve will also work with mountaineering office to deploy staff and yaks to collect and handle trash in Everest Base Camp and Advance Base Camp. Another key to protecting the sacred mountain is to raise the awareness of environmental protection for most mountaineers.