We Wish You A Merry Christmas & How We Tibetans Celebrate Christmas
Christmas has always been a cherished time of family reunion, a joyful moment to unpack presents under Christmas trees. As you sit around the fireplace with your loved ones, feeling grateful for love and support from your families and friends, We Tibet Vista, on behalf of all the staff, would like to sincerely Wish You and Your Family Merry Christmas!
Perhaps, in most people's eyes, Tibetan Buddhism is the only religion of Tibet, but actually it's not. In southeastern Tibet, a group of villagers, living on the banks of Lancang River, are the devout Catholics.
Although Christmas is not so popular among local people, it's a household name in Yanjing, Qamdo, Tibet. As Christmas is just around the corner, let's have a look at how it will be celebrated in Yanjing, Tibet.
How We Tibetans Celebrate Christmas
Christmas is one of the most important festivals for Catholics. And each household will gather together to celebrate the birth of Jesus Christ. As for Tibetan Catholics, they also have some unique Christmas traditions.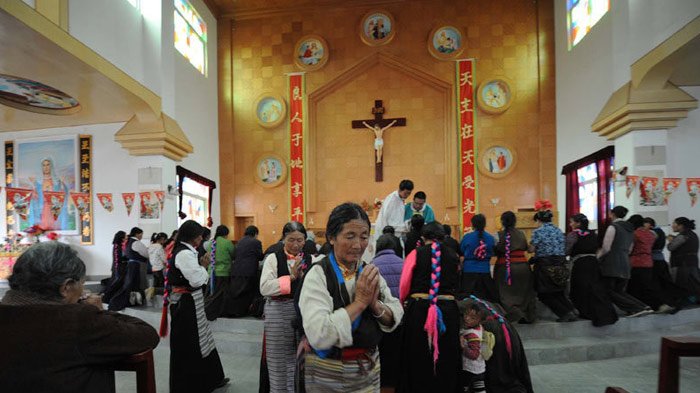 Devout Catholics are waiting in a row for blessings.
In Yanjing, the celebrations start on the day before Christmas. Usually they get up very early to clean up every corner of the church and then decorate it with all kinds of lanterns. Hence, colorful lights, paper flowers, Christmas cards and festive gifts will be hung on the Christmas tree.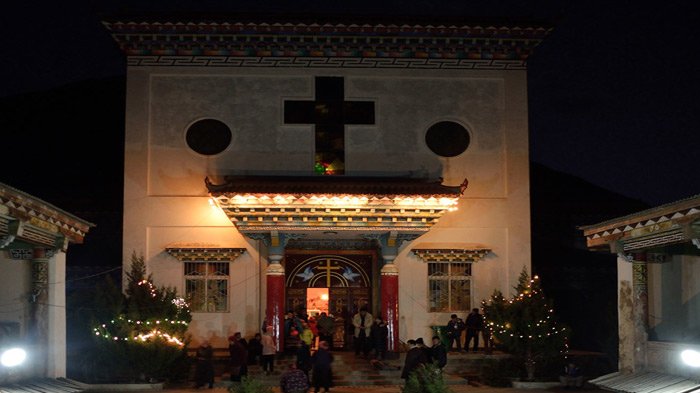 On Christmas Eve, people come from every corner of Tibet to pray for god blessings.
When the night falls, the church bells ring, and all the villagers come to Yanjing Catholic Church to attend the Christmas Eve Mass. Compared with bustling Christmas in western countries, Christmas in Tibet is much more quite and peaceful. Everyone who comes to the church is holding the cross above his chest, muttering the Bible and praying for himself, his family and the whole world.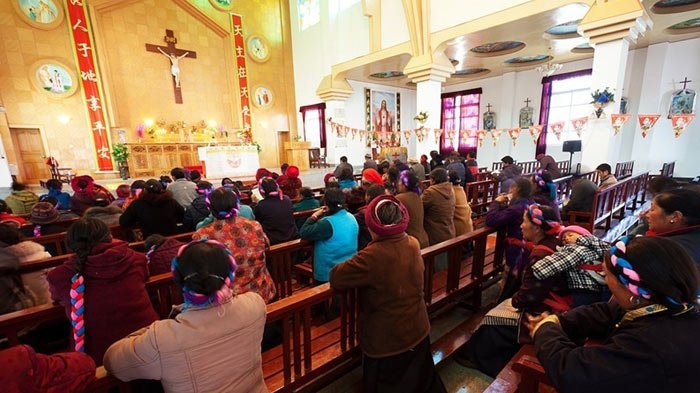 On the morning of Christmas Day, Tibetans are praying in the Yanjing Catholic Church.
On Christmas morning, the believers would get ready for the Mass and the church members would prepare several big cakes to celebrate the birth of Jesus Christ. After eating the cakes, all the Christians sit on the lawn or in the courtyard to share candies, cigarettes and beverages. Some drink butter tea, some eat yak meat soup, others indulge themselves in chatting.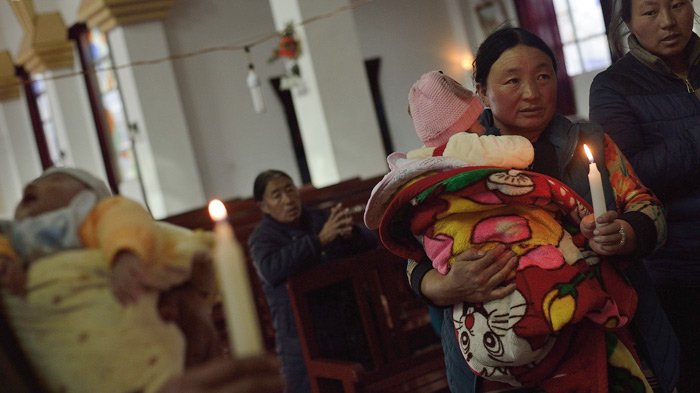 A Tibetan women is lighting a candle for her family and friends.
The whole church is full of happiness. Here they are all the children of God. In the afternoon, they'll perform Tibetan traditional dances like Guozhuang Dance, Xianzi Dance, etc. In a cheerful atmosphere, Tibetans pray to gods for the healthy life of their families and thank to Jesus Christ in their own way.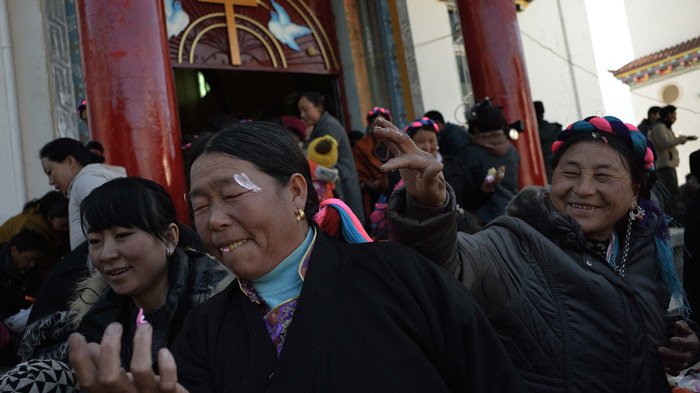 After the Christmas ceremony, two lovely Tibetan women are wiping the cream on each other's face.
Visit Tibet during Christmas
If you plan to visit Tibet around the time of Christmas, you are likely to experience another two big Tibetan festivals, namely, Palden Lhamo Festival and Tsongkhapa Butter Lamp Festival.
During Tibetan Fairy Festival, Tibetan women all dress up with beautiful costumes and preform traditional singing and dancing around at Jokhang temple. While Gaden Ngachen Chenmo Festival comes, hundreds of thousands of butter lamps would be lit to commemorate the parinirvana of Tsongkhapa.
Joining our Tibetan festival tours must be the golden chance for you to dig deeper into Tibetan culture and religions. Please feel free to contact us to tailor-make your own Tibet trip.