Tips for Traveling to Tibet in Spring
"If winter comes, can spring be far behind?" British poet, Percy Bysshe Shelley once wrote. Yes, spring will return soon and everything will rouse up from sleeping, so does Tibet tourism. If you are planning a Tibet tour in spring, here are some tips for travelling to Tibet in spring.
Spring in Tibet Starts from March to May
In spring, the weather becomes warming up, and the average temperature in Tibet is about 2℃-20℃. But since most areas of Tibet are at a high altitude, the temperature difference between day and night will be great. It can be cold at night, and you still need to keep warm.
Generally in western and northern Tibet, the climate is dryer and colder. In lower areas such as Nyingchi and Lhasa, it is moister and warmer. In early spring, many roads of the region are still covered with snow. It is better to check the weather forecast before you take the road.
It is recommended to bring a warm down jacket, thick coats, sweaters, long jeans, flat boots, hats etc. Considering the dry climate and strong ultraviolet rays, sunscreen, moisturizer, sunglasses, sun hat etc., are also common items to bring.
Peach Blossom in Nyingchi is the Most Popular Event in Tibet in Spring
The highlight of Tibet in spring is peach blossoms at Nyingchi Area, in eastern Tibet. In March, the mild Nyingchi gradually has turned into a sea of peach blossoms. Wild peach trees grow well almost everywhere on both sides along the Nyang River.
Looking at a distance, it appears that snowy mountains are embracing huge layers of pink clouds. And the best viewing spots for peach blossom are Gala Valley and Nanyi Valley.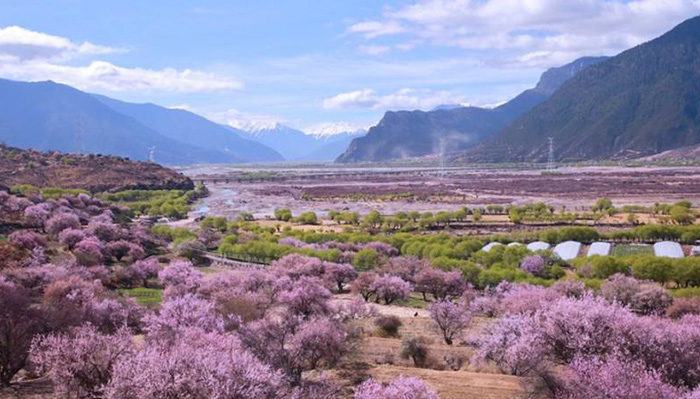 The region of Nyingchi gradually turns into a sea of peach blossoms in spring.
If you are about to visit Nyingchi, you can choose the time from late March to early April when most of the peach blossoms in Nyingchi are in full bloom. The famous Peach Blossom Festival is always held during this time, and you can attend a variety of interesting activities as well.
As for the accommodation, there are normally adequate hotels if it is not in the peak season in Tibet (May to October). Larger cities like Lhasa and Shigatse offer all levels of hotels, meeting the needs of different people.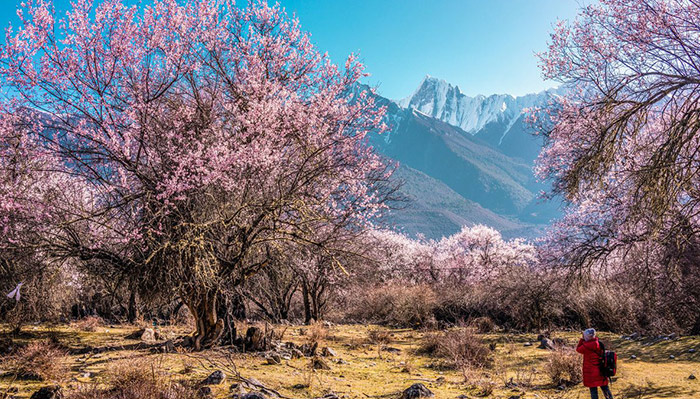 Booking your hotel in advance if you go to Nyingchi during the peach blossom festival.
In Nyingchi, the best accommodation is in Bayi Town, where hotels range from luxury ones to small guesthouses. But during the peach blossom festival, when many domestic tourists also flock to this destination, it is better to book your hotel in advance.
More Recommended Places for Travelling to Tibet in Spring
Uncrowded Lhasa City
In early spring, Tibet has not yet entered peak season, and there are no crowded tourists. Lhasa at this time appears its pure beauty, leaving more space for people to appreciate. You can visit the Potala Palace without overnight queues, slowly feel the breath of faith, take a stroll on Barkhor street, and admire the majesty of Buddha in Jokhang Temple.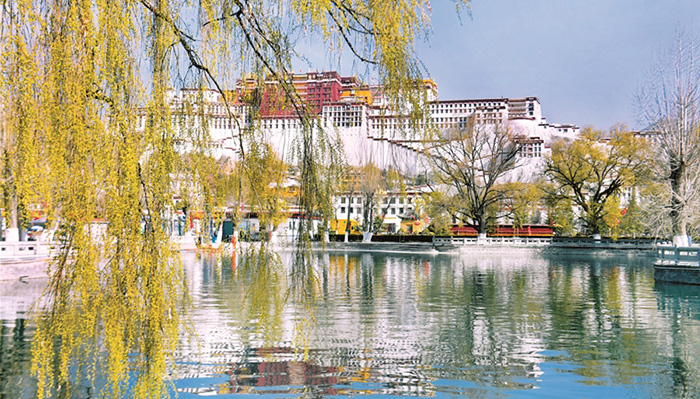 Lhasa city in spring is a good place to visit.
Half-frozen and half-melt Namtso Lake
When it comes to April, the weather warms up and the snow on Nyingchi Tanggula melts. Lake Namtso will slowly wake up, presenting stunning scenery of half-frozen and half-melt water. At this time of the year, the Heavenly Lake seems to be a huge treasure mirror, inlaid in the grasslands of northern Tibet.
The best way to visit Namtso Lake is to take a ride from Lhasa, which has a lower altitude and provides classic cultural sightseeing before you head to get immersed in the pure natural beauty. If you are planning a week-long trip in Tibet, then this tour from Lhasa to Namtso is an excellent choice.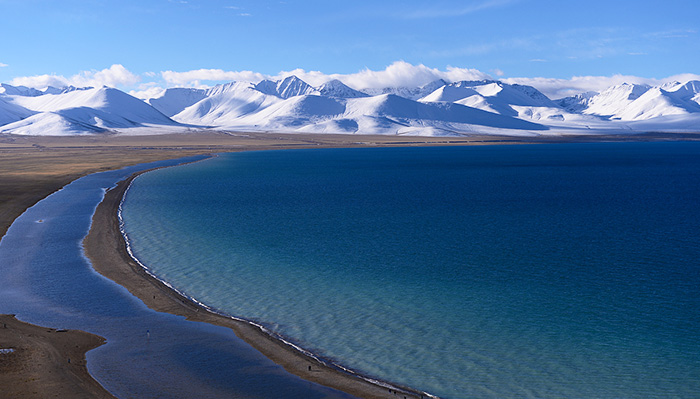 Namtso Lake begins to unfrozen in spring.
Picturesque Yamdrok Lake
Yamdrok Lake, another holy lake of Tibet, is regarded as "the turquoise earrings scattered by the Goddess" by Tibetans. The water here evolves into a thousand different shades of blue as the light changes. The waterfront grass is abundant, attracting many shepherds to herd yaks and sheep here, in late spring and early summer.
There is a long stretch of road along the lake not far from Gangbala Mountain, you can stop here and enjoy a good time.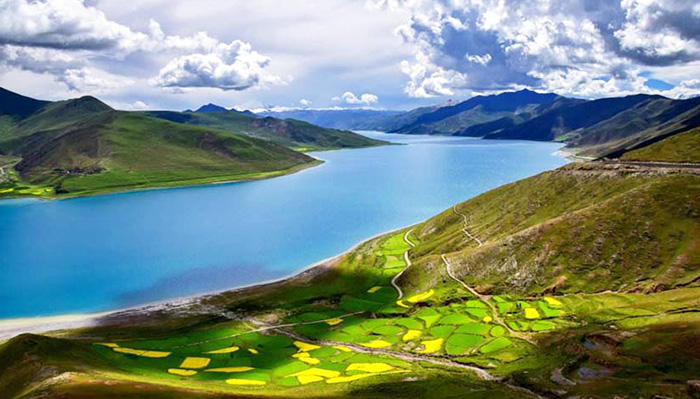 You should not miss Yamdrok Lake when visiting Tibet in spring.
Holy Mount Everest
There are two times of the year that are best for visiting Everest Base Camp, and one of them is from April to May. During this time, the climate of the plateau is dry, there will be few clouds and fog at Everest Base Camp. Without any shade, you can better appreciate the super view of Mount Everest and take spectacular pictures.
In addition, the wind is not very strong, and the temperature is not so compared to the winter season. You can take a comfortable trip from Lhasa to Everest Base Camp, leisurely appreciating the scenery along the way and acclimatizing yourself to the rising attitude.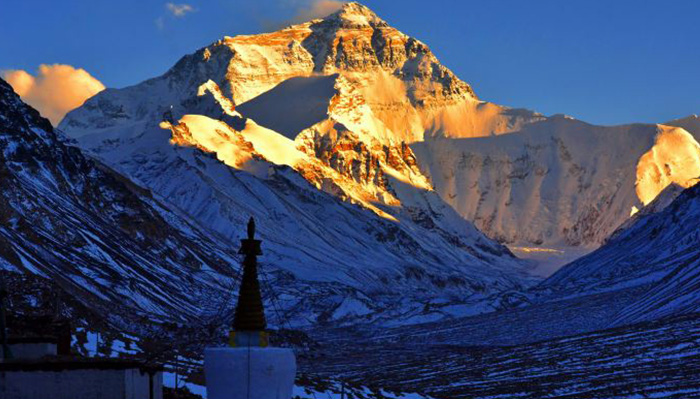 Mount Everest provides good views in spring as well.
Altitude Sickness for Travelling in Tibet in Spring
With the thin air of the plateau, many people are afraid of high altitude sickness. In fact, if not staying long in the northern Tibet or Ngari Area, many people will not feel intense discomfort. Some people will have headaches, weakness, micro fever. But slowly, these symptoms will alleviate and even disappear after 1 to 2 days' adaption.
You can prepare some Rhodiola and other medicines to relieve the symptoms. And remember to not walk fast or run when you first arrive. Also, avoid drinking too much alcohol, take a shower, before you adapt to the plateau. Drink more water, and keep yourself warm to prevent catching a cold.
Conclusion
Spring is a good season for travel, and Tibet is no exception. This is the time when everything is reviving and everywhere is full of vitality of life on the plateau. With more pleasant weather and brilliant scenery, Nyingchi, Lhasa and Shigatse are most recommended to visit, for a comfortable and wonderful journey. If you still have more questions about travelling to Tibet in spring, just feel free to contact us.