Isolate Virus, Not Love. Tibetan Monks Offered Donations to Wuhan.
The unpredictable pneumonia outbreak seemed to trigger a ripple effect across China. With all the entertaining facilities like theaters, parks, and tourist attractions, etc. being temporarily closed, streets deserted, you had a palpable sense of feeling that everything was brought to a halt.
However, it was not the whole truth. Facing the epidemic and danger, people from all walks of life moved actually faster and reached out for help to those who were badly in need. Being the least-hit region across China, Tibet, the sacred land of Buddhism and compassion, didn't sit on its hands.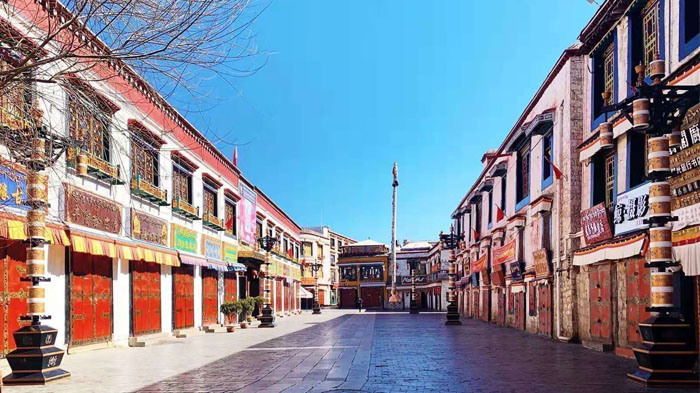 Empty Barkhor Street in Feb. 2020
Instead, upon hearing the epidemic, all the local Tibetans worked together to contain the spread of Coronavirus further into Tibet from other provinces and vowed to stay together with the patients and medical staff who were fighting against the virus and prayed for them.
In early Feb 2020, large-scale donation ceremonies were held amid the well-known Tibetan monasteries and temples across Tibet. Tibetan monks gathered, praying for the residents in Wuhan and generously donating the money for them. Let's take a quick look at some of the touching moments.
Donation Ceremony Held in Jokhang Temple
Early in the morning, monks of Jokhang Temple lined up to put gold foil sheets to the medicine Buddha, a religious way to accumulate blessings and protection from the Buddhist deities and prayed for the people living in the epidemic-affected regions.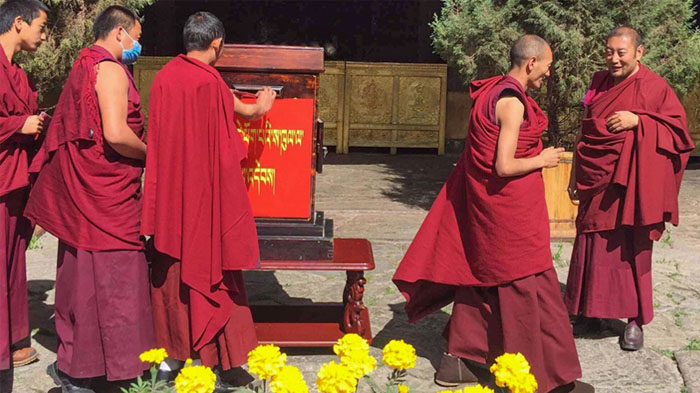 Monks in Jokhang Temple felt so honored to offer some help to the people fighting in Wuhan.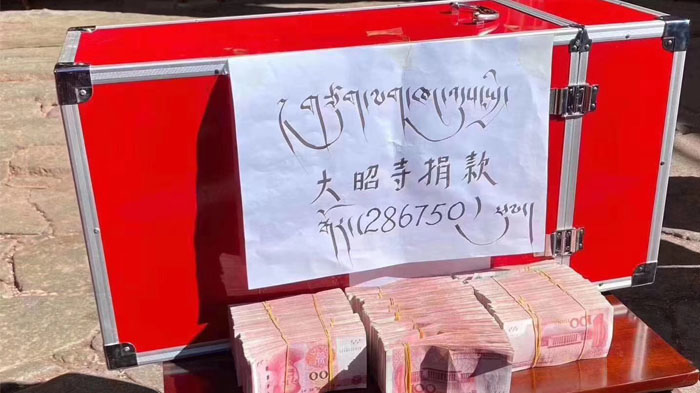 A total of 286,750 RMB was donated from Jokhang Temple.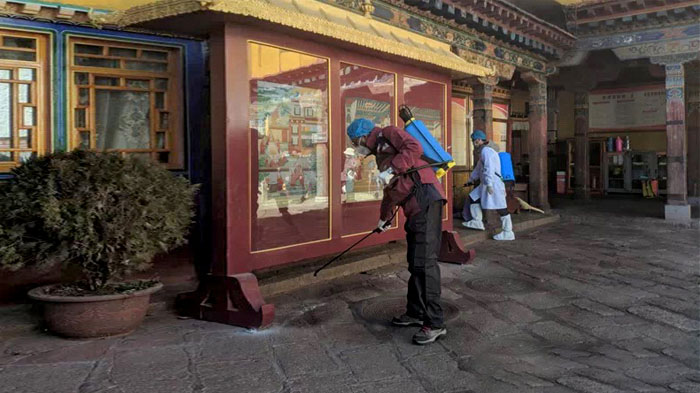 The staff from the Center for Disease Control and Prevent in Lhasa also delivered speeches on how to contain the spread of novel coronavirus while offering many useful tips on personal hygiene and finally helped to sanitize the Jokhang Temple.
Buddhists Chanting and Prayers Resonating through Ganden Monastery
After the daily monk debate in the afternoon, monks of Ganden Monastery also held collective praying for those patients who were battling against the epidemic in Wuhan, Hebei Province.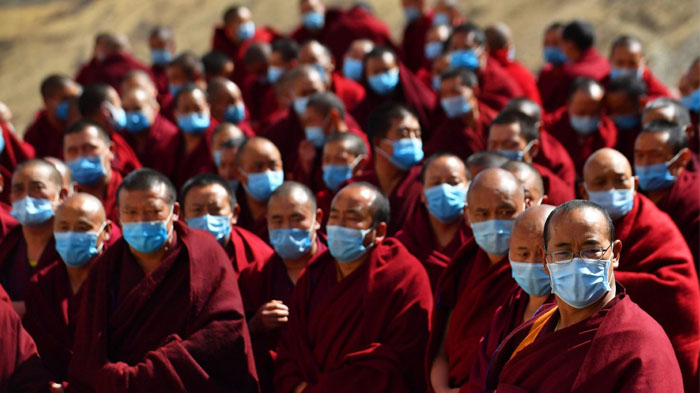 All the Tibetan monks were wearing masks while chanting the Buddhist mantra.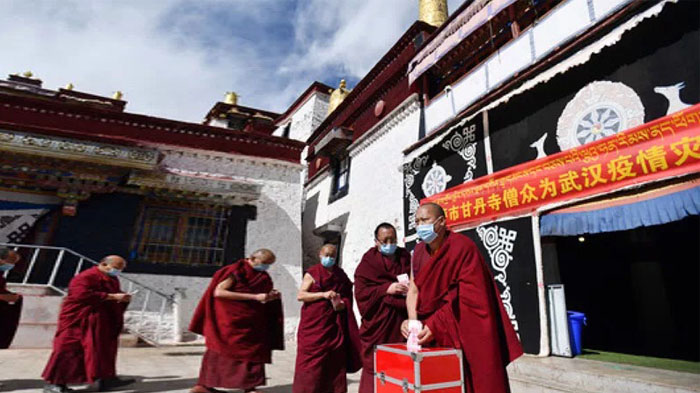 Monks were eager to offer their contribution.
Donations from Other Two Famous Gelugpa Monasteries in Lhasa
Together with Ganden Monastery, Drepung Monastery and Sera Monastery, another two prestigious Gelugpa monasteries in Lhasa, also offered their charitable donations, along with blessings and best wishes. - Check the top 6 Gelugpa monasteries in Tibet.
Over three hundred fifty-three thousand RMB was collected through an hour's donation in Drepung Monastery, the largest Gelugpa monastery in Lhasa.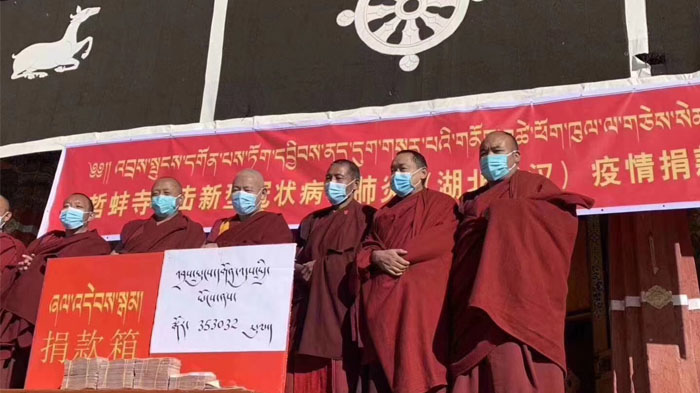 Whereas, Sera Monastery, known for its animated monk debate, pooled three hundred thousand RMB for the disease-stricken Wuhan.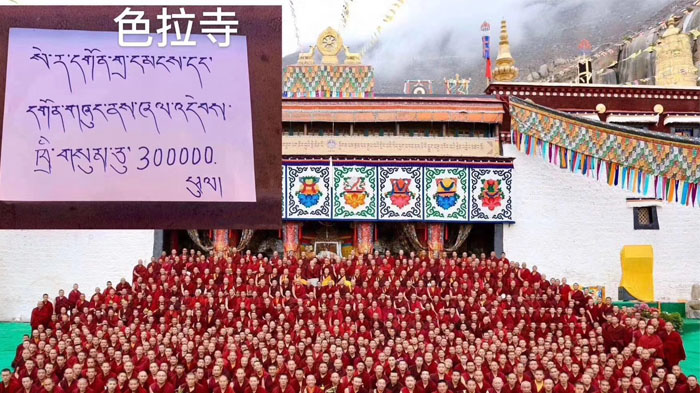 Rongbuk Monastery at EBC also Showed its Care and Love to People in Wuhan
As the world's highest monastery, Rongbuk Monastery (5200m), donated over sixty-seven thousand RMB to support the people fighting in Wuhan. What a hefty and generous amount of donation from a small monastery, close to Mt. Everest in Tingri.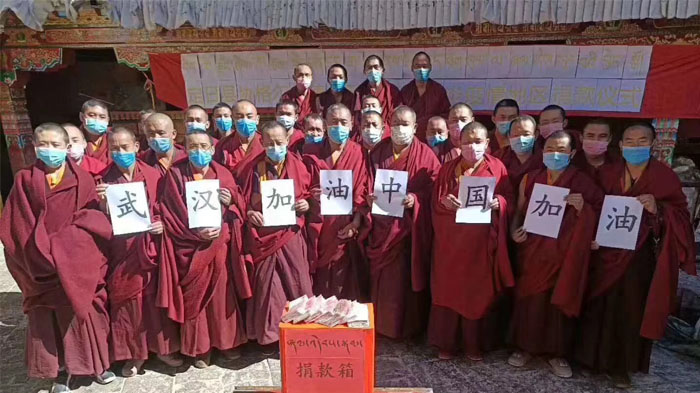 In addition to these monasteries mentioned above, more charitable money was being pooling from all corners of Tibet to support Wuhan. Isolate virus, not love. All the local Tibetans and we, Tibet Vista team sincerely wished the epidemic could be gone soon. When this day comes, we will be taking you for an exhilarating adventure in Tibet.
Tibet Tour in 2020 and 2021
At Present, Tibet tour is temporarily suspended in an effort to contain the spread of coronavirus in China. Yet, it is very likely to be reopened in April or May given the fact so far there is only one confirmed case found in Lhasa, a 34-year-old man from Suizhou City, Heibei Province in Jan. And on Feb 12, 2020, he recovered and was discharged from the third Renmin Hospital for the train back home. - Check the news about Coronavirus-infected Patient Discharged from Hospital in Tibet.
Besides, currently, over 80% of the staff of Tibet Vista team are working at home, providing the latest Tibet travel news and advice for your Tibet tour in 2020 and 2021. Please do not hesitate to email us for an inquiry when needed.
Further Reading: Physical Pain and Sickness from Buddhist Perspectives
"For Buddhism, physical suffering is an inevitable part of life. Like old age and death, sickness is unavoidable and bound to produce some degree of suffering. This does not mean that one should not mitigate pain through available medical means, but if suffering remains, it should be accepted and mindfully endured. Within the Buddhist tradition, physical pain and illness can provide an occasion for the cultivation of healthy and desirable mental states including forbearance and patience."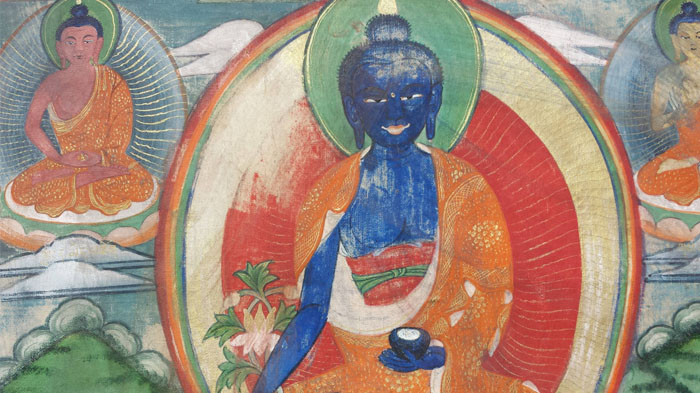 The kind-hearted medicine Buddha painted on a Thangka
"Therefore, it is not an illness but rather our response to it that has spiritual value in the Buddhist tradition. In his teachings, the Buddha condemned any form of self-mortification and mistreatment of either body or mind. Underlying this approach to health and illness is Buddhism's view that the body and mind are interrelated and interdependent. Hence, the body is a valuable instrument whose good health is indispensable for maximizing spiritual development. Meditation techniques, a core part of the Buddhist tradition, are designed in part to prevent and address physical and mental illness."
----- The two passages cited above are from Berkley Center for Religion, Peace & World Affairs.