What's It like for Tibetan New Year 2022?
With streets adorned with flowers and red lanterns and each family gathering around the auspicious Chemar box, the long-waited Losar Festival, also known as Tibetan New Year, arrived on Mar. 3rd, bringing widespread joy for the blissful New Year.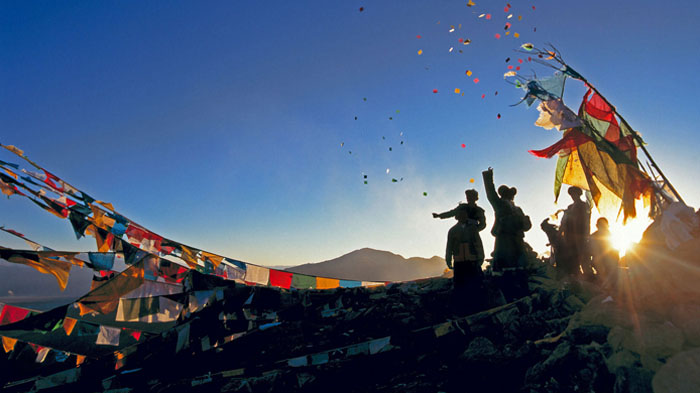 Throwing Lungta (colorful Tibetan pray flags) at mountain passes for well-being and good luck is a traditional way to celebrate Tibetan New Year.
Unlike previous years, perhaps never has one felt such a deep yearning for the early arrival of Spring than this year when your life is somewhat constrained by the global epidemic.
In Lhasa, in a joint effort to further maintain the zero-growth case of Coronavirus, many outdoor celebrations like horse-racing, Buddhist praying ceremonies, and Tibetan prayer flags erecting rituals, etc. were canceled.
In spite of the cancellations, the festival vibes ran high and locals looked for new ways to deliver their blessings to families and friends. And plenty of time-honored Tibetan traditions remained.
Though you may not be able to join the new year celebrations in Tibet this year, why not join us to find out how locals enjoy their Losar Festival in 2022?
What Tibetan Must Shop for Tibetan New Year 2022?
Old traditions remain unchanged. Of all the new year purchases, "green barley shoots, auspicious sheep head, colorful butter sculptures, Chemar box and fried Khapse pastry" are the must-have for all Tibetans. And all these items, often placed side by side next to the shrine of Buddhist deities in Tibetan houses, are considered the top 5 essentials to Tibetans for the New Year.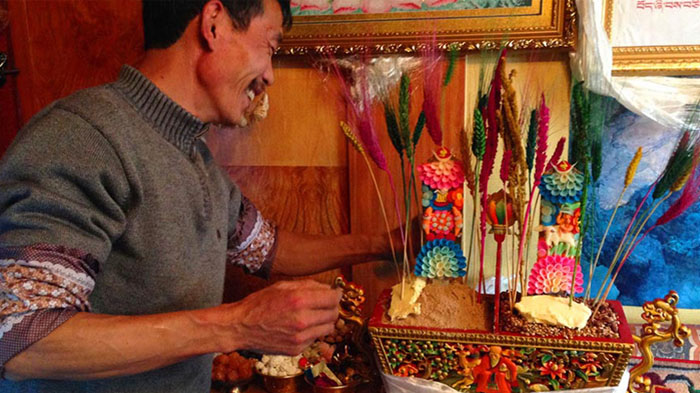 A local Tibetan was adding a butter sculpture on the Chemar box in his family.
Meanwhile, each offering carries an auspicious meaning. Green barely shoots symbolize sufficient supply of food in the new year while sheep head expresses the house owner's wish for a bumper harvest and thriving animal husbandry; next, the most eye-catching object must be the big Chemar box, filled with roasted barely and tsampa and colorful wheat and butter sculptures. It means to bring a bountiful harvest and prosperity to the family. Finally, the deep-fried Khapse pastry is one of the traditional pastime food for Tibetans during Losar.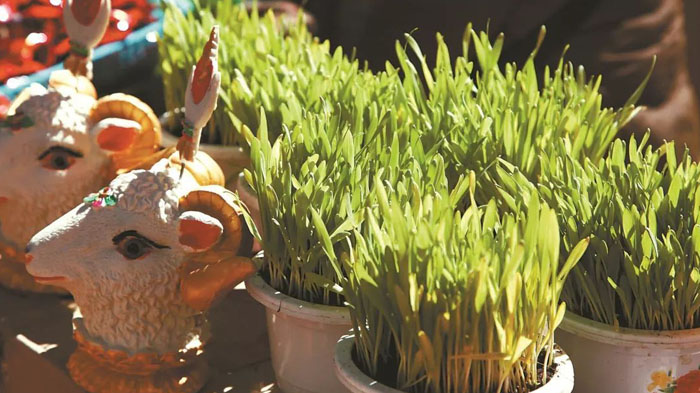 Sheep head and gree barley shoots sold at designated market stalls in Lhasa
Eat Guthuk Soup Together with Family Members
Another fine tradition is the family dinner for Guthuk Soup on the eve of the Tibetan New Year. Originally, it was used as a religious way to banish evil spirits. However, nowadays, it's a fun game for the family. The secret lies in the ingredient inside the Guthuk which is made of dough balls, vegetables, and other tricky stuffings like wool, salt, chilies, and coal, coin, barley, etc.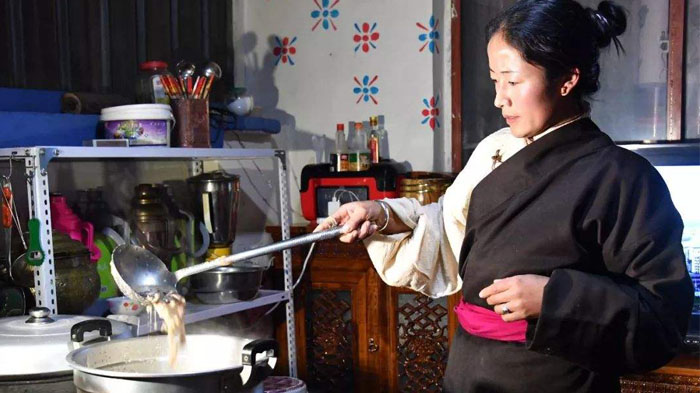 A Tibetan housewife was making the Guthuk Soup on the eve of the Tibetan New Year.
As you eat special stuffing, you should immediately tell others what you have eaten. If it is the barley, which means you will be blessed a whole year. While a coin means that you will have a prosperous year. If you happen to eat salt, you will be laughed at for "being lazy". And wool suggests kindness whereas chilies mean eloquent and coal shows that you are a mean person.
It is in on such a joyful dining occasion that the festival atmosphere gets intense and people express their different wishes for the coming New Year. - Check more traditional Tibetan customs during the Tibetan New Year.
Slight Changes for Celebrating Tibetan New Year 2022
Due to the impact of novel Coronavirus, instead of visiting families in person during the New Year, this year many local Tibetans choose to pay the New Year Visit online. People use WeChat, online chatting apps, to send the red pocket money and voice message and new year greeting videos to relatives and friends.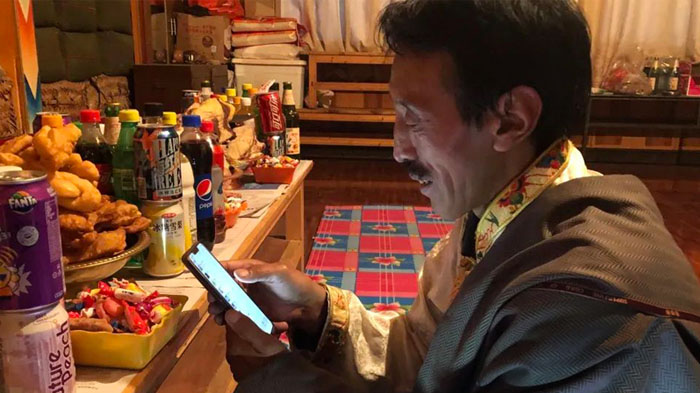 A local Tibetan was sending his New Year greeting online at home.
In addition, to avoid huge crowds and potential risk of the spread of Coronavirus, local government also set up a number of designated market stalls selling candies, daily necessities and new year products to local Tibetans in Lhasa. People can even order your new year merchandise online and have someone delivered it directly to your home.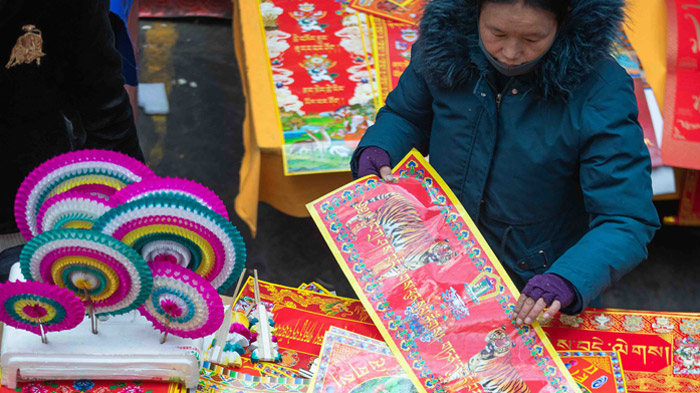 Locals were shopping in downtown Lhasa.
The Spring of Tibet Travel Comes Close
Despite the fact that no large-scale public new year celebrations will be held in Tibet, locals Tibetans are still having a great time for their special Tibetan New Year. For almost 30 days, Tibet remains Coronvirus-free across China.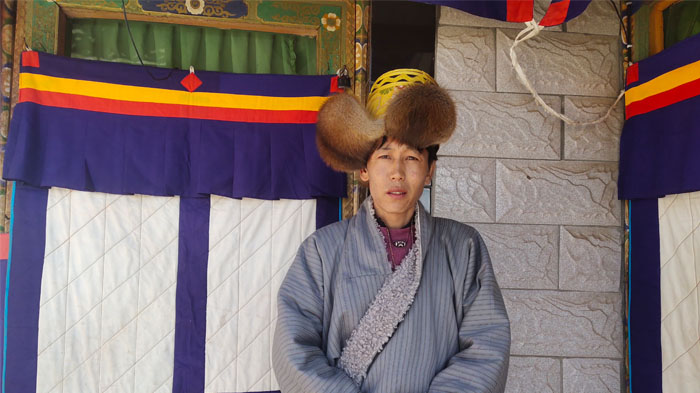 Pasang, our senior local travel expert, expressed his New Year wishes to you during Losar Festival.
So, hopefully, and it's very likely that Tibet travel will resume soon in the months to come. As a prestigious local Tibet travel agency, we promise to bring the warm spring breeze and the good news of the resumption of Tibet tour to you in the first place.
Or if you need our professional help for planning your Tibet tour 2022, please feel free to email your inquiry to us, and our friendly travel experts will offer you free and professional consultation with 12 hrs.