Tibet, Giant Buddha showing on Shoton Festival 2018 received world-wide followers' worships at Drepung
The annually-held Shoton Festival was celebrated fervently in a sun blazing day by Tibetans on Monday. According to traditions, this year's Shoton festival was also held in the first week of the seventh lunar month (from August 11 to August 17).
Shoton, meaning Yogurt Banquet in Tibetan, always brings you a sense of coolness, arouses your heart tremble and shares with you the joyful feeling that you have never experienced in any other sacred city. As is long expected, traditional events involving dramatic giant thangka unveiling at Drepung, live Tibetan opera performing, traditional garden strolling, Namtso Lake International Walking Convention, etc. were due to be held successively during the festival, showing forwardly all the city's charm to visitors coming around and shining holy lights to all the pious followers living in the city.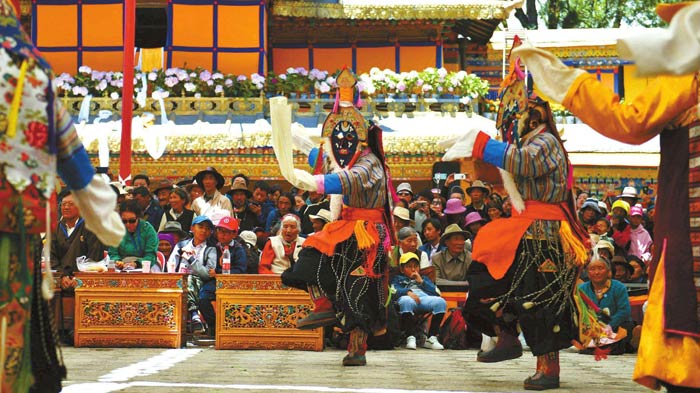 Tibetan opera performing by locals at Norbulingka Park
Undoubtedly, among these splendid events held during this year's Shoton Festival, the following three amazing events top the most: Damxung Horse Race Festival, Tibetan Ethnic Clothing and Costume Culture Exhibition as well as "Seeing is Wish Fulfilling" Tibetan Thangka Art Exhibition.
As foreign visitors, what can you expect to experience during this annually-held event?
Besides the giant Thangka unveiling and Tibetan opera performing, you also get the chance to witness rarely-seen stunt during the Horse-racing Contest performed all by the Tibetans and enjoy various amazing horsing skills gained by them for their daily work. If the thought that taming a wild horse in a sacred place has just crossed your mind, then this year's horse racing contest will undoubtedly be your solid choice.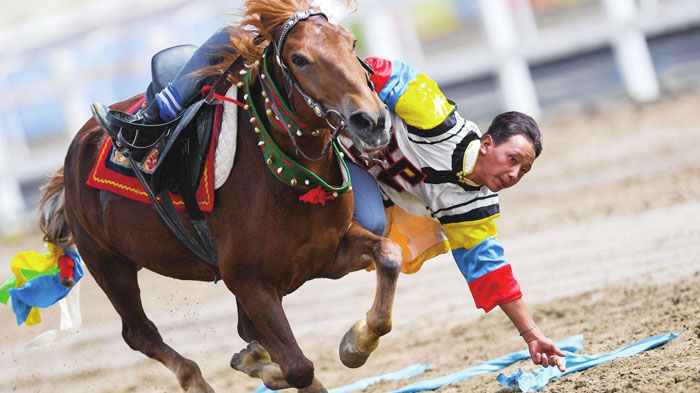 Bright and Brave Tibetan Young Fellow reined a Wild Horse at Horse-racing Contest
In addition, attending the Tibetan Ethnic Clothing and Costume Culture Exhibition is another brilliant choice, for you have been ready to touch the traditional culture as well as the real life of this ethnic group and get the in-depth knowledge of them. On the exhibition, locals are dressed properly in specially made costume with precious jewels and stones, showing the decent, elegant and generous attitude towards their daily dressing.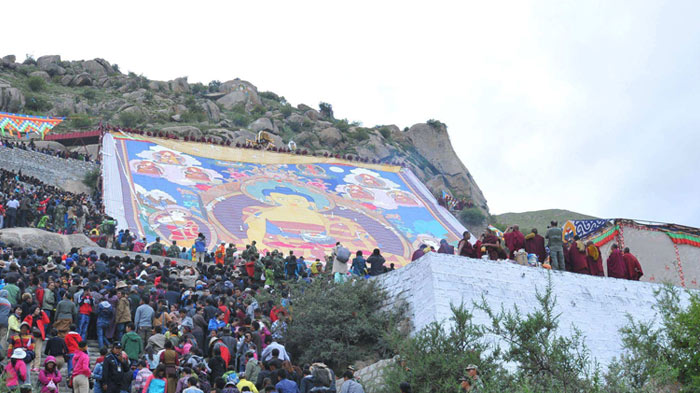 Followers and visitors worshiped the giant Thangka Buddha at Drepung
Besides, "Seeing is Wish-Fulfilling" Tibetan Thangka Art Exhibition held this year will definitely get every visitor's attention. Aiming at propagating the achievements of Thangka Art and making Tibetan Thangka become an exquisite craftsmanship by the skill innovation, approximately 150 religious-themed paintings are displayed on this year's exhibition to set up a platform and help to achieve this goal. With the civilization, history and development of Tibet recorded on these paintings, visitors eventually have a chance to get acquainted intuitively to the Ethnic Group's past, present and anticipated future.
Tasting the local delicacies and buying exquisite Tibetan souvenirs such as the wool rugs and Buddhist beads can be some other entertaining things for foreign visitors to try during the stay in Tibet, for this will definitely make you experience another living in Tibet which may be far beyond your recognition.
"Guard the Sacred Soil, Build a Happy Land", the theme of this year's Shoton Festival implies that the city has been deemed as the sacred place for many years, but the ethnic group living here long for a happy life. If you are interested in Tibet, how can you miss the amazing Shoton Festival which is now celebrating here? - Join 5 Days Shoton/Yogurt Banquet Festival Tour
Follow the simple click to learn more of Tibetan festivals in 2018 and relevant festival tours in Tibet.