Two More Tourist Tibet Trains Became Available This Year
On July 3rd, departure ceremony of two new tourism trains was held in Lhasa railway station, Tibet Autonomous Region . It represents that two tourism brand trains Z6811/2, from Xining to Shigatse and Z8808/7, from Lhasa to Nagchu were formally put into operation.
Since "Lhasa – Shigatse" tourism trains were put into operation in July 23th, 2017 by Qinghai – Tibet Railway Company, 1.4 million of tourists have took ride of the trains up to now, greatly improved railway tourism brand and service quality. Transport capacity of "Lhasa – Shigatse" tourism trains has been strengthened as well.
Schedule of the New Trains
It's learned that from July 1st, 2018, Z6811 train from Xining to Shigatse departs in 20:30 and arrives at Shigatse at 20:58 in the next day. It will stop over in Lhasa train station for 25 minutes halfway and passengers don't need to transfer.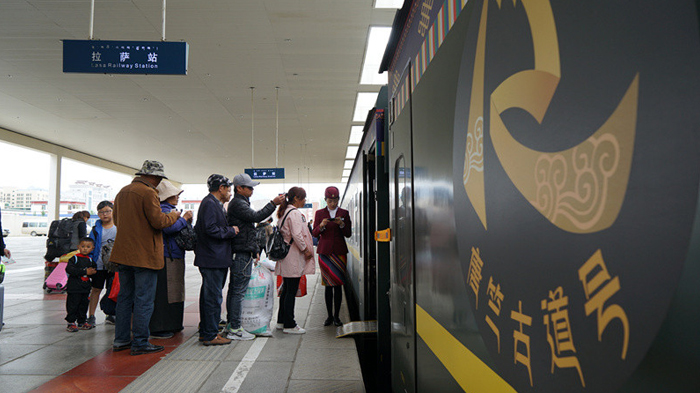 Z6811/2 tourist train between Xining and Shigatse stops at Lhasa station
Z8808/7 train from Lhasa to Nagchu sets off at 8:15 in Lhasa and arrives in Nagchu in 12:05. It will stop over in Damxung Railway Station for 20 minutes.
Highlights of the New Trains
In order to create a riding environment full of Tibetan cultural characteristics and display unique Tibetan cultural landscape in an all-round way, carriages are decorated with traditional Tibetan patterns and uniform of stewards are designed with Tibetan cultural elements.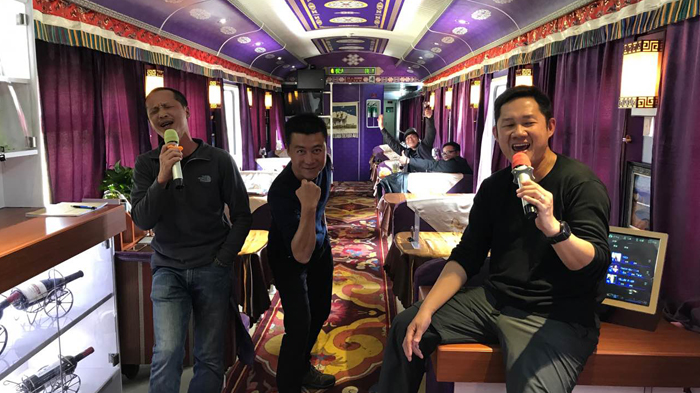 Tourists are enjoying their trips on the train
Medical room on the train is equipped with many kinds of basic medical equipment in case of emergency. Passengers can receive medical inspections anytime when feeling sick on the train, which is effective to guarantee physical health during Tibet train journey.
According to the introduction of a steward, to provide better service for Tibetan passengers and further promote Tibet tourists culture, half of the stewards on the train are Tibetan.
Wang Songping, director of the region's Tourism Development Commission said that the trains have greatly promoted the region's tourism market, especially during the peak tourism season.
Expert in in-depth Tibet train tour, we have much experience to offer you a whole set of Tibet tour service. We can make 100% guarantee to help you book train tickets and provide Tibet Travel Permit services for free to make you launch the journey easily. If you are longing for a holy Tibet trip, please contact us. We will provide tour-friendly service to plan a lifetime Tibet tour for you.